Table of Contents
Growing up in Rural Pennsylvania, the shooting and hunting culture was a huge part of my childhood. Besides for the major companies like Remington and Browning, Stevens Arms' guns were among the most prevalent weapons in my circle. In fact, I'd come across several of their rifles and shotguns on any given hunting trip.
This shouldn't be surprising considering their long and storied history of manufacturing sporting weapons. Stevens Arms, currently owned by the parent company Savage Arms, has been around since the mid-1800's and is still going strong.
Although they were never really considered the best on the market, Stevens Arms' rifles, pistols, and shotguns enjoyed decent success over the years. Even before the turn of the 19th century, they were already selling several million guns a year. Their quality products were sought after so much that Stevens obtained several military contracts around the globe, including the U.S, Finland, and Russia. In fact, it's nearly impossible to calculate how much of an impact Savage Arms had on World War II; besides for converting their factories to accommodate the increased demand of munitions, they contributed millions of guns to the frontlines.
The S1200 Semi-Auto Shotgun is Stevens' latest attempt at staying relevant in today's increasingly competitive market; let's take a closer look to see how impressive it really is.
Stevens S1200 Spec Sheet
Caliber: 12 Gauge
Overall Weight: 6.9 lbs.
Overall Length: 49 ¼"
Barrel Length: 28"
Length of Pull: 14 ¼"
Capacity: 4+1
Magazine: Tube
Stock Material: Synthetic
Barrel Material: Carbon Steel
MSRP: $571.00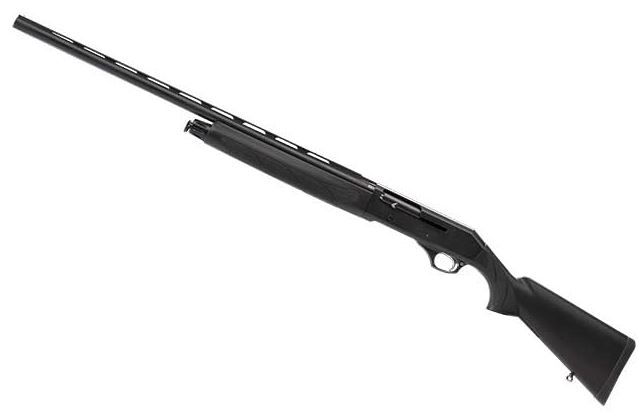 Stevens S1200 Build
Stevens began producing shotguns in the 1870's, so it's probably fair to assume that the S1200 has superior qualities. If a company with over a hundred years of experience can't perfect a firearm, then who can? Let's start with the stocks; Stevens incorporated synthetic weather-resistant materials into the backend of the shotgun to deliver a promising level of durability.
Furthermore, the S1200's shock-absorbing recoil pad helps alleviate the brutal force that your shoulder will endure during those long hunts and range sessions.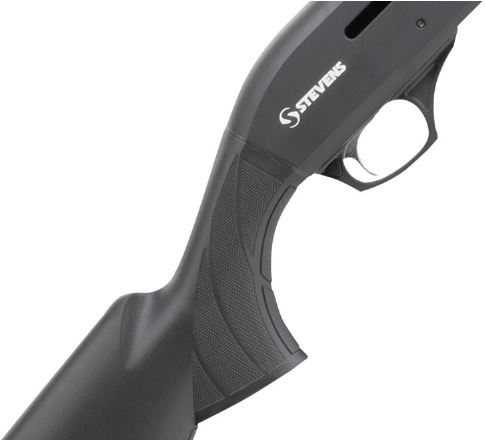 One of Savage's interesting additions to their new shotgun is its ability to be modified; each S1200 comes with five different interchangeable chokes. As important as personalization is, a good shotgun must be dependable; to add much-needed reliability, they integrated a rotating bolt head that locks into the steel barrel extension. I was actually pretty impressed with this innovation –good move Stevens. Going back to personalization, lefties beware –the S1200 was only designed to be fired right-handed (it loads from the bottom but ejects to the right).
The slick matte black finish blends really well in the shadows; this feature is an underrated bonus that can easily give a hunter that often-needed extra edge on flying game. One feature that I found to be grossly overlooked is the great grip that Stevens put on. Whether drenched in rain, sweat, or mud, the solid grip won't let you down. All things considered, the Stevens S1200 is an altogether average shotgun with plenty of pros and cons.
While you're here, check out our features on .410 bore vs. 20 gauge, Rules of proper shotgun safety, Best home-defense shotguns, & the Best affordable shotguns.
Stevens S1200 Performance
Whether you're a hunter, competition or recreational shooter, accuracy and handling are bound to be your two biggest considerations. These factors become even more crucial once we're talking about a shotgun; issues like shot deformation, recoil, and cycling have to be scrutinized before picking out the right shotgun. The Stevens Model S1200 Semiautomatic Shotguns feature a simple inertia-driven action system that delivers smoother, reliable cycling and accurate shooting.
Although the S1200 was built to cycle 2 ¾" and 3" ammo interchangeably and without adjustments, I'd stick with the 3" for a more reliable shot. To improve shooting and overall quicker target acquisition, Stevens incorporated vent ribs with bead sights and cut down on its total weight. Generally, the lighter the shotgun, the higher the recoil; nevertheless, the S1200's lightweight feel enables quicker handling, shouldering, and shooting. Based on my experience with it, I think the S1200 is suitable for all types of skeet and wing shooting.
Stevens S1200 Issues

Because Savage Arms (and Stevens Arms specifically) has such a long-standing positive reputation, I had a lot of faith in the S1200. Even more than that, the new shotgun has decent specs and looks great on paper. Nevertheless, I have some major concerns. I've heard way too many complaints about the S1200's quality to comfortably recommend it to anyone. Besides for many cases of splitting rotating bolts, I've also encountered a lot of issues with the supposedly "interchangeable" chokes. There have already been numerous factory errors with the threads that cause the chokes to jam. At the end of the day, I think the cons outweigh the pros.
Accessories and Availability

In terms of shotguns, the Stevens S1200 has decent personalization options. First and foremost is their vent ribbed barrel. Besides for being able to accept the quality Beretta Mobile Choke System, it comes with five interchangeable chokes (cylinder, improved cylinder, modified, improved and full). These options alone are enough to cover you for a huge variety of hunting scenarios.

The S1200s also come with factory installed sling studs on the buttstock and mag cap. Compared to other shotguns on the market, Stevens' meager aftermarket options are disappointing. The original asking price for the S1200 was around $570, but I'd be surprised if anyone will pay more than $500 for it. Most suppliers that I've come across are dying to get rid of them and will often drop the price tag by over $100. That speaks volumes about its quality.
Conclusion
After thorough research and experience, I am disappointed and actually surprised, with Stevens' recent shotgun. Granted that this was their first attempt at a semi-automatic shotgun, my high expectations were definitely not met. The fact that a gun of this quality could be made by Stevens/Savage is shocking to me. I understand that the inertia driven system is new territory for them, which is why I don't think they should give up just yet; nevertheless, the S1200 was a huge flop. It's basically just a cheap replica of the Stoeger M3200, which is in itself just a copy of the original Benelli model. I can't happily recommend the S1200; even so, I'll be keeping my eye out for Stevens' next attempt, which I know will be better.