Table of Contents
Over Under shotguns are considered to be out of style nowadays. These old-fashioned scatterguns are often viewed as traditional and many believe they simply can't compare to modern semi-auto or pump-action models. Unfortunately, this is a gross misconception that needs to be rectified. There are plenty of renowned gunmakers manufacturing top-of-the-line over under shotguns that can easily keep up with their semi-auto brothers. These powerful shooters are excellent for all kinds of shooting, including trap and hunting. Additionally, many of these brands are acknowledging that these are niche guns and have therefore been incorporating gorgeous designs and engravings. Although there are plenty of excellent options to choose from, I decided to stick with shotguns as close to $2,000 or less. Anything above this figure really belongs in a league of its own. That being said, let's get down to business and see what over under shotguns American Gunivores are loving this year.
Browning Citori
The Browning Arms Company is an iconic American classic. John Browning began his famous brand nearly 150 years ago and they have been the epitome of excellence ever since. In fact, Browning is arguably the most influential inventor in the firearms community to ever live. While he was a pivotal figure for firearms in general, he was an especially prominent shotgun designer.
The Browning Citori has been widely acclaimed as one of the top overall sporting shotguns on the market. Even while producing some of the best semi-auto and pump scatterguns, the immortal company has never forsaken their role in over under shotgun development. The Citori 725 is particularly impressive for hunters but can also be seen around the world in shooting competitions.
• Model: Browning Citori 725
• Caliber: .410 Bore, 12 Gauge, 20 Gauge, 28 Gauge
• Capacity: 2
• Finish: High Polish Blue, Silver Nitride Receiver
• Barrel Length: 26″, 28″, 30″, 32″
• Overall Length: 45.75"
• Weight: 6.3 – 7.5 lbs.
• Sights: Ivory Front – Mid-Bead
• MSRP: $2,149.99-$2,249.99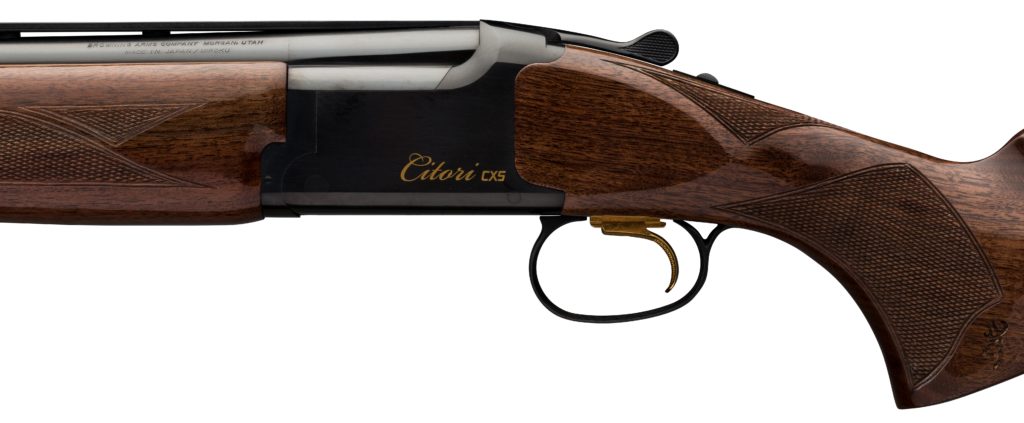 Beretta Silver Pigeon
Beretta is one of the finest gun makers in the world and has been at it for several centuries. Yes, you read that correctly. Beretta has been family owned and operated since the early 16th century. The Italian manufacturer is famous for their handguns but has begun making a stand in the shotgun market too. Oddly enough, their shotguns have won more international shooting competitions than any other brand in the industry.
Their diverse collection of scatterguns includes many affordable favorites, but I can't help but love their over under Silver Pigeon. This thing of beauty features a world-class game scene on the receiver embellished with a beautiful scroll and remarkably crisp and effective checkering on its stock. Likewise, it's hard not to notice how well-balanced these guns are. The Silver Pigeon is just heavy enough to be a great option for skeet shooting yet light enough to be an excellent choice for select hunting.
• Model: Beretta 686 Silver Pigeon I
• Caliber: .410 Bore, 12 Gauge, 20 Gauge, 28 Gauge
• Capacity: 2
• Finish: High Polish Blue, Walnut Stock
• Barrel Length: 26″, 28″, 30″
• Overall Length: 44″, 46″, 48″
• Weight: 6.3 – 7 lbs.
• Sights: Front Bead
• MSRP: $2,350, $2,400, $3,675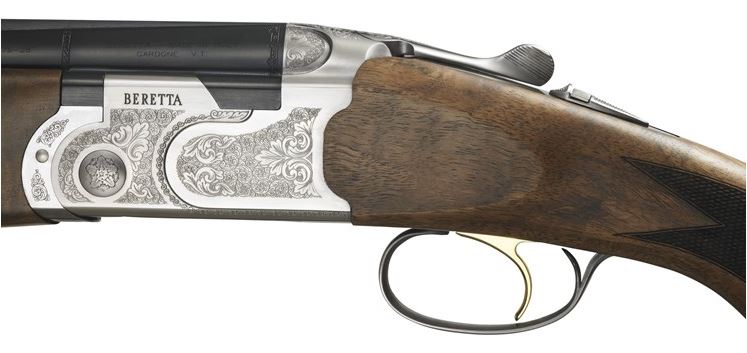 Benelli 828U
Benelli is responsible for some of the best-selling shotguns on the market thanks to their innovative designs. By using physics to their advantage, Benelli shotguns offer less perceived recoil, faster reloading, and enhanced reliability. Similarly, they understand that sometimes less is more and often include a mere eight components in their shotguns.
While Benelli currently manufactures only one over under shotgun, it's a thing of beauty. For starters, you'll notice its stunning nickel-plated aluminum receiver which blends beautifully with the checkered grip. Additionally, it's hard not to love the Progressive Comfort System and Steel Locking System which provide shooters with a consistent, comfortable, and dependable shooting experience. Benelli also included their QuadraFit Module shim system to enable shooters to easily adjust the cast and drop of the stock to over three dozen positions.
• Model: Benelli 828U
• Caliber: 12 Gauge
• Capacity: 2
• Finish: Satin Blued / Nickel Plated
• Barrel Length: 26″, 28″, 30″
• Overall Length: 42.5", 43.25", 45.25", 47.25"
• Weight: 6.5 – 6.7 lbs.
• Sights: Fiber-Optic Front
• MSRP: $2,699.99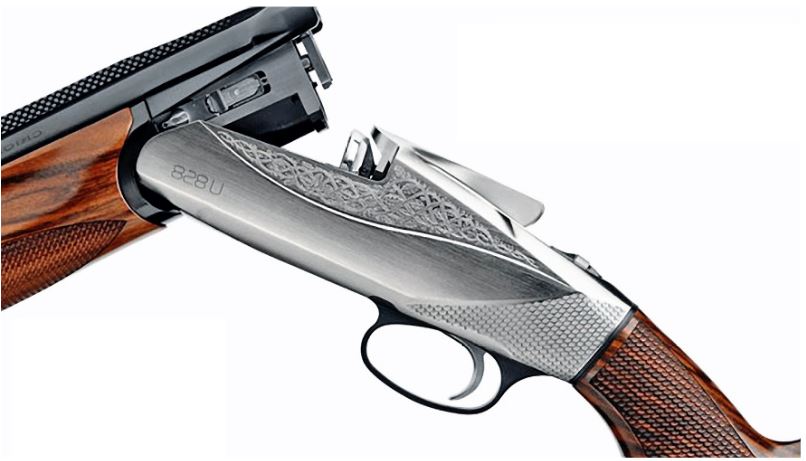 Mossberg Silver Reserve
Mossberg is one of the most famous names in modern shotgun manufacturing and they're not going anywhere any time soon. The family-owned company has been pumping out highly-rated long guns for years, most notably their Model 500. Mossberg has become a staple among tactical shotgun owners and has even made its way into global law enforcement and militaries.
The Mossberg over under shotgun is a handsome blend of modern and traditional aesthetics with top-shelf performance. Like any good over under, the Silver Reserve features an enchanting engraved silver receiver and exquisite black walnut stock. I should note that the Silver Reserve is noticeably cheaper than these other models but is still something to behold. For example, it still provides users with incredible reliability thanks to its wonderful extractors.
• Model: Mossberg Silver Reserve II
• Caliber: 12, 20 Gauge
• Capacity: 2
• Finish: Matte Blued
• Barrel Length: 26″, 28"
• Overall Length: 43", 45"
• Weight: 7, 7.5 lbs.
• Sights: Front Bead
• MSRP: As Low As $720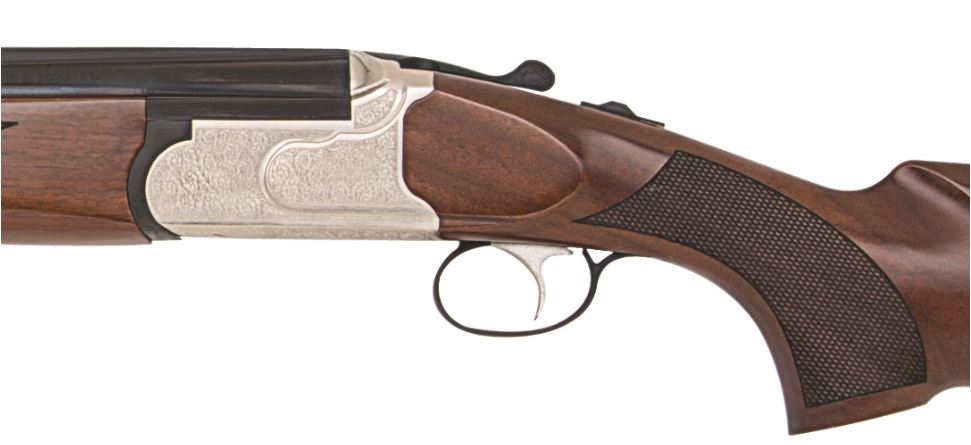 Stoeger Condor
I decided to include the Stoeger Condor on this list because it's my choice for offering the best bang for your buck. Although the Stoeger is marketed for significantly less than these other shotguns, it still features some of the same high-end qualities and components. In fact, Stoeger is under the Beretta Holding Group along with big names like Benelli and Franchi. Stoeger has slowly become some of the most popular hunting shotguns on the market and for good reason. While they manufacture plenty of excellent pump-action and semi-auto scatterguns, their over under shotguns are something else. In truth, these shotguns are the epitome of tradition reimagined with modern adaptations.
The Stoeger Condor lineup is filled with impressive firearms, but I happen to love the field model. This over under is a great choice for anyone looking to boost their fowl hunting without breaking the bank. Although they may not feature the same quality engravings as some of these other guns, they are still remarkably attractive and elegant.
• Model: Stoeger Condor Field
• Caliber: .410 Bore, 12 Gauge, 20 Gauge, 28 Gauge
• Capacity: 2
• Finish: Blued
• Barrel Length: 26″, 28"
• Overall Length: 42"
• Weight: 6 lbs.
• Sights: Front Bead
• MSRP: $499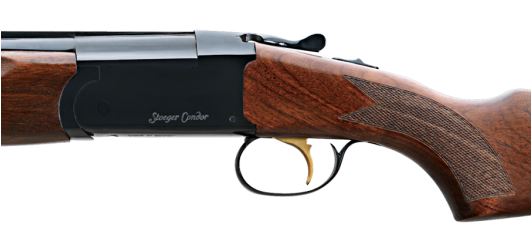 Thanks for joining us here at Gunivore!
You may also enjoy our Best Shotgun Accessories & Top Affordable Shotguns.