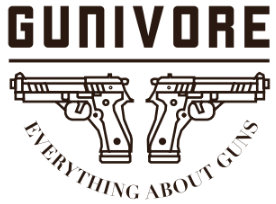 Welcome to Gunivore. Anything to do with guns, we're all over it. We devour guns and gun content like the Gunivore's we are. Our goal is to educate the consumer, soldier or everyday person on the street all about weapons. Whether that's explaining how they work, why they're made a certain way or why certain organizations prefer to use them – we'll cover it.
Our varied list of features and sections includes accessories, ammunition, compact, custom finishes, gloves, gun safety, holsters, knives, pistols, rifles, shotguns, sights, SMG, subcompact, gun news, Glock, SIG Sauer, Mossberg, Remington, Ruger, FN Herstal, Kel-Tec, Benelli, and more! Our talented team of staff and writers stays on top of all of the latest gun developments for the sake of keeping our readers as informed as possible. This means that in addition to reviews of everyone's favorite guns, you'll get vital information and up-to-the-minute gun updates.
Most of our staff have been friends since childhood and grew up learning about the importance of personal defense, gun safety, and patriotism. At Gunivore we proudly support our law enforcement and armed forces who put their lives on the line to protect honest citizens every day. We are proud, gun-toting Americans and strong second amendment advocates. We take these words at face value:
A well regulated militia being necessary to the security of a free State, the right of the People to keep and bear arms shall not be infringed.
Every proud American with a patriotic head on his shoulders has the right to defend his family. Every one of those proud, gun-toting Americans also has the right to the receive the best possible gun information and news, and that's exactly what they'll get here at Gunivore.
Not an herbivore or even a carnivore.
Gunivore.
Contact Us & Guest Posting
Questions? Comments? Concerns? Interested in writing for Gunivore.com? Care to submit a product for review consideration?
Please direct all outreach requests and inquiries to [email protected].
We look forward to hearing from you!