Table of Contents
EOTech has been making optics for firearms since the mid-90s, and they are considered one of the top optics companies in the world. Their holographic weapon sight (HWS) series has been well-received by civilians and military personnel. With every new installment or addition to the HWS family, there is something to get excited about.
The EOTech EXPS2 was released around 2010. The quality of the reticle, and the reticle's size are par for the course. EOTech makes great optic accessories, and this one is no different. What sets this item apart from the rest, is its slimmer build and compactness. It is a smaller platform, and that can make a big difference, especially if you want to mount other accessories – such as a back-up iron sight or magnifier – on the same rail.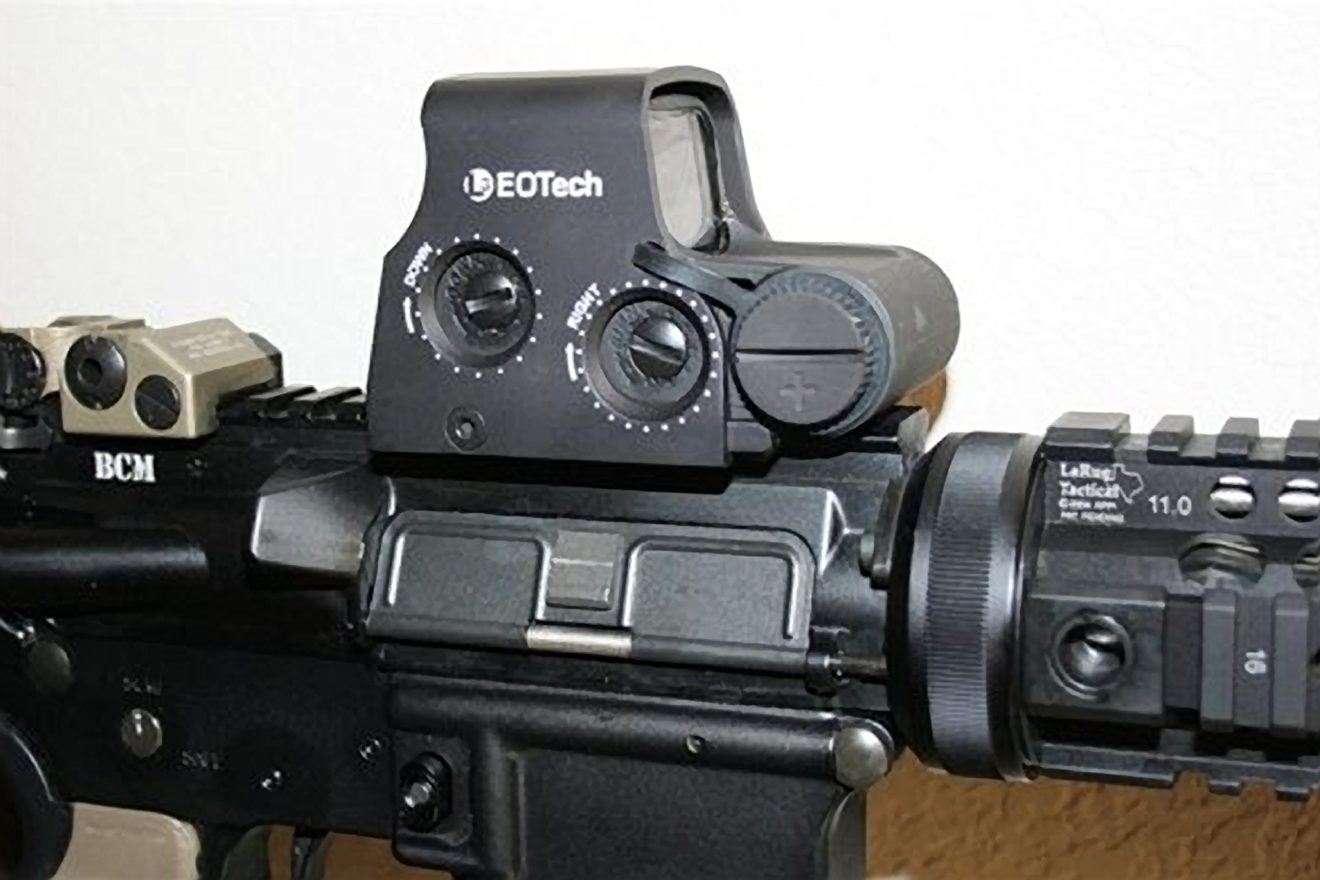 Technical Specifications:
Magnification – 1x
Dimensions – L 3.8 x W 2.3 x H 2.9 inches
Weight – 11.2 oz.
Eye relief – unlimited
Power source – 1 (one) 123 lithium battery
Battery life – approximately 600 continuous hours at room temperature
Submersible to a 33-foot depth
Mounts to any MIL-STD-1913 (picatinny) rail or 1-inch weaver rail
Fog-resistant and anti-reflection lens coating
20 brightness settings (daytime)
Auto shut down at 8 hours, programmable to 4 hours
Auto battery-check indicator, signifying 2 – 5 hours of remaining battery life
No night vision compatibility
Parallax free
This sight is set a little higher than most of EOTech's previous models. What this extra height provides is an iron sight co-witness, in the lower third of the optic's window. This gives the shooter even more control, and it makes sure you hit the target, whether it is very close or mid-range. For targets up to 100 yards or so, this really is one of the best optics you could ask for.
The control buttons on the EXPS2 are on the side, which facilitates a quicker and more natural operation of the device. This also allows other optics, such as EOTech's G33.STS magnifier, to be placed behind the sight and not get in the way of operating it.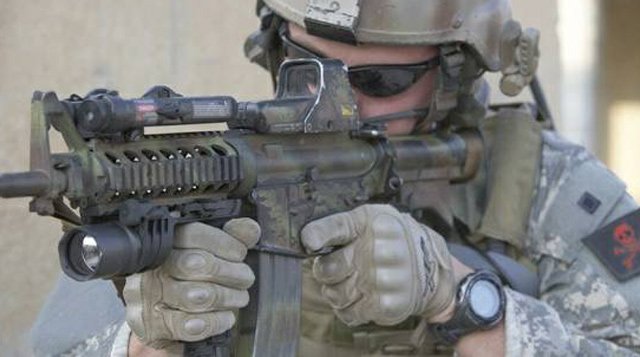 With earlier models (like the 512 or 522), you had to move the magnifier out of the way in order to reach the sight's control buttons, which were on the back of the sight. With the EXPS2, you don't lose time. Brightness adjustments can be done on the fly, without having to mess with anything else. In short, you stay on target, and you stay situationally aware. That counts for a lot, and it is no wonder that EOTech switched the position of the control buttons on its later models.
The windage and elevation dials are also on the side, and they can be adjusted with the help of a coin or screwdriver. They have an audible click mechanism, which is a big help in letting you know when you have made the appropriate change. If you feel resistance when adjusting, you have probably reached the end of the adjustment range. Making adjustments to the optic's windage and elevation should wait until the device is properly mounted on the firearm.
The EXPS2 comes in two different models, which differ by reticle pattern: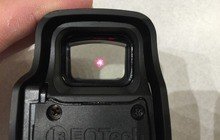 EXPS2-0 – traditional 65 minute of angle (MOA) ring, and 1 MOA dot
EXPS2-2 – 2-dot ballistic reticle, meant for short and long ranging
The Convenience of Operating an EOTech
The operator doesn't have that much to do. The device comes from the factory already permanently pre-lubed and ready to go. The only actions an operator should take are cleaning the device and changing the batteries when necessary. Do not attempt to oil your sight. The only time oil should be used is for the quick-release lever. If you are experiencing any difficulties with the lever, apply a single drop of gun oil to it. That is pretty much all the maintenance you will ever need to perform on this sight.
Cleaning the optic should always been done with a moistened lens cloth or other soft cloth. First, blow away any dust or dirt. Then, apply lens-cleaning or glass-cleaning fluid to a cloth, and be gentle with it on the glass surfaces. When cleaning the outer protective hood, use a soft cloth as well. User only water-based cleaners to clean your EOTEch sight, since anything else could cause irreparable damage to your optic, and maybe even render it useless.
Like the rest of the EOTech HWS family, the EXPS2 is made in the U.S. It comes with a 2-year warranty on defects in materials and craftsmanship. If something is wrong with your optic, get in touch with the company. EOTech have great customer service. They realize that people are putting down significant sums of money in exchange for a quality product, and they try to serve their customers the best they can.
The EXPS2 is meant primarily for close-quarter battle (CQB) and other short-range encounters. Depending on your skills and eyesight, you could probably use it for longer distances. For much longer distances, however, it is better to either acquire a scope, or alternatively to mount a magnifier behind the sight.
EOTech is coming out with a brand new line of magnifying rifle scopes (named Vudu), in the summer of 2016. Judging by EOTech's history of high-quality products – specifically their line of holographic sights – I think we can expect great things from the Vudu series come summertime.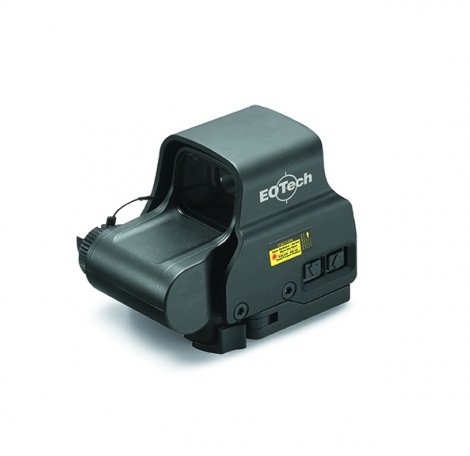 The manufacturer suggested retail price of the EXPS2 is $579. Amazon is selling them for lower than that, as are places like OpticsPlanet. The price tag is relatively friendly, because the rule of thumb is that an optic should probably cost about the same price as your firearm. Remember – with optics, the more expensive ones are usually the better ones. You don't want to spend a nice amount of money on a quality rifle, and then skimp on the optics. Ideally, you would want a sight that will stay with you for a long time, and provide the security and confidence that you require.
If you like the EXPS2, but are in need of night vision capabilities, make sure to check out EOTech's EXPS3.