Making their debut at the 2014 SHOT Show trade show and conference, the Peltor TAC 100 Electronic Hearing Protector represents one of Peltor's strongest entries into the sub-$100 hearing protection device category to date. Peltor developed a full-line of hearing protection devices, both electronic and non-electronic, with enough variety and range in its offerings to fit the needs of any shooter, regardless of specific need or budget. The TAC 100 is versatile and reasonable enough in price to instantly become one of the flagship products offered by the company.
TAC 100 Electronic Hearing Protector Review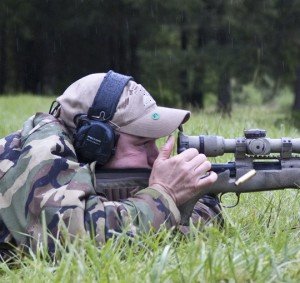 For the purposes of this review, it should be noted that I have used this headset with a wide variety of firearms (pistols, shotguns, rifles) and did not note any tangible difference in protection offered when used with any of the different guns. The headset is effective with all kinds of firearms, and as such is one of the more versatile models that I have had the pleasure of using – a true all-purpose hearing protection device. I also want to offer a bit of advice to all readers: as someone who has spent his life around firearms, including knowing people personally who suffered as a result of their carelessness when shooting, I can't stress enough how vital the use of an HPD is. Your hearing is too important to compromise – and make no mistake, modern hearing protection devices offer great comfort and features that allow for surrounding, quieter noises to be heard when in use. There is no valid excuse for neglecting to use one, and that goes for hunters as well. Now that I've made my public service announcement, back to the review…
Noise Reduction
The first thing that people generally want to know about hearing protection devices is the noise reduction rating (NRR) of the headset. Like similar HPD's like the Impact Sport, the TAC 100 comes in at a rating of 22, which is an excellent level of reduction for a headset that features this slim of a profile and comes in at such a reasonable price point (currently about $65 on amazon.com). I've used other headsets that claim to offer an NRR of 22, and I can tell you that these are the most effective of any of the sort that I've used, which I believe is a result of the seal of the headset cups. The ear pads surround the ear fully, unlike other 22 NRR headsets which I have used that have a lesser build quality. Peltor boasts that the model reduces noise by 17.2dB to 43.7dB, depending on the frequency tested, and that seems like an accurate measurement to me. The headset also performs under different circumstances – not just when used with different guns, as previously mentioned, but indoors and outdoors as well.
Sound Amplification and Features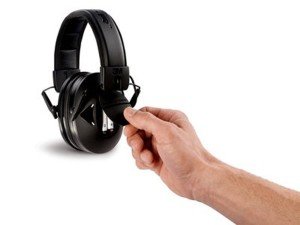 The headset uses an all-in-one volume control and on/off switch. The switch offers a nice audible 'click' when turned on or off, and as a bonus for hunters such as myself, allows for volume adjustment which can enable the user to adjust the volume of ambient noise in the vicinity. This is an essential feature, and comes in handy to me not just when hunting but when speaking to other people while wearing the headset. The sound amplification is not the strongest I have heard, but it does come through crisp and clear, with little to no muffling or static to be heard. And most importantly, the headset never failed to differentiate between a loud noise or a softer one; the noises that were meant to be reduced were reduced, and the sound that was meant to be amplified was amplified.
The headset also features a two-hour automatic shut-off, and similar to the 6S an overall battery life of 200 hours via just two AAA batteries, which is a lot more efficient than you'll find in most headsets in this price range. A beeping noise will warn of low-battery, and the battery slot is designed well and super easy to access. The headset even features a 3.5 mm audio jack that is compatible with most MP3 players and two-way radios – a nice new feature that I personally don't take advantage of, but may appeal to a variety of folks.
Quality and Build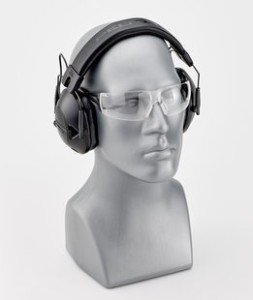 I have only been using this headset for a couple of months now, so I can't speak to the long-term staying power of the TAC 100. With that being said, Peltor headsets almost always stand the test of time in my experience, and based on my use of the TAC 100, I expect this headset to be no different. Boasting a "re-engineered headband for improved fit and comfort", the headset is an extremely comfortable one, perhaps the most comfortable sub-$100 headset I have experienced. After several hours of shooting I felt no discomfort from the headset, which is a pretty rare occurrence when dealing with any kind of head gear. The earmuffs are soft and hold around the ear nicely, and the lighter weight of the headset (under ten ounces including batteries) is not too much to bear. I am not a big fan of the use of plastic in the headset, but it does make for a lighter model and it also allows for a thinner one – you'd be hard pressed to find a thinner headset that boasts a NRR of 22 anywhere. The rubbery material used in the ear pads can lead to a bit of sweat around the ears when used for an extended period, but honestly, I did not notice this until I had removed the headset – it was still extremely comfortable.
Conclusion
The Peltor TAC 100 is one of the best bang for your buck headsets available today. Ultimately, a lot of what people like or don't like about headsets comes down to subjective preferences – I personally like the fit and design of this headset as it seems to fit on my head really nicely. Having said that, if you're using a comfortable headset that fits well and works for you, I wouldn't necessarily recommend going out and upgrading to the TAC 100, as it may not fit as well. However, if you're in the market for a new headset or considering buying one as a gift, you'd be hard pressed to find a better overall headset in this price range, or one that offers this kind of value.
Rating: 4.5/5 Stars