Table of Contents
Now entering its 25th year, Bond Arms is a company which specializes in the design and manufacturing of small-scale handguns, commonly known as derringers. These are classically single or double-barreled (over/under), some of them single-shot, and they come chambered in a wide array of bores and calibers. These little guys were all the rage in the Old West, and they have never stopped being relevant.
First produced by Henry Deringer in 1852, the Philadelphia Deringer continued to stay in production for 16 years. During that time, and since then, others began to manufacture similar weapons, and Remington came out with their Deringer in 1865. To avoid legal complication, competitors and fakers alike termed their guns 'derringer' with two 'r'. Nowadays, either spelling is technically correct, with the latter being used most often by shooters and manufacturers.

Bond Arms
Bond Arms almost didn't make it into existence. When the first Bond handgun was introduced, Greg Bond – founder of Bond Arms – was sued by his former employers. He was a gun collector and was eventually hired to do a job for American Derringer. He expressed his desire to redesign or readjust their gun, to make it safer and more effective, but management wanted to keep things the way they were.

He was fired less than a year after being hired, if I am not mistaken, and that is when Bond established his own company, intending to design and create a superior and more robust derringer. His old boss took him to court, claiming Bond was using their trade secrets to manufacture his gun. The judge didn't agree with them, and after a long, costly, and tedious legal battle, Bond Arms was founded in Texas, in 1995.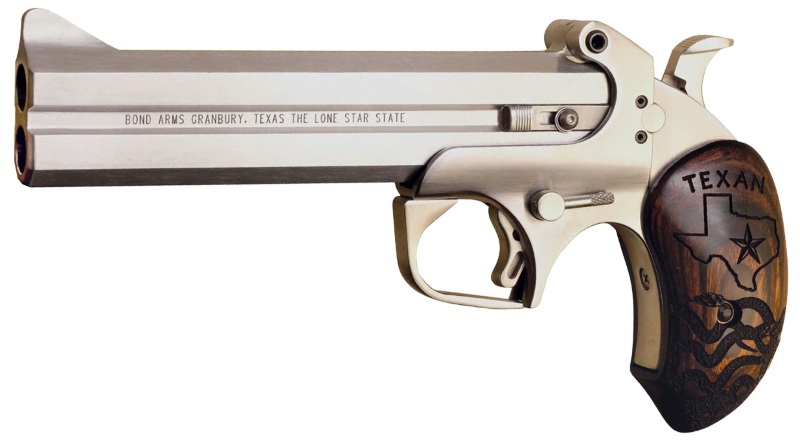 They eventually found their market share and customers began to grow very fond of them. Bond Arms guns were being used in single action shooting society (SASS) competitions, coming in first in many events throughout the years. In 2007, Greg Bond decided he had enough of the business aspect of things, and sold Bond Arms to his brother Gordon.

That story resonates with me. It's about the little guy taking on The Man, in a fight he didn't start, and finally receiving justice and claiming victory. The stuff of great drama. Speaking of which, I have to mention two of my favorite derringer scenes in movies:
The first is in Back to the Future, Part III. Buford 'Mad Dog' Tannen pulls one out of a hat. His buddy reminds him it only holds one shot, to which Tannen coolly replies: "I only need one".
The second is in the Matrix Reloaded where Persephone abruptly pulls one out of her clutch – I think that purse is called a clutch – and kills a vampire using a silver bullet. Boom.
Bond Arms Derringer
Bond handguns possess a rebounding hammer which moves back automatically and locks in position, as a safety measure. They also feature a mechanism which clicks into place, locking the barrels or releasing them, for quick reloading and maintenance. All of Bond's handguns are guaranteed for life (within limits), and are machined from high quality materials which – if properly used – will serve you for the rest of your life.

A large number of barrels are produced by Bond Arms, and these are all interchangeable. You can use Bond's barrels with any standard Bond firearm. I say "standard", since they also perform custom work for individual shooters. The barrels range from 2.5" to 6" in length, and are available in many different calibers. In that sense, it resembles several survival rifles and/or shotguns, who make use of the same concept of interchangeability.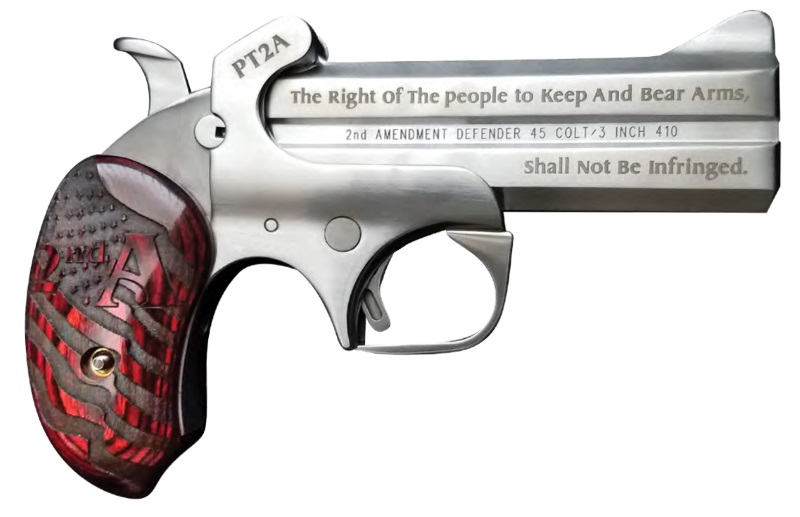 Bond went into business in order to create top-of-the-line, modern-day derringers. In this they have undoubtedly succeeded, as their models have brought the Wild West into the 21st century. Antique derringers are still highly-sought collectibles, but if shooting is your goal, Bond represents the go-to manufacturer for many a-shooter.

The company has a couple of models geared specifically towards female shooters, and a few others which were modeled to comply with California's gun laws.
Bond Arms Bullpup
This firearm started out as Boberg Arms' XR9-S. It was sold as such from 2011-2016, at which point Bond Arms acquired Boberg, and – after a few modifications to the original design – began marketing the gun as the Bond Bullpup9.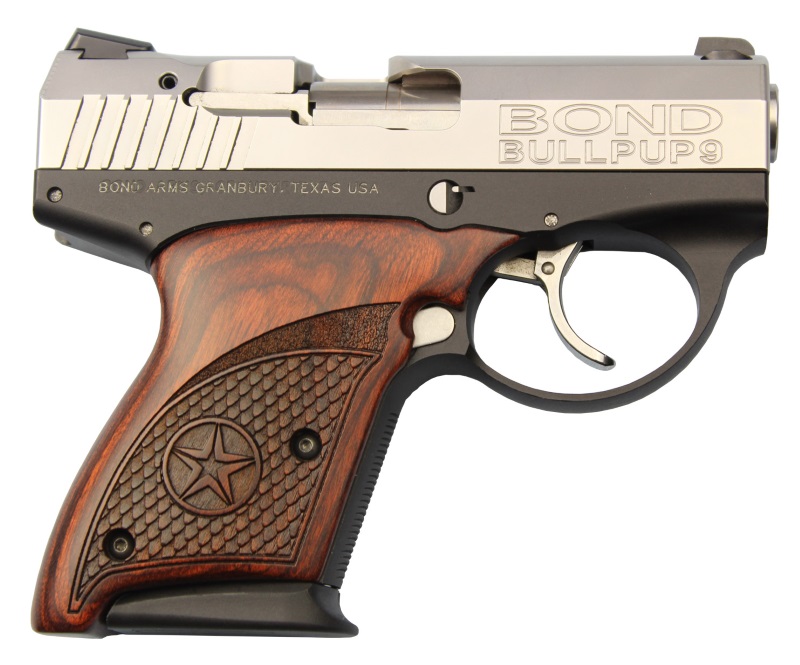 Caliber: 9mm – double-action only
Barrel Length: 3.35"
Overall Length: 5.1"
Weight: 17.5 oz
Grip: Engraved rosewood
2 Magazines included
Sights: Dovetail drift-adjustable non-illuminated 3-dot
Capacity: 7+1
MSRP: $1,099
The thing you keep hearing about derringer guns is that it takes getting used to. This one especially takes some time at the range, due to its bullpup design. It is such a small package to begin with, and the distribution of weight can definitely be noticed. Those with big hands may want to rethink owning this type of gun, but it really all come down to training.

There is – or was – a known issue of case separation with Bond's bullpup. The company has addressed this, stating that the issue may continue to occur when certain ammo is used in the handgun. It'll fire pretty much any cartridge bearing the name 9mm Luger, but with certain cartridges, there is too much crimping going on, and it is this which causes malfunctions. Otherwise, this little guy will fire anything you give it.

The Bullpup9 is considered accurate and reliable by and large, but it has a price tag of over a thousand bucks, and that is one serious drawback in my opinion. I believe it really is a high-quality firearm, and the company is being genuinely truthful about the feeding issue and their findings. They list problematic brands in their manual and on their website – but still, the fact that certain rounds are prone to failure in a $1000+ firearm is unfortunate.

The Bullpup9 is machined out of aircraft-grade 7075-T6 aluminum alloy. Because the internal mechanism is busy with the process of loading the weapon after firing, the recoil is highly manageable.

Bond Arms Snake Slayer


With the Snake Slayer, you are trading the gun's potential for higher capacity to gain two things: bore size and barrel interchangeability. This handgun accepts different barrels and calibers of all kinds, like other Bond arms handguns. As a self-defense CCW and/or a home protection gun, it is a great little shooter. It is also ideal for hikers, hunters, and campers. Effective and subcompact, it provides security in a very effortless sort of way.

The Snake Slayer is chambered to fire either 357 Mag and 38 Special, or alternatively 45 Colt and 410 bore. Like other derringers, it is all about speaking softly and carrying a big stick. Remember that this is a gun which requires some more focused training, since you need to cock the hammer before every single shot.
Barrel: 3.5" (Dual)
Overall Length: 5.5"
Weight: 22 oz
Grip: Extended rosewood
Sights: Front blade fixed rear sights
Capacity: Single shot per barrel
MSRP: $603
Snake Slayer IV (SSIV) is a slightly different model, same as the original but with a 4.25-inch barrel (which is why it was named IV). The longer barrel has several advantages. It will yield a tighter spread, produce a projective flying at higher velocity, and the barrel's length will also manage the recoil in a better way.

The MSRP on the SSIV is $648. It weighs 23.5 oz, and is a tad longer than the ordinary Snake Slayer, coming in at 6.25" overall length. There is a handy spent case extractor on both models, and they both also feature a cross-bolt safety mechanism.
Trigger pull on the Snake Slayer is also something which needs to be mentioned. Like other aspects of handling this firearm, it takes practice. Now, some would say that if you are not training with your firearm and have a good grip on it – literally and figuratively – then perhaps you shouldn't be carrying it. I feel that is pretty accurate, because after all, these derringers are not like your everyday Glock or 1911.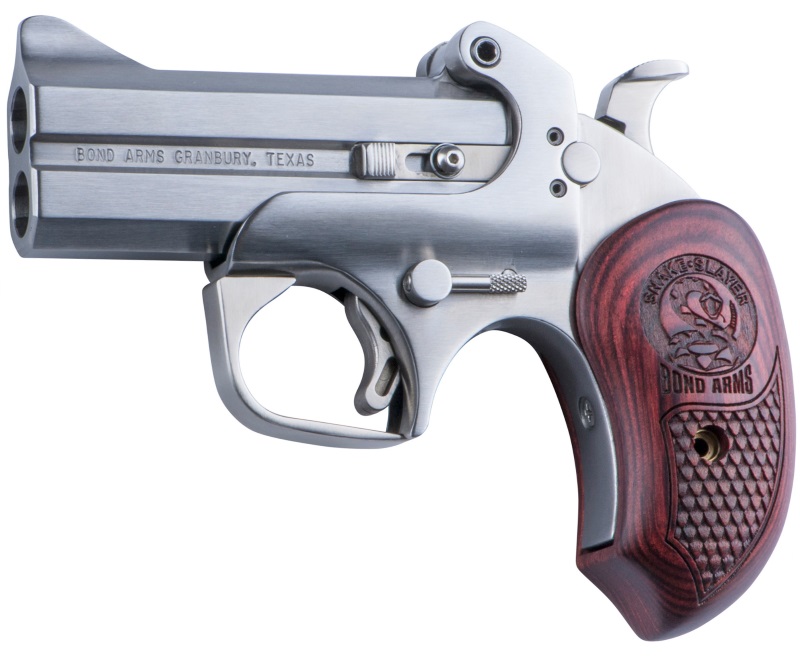 Bond Arms Backup

Derringers are well-known for their ability to act as a concealed carry backup to a primary weapon. Its subcompact nature makes it ideal for carrying in all sorts of situations and condition. Whether located deep in your pants pocket or secured in a designated holster, the Backup – chambered in 45 ACP – is a definite keeper.

This one is exceptionally small, even for a derringer-style gun. Featuring stainless steel 2.5-inch barrels and a stainless steel frame, it has an overall length of 4.5 inches. It weighs in at 18.5 oz, is fixed with rear sight and front blade, and has tough rubber grips. The grips are one of the most attractive things about this little guy, in my opinion. Again, for those with large hands it may present a problem, so take that into account.

First introduced in 2014, the Backup was received with a great deal of enthusiasm, and rightly so. Bond Arms makes somes of the best derringers in the market today. If the need is there and the price is right, there is no reason why you shouldn't add it to your daily routine as a CCW or bug-out gun. Plus, the ability to change barrels with any other Bond gun, and fire a wide variety of shots and calibers, make this one gun you do not want to dismiss before you try it.

The MSRP of the Backup is $540, but they can be found for cheaper prices online and at gun shops, etc.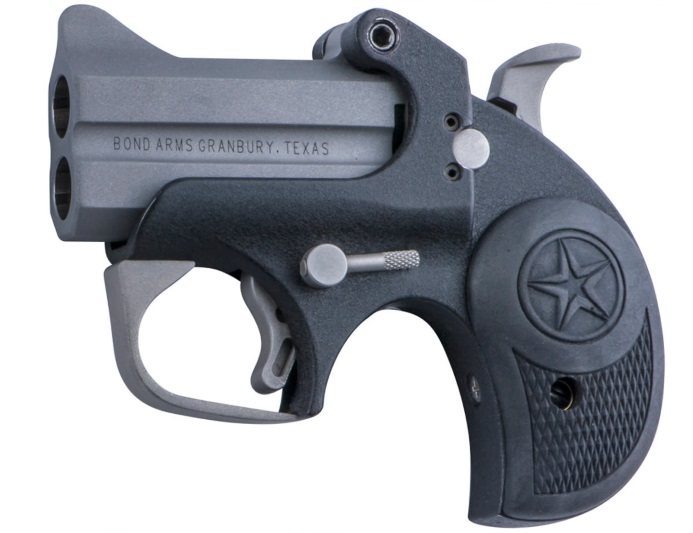 Conclusion
Derringers are the type of gun that will never go out of style. Military personnel, law enforcement agents, and civilians alike are all on board with these new models by Bond, Remington, and others. The price point will always remain a constantly-debated facet of the industry, and it isn't any different with small-scale handguns.

Weight, size, price, capacity, accuracy, ease of use, and other deciding factors – these will always be ones which will eventually drive the customer towards one brand or another, one model or another. When dealing with such a small firearm, with such a limited capacity, you need to know what your intended use is. What is your endgame? Is it to be your primary EDC, a home-defense gun, a backup, a bug-out gun? What are your priorities?

One final point – these guns are a lot of fun to shoot. Let's not forget that part of the fun of shooting is precisely that – having fun with your weapon of choice. Shooting is a sport, not just a means of survival or self-defense.

The more you train and use your weapon, the more it grows on you. This relationship between firearm and operator is crucial in many cases, since it will help determine the outcome of just about any scenario or set of circumstances where your personal firearm might be used. There is no doubt that with some derringer models (Bond or not), you will definitely need to practice and get used to it.