Table of Contents
There really is nothing quite like a well-made, reliable 1911. This is, in part, what Dan Wesson firearms are about. It has been their main focus for a good while, and rightly so. There is a big market for these models, because some shooters aren't interested in polymer and similar materials. There are many who feel a lot more comfortable with a steel weapon.

When you put your hands on a solid 1911 and fire off a few rounds, it is a feeling which not every gun can deliver. To those who don't see a difference between different guns and pistols, I suppose that the 1911 is just like any other piece of hardware that goes 'pew pew'.
But to those of us who have some measure of shooting experience, that is not the case. Dan Wesson has been making a name for itself in the 1911 department for the past two decades, but that is not all they produce.
Company Background
Founded in 1968, by Daniel B. Wesson (great-grandson of D.B. Wesson, of Smith and Wesson), and by Karl Lewis (hailing from of Browning and Colt), the company was originally called Wesson Firearms, but the name was changed in 1996.

The outfit started off as a company which produces modular revolvers, with parts that could be interchanged: barrels, grips, and sights. This was one of its main qualifications, and it had some success with it. Although, the company has known its ups and downs, financially speaking, like many other manufacturers. The firearms industry is a tough business.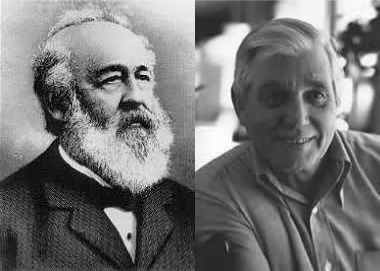 Dan Wesson is probably best known for its revolvers and its 1911 semi-auto pistols. Initially, the company began as an importer of Czech-manufactured shotguns and airsoft weapons.
In the summer of 1970, its first revolvers debuted: the W Series 8, 9, 11 and W12. Later on, the W14 and W15 made their appearance, as well as subsequent models of W14 and W15 (sub-series 1 and 2). These had interchangeable barrels, and it is part of what made them such a novelty.

Throughout the 70s and 80s, small- and large-framed pistols were added to the company's expanding catalog: 357 Magnum, 38 Special, 44 Magnum, 22 LR, and more. 1996 was a big year for the company. It moved to NY, got some state-of-the-art CNC equipment, and began a phase which included the production and release of newer weapons, including its 1911 models.

Nowadays, the CZ-USA company holds the rights for producing and distributing Dan Wesson firearms. The facilities in NY no longer manufacture revolvers, but the 1911 models are still in full swing.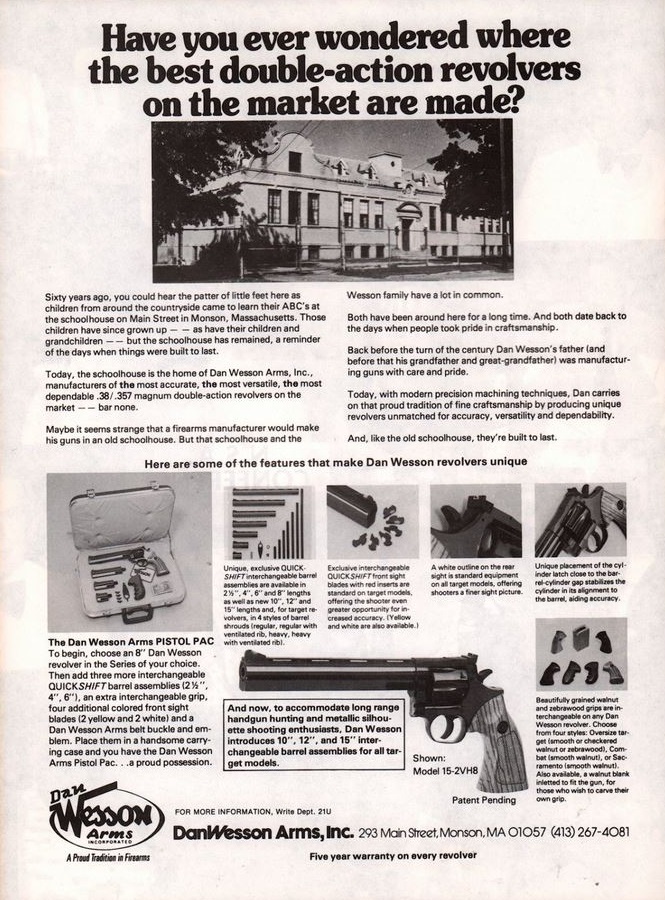 Dan Wesson 1911
As mentioned earlier, the various 1911s are probably what Dan Wesson are best known for nowadays. Even though every manufacturer claims to have the finest guns and the best value, this is not always the case. There is nothing wrong with Colt's 1911, Springfield's 1911, or any other reputable manufacturer's models. It all boils down to personal preference.

The 1911 models which Wesson puts out are indeed very tight, and some even go so far as to consider them to be semi-custom. I don't. This is not a custom-built 1911, and that's something worth remembering, especially when it comes to prices.
The 1911 models which the company offers are good for their price, but they are not without faults. Priorities and personal preferences make the difference, same as they do with any manufacturer and firearm.
Dan Wesson Revolver
Wesson's revolvers are considered classics. They used to show up with a pistol kit or pistol pack, normally housing several barrels, extra grips, and extra sights. These were and still are quite versatile guns.
Wesson's revolvers were usually somewhat different than the run-of-the-mill DA/SA revolvers you would run across at the time. The barrel nut could be found inside or outside, depending on the model. The cylinder release is after the cylinder, not before it. The more common models are probably the W12 and W15.
Model: W12
Caliber: 357 Magnum
Capacity: 6 rounds
Barrel length: 6"
Weight: 2.5 lbs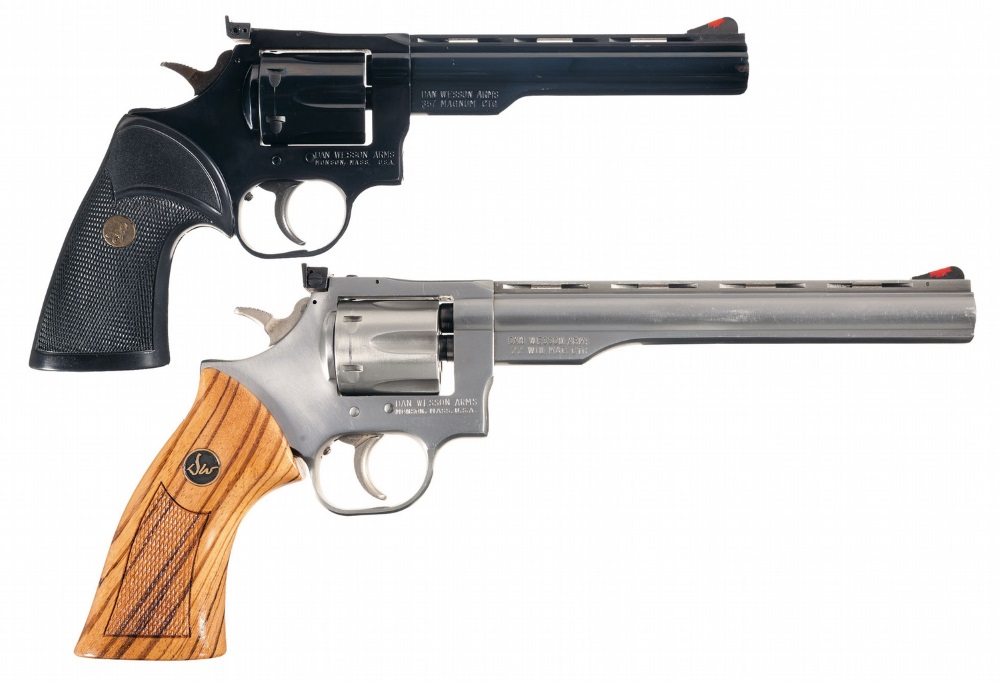 Dan Wesson Valor
The Valor 1911 first made its appearance in the mid-aughts, and has since been discontinued. You can still find them for sale all over the place, since they only decided to discontinue the model very recently (2019). These are available in 45 ACP, 9mm, and 10mm. There is a good chance that Wesson will roll out a model to replace it, and it would make sense, simply because the Valor is one of their most popular items.

Model: Valor
Caliber: 45 ACP
Capacity: 8 rounds
Barrel length: 5"
Overall length: 8.75"
Weight: 39.7 oz
Finish: Forged stainless steel
Sights: Tritium night sights
MSRP: $1,701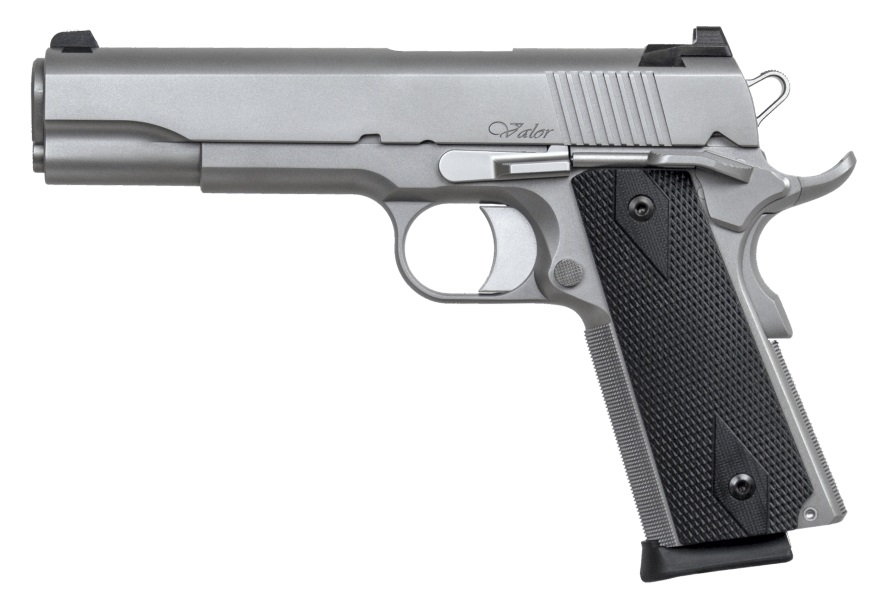 Other models of the Valor include the Valor Black (in 9mm, 10mm, and 45 ACP), and the Valor Stainless (in 9mm and 10mm).
Dan Wesson Specialist
Originally designed and produced at the behest of law enforcement agencies, the Dan Wesson Specialist is a 1911 chambered in 45 ACP or 9mm. It has a 1913 picatinny rail, quality checkering, ambi safety, larger mag release, and a wide mag well. It is available in a couple of different finishes, and is a great shooter for the price. The company felt that the general public could also benefit from this model.

Model: Specialist
Caliber: 9mm
Capacity: 10 rounds
Barrel length: 5"
Overall length: 8.75"
Weight: 42.3 oz
Finish: Forged stainless steel
Sights: Tritium night sights
MSRP: $2,012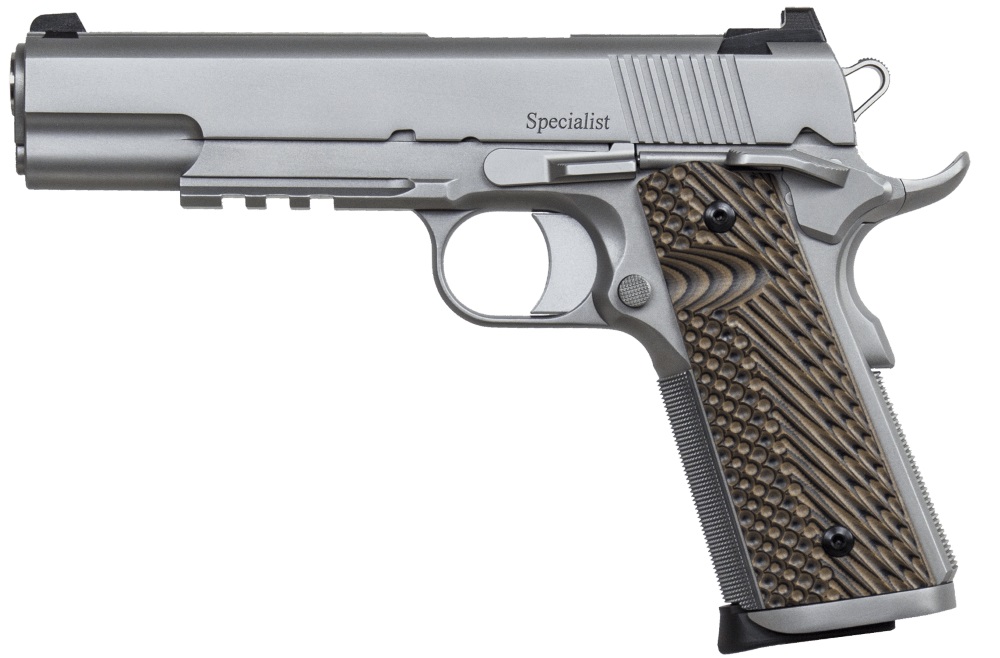 Other models in the series include the Specialist Black in 45 ACP, and the Specialist Stainless in 45 ACP and 9mm.

Dan Wesson Guardian
The Guardian is a commander-sized 1911. It was reintroduced to the market, having been one of the earlier 1911 models which the company manufactured. The company stated in a press release that it is reviving the older model with a twist. It basically combined several features from their best-selling models, and repackaged it in a mid-size configuration.

Model: Guardian
Caliber: 38 Super
Capacity: 9 rounds
Barrel length: 4.25"
Overall length: 8"
Weight: 28.5 oz
Finish: Forged aluminum
Sights: Tritium night sights
MSRP: $1,558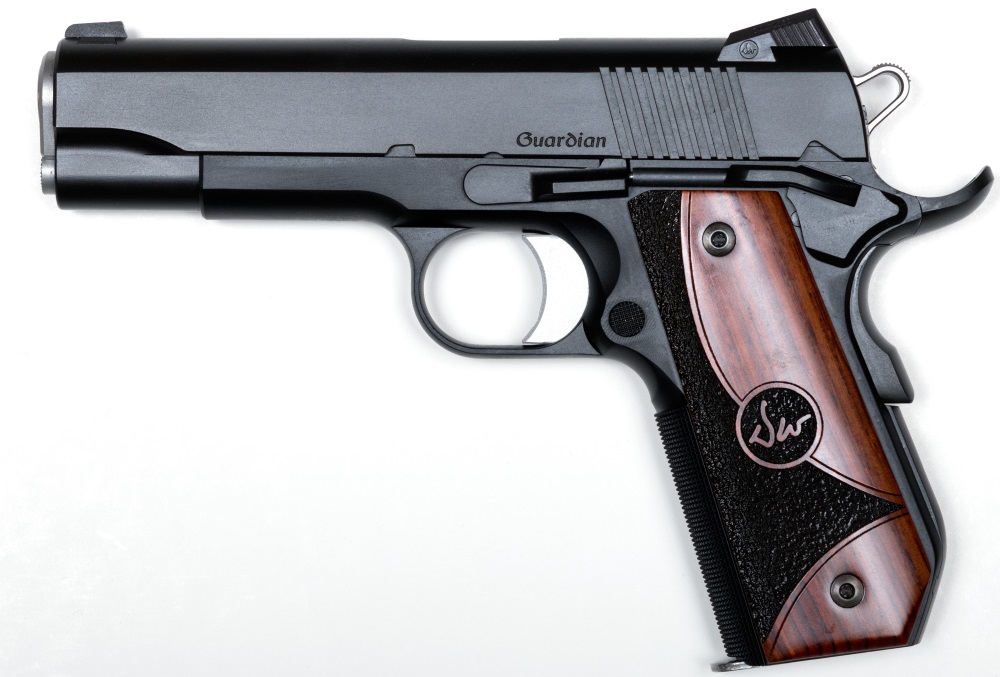 Other models in the series include the Guardian 45 ACP and 9mm. It is a lightweight, reliable, and well-constructed firearm, made for concealed or open EDC.
Conclusion

Since the revolvers are no longer being made, I will focus on the 1911 models.

There is (almost?) no question regarding the craftmanship – these are well-built guns. You could love them or hate them, but you cannot say they are trash. I mean sure, you could run across a bad egg. Happens with every gunmaker at some point. I don't know anything about their customer service, by the way, so I can't provide any input there.
These guns shoot well, are considered very accurate, and they can handle plenty of wear and tear. Heck, some consider them to be more accurate than Smith & Wesson!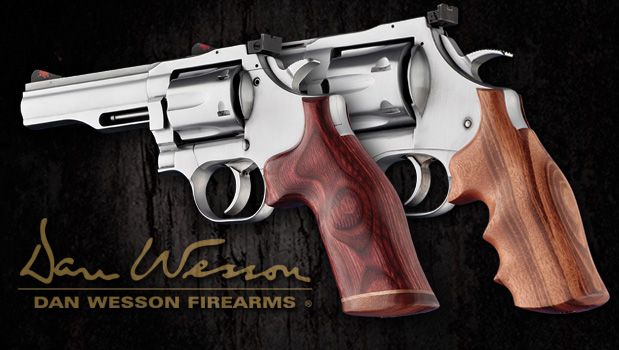 The real question is: is it worth the price? And this is also where there are greater differences in opinion. Look, as a consumer, you should definitely strive for a lower price, though not at the expense of value. I feel that even if you pay the full MSRP for these Wesson firearms, you'll most likely be getting your money's worth. But that is just me.
Take a look at what others have to say, and you will quickly see that many shooters feel these are well worth the price. There will always be those who say they are overpriced guns, and that they don't deliver as well as they should. If you feel the price is too high, there are many other good-quality 1911s out there.

These Wesson guns are a real part of the modern-day 1911 legacy. If you are interested in finding a viable alternative to Ruger, Colt, Springfield, or Rock Island Armory, be sure to see what Dan Wesson Firearms has to offer.