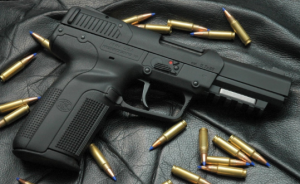 FN (Fabrique Nationale) Herstal, formerly Fabrique Nationale d'Armes de Guerre (French: National Factory of Weapons of War) has been making firearms for over a century. The company was founded in 1889, when the Belgian authorities were looking for a manufacturer to produce 150,000 units of the Mauser Model 89. A group of arms manufacturers in the region of Liège came together in the little town of Herstal, and established the FN Herstal company for that purpose. For many years since, FN Herstal has continued on engineering and producing a long line of quality weapons. It now has offices and manufacturing facilities in Europe, the U.S., and even Asia. This is our FN Five-SeveN Pistol Review.
FN Five-SeveN Design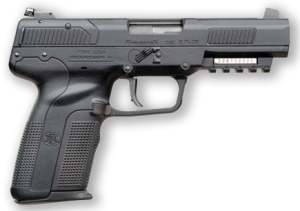 In 1998, after 5 long years of efforts and testing, the FN Herstal company came out with a full size 5.7mm caliber pistol, named Five-SeveN. The 5.7 caliber bullet is FN's own lightweight high-velocity cartridge, and it was developed specifically for the Five-SeveN pistol, as well as the P90 (which came out much earlier). The need for a new bullet design came after NATO requested a replacement for the 9X19mm cartridge. At first, the Five-seveN pistol was only made availbale for military and law-enforcement use, but in 2004 it became available for civilians to shoot and carry. The Five-seveN is a unique type of firearm, which shoots an equally unique type of catridge. The Five-seveN is a full size, semi-automatic, 5.7mm caliber pistol. Many law-enforcement personnel use the Five-Seven, but it is also popular with civilians who are looking for something different. It features single-action operation, low recoil, ambidextrous safety lever, a picatinny mounting rail, and a checkered grip. Some technical specifications for the Five-seveN:
Action – delayed blowback (due to the cartridge's strength).
Weight – 1.3 lb empty, 1.6 lb loaded.
Length – 8.2 inches.
Barrel length – 4.8 inches.
Width – 1.4 inch.
Height – 5.4 inches.
Magazine – 20 rounds (standard), 30 rounds (extended), a 10 round magazine is also available in certain states and jurisdictions which allow it.
Introduced – 1998 (military & LE) 2004 (civilian).
The sights on the Five-seveN are of a three-dot variety, in fixed or adjusted configuration. The fixed sights are also available as tritium-illumination night sights, with a green front and adjustable green or yellow rear.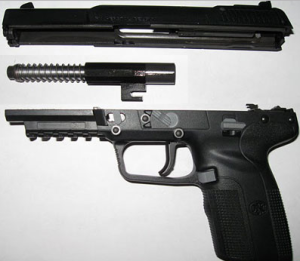 The Five-seveN features a magazine safety, which means that the gun will not fire when a magazine is not inserted. The civilian models also features a manual safety (which is ambidextrous), located above the trigger guard. This is not the most popular or conventional placement for a safety, but then again, FN are ones who set trends, not necessarily follow them. Furthermore, the original Five-seveN was meant for law-enforcement and military use only. Nowadays, that version has been discontinued, but LE and military still use the tactical versions of this gun. The manual safety is located precisely where the trigger finger rests, while the gun is drawn, which is very convenient for police and armed forces. For civilians it may seem to be a rather odd place to put a safety, but thankfully you can adapt to pretty much anything. If you like shooting and carrying this gun, then you will find that you are able to cope with the safety switch.
FN Five-seveN Ammunition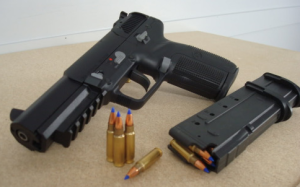 The 5.7X28mm is a centerfire cartridge with a bottleneck shape. The original name of the 5.7X28mm was SS90, and it received a U.S. Patent number in 1991. As mentioned, it was designed in reponse to NATO's request. NATO tested different kinds of cartridges, for several years. At the end of the trials, NATO was very happy with the results which the 5.7X28mm round provided. It concluded that it is more efficient than others, and highly effective at its job. NATO's testing group cited that the 5.7X28mm round can endure more extreme temperatures, and that there is less risk of barrel erosion than with other rounds. Furthermore, its close relation (size-wise) to the 5.56X45mm round allowed the 5.7X28mm to be produced on pre-existing production lines, thus reducing costs across the board. NATO was looking to standardize the 5.7X28mm, but complications arose, and the standardization was never finalized. As a result of the standardization process being cut short, NATO countries now use the 5.7X28mm, as well as the 4.6X30mm round.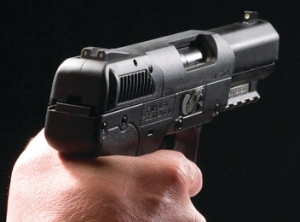 In 1993, the SS90 was discontinued, and replaced by the SS190, which features a shorter and heavier projectile. The SS190 was developed by FN alongside the Five-seveN. The company's P90 rifle – which was designed and released earlier on – was even altered, in order to accommodate the new cartridge. After that, several variants of the 5.7X28mm rounds came out, including the L191 tracer round (restricted), the SB193 subsonic round (meant for use with sound-suppressors), the SS197SR sporting round, the SS195LF lead-free round, the T194 training round (discontinued in 2002), and the hollow-point SS192 (discontinued in 2004). As for personal defense: the civilian-offered 5.7X28mm round is not exactly like the original military-grade cartridge. For this reason, there are thsoe who feel the that the civilian Five-seveN isn't all it's cracked up to be. It does have a higher round count, at 20 per magazine, but more isn't always better. You have to remember that this round was developed in Europe, and their combat methods and doctrines differ from that of the U.S. Armed Forces.
FN Five-seveN Price
The manufacturer suggested retail price of the Five-seveN was $1200, but it has since jumped up to $1349. You can find them new and used, ordinary or customized, matte, blued, etc. It is on the more expensive side, but it is well worth it. This gun isn't for everyone, and it will not fit everyone's needs. However, if you are looking for an outdoors/survival gun, light in weight and high in capacity, this is one of the best ones out there. The price of the Five-seveN's ammo is also something which has come under some criticism, but in many cases I feel it is unjustified. 5.7mm cartridges can be found pretty much anywhere online, though not always offline. The Five-SeveN rounds are extremely fast, flexible, and accurate, and even though they are not as popular as other calibers, there are some highly-acclaimed firearms manufacturers who are producing weapons chambered for the 5.7X28mm cartridge.
FN Five-seveN 5,7mmx28mm.. 20strz. pic.twitter.com/lmxb1BdXXi

— JAREK B-ZAŁOŻYŃSKI (@BOYAR1947) July 16, 2016
FN Five-seveN Variants: USG and More
As stated, the original Five-seveN was released in 1998, and has since been discontinued. It has been replaced by a number of variants, and nowadays the current model of civilian Five-seveN is the MKII. It was introduced in 2013, and has become the standard Five-seveN.
Five-seveN Tactical – This variant was introduced shortly after the original, in the late 90's, and it was a single-action model. Its production was discontinued after the IOM variant was introduced in 2004.
Five-seveN IOM (Individual Officer Model) – The first civilian-grade Five-seveN model. It was very similar to the tactical model in its design, and it also featured a picatinny rail, serrated trigger guard, and adjustable sights. The IOM was discontinued after the introduction of the USG variant.
Five-seveN USG (United States Government) – This variant sported the same features as the IOM, but included a checkered grip, square trigger guard, and larger, reversible magazine release. It was offered in fixed or adjustable sights, with a black frame finish.
Five-seveN FDE (Flat Dark Earth) – Same as the USG, but with a brown frame finish. Also offered in adjustable or fixed sights. The original FDE is no longer available, but it is available for the MKII version.
Five-seveN ODG (Olive Drab Green) – Same as the USG, but with an olive drab frame finish. Also offered in adjustable or fixed sights. The original ODG is no longer available.
Five-seveN Airsoft – FN Hertsal offers a near-exact replica of its Five-seveN handgun for airsoft/training purposes. It has semi-auto and full-auto capabilities, and uses a BAXS system for managing vertical and horizontal flight. Even has the picatinny rail in the front.
FN Five-seveN Accessories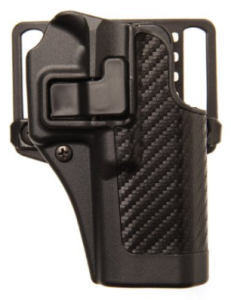 Like any proper handgun, the Five-seveN also has its share of available accessories – grips, magazines, extensions, sights, and others. It is important to remember that accessories are meant to facilitate better, more accurate, more comfortable shooting. Having tacticool add-ons is one thing, but remember that this is a lethal weapon, and that it is meant to be used in high-stress/emergency situations. You don't want anything getting in your way, or adding too much weight to your gun. Be wise when you accessorize!
Holsters – Not all Five-seveN models are built equally. The later models, including the MKII, are a tad wider than the originals. Be sure to investigate and do your research before settling on a holster. The Five-seveN is a full size pistol, so concealability isn't that big of a factor. Most, though probably not all, of the holsters designed for the FN Five-seveN are made for open carry.
Lights & Lasers – The Five-seveN's picatinny rail allows a wide range of lights and lasers to be added to the pistol. Red dot sights, green laser, red laser, and LED flashlights are the most popular options available for the Five-seveN.
Sound Suppressor – The Five-seveN has the option of being equipped with a threaded barrel, which means the pistol can be fitted with different kinds of sound suppressors. These are regulated in certain areas and jurisdictions, so make sure you know your local laws and abide by them.
Speedloader – The Five-seveN's standard 20-round magazine can be devastating to a shooter's thumb after a while. Loading and re-loading can take a toll of time and energy. Using a speedloader is one of the fastest and easiest ways to re-load, and while it isn't technically an accessory to the gun, it is an accessory to the gun's magazine. If you are looking to increase your range training time and decrease your down time, this is a great option. Not completely necessary, but it helps.
FN Five-seveN For Sale: Where to Buy?
The FN Five-seveN, in its different varieties, is still being produced and is in circulation. Those varieties which are restricted to LE and military use are obvioiusly not available for civilians to purchase, but many of the other models can be found. The discontinued models are obviously rarer, and thus more expensive, but for those who are looking, online auction sites are your best bet. You can usually find them for a reasonable price in gun shows and conferences, depending on the specific configuration. It changes on a case-by-case basis, so it is a judgement call.
FN Five-seveN Warranty
All of FN's firearms are covered under a limited lifetime warranty. No registration is required. If your Five-seveN handgun breaks or malfunctions due to materials and/or workmanship, FN will replace or repair it. FN America is known for its great customer service, and the web is full of positive stories and comments on their support team, and its fair treatment of the average John Q. Shooter. Note that any modifications made privately will render the warranty null and void, so be careful and precise when implementing any mods or other fixes.
Conclusion
The FN Five-seveN is used by over 40 nations' armed forces, including Blegium (obviously), France, Greece, Italy, Poland, and Mexico. Even though this pistol has been the subject of some controversy in the United States, it continues to be a very popular firearm with government agencies, law enforcement departments, military organizations, and civilians shooters. The U.S. Secret Service is famous for using them, as well as foreign Special Forces units. It has also played a significant role in the Mexican Drug War, as it has been used by the cartels in several cases. FN Herstal is committed to providing civilians, law enforcement, and military with the best means to defend themselves. Their designs are unique, and even though they may not be for everyone, they definitely have earned their place in history. Whether it is for everyday carry, home defense, or tactical use – the Five-seveN is up for the challenge.
Check back for more FN features here at Gunivore!