There are only few handguns that have changed the world as much as Smith & Wesson's M&P Series – which we will cover here in our Smith & Wesson M&P Series review. Smith and Wesson (now known as American Outdoor Brands Corporation) has been refining the reliability, precision, and overall quality of firearms since the mid-1800's. The M&P (Military and Police) series is no exception; since its launch in 2005, it has seamlessly altered the semi-automatic handgun market. The M&P story begins in the early 1990's when S&W attempted to construct a pistol (Sigma SW40F) with a polymer frame. Their goal was to compete with the "similar" Glock 17 (and 19) by employing synthetic materials without compromising power and durability. Then, in the late 90's, Smith & Wesson teamed up with the German company Walther to create a variant of the already legendary Walther P99.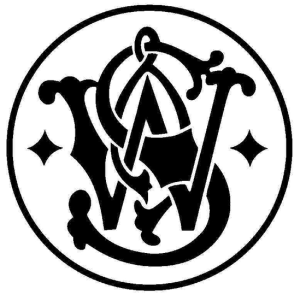 The result of their partnership spawned the SW99, which enjoyed a few years of popularity among law enforcement around the U.S. Then in the mid-2000's, innovation struck the American-based company. S&W designed a hybrid of their SW99 and Sigma series with intention of arming police officers around the world. Their brainchild was the S&W Military and Police, and it took the world by storm. Nowadays, these guns are everywhere! Law enforcement agencies across the globe have been arming their officers with them and they are equally prevalent and admired among civilians. In true Smith & Wesson fashion, the innovation and ingenuity is apparent at first glance. The M&P series presents upgraded ergonomics, safety features, trigger handle, customization options, and ease of use.
A buddy of mine who's a security guard swears by his M&P because of its minimal recoil, reduced muzzle rise, and self-cleaning system. These three factors alone could determine life or death in a tragic situation. He's constantly telling me that although he hopes to never have to use it, he feels safer knowing that he has a gun he can rely on. The self- cleaning feature is a product of the slide having four contact points with the frame thereby making it less likely to malfunction. Additionally, due to their reduced recoil and muzzle rise, the M&P's rapid fire and aim recovery are now even better. If you're looking for a reliable semi-automatic pistol that is easy to use and has the historic S&W reputation, the M&P line has to be top of your list.
Smith & Wesson M&P 9mm Review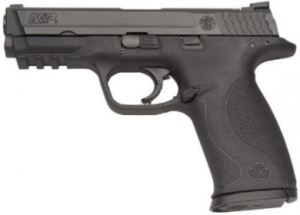 The 9mm M&P has quickly become an American classic. Throughout my several years as an avid shooter and NRA member, I have yet to read anything legitimately negative about this gun. Smith & Wesson claims that they have "considered the needs of military and law enforcement from every conceivable angle" with this gun and they are spot-on. S&W designed these breech-locking pistols to be able to face any situation while simultaneously flaunting unrivaled safety features. Many of the models come with an integrated Picatinny rail. I highly recommend these for those of you who like to deck your gun with sights, lasers, lights, etc.
The full-size M&P 9mm's are preferred by recreational, competition, and home defense shooters alike. It seems like everybody loves the 9 mm, and I don't blame them. It's relatively low-priced, easy to shoot and handle (it even has ambidextrous controls!), and is backed by the S&W lifetime service policy. I was flipping through their catalog and I was shocked to see that they offer nearly 50 variations of the M&P 9mm. I realized that it's not so crazy after all, considering that they basically arm police/military around the globe and millions of civilians. Here are the specs for the standard full-size version:
Capacity:17+1
Safety:No Thumb Safety
Barrel Length: 4.25"
Overall Length:6"
Front Sight:Steel Ramp Dovetail Mount – Tritium Sights Optional
Rear Sight:Steel Novak® Lo-Mount Carry – Tritium Sights Optional
Action:Striker Fire
Grip:3 Interchangeable Palmswell Grip Sizes
Weight:9 oz / 791.0g
Barrel Material:Stainless Steel
Slide Material:Stainless Steel
Frame Material:Polymer
Slide Finish:Armornite
Frame Finish:Matte Black
Smith & Wesson M&P 9c Review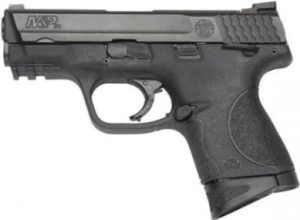 I love the M&P 9mm, but sometimes you need something more … concealed. Smith & Wesson engineered the 9c as a compact version of the classic M&P 9mm without forgoing any power, durability, or comfort. Unlike the full-size which is multi-purpose, the 9c is geared for concealed carrying and personal protection. Nonetheless, fans of the full-size will be happy to hear that the 9c's are also built with the same high-quality polymers and stainless steel components.
This model also features a Picatinny rail, but I don't recommend adding any attachments to your 9c – it's supposed be compact, so adding more parts doesn't really make much sense to me. Some of the added features to this model make this gun even more user-friendly than the full-size such as scalloped slide serrations, an ambidextrous slide stop, and a manual thumb safety. If you're looking to carry, Smith & Wesson gave this gun such an incredible MSRP (<$600) that makes this gun really hard to pass up on – It's a great deal for a great gun.
Capacity:12+1
Safety:Manual Thumb Safety
Barrel Length:5″ / 8.9 cm
Overall Length:7″
Front Sight:White Dot Dovetail
Rear Sight:Steel Low Profile Carry
Action:Striker Fire
Grip:3 Interchangeable Palmswell Grip Sizes
Weight:7 oz / 700.2g
Barrel Material:Stainless Steel
Slide Material:Stainless Steel
Frame Material:Polymer
Slide Finish:Armornite®
Frame Finish:Black
Smith & Wesson M&P 45 2.0 Review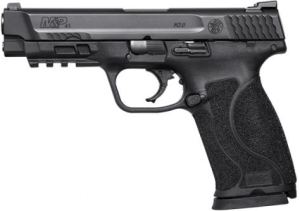 The M&P 45 2.0 seems to be Smith & Wesson's attempt at revamping their already impressive M&P line. It comes as no surprise that it's won awards and is a newfound favorite among M&P fans. S&W upgraded nearly every facet and capability of this semi-auto, ultimately giving it a complete makeover. My first impression of the 45 was astonishment at how much they focused on ergonomics. Even minute details like the trigger pull and grip texture were fine-tuned, culminating to create one of the best guns I've ever shot.
Smith & Wesson added four interchangeable Palmswell inserts with the M&P45 for easier and more comfortable shooting. To make it even more user-friendly, S&W managed to lower recoil and muzzle rise, essentially making it one of the most efficient and effective pistols out there. The specs are good, but to see the full range of new features, check out the Smith and Wesson catalog online.
Caliber:.45 AUTO
Capacity:10+1
Barrel Length:6″ / 11.7 cm
Overall Length:9″
Front Sight:Steel – White Dot
Rear Sight:Steel – White Two Dot
Action:Striker Fire
Grip:Polymer
Weight:0 oz / 765.4g
Barrel Material:Stainless Steel – Armornite® Finish
Slide Material:Stainless Steel – Armornite® Finish
Frame Material:Polymer
Price: $600.00 MSRP
Purpose:Personal/Home Protection
Here's the new Smith&Wesson M&P M2.0 Pistol. Had a blast! @SmithWessonCorp @TeamHornady @SafarilandGroup @BassProShops @LeupoldOptics pic.twitter.com/Zm1ME9y4eF

— doug koenig (@doug_koenig) January 9, 2017
Smith & Wesson M&P 22 Review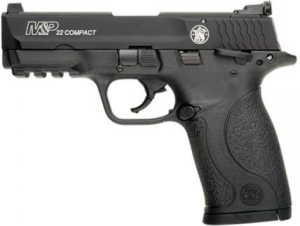 The M&P 22 series by Smith and Wesson is arguably one of their finest creations. S&W released their imitation of Walther P22 in 2011, and it has been a bestseller ever since. This isn't the first time they've replicated a pistol from the German company, however this time proved to be much more successful (See intro: the SW99 was also modeled after a Walther). There are a few things that stand out to me about this gun, namely the reconfigured sight system and internal construction.
The M&P 22's exceptional accuracy and ergonomics attest to the fact that it's designed primarily for recreational and competitive shooting. After seeing their product flourish so quickly, S&W began manufacturing a compact version of the M&P 22 in 2013. Like most other M&P's, the 22 models are built with durability and reliability as the highest priorities. Beginners and experts alike will love bringing this gun to the range – just make sure to pack plenty of ammo!
Model: M&P®22 12 Round Threaded Barrel
Caliber:.22 LR
Capacity:12+1 (10+1 compact)
Safety:Manual Thumb Safety
Barrel Length:4″ / 10.2 cm (3.5"/8.9 cm compact)
Overall Length:6″ (6.7 compact)
Front Sight:Drift Adjustable (White dot compact)
Rear Sight:Click Adjustable (White 2-dot-screw adjustable compact)
Action:Single Action
Grip:Polymer, Fixed Backstrap
Weight:2 oz / 771.1g (15.3 oz./433.7g compact)
Barrel Material:Carbon Steel
Slide Material:Aluminum Alloy
Frame Material:Polymer
Slide Finish:Armornite®
Frame Finish:Black
MSRP: $419.00 ($389.00 compact)
Purpose:Recreational Shooting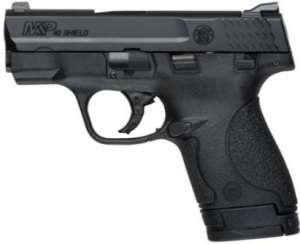 If you're considering a concealed pistol, the M&P 40 Shield has to be at the top of your list. Smith & Wesson's 9c is eerily similar to the M&P40 and I've been struggling to find my preference. Both are such great guns, so I think you'll be satisfied with whichever one you pick. The 9c is a little bit beefier and longer, but its added size offers better ergonomics than the sleeker .40 Shield. S&W's expert engineering team managed to somehow shrink their standard size M&P's without compromising any stopping power and functionality.
The 40 Shield was manufactured to never weigh you down or leave you defenseless; its lightweight design, durable components, and reliable performance ensure just that. If there's any doubt about this product's quality, let me put that to rest right now. Besides for being excellent on paper, over one million satisfied M&P 40 Shield owners are the proof in the pudding. There are several variations in the S&W catalog, but here are the specs for the standard model:
Caliber:.40 S&W
Capacity:6+1, 7+1
Safety:Thumb Safety
Barrel Length:3.1" (7.9 cm)
Overall Length:6.1″
Front Sight:White Dot
Rear Sight:White 2-Dot
Action:Striker Fire
Grip:Synthetic
Weight:6 oz / 584.0g
Barrel Material:Stainless Steel
Slide Material:Stainless Steel
Frame Material:Polymer
Slide Finish:Armornite®
Frame Finish:Matte Black
MSRP: $450.00
Purpose:Concealed Carry, Personal Protection
Smith & Wesson M&P 10 Review
I used to think that a one trick pony company like S&W, with its impressive history of producing top of the line handguns, could not compete in the rifle market – but I was wrong. Smith & Wesson unveiled their adaptation of the AR-10 in 2013 and it has been a huge success ever since. These semi-auto rifles are not only stunning, but also unfathomably accurate and customizable.

It's by no means a small gun, and understandably so, considering its six-position collapsible stock, steel and aluminum components, long barrel, and integrated rail. Like many other S&W weapons, it's outfitted for ambidextrous use (Mag catch, bolt catch, and safety selector). Although it is on the heavier side, the patented S&W enhanced flash suppressor and reduced recoil make shooting less difficult.
This is the gun to customize. Although the M&P 10 rifles function beautifully right out of the box, they still look naked. S&W outfitted their AR-10 variants with a Picatinny rail and QD sling swivel attachment point. Do yourself a favor and go buy some accessories. There are sights, scopes, lights, and lasers for all types of preferences and purposes; you might need to stock up! Get yourself a sling, maybe a fore grip, and if you're looking for a scope check out the Nikon M308 4-16×42 with BDC 800 Reticle. The M&P10's are designed with 5R rifling and a 1/10 twist, which means they're exceptionally accurate and powerful at long ranges straight from the factory. S&W crafted these rifles with hunters in mind, but they are also ideal for home protection and law enforcement.
Caliber:.308 WIN/7.62 x 51
Capacity:20
Safety:Manual Safety on Lower
Barrel Length:18″
Front Sight:None
Rear Sight:None
Action:Gas Operated Semi-Auto
Stock:6-Position CAR
Grip:Synthetic
Weight:2 oz / 3,492.7g
Barrel Material:4140 Steel
Frame Material:Aluminum Alloy
Frame Finish:Matte Black
Barrel Twist:1 in 10" 5R Rifling
MSRP: $1,619.00
If Smith & Wesson's answer to the AR-10 (see M&P 10 above) is what solidified them as a legitimate rifle producer, then it was their AR-15 variant that first put them on the map. The M&P 15 is the epitome of what an MSR should look and perform like. I am not exaggerating when I say that the M&P 15 is everything a rifle should be. It offers supreme versatility, great ergonomics, and the S&W durability that shooters have relied on for nearly two centuries. And to top it all off, it's so fun to shoot. They are perfect for hunting, law enforcement, competitive shooting, target practice, and home protection.

I used to think that if a gun could offer so much that it must be so generic that it just fits all molds. This is definitely not the case for the M&P 15 Sport II. It comes pre-equipped with a 6-position stock, adjustable Magpul folding MBUS rear & A2 post front sights, and is compatible with most standard AR 15 accessories. Smith and Wesson even upgraded the user-friendliness of the rifle by adding a dust cover and forward assist while also lowering the overall weight. There are around two dozen M&P 15 models, but the Sport II has cemented itself as the benchmark – check out its specs and you'll see why:
Caliber:56mm NATO/.223
Capacity:30
Safety:Manual Safety on Lower
Barrel Length:16"
Overall Length:36.63"
Front Sight: A2 Post
Rear Sight:Folding Magpul (MBUS)
Action:Gas Operated Semi-Auto
Stock:6-Position CAR
Grip:Polymer
Weight: 6.5 lbs. / 2,925.7g
Barrel Material:4140 Steel
Frame Material:Aluminum Alloy
Frame Finish:Matte Black
Barrel Twist:1 in 9, 6 groove
Price: Approx. $700.00
Smith & Wesson M&P Accessories
It's hard to imagine why someone would want to accessorize their M&P pistol, but nevertheless, there are a few options available. The most popular accessories for M&P's are extended mags. If you're looking for something more, there are plenty of holsters, lasers, sights, flashlights, and custom grips out there to choose from. Most of the M&P guns are already highly accurate, lightweight, and comfortable, so beefing them up just seems like overkill.
Conclusion
From Japan to Pakistan, and everywhere in between, it's hard to find firearms that have revolutionized law enforcement and personal protection as much as the Smith and Wesson Military and Police pistols. The American based company has gone to extreme lengths to ensure that all types of shooters can find the right M&P for them. In today's world of fast-paced development, too many companies have chosen to embrace constant innovation and have thereby sacrificed their quality; Smith & Wesson has managed find the perfect balance. Since the M&P's debuted, they have been systematically updated while maintaining the excellence that shooters have trusted for over 150 years. Even though these guns were designed for police and military use, they have found their way into the hearts of civilian shooters around the world.
Thanks for reading our M&P feature! Stay tuned for more on Smith & Wesson, but in the mean time check out our Bushmaster Minimalist-SD and XM features, as well as our Remington 870 and 1100 features right here at Gunivore!