Welcome to our in-depth Glock 19 Gen 4 Reveiw 2015, covering the latest and greatest from one of our favorite gun manufacturers. Although we will cover some ins-and-outs of Glock itself, our focus here is on the Glock 19 Gen 4, as we will cover as much info as we can. You may see a Glock 19 for sale and ask yourself, 'Is this the right gun for me?' Our goal of this Glock 19 review is to help you answer that question. The Glock 19 Gen4 9×19 is easily one of the most carried and used sidearms worldwide. We'll also try to present relevant info based on the Glock 19 review from hickok45, an expert in all things Glock.
Brief History of Glock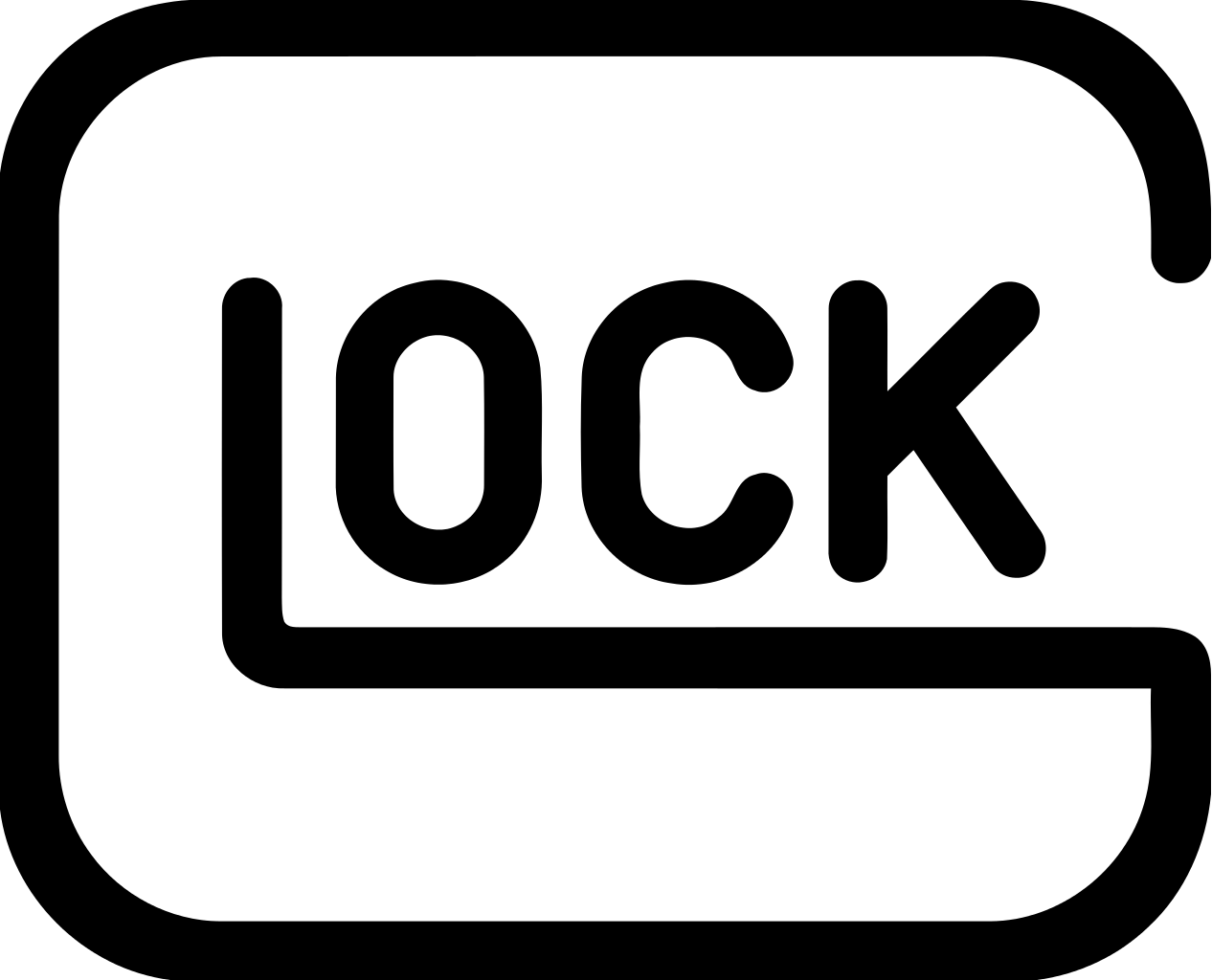 In 1980, the Austrian steel and plastic company Glock KG (headed by Gaston Glock) received a formal invitation from the Austrian military to develop a new service sidearm, to replace their older WWII models. Glock KG accepts the invitation, and GLOCK Ges.m.b.H (shortened form: Glock) is formed. In 1982, following a series of tests and exercises, and competing against many companies (local and international), Glock comes out the winner, and is awarded the contract. Austrian military and police have been carrying Glock firearms ever since, and the brand has expanded worldwide.
Glock's main offices are located in Austria, but they also hold offices in Uruguay, Hong Kong, the United States, and the United Arab Emirates.
The Glock's origins stretch back to the Glock model 17, which was the one submitted to the approval of the Austrian Army in 1982. Up until then, the Army and police were carrying Walther P38 handguns, but the Ministry of Defense decided that a newer, more modern handgun was needed.
The Ministry compiled a list of 17 specifications with which any competing handgun had to comply, before being considered to undergo the Army's tests and exercises.
Glock had assembled a team of experts, to find what sort of traits and qualities would constitute the perfect combat handgun. Within several months Glock had developed a prototype. Glock submitted the semi-automatic model no. 17, which was so called because it was created from the 17th set of drawings, and the Austrian Ministry of Defense decided to pick up his option. The rest, as they say, is history, thus the Glock 17 was born.
After the Austrian authorities got their hands on the Glock 17, the Norwegian and Swedish armed forces accepted the handgun into their ranks as well. The Glock 17 gained a lot of popularity, and it soon became NATO's standard firearm, and received a NATO stock number.
Glock 19 Generations Explained
The first generation Glock 19 was introduced in 1988, (commonly known as Glock 19 gen 1) as a compact version of the Glock 17. It sported a shorter barrel and grip. The second generation of Glock 19 (Glock 19 Gen 2) handguns was introduced in 1993, the third generation (Glock 19 Gen 3) in 1998, and in 2010 the "Gen4" Glock 19 was introduced. By then, the "generation" nomenclature (which had been a fan-made word) was recognized by the company itself.
The changes which the Glock 19 went through are not many, but each of them made a difference, and recruited a new generation of handgun carriers, be it in the service or for home defense.
Glock 19 gen 1 – very few of these were made, and even fewer were imported to the United States. Nowadays, they are considered a collector's item. Many people confuse the Glock 19 gen 1 with cut-down 17's. While it is true that some 17's were cut down and made into 19's, there are indeed original 19's made in 1988.
The gen 1's grips have angles which are much closer to those of the original 17. The 19 gen 1 was a transitional handgun. It was introduced just before the gen 2 Glocks were released. The gen 1's have only one pin above the trigger, and a smoother grip.
Glock 19 gen 2 – Textured grip, and a different finish.
Glock 19 gen 3 – Different grip, finger grooves, accessories rails, Tenifer finish, double pins, thumb rest
Glock 19 gen 4 – stippled grip, replaceable back strap, larger magazine release button (which is also reversible), bigger internal spring
A lot of debate and buzz continues to exist among users about the Glock 19 gen 4 vs gen 3. People carrying and using the Glock 19 Gen 3 will swear by it saying the Glock 19 Gen 4 changes are useless to them.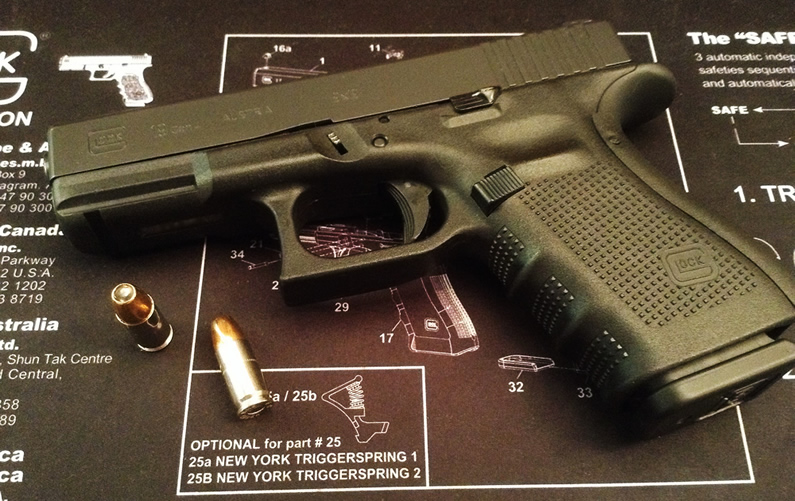 Glock 19 Specs
Dimensions and Build of the Standard Glock 19 (Gen4)
Length: 7.28 in. – 185 mm.
Height: 4.99 in. – 127 mm.
Width: 1.18 in. – 30 mm.
Barrel Length: 4.01 in. – 101 mm.
Barrel Height: 1.26 in. – 32 mm.
Loaded Weight: 30.18 oz. – 855 g.
Unloaded Weight: is 23.65 oz. – 670 g.
Trigger Pull: 5.5 lbs. – 2.5 kg.
Trigger Travel: .49 in. – 12.5 mm.
Barrel Rifling: Right Handed, Hexagonal style
Length of Twist: 9.84 in. – 250 mm.
Caliber: 9×19 – 9mm
Magazine Standard: Two 15's with 10/17/33 options available.
Glock 19 Parts
The Glock is made up of 34 parts, which is a great advantage. It means that there are less parts that may malfunction. Its simplicity and effectiveness are part of what make the Glock series so popular. If you can pull a trigger – you can use a Glock.
The Glock's frame, body, and other parts are made of high strength polymer based on nylon, and rest of made of steel. The polymer (called polymer-2) which makes up the Glock was invented by Gaston Glock himself, and was quite unconventional when it was first introduced. Over time, it became clear that Glock had it right when they introduced this revolutionary "plastic" handgun into the market. Glock does not disclose the exact mixture and build of the polymer claiming it as a 'trade secret'.
Polymer-2 is resistant and more resilient than carbon steel and many steel alloys. It can withstand very hot temperatures, shock, and caustic liquids. The frame also has four short steel rails for the slide. Today the slide is made of a single block of steel using CNC technology. The barrel and slide go through a two-time hardening process, and are subjected to a Tenifer heat treatment. Tenifer is extremely resistant to heat, wear, and corrosion. After the process is complete, and the gun has a matte gray non-glare surface, a Parkerized finish is applied. The Tenifer protects the steel parts which are treated, so that even if the finish were to wear off, the Tenifer-treated parts would still be protected. Tenifer is even effective up to a certain depth below the surface.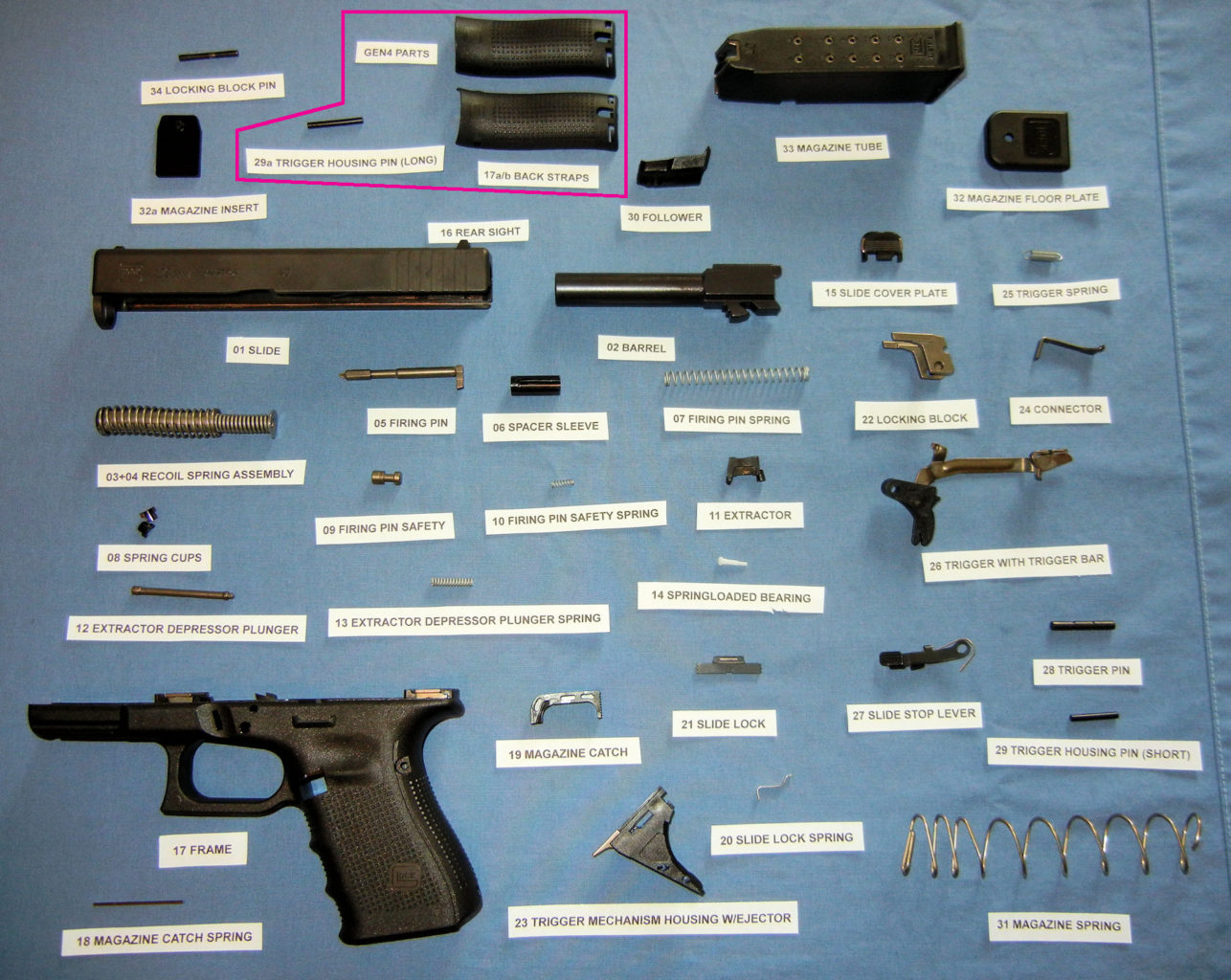 Magazines
The Glock 19 comes with two standard 15-round magazines. The magazines are interchangeable, so the Glock 19 can be used with a 10/17/31/33-round magazine as well. Of course, 31- and 33-round magazines considerably affect the weight and look of the gun. However, because of the Glock 19's full sized grip, you never come in contact with the magazine. Original Glock magazines are made of polymer, and it is always recommended to purchase original Glock magazines to use with your Glock. Other magazines may be cheaper, but in a situation when you have to change the mags rapidly, you will know where that extra money went. It is all about being dependable, and the best way to remain confident in your firearm and ammunition is to use the highest quality equipment. This is not a toy. You're betting your life on it.
Many high quality aftermarket magazines and speed loaders are available from various manufacturers. As Glock is certainly a fan favorite in the carry market, tons of options are available. Doing proper research and testing to find what's best is a must.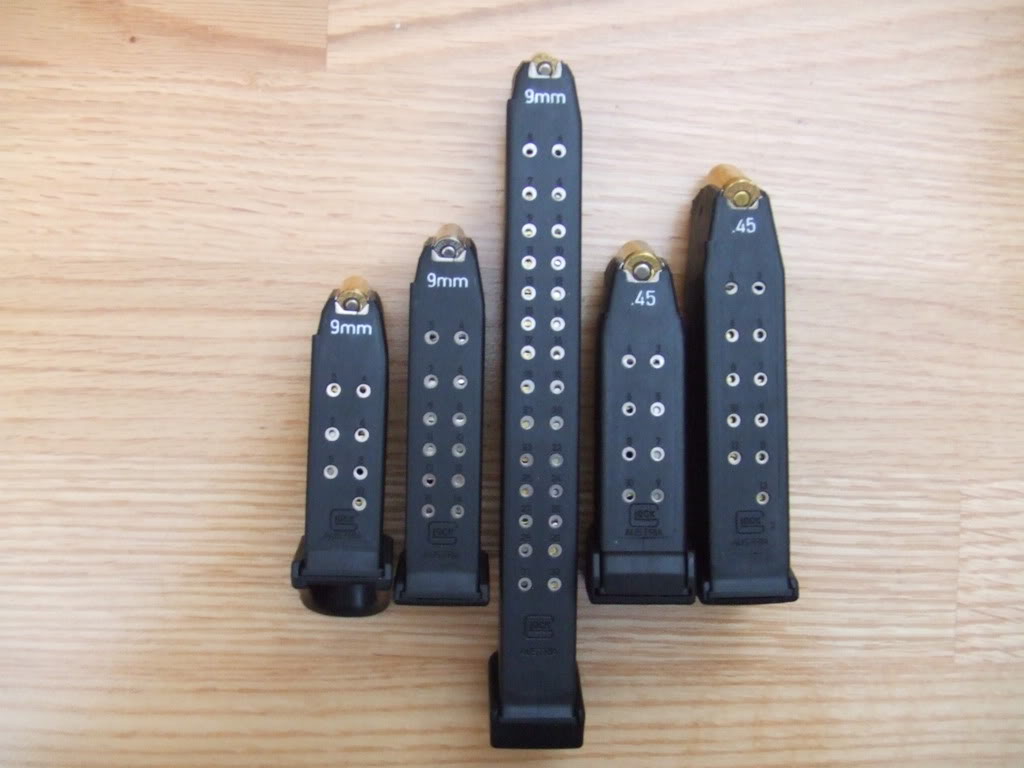 Trigger
The trigger is a two stage trigger, and it is held to the frame by use of a polymer pin. The trigger guard is square and checkered. Glocks have no hammer, and are all striker-fired. The trigger safety is built in to the trigger itself on all Glock models. This is accomplished by a small lever alongside the trigger that remains in a forward position, preventing the trigger from moving rearward. Without depressing the lever, deliberately at the same time as the trigger itself the pistol can not fire.
Trigger Pull Weight
~5.5 lbs.
Glocks triggers are changeable, depending on the user's needs, be it for everyday carry or competition. In order to make a shot count, and for a quicker reset, many shooters prefer a lighter "hair-trigger" system. 3.5 lbs. triggers are available, and they install easily, for those of you who would like a more relaxed, lighter, trigger pull.
Glock 19 Action Type
Glock 19 is Double Action Only (DAO), as with all striker fired type guns, there is no hammer. This means that the trigger performs both actions of cocking and releasing the internal part which hits the firing pin and sends the bullet flying.
Safety
While there is no safety on the frame itself, the Glock 19 has three independent safety options:
They dub it their "Safe Action"® System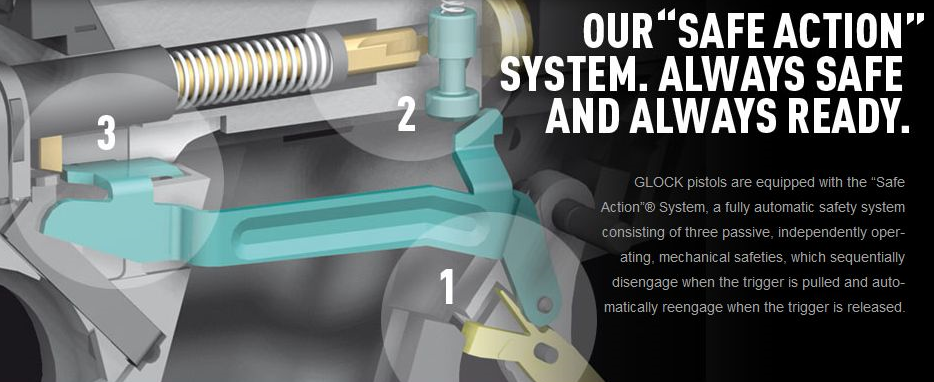 The trigger has a small lock that must be pressed. It keeps the Glock from being fired inadvertently. It is an external safety.
The Glock has a firing pin safety that keeps the striker from moving forward on its own, an internal safety.
The Glock has a drop safety. Even if the gun is dropped from a considerable height, with a round in the chamber, it will not fire.
Barrel & Barrel rifling
While there is nothing wrong with Glock's barrels, some shooters choose to replace the factory barrel with other types of barrel. A threaded barrel, for example, could provide certain advantages. Shooters who are in competition, or others who work in law-enforcement, choose to modify the barrel in order to enable quicker addition of suppressors.
Others modify their barrels in order to facilitate the usage of lead-cast bullets, or other types and calibers of ammunition.
The Glock 19's barrel rifling is a right hand twist, hexagonal in shape. Length of the twist is 9.84 in. Unlike the conventional "lands and grooves" method, Glock uses a "hills and valleys" shape, which gives the barrel a smoother definition. Another way in which Glock is unconventional is the method which it uses to create the rifling. Rather than use a broaching machine, Glock uses a mandrel to achieve the desired hexagonal shape. Because it uses no grooves and slots, the gases create a more efficient seal behind the bullet, and the Glock can therefore achieve better results. Because of this method, the Glock provides somewhat better muzzle velocity, increased accuracy, and greater ease of maintenance.
Sights
The Glock 19 has fixed polymer front and rear sights, with white elements for quicker target acquisition. The rear sight can be adjusted. Many people choose to take a marker and darken the rear sight's white elements, so that only one white dot appears, on the front sight for alignment.
The standard height of the front sight on a Glock 19 is 0.165 in. The rear sight's height is 0.256 in. Rear sights are also available in 0.24 in., 0.27 in., and 0.29 in.
Length between sights is 6.02 in.
Changing the rear sight will result in a shift of approximately 1.97 in. over a 27 yards distance.
Night sights are available. They are Tritium, illuminated at night, white in daylight.
In order to install the sights, you will need the right tools and knowhow. It is recommended to take them to a gunsmith, rather than attempt to install the sights yourself. An experienced gunsmith will have no trouble installing the Glock sights.
Prices for sights differ from polymer to steel.
Estimates –
Front sight (polymer) – $4.50
Rear sight (polymer) – $5.00
Front sight (steel) – $16.00
Rear sight (steel) – $15.00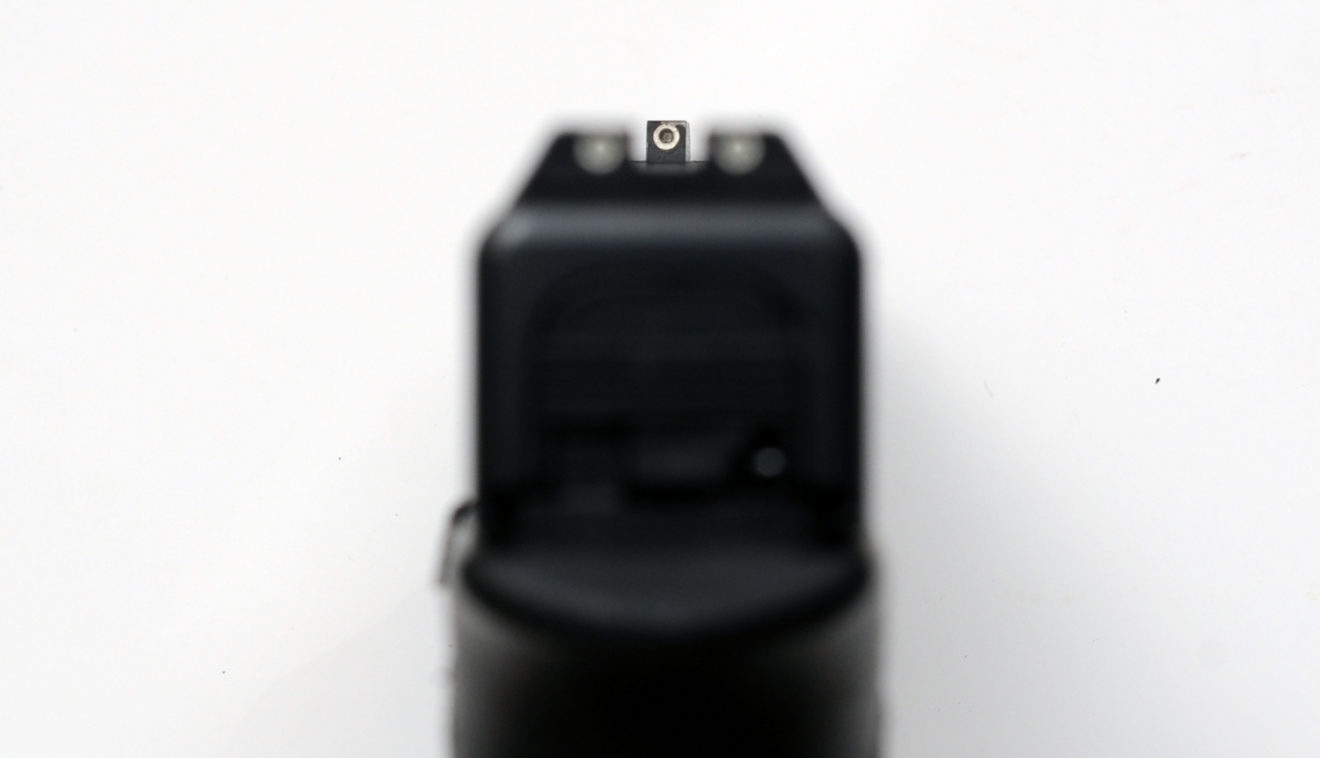 Fiber optic sights are also available, from about $29 to $60.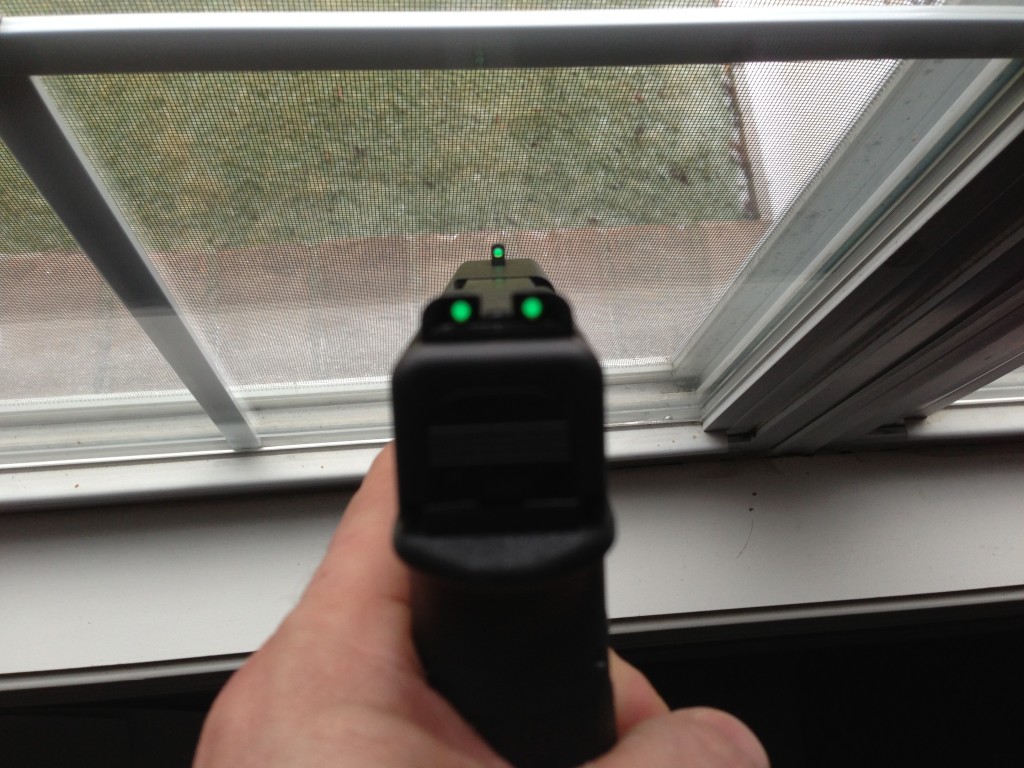 Prices for night sights range from $40 – $160. Some companies that make night sights for the Glock 19 are Trijicon, Meprolight, AmeriGlo, Battlehook, Truglo, XS, and Glock itself.
For regular sights, tools like a sight pusher are recommended. For night sights or tritium sights, the tools become a necessity. It is inadvisable to install the sights yourself without the proper tools and know-how. A gun without proper sights and alignment is no better then shooting with your eyes closed. A great option to see available pricing for sites can be compared here.
Grips
Getting a good grip on your handgun is a cardinal rule of fast and accurate shooting. If your hand slips, or if your grip is not secure, the recoil can send your next shot in a totally different direction.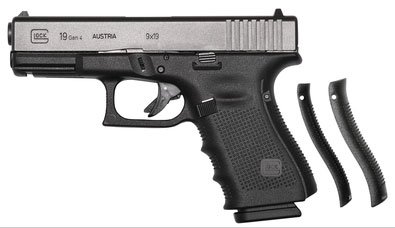 Having a good grip provides the shooter with control, in any type of situation. In order to maintain accuracy and speed – both of which are vital in self-defense as well as competition – is it important to have a proper grip on your handgun.
Different grips are available for the Glock 19. The patented Talon grips are very popular with civilians, as well as with law-enforcement personnel. Another widely used model is raptor grips. Those two are adhesive models, but there are also slip on grips available, such as Hogue and Pachmayr.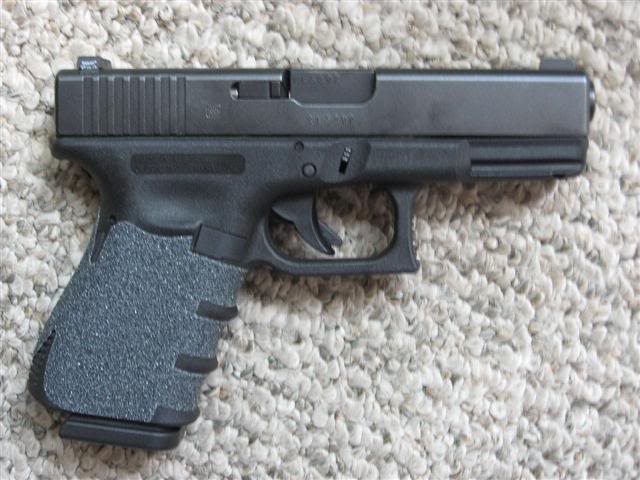 Grips are also available for magazines. Backstraps are available for Glock 19 Gen4, as well as some models that were made prior to the Gen4. Grip adaptors, which elongate the user's grip, are available by companies such as Grip Force or Decal Grip. Prices for grips are relatively low. It is all about finding out which is most comfortable for you and your hand. As with any gun accessory, what's right for you all depends on what your personal preference is and what you're looking for.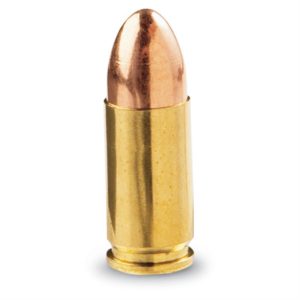 Caliber
The Glock 19's caliber has been a 9mm since its inception. It is the only the caliber in which the Glock 19 comes. The Glock 23, for instance, is an exact match to the 19, only it sports .40 S&W caliber slugs, not 9mm.
Styling options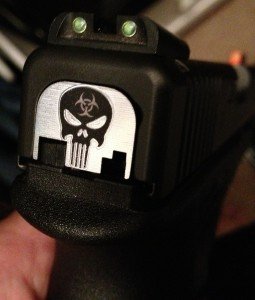 There aren't that many styling options when it comes to the Glock 19 other then changing its colors. The slide cover plate can be customized, and many choose to do so. It is a nice little twist, which makes the handgun that much more personal. With the Gen4 there are different backstraps available as well.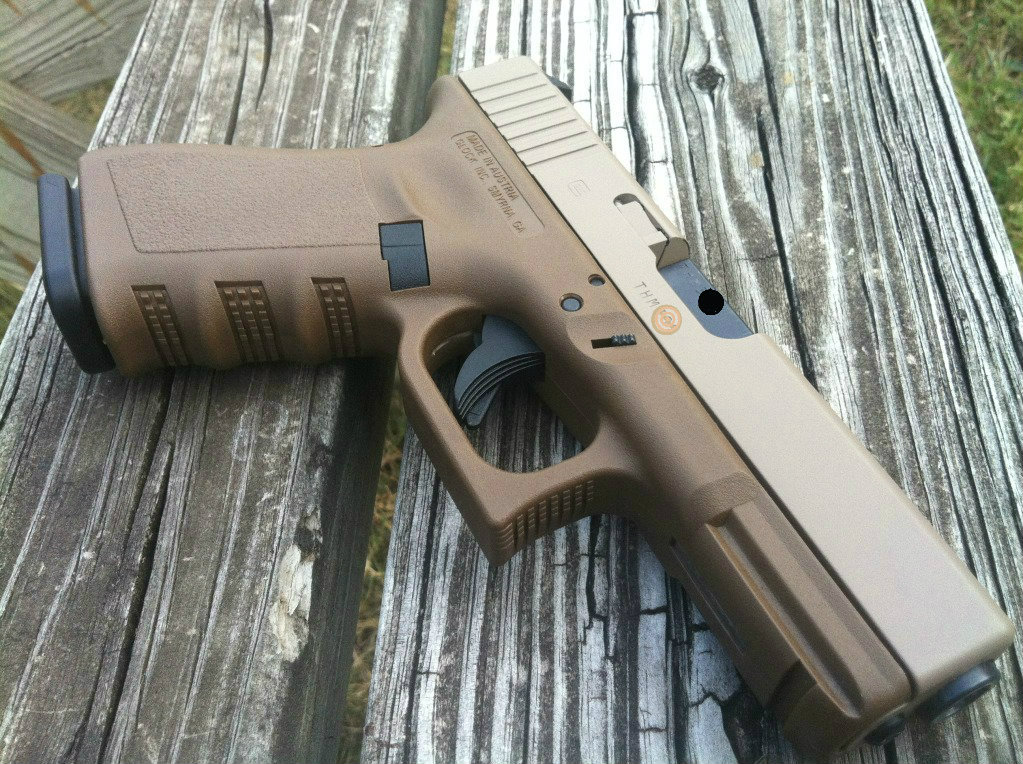 Glock 19 Accessories
The Glock 19 has many accessories, including an arm sling, top rails, tactical lights, scopes, stocks, and laser guides.
When it comes to stocks, an important thing to mention is that adding a stock to your handgun may effectively turn it into a short barrel rifle (SBR). If it becomes an SBR, it must be registered with the ATF. Carrying an unregistered SBR is a federal offense, and one must use caution.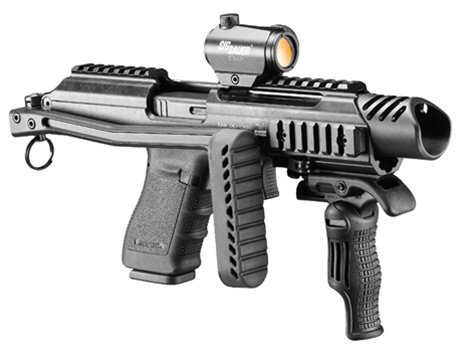 Another popular addition, especially when the gun is not yet broken in, is the extended slide stop lever. Many shooters complain of firearms' small slide lever. This is not at all specific to the Glock 19 Gen4. There is the option of extending the slide lever, making it easier to manipulate and control the weapon, whether at the range or in competition. It can certainly make a difference when self-defense is necessary.
Another addition, which Glock added as standard to their Gen4 release, is the extended magazine release lever. Changing magazines quickly and efficiently is a necessary skill for shooters of all kinds. It is definitely needed for law-enforcement and military, and also for those who carry every day.
Another modification which many take advantage of is magazine enhancement. A standard Glock 19 magazine holds 15 rounds, but there are extensions available. Not to mention the fact that multiple size, manufacturer and after market options are available in many different sizes.
A popular, and rather small, addition is a new mag well insert. This piece of polymer engineering improves grip and performance. It is an item which can make a world of difference when changing magazines, and ensures that every magazine is inserted properly, every time. In times of emergency, or even at the range, you can shave precious seconds off your time with this little add-on.
Glock 19 Holster Options
The Glock 19, being a medium sized handgun, fits pretty much all types of holsters, from the simple inside/outside waist band belt holsters, through the combat/sport holsters, to the small of the back, hip, pocket, or even shoulder holsters. There are many brands, and options available. Holsters for the Glock 19 come in all shapes sizes and materials ranging from leather to plastic.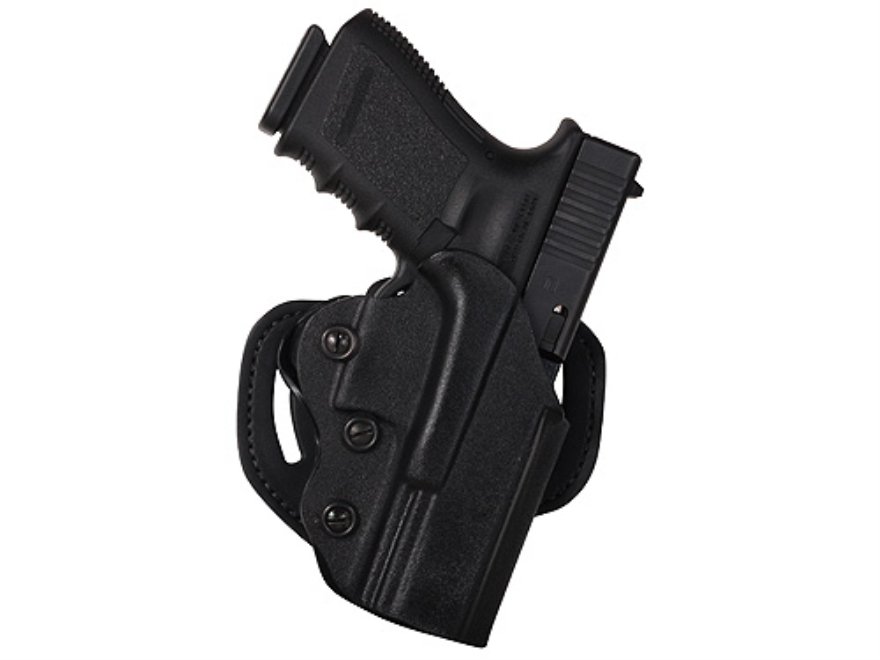 Look out for our Glock 19 Holster review where we go over the latest and greatest on a variety of holster types and options.
Glock 19 Carry
The Glock 19 is one of the finest choices for every day carry (EDC). It is very popular with all types of carriers, whether concealed or open. It is optimal for men and women, though women may want to consider the Gen4 as opposed to the previous generations of Glock 19. This is due to the Gen4's backstrap changing capabilities. Adjusting the backstrap means having more options of grip sizes, which is important. As for concealed carry weapons (CCW), the Glock 19 is compact enough to fit most people. It is the CCW choice for many whose states allow conceal carry. The Glock 19 is a favorite of a large portion of the American Carry market for it's lightweight, durability and reliability. As Carry will cause wear on any weapon, the Glock 19's options for replacement parts, aftermarket parts and ease of customization make it a real favorite among users.
Upgrades (recalls)
Over the years, Glock had issued upgrades, in which it invited carriers of certain models and makes to send their handgun in for upgrading. Many times, these were initiated by Glock and not consumers. Although there was a recent Gen4 upgrade which was practically demanded by the Gen4-carrying consumer. More on the history of Glock can be seen here.
Past upgrades of the Glock 19:
1990:
Glock announced its Glock 19 pistols "may have the potential of the action to malfunction as follows:
The slide locking back on a full magazine.
Failure to lock into battery because the barrel lug drags on the slide lock.
The magazine follower tips or sticks in the magazine tube."
1992:
The six part upgrade, which included:
Extractor
Spring-loaded bearing
Firing pin safety and spring
Firing pin / striker
Trigger bar
1993:
"These pistols have the potential for an UNINTENTIONAL DISCHARGE of a cartridge with the action open.
The Glock model 19 pistol slide has a bottom protrusion, whose function is to push cartridges from the top of the magazine into the chamber. When the pistol is jammed in a double feed situation, the slide protrusion can come in contact with the primer of the jammed cartridge and cause UNINTENTIONAL DISCHARGE while the action is open."
2011:
Glock announced it "has developed a new design to the recoil spring assemblies on its Gen4 pistols to replace several variations that are functioning in the market today. As part of the company's commitment to perfection, we are voluntarily exchanging the existing RSA in order to ensure our products perform up to GLOCK's stringent standards."
Whenever Glock issued an upgrade (i.e. recall) for a certain model or make, they did it for free. The upgrades they made were essential, and they are part of what has made the Glock 19 stay so popular for over 25 years.
Glock 19 Cleaning and maintenance
Like any firearm, regular cleaning is necessary for the optimal functionality of the weapon. In order to clean your Glock you will need to strip it down (field strip), and use a gun-cleaning kit to polish the barrel, clean the slide, brush the frame and all of its rails, and make sure you are hitting all of the spots where dirt and grime may accumulate. Using a brass brush is better than using steel, since brass won't do any damage to your barrel.
Having a clean gun means less malfunctions, faster operation, fewer jams, and ultimately a better shooting experience. Once you are done with the cleaning part, it is time to lube your Glock. Remember not to use too much lube. Use several drops of lube for the slide, a couple for the barrel, and one drop for the frame.
The places where there is most contact are the ones you will want to lube up. You can use your finger for this particular chore, because unlike a cotton rag, your finger will not absorb the oil.
Glock 19 Forces In Use
The Glock 19, due to its reliability, simplicity and fact it never quits is used by many different armed forces.
The Glock 19 has been approved for use by:
S. Marine Corps Special Operations Command
S. Army Delta Force
S. Army 75th Rangers
New York Police Dpt. (Among Hundreds of others worldwide.)
Australian Royal Air Force
Austrian Armed Forces
Finland Defense Forces
French Army
French Navy
Georgia Special Forces
Latvian military
Lebanese Army
Lithuanian Armed Forces
Malaysian Armed Forces
Military of Montenegro
Military of the Netherlands
Royal Norwegian Army
Polish Military
Portuguese Marine Corps
Portuguese Republican National Guard
Swedish Armed Forces
Israeli Defense Forces
Israeli Security Agency (Shabak)
The Glock 19 in Movies and Pop Culture
Because of its immense popularity, the Glock 19 has a special place in cinema, television, video games, and even animation and anime series. The Glock 19 has appeared in movies such as Natural Born Killers, Ransom, American Psycho, The Bourne Identity, Mr. & Mrs. Smith, The Hangover Part II, and many other full length features. In television, it has been seen on Law & Order, The X-Files, Third Watch, Smallville, 24, The Shield, Prison Break, CSI, Breaking Bad, and numerous other series. In video games, the Glock 19 can be seen in almost every popular FPS (First Person Shooter) game.
Glock 19 Review Hickok45
Here is a great review that goes truly in depth on the Glock 19. Well worth a watch. Hickok45 does a LOT of great gun review videos. As he calls it, 'Some polymer wonder'. We agree.
Glock 19 Gen 4 Review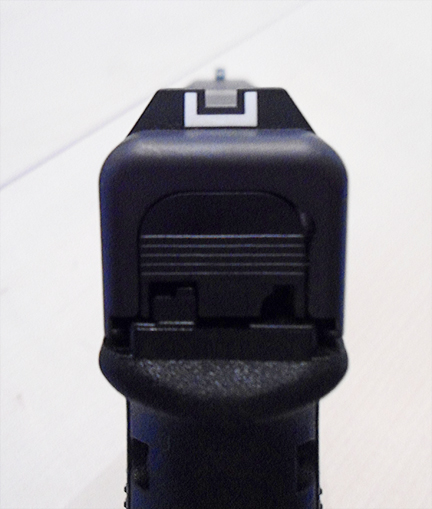 I have heard several carriers of the Glock 19 refer to it as the AK-47 of handguns. It has been called America's Favorite Gun, and it has certainly taken the world by storm. It isn't just the unique steel and polymer-2 build, it is the overall effectiveness of it. The AK-47 shoots whether it is covered in dirt, mud, rain, blood, sand – anything, really. The thing just shoots, and shoots consistently well.
This how I – and many others, for that matter – feel about the Glock 19. It is simple, useful, and it gets the job done. You purchase it, and have no need to replace anything, nor add anything (other than what the company sends out for, of course) for it to fire. It is a user-friendly handgun, assembled and disassembled quickly, easy to clean, fit for men and women of all types of physiques, with a high rate of concealment and secrecy.
It is a medium, compact-sized handgun which will fit any need, from every day carry, through competition and sports, to home defense. Gun enthusiasts love it, as do complete novices and first-time shooters. It is not by mere coincidence that this gun had succeeded in completing the Austrian military trials almost 35 years ago. It can take a lickin' and keep on tickin', and that is what makes it the gun of choice for so many military and para-military organizations, worldwide.
The Glock 19 Gen4 also has a slightly different sight picture than it's predecessors. As as you can see based on the image below, rather then the standard three dot line up it uses a white inline square instead. This was changed based on requests from the Glock community.
Because of the Glock 19's popularity, any user can walk into any random gun shop and find parts, accessories, and many different options that are available and suitable for the Glock 19.
So, whether you are new to the world of handguns and firearms, or whether you are a comfortable and seasoned shooter – the Glock 19 is definitely a gun to own.
The Future of The Glock 19: Gen 5?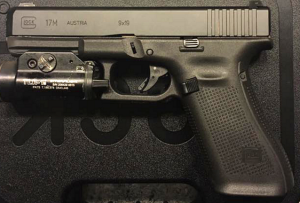 The fifth generation of Glock guns is coming. We all knew that it was only a matter of time – and with recent news leaking of the FBI deciding to sign on for an order of 'M' series handguns – we know that time is near at hand. Pictured to the right is a leaked photo of the Glock 17M – the first such photo to be seen of the new generation of Glock handguns. Although the Glock 19M would represent a more compact version of the 17M, there are a number of conclusions that we can already draw regarding the 19M based on what we are seeing. Among these changes include the elimination of finger grooves, a new finish, new rifling, an extended front lip for mags, a new ambidextrous slide release, a flared magwell, and more.
That is only representative of the changes which are evident to the naked eye – we can't wait to find out about the inner workings of the gun. One thing's for sure, if the Glock 19 Gen 5 builds on its predecessor as well as the Glock 19 Gen 4 did, we are in for a treat. Glock listens to its consumers – in the private sector and from among everyday gun lovers – as evidence by these changes. Glock Gen 5 has secured the FBI contract, the army and law enforcement may shortly follow (although some minor flaws have been reported), and before we know it they'll be in the holsters of gun lovers nation wide.