There are many options available when it comes to selecting a Glock 19 holster (as well as all Glock 19 accessories), and much like a firearm itself, the holster needs to be an accessory you can depend on. In a situation when self-defense is necessary, you have to be quick, and that is what a good holster is about – it gives you the means to draw, aim, and fire. Glock holsters come in many shapes and sizes, and vary by material as well as usage. Selecting a glock holster is a big part of owning a gun. This is especially true for those in the service, but remains just as relevant for anyone who carries a handgun, whether open or concealed. There are times when you have a second or two to draw, and when there are mere seconds standing between life and death. A holster is a personal thing, and is a choice that no one should make in haste. The G19 is one of the best-selling handguns in America, and it has been popular ever since it came onto the market in 1988. The Glock 19 is a compact, medium-sized handgun. It was introduced as a shortened version of the Glock 17. Whether military, police, or civilian – people love carrying and firing the Glock 19. It is easy to use, effective, and reliable. That is why it has remained consistently popular for over 25 years. And of all the available Glock 19 accessories on the market, a holster is by far one of the most vital. Arranged in no particular order, here are our picks for the Top 10 Glock 19 Holsters!
This holster is ideal for concealment. It is made of Glock polymer-2, and is both lightweight and extremely durable. It is fit for both left- and right-handed shooters, and is compatible with all 9mm, .40, and .357 caliber Glocks. It incorporates a trigger guard which holds the gun in place, making sure that it is always at the ready.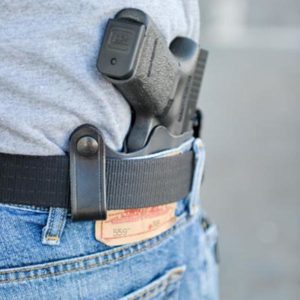 This is an inside the waistband (IWB) holster, made of leather and highly adjustable. It has removable belt clips, which can be moved up or down to better suit the wearer. When it comes to concealed carry, comfort is important above almost everything else, and if you are looking for an IWB option that will provide you with ease of use and access, the King Tuk is definitely worth checking out. A quick search on Amazon reveals that quite a number of users view this as one of the best Glock 19 concealment holsters.
Another IWB holster which needs some getting used to. However, once you do, you may never want another holster. It is near perfect – very concealing, great for open carry as well. The carbon fiber makes this holster very light and sturdy. It has great retention and is very reliable. Comes with belt loop or paddle attachments.
This is an over the waistband (OWB) holster. It is made of saddle leather, and is double-stitched and hand-molded to perfection. The design offers a quick draw and clean presentation. The retention is very high, and there is even the possibility of using it for concealment carrying.
This top quality holster is made with high-density plastics, meaning that there is no need to maintain this holster – no need to oil, no need to let it breathe or sweat, and it can be washed out with soap and water. A paddle version is available through the use of a rubberized paddle, which means you can choose to use it in a way that won't require you to remove your belt in order to remove the holster. The retention on this holster is very good, and it provides an audible click so you know your gun is secure.
This holster sports an injection molded paddle design that gets really close to your body. The automated locking system (ALS) makes sure that your gun is secure, and de-activating it is made while getting a grip on your gun. This holster is very concealable, and it fits the Glock 19 perfectly. It helps protect the gun's sights and finish, while providing the carrier with a smooth draw and a snug fit.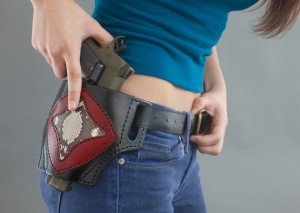 This particular holster is an OWB holster, and it is made of Kydex and reinforced nylon. It is strong and extremely durable. It can be used for regular draw, cross draw, or at the small of the back. This is a very slim holster, which is very good for concealment purposes. There is a trigger locking device, which means that you can hear a soft click that lets you know your gun is secure. With some practice, you will be able to master this holster's drawing technique.
As evident from this holster's name, it is an IWB holster. It takes some breaking in, but if you follow the instructions, it will break in fast and fit your Glock 19 like a boss. It can be used for strong side or cross draw, and has no angle or cant. It is available for righties and lefties. Re-holstering can be a little hard to get used to, but quick re-holstering is only an issue when at the range. As far as self-defense goes, this holster is great. It provides positive retention and is a really good option for concealed carry.
This is one of the best glock 19 holsters for concealment. It sits a little lower along the waistline, which may not be ideal for everyone. This leather holster fits the Glock 19, 23, 32, and it manages to take the shape of the gun in question relatively quickly. The holster has a very nice finish, high quality stitching, and very good color. It is well molded, with smooth edges, and even though it is a little tough at the beginning, it softens up quite a bit after some use.
Many users of this holster have attested to its high quality, its ease of use, and its comfort. There are many concealment holsters around, and this is definitely one to check out. Although, due to its "low ride" quality, this is one holster which is best tested in person, instead of bought online. A holster is a very personal item, and it should be one that the user is completely comfortable with.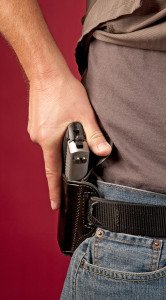 While this is the last, it is certainly not the least. This IWB holster is highly adjustable and customizable, tuckable, made for either left- or right-handed individuals, and extremely concealable. It is made of leather and Kydex, and because of this 'hybrid' quality, it gives the shooter the best of both worlds. Like other holsters, it takes a while to break in, but once that is done, it becomes one of the most comfortable holsters around. This holster is well made, durable, and fits the handgun like no other. Many users are calling it a perfect holster, and it is no wonder why. The Minotaur is unmatched by any other model or brand.