2019 started off with a bang for the gun world with several big-name releases that shook the community. One of the most noteworthy of these additions was from the market staple Glock and the announcement of two new pistols. Glock expanded their single stacked magazine selection with a compact and subcompact 9mm that is sure to be a huge hit.
The G48 and G43x are the beginning of a new line of Glock single stack pistols under the SlimLine Series. If you are thinking "But Glock already has a single stack subcompact", you're right. But that's never really stopped anyone in the industry from pumping out new products. So let's get to business and take a closer look at the new Glock pistols.
Glock 48 and Glock 43x Specs

| | |
| --- | --- |
| Model: G48 | Model: G43X |
| Caliber: 9mm | Caliber: 9mm |
| Capacity: 10 | Capacity: 10 |
| Barrel Length: 4.17" | Barrel Length: 3.41" |
| Overall Length: 7.28" | Overall Length: 6.5" |
| Height: 5.04" | Height: 5.04" |
| Width: 1.10" | Width: 1.10" |
| Weight: 20.74 oz. (Unloaded) | Weight: 18.70 oz (Unloaded) |
| MSRP: $448.00 | MSRP: $448.00 |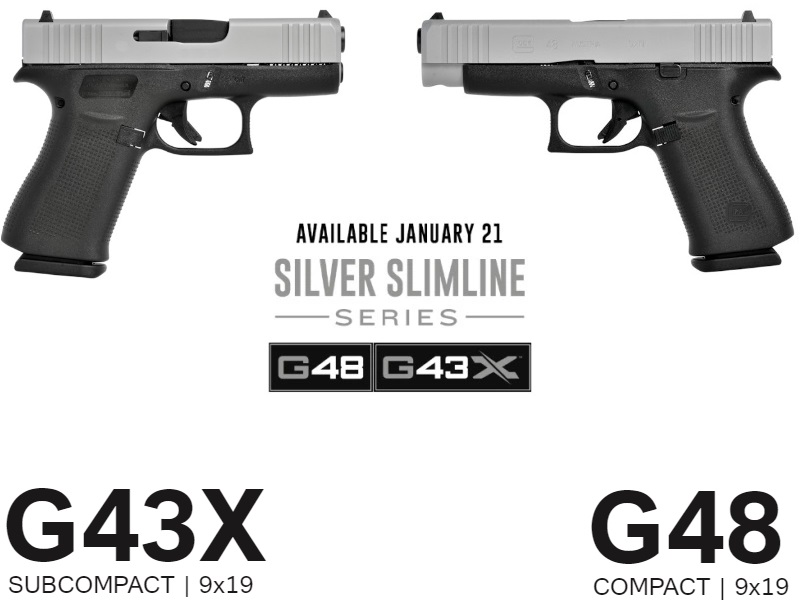 New Glock Designs
Glock has a history of making reliable handguns without any fancy bells or whistles. Over the years, they have taken their tried-and-true platform and expanded it to over 50 different models, always delivering a safe and reliable product that is simple to operate. The G48 and G43x are certainly not exceptions to this commitment to quality firearms. Expanding on their already extensive collection and variety of 9mm handguns, Glock now gives you the option of a slimmer single stack compact and subcompact better suited for daily carry. In comparison, the Glock 19 has a width of 1.26" while the G48 and G43x measure in at just 1.10" wide.
It's important to note that previous single stacked 9mm mags used in the G43 do not fit in the new G48 and G43x. These new pistols have identical full-size grips, though the G48 has a slightly longer barrel then the G43x. Although Glocks are already popular among CCW owners, the powerhouse gunmaker wanted to up the ante.
If you live in a state with a 10-round magazine capacity limit and you still want a full frame grip, the G48 or G43x may be your best Glock options. I think these new models offer more instead of putting a 10 round mag into a Glock 19 or Glock 17. In addition to their redesigned frame and mags, the G48 and G43x also threw in the SlimLine standard reversible mag release, short trigger distance, and a built-in beavertail. Furthermore, these new models will be offered in three sight configurations, including the always popular Glock Night Sights. I also liked the new aesthetic approach of the G48 and G43x with their two-toned finishes (the silver nPVD finish is a nice touch). Besides for these few alterations, everything else is standard to the Glock brand.
Glock 43 vs Glock 43x
The G43 is slightly smaller than the G43x in height, width, and (loaded and unloaded) weight. However, they are nearly identical in barrel and slide length. In fact, the G43 barrel is just half a millimeter shorter than the G43x barrel. As an added bonus, the G43x is capable of holding 4 more rounds than the G43, which is good news for people who carry. Keep in mind that the G43x is seemingly meant to be a slimmer version of the G48, not to compete with the original G43. Many even argue that the G43 is still a more concealable weapon than either the G48 or G43x. If the G43 grip is too short for you, but you still want a slimmer profile for concealed carry, the G43x is certainly a viable option.
Glock 48 vs Glock 43x

Many people are wondering why Glock would release two single stack 9mm pistols at once, especially when they are so similar. Nevertheless, it's their subtle differences which drive shooters to one model versus the other. You'll notice that their lower receivers are identical while their most obvious difference is in their slides. The G48 has a .76" longer barrel and a .79" longer slide compared to the G43x. With that slightly longer slide comes a little bit more weight, with the G48 weighing in a staggering 2.08 oz heavier than the G43x. Other than this small difference on the front end, these two Glocks are basically the same.
Glock 48 Price
There is a ton of debate within the gun community about Glocks, especially when it comes to their overall value. In the case of the G48, I think the price is pretty reasonable being that it's under $500. It's worth mentioning that the G48 will be more widely available than some of their other models since the new mag only holds 10 rounds and is less restricted by state gun laws. In other words, you can expect to see a bunch of these in the Left-run states like California, New York, and New Jersey.
Glock 43x Price

The G43x is on par with other Glocks in that it's reasonably priced for what you are getting. It'll run you around $450, which isn't so bad for a quality handgun with a reputation to back it. Like the other new model, it will be available and popular in all states since it doesn't violate any state legislation on capacity restrictions.
Conclusion

The G48 and G43x are new additions to the growing family of Glock products. There is sure to be plenty of haters out there, especially considering the fact there is no need for more 9mm single stack pistols. Nevertheless, they are thinner than the G19 and any double stacked Glocks on the market today. However, they are NOT thinner than the G43, which is somewhat strange to me. To be honest, I'm left thinking, wow great another variant of Glock that no one asked for that doesn't really do anything great. A jack of a few trades and a master of none, the new G48 and G43 are really only helpful if you live in a liberal state with magazine capacity limits.