The 1911 pistol was designed by the legendary John Browning, and manufactured by Colt, in 1911. It has remained in service with the U.S. armed forces ever since, and has played a part in every single American campaign, conflict, or war for over a century.
It is a platform which has been widely copied and improved upon by many manufacturers, and SIG Sauer have also taken this design and made it their very own, with a series of 1911-inspired pistols. The 1911 normally features a single stack magazine, thumb safety break, exceptional ergonomics, and a single-action-only trigger. SIG's series of 1911 handguns feature all-metal frames, protective coatings, rugged and durable construction. In other words, it's the kind of weapon which would make the father of the 1911 proud. SIG Sauer managed to take this original concept and seamlessly introduce it to the 21st century.
There are over 20 models of the SIG 1911, ranging from subcompact to full size. Calibers range from .45 ACP (the original caliber) and .40 S&W, though .357 SIG, 9mm, and 10mm, all the way to .38 Super +P cartridges.
Triggers are all single action only, and two of the models come with the option of a threaded barrel, for enhanced tactical capabilities. Prices range from $1010 to $1663. Like other SIG handguns, this one also comes at a price. SIG owners and enthusiasts are no strangers to paying higher prices, and they would all agree that a SIG handgun is worth every penny.
This review will focus on SIG's Target Full Size model. In their own words, it is a "competition-worthy 1911 with a beautiful natural stainless steel finish." Indeed? Let's check it out. First for a specs rundown.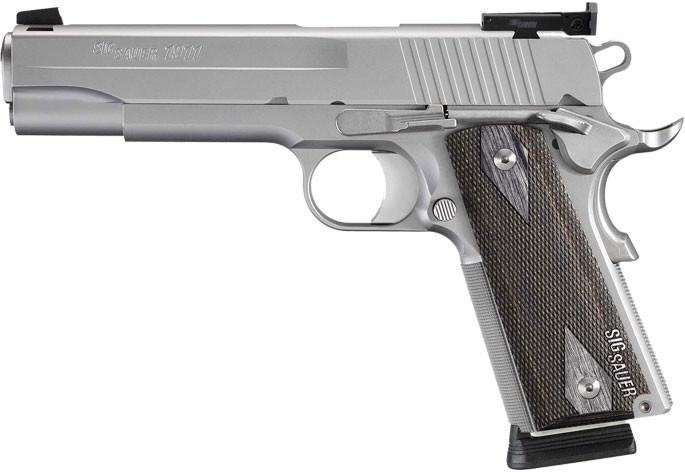 SIG Sauer 1911 Specs
1911 Target Full-Size
Caliber – 45 AUTO.
Action – semi-automatic.
Length – 8.7 inches.
Height – 5.5 inches.
Width – 1.4 inches.
Weight – 41.6 oz.
Barrel length – 5 inches.
Trigger pull – single-action only, 5 lb.
Capacity– 8 rounds (standard).
MSRP – $1209.
SIG Sauer 1911 Build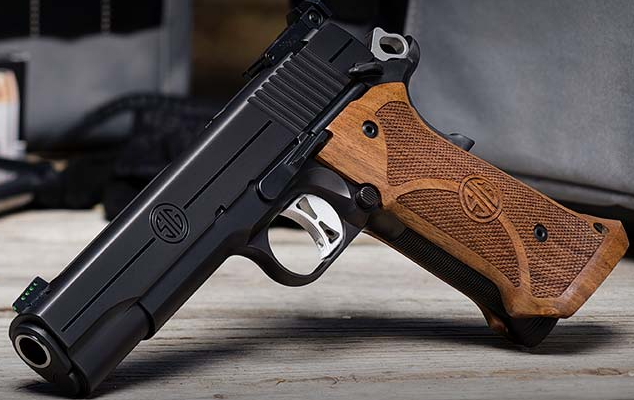 The frame and slide, as well as their respective finishes, are all stainless steel. The idea behind stainless steel is that it contains at least 12% chromium. What does this means to us laymen? Well, it means that the gun will be a lot more resistant to rust and the elements in general.
In terms of the internal parts and mechanism of the pistol, it is very much like a 1911 should be. In that sense, it is pretty close to the original. But SIG did change a few things, and managed to make it a more modern interpretation of the classic firearm. The grips are made of custom blackwood. It is the Browning system with a SIG twist – the familiar SIG checkering on the grip, the trigger and hammer being skeletonized (and thus lighter), and the higher-than-usual beavertail. Small things, but they make a difference. Plus, they help this gun look and feel great.
Okay, it looks good. That much is clear. But how does it do out on the range?
SIG Sauer 1911 Shooting & Performance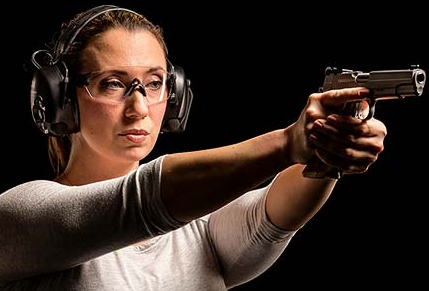 I've fired my share of 1911 replicas. I don't think I have had the chance to fire an original, actually. Hmm. I'll have to get back to you on that one. Either way – this one is a SIG Sauer, alright. I had zero malfunctions, and I have no doubt that it is this good right out of the box. The five-inch barrel's accuracy is certainly noticeable. I know, I know, accuracy is in the eye of the operator. I agree. Still, this gun is fun and easy to shoot, with a good amount of weight on that trigger pull, and a satisfying reset.
Not everyone is into the SAO style, and this gun is not for them. I am telling you that right now. I was able to get a few solid groups with several different types of rounds.
SIG Sauer 1911 Magazine and Accessories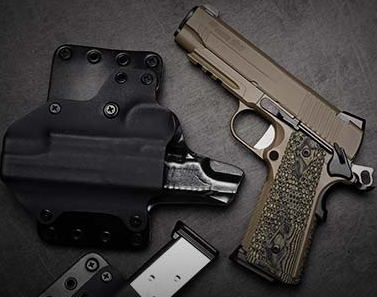 The original standard capacity for the classic pistol was 7 rounds, and in this particular model it is 8 rounds. The Target Full-Size model comes with (2) 8-round steel magazines. There is also the option of purchasing an extended magazine of 10 or 15 rounds. These are not an official SIG product, though, so do your research and make sure it fits your gun before ordering extended mags.
The Target Full-Size doesn't come with an accessory rail, and some actually prefer it that way. Burdening such a pistol with accessories is counterproductive to its cause, in my opinion. But when it comes to accessorizing, it is such a personal and subjective thing, there is no right or wrong here. A rail is a rail. If you are not interested in attaching a light or laser onto it, it is quite useless. If it isn't railed, just get some high quality night sights, and you are good to go. And speaking of sights…
SIG Sauer 1911 Safety and Sights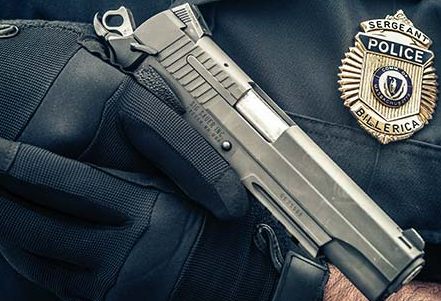 The safety is a high-riding beaver-tail thumb safety, and it is a polarizing safety. Some really dig it, while others consider ambi safeties to be detrimental and downright dangerous, especially for those who are not lefties. I even heard that there are some left-handed people out there who prefer non-ambi safeties.
The sights on this gun are adjustable, and they can the job done. If you know, for a fact, that you will be need night sights, perhaps invest in some SIGlite sights.
There are many variants from SIG, and here are a few of their most popular models. I haven't had enough experience with these to be able to give you an all out review, but I will give you my initial impressions. Many 1911 SIG models are alike, and sometimes the differences are only in the finishing touches. Let's take a look.
SIG Sauer 1911 Scorpion Variant Review
The Scorpion is certainly unique in its appearance. It has a G-grade Hogue grip, which is really nice as well as useful. The capacity on this gun is also 8 rounds, and this model does come with an accessory rail.
SIG Sauer 1911-22 Variant Review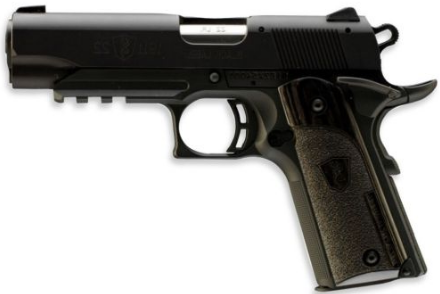 The 22LR version of the 1911, by SIG. With a capacity of 10 rounds and wooden grips, as well as contrast sights, this is a great take of the classic 1911. This variant is no longer listen on SIG Sauer's website, but it is still available for purchasing. MSRP $419.
SIG Sauer 1911 Nightmare Variant Review
The 1911 Fastback Carry Nightmare has a rounded G10 grip, to avoid snagging and provide the shooter with a solid hold on the weapon. The frame and slide are stainless steel and finished in nitron. SAO trigger, of course. MSRP $1244.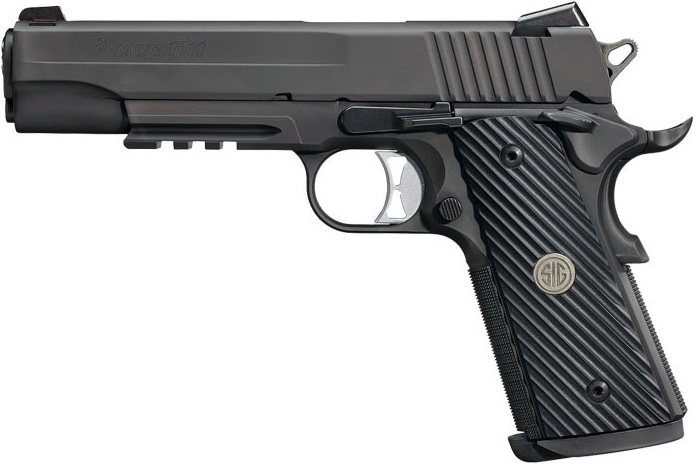 This one – the tactical operations carry pistol – is also stainless with a nitron finish. It comes with (4) 8-round magazines, as opposed to the standard 2 mags of other versions. SAO trigger, SIGlite night sights, accessory rail included, ambi safety, and it is also available in a threaded barrel model. Comes in several calibers – 10mm AUTO, 45 ACP, 357 SIG – with its MSRP ranging from $1221 to $1291, the latter being the threaded version.
SIG Sauer 1911 Spartan Variant Review
This is a gun which looks amazing. Internally, it resembles a lot of the other models, but on the outside? Wow. The slide and grip are engraved beautifully. It utilizes an advanced physical vapor deposition (PVD) finish, and this makes the Spartan highly durable and significantly harder. (2) 8-round magazines, SIGlite sights, SAO trigger. MSRP $1397.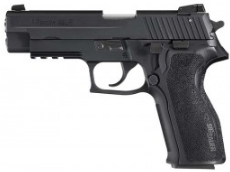 How does the 1911 series compare to the company's ever-popular P226? Well, the P226 is in fact an improved version of the P220, but it is chambered in 9mm and has a double stack mechanism of loading. We've reviewed the P226 in the past, and it remains a favorite, for sure.
The 1911 dimensions are a tad larger, overall. The barrel is a little shorter on the P226, coming in at 4.4 inches. The trigger on the P226 is DA/SA, and the capacity is 10 rounds, as a standard, with an option to extend. A lot of shooters consider the P226 to be SIG's finest in the full-size category, but the 1911-series gives any P226 a run for its money. There are over 20 sub-models of P226, and they vary in many ways. The P226 has SIG's 4-point safety system, as opposed to an external safety like the 1911.
Many forces (local and foreign) make use of the P226, and it has earned its place in the SIG Hall of Fame. Still, you have to appreciate SIG's 1911's. It makes great use of a platform now over 100 years old.
Conclusion
The Target 1911 (and its compatriots) are a wonderful example of combining new and old, classic and modern. The 1911 has served the U.S. (and the world) faithfully for many years. There is no reason why we (read: firearms manufacturers) won't be able to continue making use of this revolutionary platform. If you are interested in getting into the 1911 side of things, SIG is a great place to start. Their 1911s may be more expensive than others, but when you shoot this gun, you will know exactly where that extra cash went. SIG's ruggedness, precision, and dependability are unquestionable and indisputable.