Table of Contents
There are very few individuals who have altered the weapons industry as much as John Browning. In fact, I'd even go as far to say that he may be one of the most influential American inventors of all time. It's always bothered me that his name is often left out of discussions of the great American inventors. I'm not saying Edison or Franklin weren't, but Browning's level of commitment, love, and brilliance was virtually unrivaled in the firearms industry. The Utah-native was a genius with a knack for guns and ammunition, and his impact is still felt throughout the industry. Browning's unfaltering dedication is best illustrated by the story of his death.
Even after an illustrious career, Browning worked until the last day of his life when he finally died of heart failure at his work bench. The western gunsmith was never really in it for the money –even after he had already designed countless weapons and cartridges and won dozens of patents, he never stopped creating. He was truly the foremost expert weapons engineer of his generation and his ingenuity has carried on through the Browning Arms Company to this day.
History Of Browning Arms Company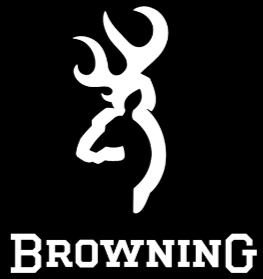 Browning's inventions were used around the world by dozens of companies like Colt, Smith & Wesson, and Remington. However, one day, he decided enough is enough and he created a company of his own. After creating the Browning Arms Company nearly 150 years ago, his innovations began to skyrocket. It all began in 1879, when at the age of 24, John Browning received his first patent (for the single shot rifle). Over time, he expanded his work beyond just rifles, and began designing new and improved pistols, shotguns, and machine guns. Some of his most significant contributions came towards the turn of the century.
After creating the Colt 1895 –which had a tremendous impact on the Spanish-American War –Browning went on to complete even more groundbreaking undertakings. Shortly afterwards, he develop the first repeating action sporting rifle to handle smokeless powder cartridges (Winchester 1894) and the first semi-automatic pistol. Even after the death of the trailblazing inventor, Browning Arms Company continued to flourish and produce. Once they grew large enough, they acquired several smaller companies which ultimately enabled them to sell archery equipment, leather materials, boats, shoes and clothing, and knives.
Pistols In Browning Arms Company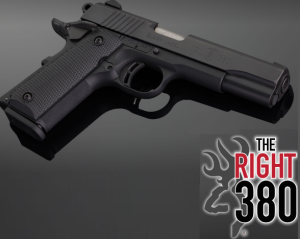 First and foremost is the Browning Hi-Power (HP) Handgun, which is arguably one of the most durable (and expensive!) handguns on the market. The high-grade Belgian steel components give the HP's a heavy feel, but they're still surprisingly ergonomic. Although they may not be the most modern pistols out there, their stopping power and dependability has made them a perennial favorite. Stay tuned for a more in-depth breakdown of the Hi-Power series this month at Gunivore.
The next gun in the Browning pistol lineup is the 1911-22. Even though it's basically just a scaled-down version of the classic 1911, it doesn't come close to the original's glory. Imagine the 1911-22 like an abridged version of a classic novel. Yeah, you could read the 100-page edition of A Tale of Two Cities, but it won't compare to the original. I'm by no means saying it's a bad gun; the 1911-22 is easy to use, lightweight, and inexpensive. If you want a real reproduction of the 1911, check out the S&W 1911.
Browning Arms Company also manufactures another version of the miniaturized 1911. The Black Label 1911-380 semi-auto pistol, chambered in .45 ACP, is a compact handgun with exemplary user-friendliness. It may not be the most durable Browning pistol, but it is mighty accurate and fun to shoot. Overall, it's a pretty average gun with an above average price tag.
Last but not least is the Browning Buck Mark Series. These unusually designed rimfire pistols are simple yet reliable and feature an impressive set of sights and a revolutionary grip system. The 16-click revolution adjustable Pro-Target rear sight and Truglo fiber-optic front sight make target acquisition easier than ever. Since there are several different models available in the Browning catalog, it won't be too hard to find the right one for you.
Rifles In Browning Arms Company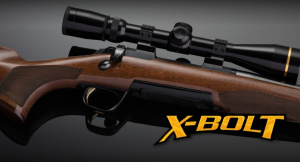 Although I was disappointed by Browning's handguns, I had a very different experience with their rifles. These machines are truly incredible. Browning's line of 5 diverse rifles is as effective as it is beautiful. Let's take a closer look at the lineup:
The first Browning Rifle I was able to get my hands on was the X-Bolt Pro. This bolt-action rifle features a daunting 26" barrel, unmatched adjustable three-lever Feather Trigger, and provides world-class accuracy. Even though the X-Bolt is a little hefty, the signature X-Lock scope and Inflex Technology recoil pad ensure quality handling and accuracy for every shot. The X-Bolt series features several variations, yet most have slight differences such as different barrel lengths and caliber.
The next rifle in the Browning catalog, the AB3, is a remarkably accurate hunting weapon. I took the AB3 Composite Stalker Bolt-Action out for a few rounds and I was astounded by its accuracy and handling. The AB3 was already a proven rifle, yet Browning still decided to deck out their newest models with some incredible new specs. My favorite feature by far was the smooth pull of the integrated trigger. Get yourself one of these, and you will not be disappointed.
When it comes to centerfire hunting rifles, few come compare to Browning's A-Bolt II Stainless Stalker Bolt-Action Rifle. I can't praise this gun enough; the A-Bolt series was a renowned classic that Browning managed to make even better. It's the epitome of reliability, durability, accuracy, and ergonomics. But one of my favorite rifles manufactured by Browning is the gorgeous BAR Mark II Safari. This autoloader is the culmination of over a hundred years of Browning engineering, and its excellent performance shows how just how crucial experience truly is. For example, to prevent any shifts in trajectory, the BAR was designed to release gas more uniformly through the barrel's target-type recessed crown. Besides for shooting and handling well, the BAR Mark II is also pretty sexy. It's hard not to love the Turkish walnut stock and gold-plated trigger which give the rifle its classy and distinguished look.
One of the more unique rifles in Browning's catalog is their modern BLR Lightweight with Pistol Grip. Its durable composition, unfaltering accuracy, and stylish looks ensure that you'll be shooting it for years. The BLR's go for a reasonable $900, which isn't so bad for a hunting companion this good. The only drawback is that you have to be willing to shoot with a lever action.
Shotguns In Browning Arms Company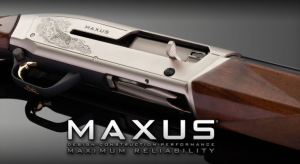 Some of John Browning's most significant contributions to the firearm industry were his multitude of improvements to the shotgun. Even to this day the Browning Arms Company is at the forefront of shotgun manufacturing and design. I have a special place in my heart for shotguns, especially Browning's varieties. They are the gold standard and I highly recommend nearly every single one.
For starters, let's take a look at the Browning Maxus shotgun. The Maxus firearms are stronger, faster, more accurate, and more reliable than nearly every other shotgun on the market. To guarantee the Maxus' superiority, Browning lowered the recoil and muzzle rise while also giving it a faster bolt speed and lock time. All of these incredible features, paired with the smooth Lightning Trigger and unparalleled Power Drive Gas System, make the Maxus hard to pass up.
The next shotgun I got my hands on was the Browning A5, and it didn't go as well as I had hoped. Although the A5 may resemble the older iconic Auto-5, Browning made some serious transformations to the new model to give it a more modern look. Nevertheless, I was disappointed during my field test. For a gun with this type of reputation and price to perform as poorly as it does, is just unacceptable. In my experience, the A5 is one of the rare instances where Browning produced a disaster.
Besides for their standard hunting shotguns, Browning also designed several shotguns to change the way you look at competition (sporting clay/skeet/trap) shooting. One of their best is the Citori 725 and it is a true pleasure to shoot. These low profile guns swing easily and offer minimal recoil. The 725's aren't only comfortable to shoot and handle but also disassemble easily, even after extensive use.
The Citori may be Browning's best overall sporting shotgun, but the Cynergy is their best for expert trap shooting. This affordable over/under shotgun is the perfect balance of speed and durability. The Cynergy's rugged build and low profile give the shooter unmatched handling and ergonomics.
Besides for the impressive weapons we've already seen, Browning's line of shotguns also includes the Gold, Silver, BT99, A-Bolt, and the BPS. The BPS is something special; it won't outperform Browning's superstars like the Maxus or Citori, but all things considered, it's the best bang for your buck. I'm a big fan of these because for a good price, you can still get a Browning engineered reliable (and accurate) shotgun. But if you don't trust me, take a look for yourself; The BPS is one of their most famous, bestselling, and highest-rated shotguns.
Knives In Browning Arms Company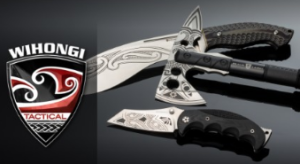 Around the time Browning debuted their footwear, the weapons company also introduced their first line of knives. Since then, their line has expanded exponentially and includes some of the most versatile, durable, and practical cutlery out there. In their survival knife collection, you gotta check out the Ignite, Black and Orange. This 4" fixed blade is the ultimate knife; it features a sparking bevel on its spine, lanyard eyelet, and the flint is tactically tucked into the polymer sheath.
After checking out their survival knives, I decided it was time to get myself a new everyday carry knife (EDC). Browning's collection is filled with some pretty cool blades with tons of options. I love tools which aren't one trick ponies, so naturally my favorite ended up being the Buckmark Money Clip. This stainless steel pocket knife doubles as a money clip and also has a handy screwdriver. It's thin, it's durable, and it's affordable – I love it.
Every hunter needs a good knife, and sometimes your run of the mill survival knife just won't cut it (no pun intended). Browning has got you covered with their massive array of practical and specialized hunting knives. I highly recommend the Hunt 'n Gut Hardwood for all types of hunters and fishermen. Like I said before, a knife that can do more than just cut is my dream, and the Hunt 'n Gut is just that. This folding knife's main drop point blade has a gut hook and the second blade has a double cutting bone saw; what more can you ask for in a hunting knife?
In addition to these incredible knives, Browning also has an impressive line of tough outdoor tools. If you're in need of a reliable axe, shovel, hatchet, T-handle saw, or pair of shears, Browning's got you covered.
Footwear In Browning Arms Company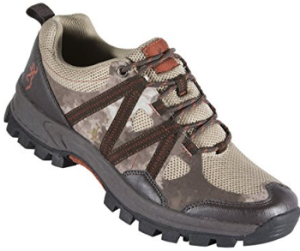 After over a hundred years of manufacturing strictly weapons, the Browning Arms Company decided to expand their line of products. They began making hunting boots and outerwear in the late 60's, and have since started to produce rubber boots and trail shoes too. Their shoes/boots are nothing special and are hard to find. They signed an agreement with Berkshire Hathaway in 2001 to manufacture Browning Footwear, which may have done more harm than good for the company.
Nevertheless, I recommend trying to find the Browning Men's Glenwood Trail Shoe. Keep in mind that it's not designed to be a full-blown hiking shoe, but it can still handle some abuse. These lightweight and durable shoes are comfortable to walk in and are perfect for most temperatures and terrains –all for an affordable price.
High Grade Beauty and Performance — The Citori 725 Sporting Grade VII https://t.co/KJ3K1MYy1N pic.twitter.com/Cruntk50sw

— Browning (@BrowningArms) February 16, 2017
The Future of Browning Arms Company
John Browning launched the Browning Arms Company nearly 150 years ago and it has seen tremendous success nearly every year since. But just because the company is centered around its past doesn't mean it isn't fueling up for the future. In fact, the future looks bright for the legendary business. Ever since its foundation, Browning has been focused on innovation, and that isn't about to change anytime soon. Browning's management has invested time and money in social media with the hopes of reaching out to their millions of supporters. Besides for their successful Instagram and Twitter feeds, Browning also boasts an impressive 2.3 million Facebook followers.
Besides for their revolutions in the gun industry, Browning's other ventures are also expecting big things in the near future. Browning Footwear will be releasing new lines of hunting, trail, and everyday boots throughout 2017. At the end of the day, Browning has been at it for nearly 150 years and I could see them continue to make strides for 150 more.
Conclusion
The Browning Arms Company is not your average sporting goods company. Having been founded by one of the most brilliant and pioneering inventors in American history, Browning was fortunate to have an upper hand on the competition. That being said, Browning should have the most remarkable firearms, and for the most part, they do. Although for many of their top-shelf guns you'll have to pay a pretty penny for, Browning produces some seriously great weapons. Their pistols are just average, but they make up for it with their incredible shotguns, rifles, and knives. Stay tuned for more in-depth reviews of specific Browning products like the X-Bolt and BPS, here at Gunivore!
Be sure to check out our P238, SIG P938, and P250 features here at Gunivore!