Table of Contents
One of the best ways to review a gun is to compare it head to head with similar firearms. I've been analyzing Hi-Point's catalog recently, and I've been pretty impressed so far. This time, I was tasked to employ my weapons experience and brutal honesty to their cool and unusual 995TS Carbine, but this was no easy task. Hi-Points are considerably different than most other guns on the market, so finding a comparable carbine was going to be tough. Luckily, a friend of mine from the range owns a Kel-Tec Sub 2000, which is the closest gun I could come up with to compare to the 995TS. After a close and personal examination of the Hi-Point and then a side by side comparison, there's lots to discuss. That being said, let's get down to business and begin the Gunivore review of Hi-Point's 995TS Carbine.

Hi-Point's 995TS Carbine Specs
Model: 995TS

Caliber: 9mm Luger

Capacity: 10+1

Overall Length: 31"

Barrel Length: 16.5"

Finish: Matte Black

Stock: Matte Black Polymer

Weight: 6.25 lbs.

Sights: Fully-adjustable

MSRP: $315.00
Want to learn more about this unique company? Head over to the comprehensive Gunivore Company Overview of Hi-Point Firearms!
Hi Point 995 Build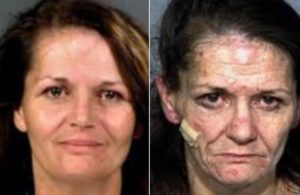 Before we get into the nitty-gritty, I must first say that the 995TS is a huge improvement from its predecessor, the 995. Hi-Point developed a nasty reputation for producing ugly weapons, and the 995 was truly hideous. However, over the past few years, the American company has made huge strides in adapting and modernizing their designs. One of the best examples of this is the 995TS; comparing these two carbines is like looking at a before and after picture of a meth head. And while the new and improved version may not be the sexiest 9mm carbine on the market, its sleek and innovative build is still quite intimidating. In fact, one of the most interesting components on the Hi-Point carbine is its all-weather, black polymer skeletonized stock. This unique design not only enhances its comfort and handling but also helps keep its weight manageable.
Moving forward, the 995TS features a simple yet effective adjustable peep sight system. The good news is that if you're looking for something more sophisticated, these Hi-Points also come with ghost-ring rear peep and post front sights.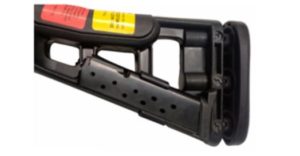 While Hi-Point may have cut corners to keep their costs down, one thing's for sure: that their commitment to firearm safety is still a priority. In addition to a standard quick on/off thumb safety, Hi-Point offers a free trigger lock with every gun purchase.
The most impressive element of the 995TS is the countless permutations of add-ons, features, and accessories. In addition to its multiple Picatinny rails, this Hi-Point also features swivel, sling, and scope mounts. But wait … there's more! Below, under accessories, we'll discuss the full range of available options for the new and improved carbine.
Hi-Point 995TS Performance
Once I took a closer look at the 995TS it was time for the fun to begin. I had big expectations for the Hi-Point, but I had bigger fears; but after just one magazine, there were a few things which really stood out to me. While 9mms can often be tough to control, I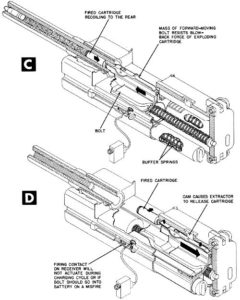 found the solid build and internal recoil buffer provide the 995TS with solid control and a somewhat natural feel.
Considering that this gun is used by everyone from hunters, law enforcement agents, recreational shooters, and those looking to boost home security, I was hoping to see some pretty impressive accuracy.  To increase the 995TS' ease of use, Hi-Point incorporated an ergonomic grip-mounted mag release and designed its slide to lock open after firing the last round. I don't have to tell you how annoying it can be to keep pulling the trigger and looking foolish when you've already run through the mag several pulls ago.
While the 995TS may be a bit heavier than your average carbine – due to its direct blowback action and lack of a locked-breech – I really liked the way it felt and fired. Considering its user-friendliness and solid accuracy, I recommend this carbine for all types of shooters, experienced or otherwise.
Hi Point 995 Mags
Because Hi-Point originally developed the 995TS while the Federal Assault Weapons Ban was still in effect, these carbines only come with one 10-round magazine. However, several companies have recently produced 14 and 15-round mags. Keep in mind, the newer premium quality mags offer faster reloading and long-lasting durability.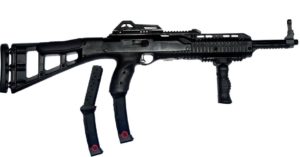 That being said, it's not really their mags that stand out, it's what can go in them that makes them special. The 995TS is +P rated and is said to be able to accept all factory ammo.
While these magazines are crafted from all stainless steel and given a smooth finish, I recommend picking up extras just in case. Check out Cabela's website which has a good deal if you buy three at a time.
995TS Accessories
Although Hi-Point's carbines are heavy enough as is, it's hard not to accessorize them. Before we even get into the Picatinny rails, Hi-Point's catalog offers this 9mm firearm with a variety of options, including a forward folding grip, flashlight, laser, and muzzle brake.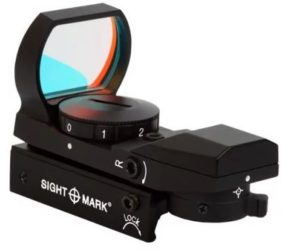 Now for the hard part – what are you gonna do with these rails. On one hand, the 995TS is already pretty heavy, but on the other hand, how could you not take advantage of them?! Keeping that in mind, I've got a few ideas for lightweight accessories to boost your Hi-Point's performance. In terms of optics, check out the multi-purpose Barska 4×32 IR Contour Riflescope for increased long-range capabilities. For cooler shorter range sights, take a look at the incredible Sure Shot Reflex Sight and the Bushnell Optics TRS-25 HiRise Red Dot Riflescope with Riser Block (1x25mm). Although not great for hunters, the Leapers UTG Multipurpose LED Light (400 Lumens) and the Barska red laser & flashlight combo (200 Lumens) are also great additions to your home defense firearm.
Lastly, don't forget about your basic sight system options and additional patterns!
Conclusion
Hi-Point Firearm's new and improved 995TS carbine is one of the best buys I've ever come across. It's rare to find a budget firearm with these kinds of specs and abilities. But most importantly, Hi-Point accurately addressed the two major issues with their guns, namely their appearances and overall quality. The 100% American-made parts and assembly of the 995TS make it a much more attractive weapon than its predecessor and allow it to easily outperform its closest competitor.
Want to see more guns like the 995TS? We've got you covered with our in-depth reviews of the popular Ruger 10, Beretta CX4, & Bushmaster M4.