Table of Contents
The 556 series of rifles, by Ruger, are a relatively new addition to the ever-popular and growing line of Ruger firearms. This company (Sturm, Ruger, & Co., inc.) has been manufacturing firearms for nearly 70 years, and they are known for their reliability and affordability. People really love shooting Ruger pistols and rifles, and it is no wonder why. Their hardware is great, the materials are top notch, and their firearm designs are very tight. They spend a lot of time and money on development, and it shows. The SR-556 was introduced in 2009, and it was Ruger's first attempt at breaking into the AR-variant market. That attempt was a very successful one, and soon after the release of the SR-556, the introduction of an AR-10 variant, named the SR-762, was announced. A number of SR-556 variants were also made available around that time, including (list taken from Wikipedia):
SR-556SC, state compliant.
SR-556C, carbine.
SR-556CLA, carbine lightweight adaptable.
SR-556E, essential.
SR-556ESC, essential state compliant.
SR-556VT, varmint.
SR-556/6.8, 6.8 SPC.
Several years later, in 2014, the AR-556 was released. It is Ruger's basic, entry level, semi-automatic rifle with direct impingement action (unlike previous 556 models), and it sports a price tag which is a lot more affordable than SR models. Meanwhile, in 2015, all of the SR-556 variants had been discontinued by Ruger, in favor of the new SR-556 Takedown. Ruger never did issue a statement as to why these rifles were discontinued, but there was at least one known malfunction with certain SR-556VT serial numbers, which caused a partial recall – and subsequent upgrade – to be made. So, at the end of the day, the models which Ruger are currently producing are the AR-556 and the SR-556 Takedown. Let's take a closer look at these two rifles in our Ruger SR 556 & AR 556 Rifle Review:
Ruger SR 556 & AR 556 Specs and Comparison
Here is a side by side, outlining some of the technical specifications for these two rifles:
| | | |
| --- | --- | --- |
| | Ruger SR-556 Takedown | Ruger AR-556 |
| Caliber | 5.56mm NATO | 5.56mm NATO |
| Action | Piston-driven | Direct impingement |
| Length | 32.75 – 36 inches | 32.25 – 35.5 inches |
| Barrel length | 16.12 inches | 16.10 inches |
| Weight | 7.1 lb. | 6.5 lb. |
| Stock | Synthetic, collapsible | Synthetic, collapsible |
| Sights | Folding iron sights | Adjustable |
| Capacity | 30 rounds | 30 rounds |
| Finish | Manganese Phosphate / Hardcoat Anodized | Type III Hard Coat Anodized |
| Released | 2015 | 2014 |
| MSRP | $2,199 | $799 |
So, what makes the SR-556 Takedown different? Well, there are a few key points to mention regarding the differences between them, other than the obvious. First and foremost, there is the ability to switch barrels. The SR-556 can be fitted with a standard 5.56mm barrel, but it also has the option of being fitted with a .300 AAC Blackout (7.62X35mm) barrel. The ability to fire 5.56mm rounds and heavier 7.62mm rounds is something which many people will pay extra for. Secondly, there is no need to re-zero, since the front flip-up sights stay with their respective barrels. No changes need to be made with the SR-556. Switch the barrel, flip up your sights, take your stance, and fire. You are already zeroed in and good to go. Thirdly, the trigger is a lot nicer on the SR-556, with a 4.5 lb. pull (instead of 7 lb. or so, which is standard). It is more of a competition trigger, and it is very smooth. You definitely feel the difference there. Fourth, there is the 2-stage piston bolt, which is also not standard with AR-type rifles, and it helps put the SR-556 Takedown in a slightly different league. Finally, there is the issue of what you get with it. The SR-556 comes with a quality carrying bag which fits the two receivers and the barrel in separate Velcroed compartments. You also get 3 30-round magpul magazines, as opposed to single magazine which comes with the AR-556 . These are probably the main differences, and they serve to highlight the different features of the SR-556 Takedown. As stated earlier, the AR-556 is your basic AR. It is perfect for those who are not looking to spend too much on their rifle, but who still want a quality firearm. Ruger did the right thing releasing it, since it's just good sense and good business. Speaking of business…
Ruger AR 556 & SR 556 Prices and Where To Buy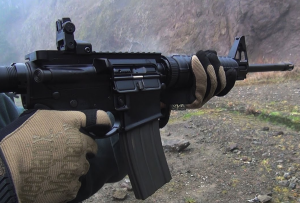 Ruger took some real heat for the SR-556 Takedown's price, which probably got Ruger to hasten the release of the more affordable AR-556. The 2K+ pricing is very intimidating indeed, but remember that the MSRP is not the price one usually sees at trade shows and shops. You can definitely pick up an SR-556 Takedown for under $1,499, which makes it a much better deal. If you are looking to get a good price on a SR-556 Takedown, your local gun shops are your best bet. Ask around, and do some comparative research. There are many reasons for gun shops to lower the prices. Perhaps the shop manager ordered a large amount, got a good price from the distributor, and can afford to keep the price-per-unit down. Maybe the manager is interested in getting ahead of the competition by lowering the price. Long story short, you can probably find a good deal near you. At a MSRP of over $2,000, it really is a lot to ask from the average customer. Even with all of the features and significant differences, the SR-556 is still an AR-variant, and I feel that it is probably not worth the full $2,199 price tag. What's more, the MSRP of a 300BLK barrel kit is almost as much as a new AR-556. But more on that in the following section.
Ruger AR 556 & SR 556 Accessories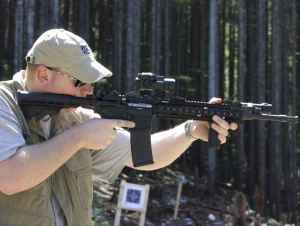 AR-related accessories are many and varied. As for these two 556s, there are several items which are always in very high demand. First, before anything else, a proper sling. Sure, these rifles don't weigh that much, but after lugging one around for a few days on a camping/hunting trip, you get to appreciate how much a sling can help. Get one, and it is better to make it a good one. Buy a good sling once, and it can last a long long time. Carry your weapon with it, train with it, and learn its strengths. Number two, optics. Red dots, flashlights, lasers, scopes, magnifiers, etc. So much to choose from, but it all depends on your intended use. Is this rifle going to be used for defense of your home? For the outdoors? For hunting specific kinds of animals? For plinking and recreation? For varmint control? A few points to consider:
A good scope can cost as much as the rifle itself, and that is okay. Buy the best scope you can afford. Cheap ones are pretty much useless, so keep that in mind when you go shopping.
A red dot and quality magnifier can work just as well as a scope, sometimes. Again, there is nothing else to say except that it all depends on you. AR-style rifles are very versatile, and they can adapt well to many situations and scenarios. Still, it is best to know what the intended use is. Same goes for flashlights and lasers.
Grips – Whether it is a vertical grip or angled grip, it is something which can provide you with a lot of stability. Some may say that a bi-pod would be just as good, but in many cases it would simply be adding extra weight. Unless you know that you need a bi-pod, consider skipping it and going for a grip.
The SR-556 comes with quad picatinny rails, but it may be something you would want to add to the AR-556. The AR-556 comes with a single picatinny rail on top.
Barrel Kit – As previously mentioned, the SR-556 Takedown provides the shooter with the option of switching barrels and fire heavier rounds. The 300BLK (7.62mm) barrel kit is another great accessory. I know, I know, it technically isn't an accessory, but for the purpose of this little review, it will be.
I personally love firing 7.62mm rounds. Always have. They give off a different kind of feeling, being heavier. They have this "oomph" quality to them that the 5.56mm just doesn't. Either way, these rifles manage recoil very well, regardless of the round that is being fired from their chamber. Switching the barrels around with the SR-556 is a piece of cake, and you can do it within seconds. Cake sounds pretty good about now. But I digress…
American. 🇺🇸🇺🇸 #Ruger556 pic.twitter.com/6eyDz4bEUC

— Ryan Troyer (@Dropped_F1) September 22, 2016
Ruger AR 556 & SR 556 Issues
First off, just because a rifle is inexpensive, does not mean that it is cheaply-made. Ruger are not particularly known for their sloppiness. Like I wrote earlier, they are professionals, and they use good materials. People have put thousands of rounds through their Ruger 556 rifles, and have had zero issues. On the other hands, there are those who claim that the thing misfires out of the box. How do we reconcile this? Well, for starters, there is always – always – the option of getting a dud. Guns are made on assembly lines, and those assembly lines were designed and built by humans (and by machines controlled by humans). In other words, there is always a chance that something has gone wrong with your particular rifle. If you have an issue, contact Ruger. Generally speaking, rifles are shipped with too much grease, too much oil, and too much dirt. Immediately after your rifle arrives, the best thing you can possibly do is clean it. I mean strip it down, remove any debris or dirt which the factory may have left in, dry it off, lube it up lightly, and put it back together. Gun oil is your friend, but don't use too much. When in doubt, stick to your firearm's manual. It is possible to cause harm to a gun or rifle if it is not properly cleaned.
Another very important thing is using the right ammo, at least at first. I don't mean the right caliber – that goes without saying – I mean using higher-quality ammo for breaking in the rifle. If you use some low-end, foreign-made ammunition, the chance of malfunctions goes up. For the first couple hundred rounds, it is best to use good ammo. Some say breaking in the rifle also helps with accuracy, but I wouldn't know about that. Never put it to the test, really. Still, others say that breaking in a rifle is nonsense, and that any AR-variant can be used with whatever fits, right out of the box. I am not presenting any kind of verdict on the matter, just mentioning it. Either way, even those who say no special kind of ammo is required at first, and that there is no need to break an AR in, would agree that stripping and cleaning your rifle upon delivery will help out in the long run.
Conclusion
These two rifles are an absolute pleasure to shoot, but that is easy for me. I am a sucker for weapons in general, and for semi-automatic assault rifles in particular. I hold them in great esteem, and I feel that they can provide a kind of security which outdoes many other weapons. They are mostly fit for short to mid-range encounters, and those are the ones which civilian gun carriers are going to be involved in, mostly. Now, I won't get into the whole "should ARs even be used as home defense weapons?" question, but I will say that these Rugers have a nice amount of firepower; they are light; they are easy to use; and, most importantly, they get the job done. Whether you want to start off with a basic AR-556, or go for the more advanced SR-556 Takedown, these rifles are ones which will be of faithful service. So, to sum up – get your hands on the 556 of your choice, take it out to the range, and have a blast. Ruger rifles are a great option for anyone looking for a quality firearm. Stay armed and stay safe!
For more on Ruger, check out more of our Gunivore features like our LC9 and LCP reviews!