Table of Contents
The O.F. Mossberg Company is currently one of the top firearm manufactures in the world thanks to their relentless efforts to perfect all sorts of weapons. Although most shooters will recognize Mossberg for their shotguns, they actually began making pistols, eventually moved on to rifles, and then finally began working on shotguns.
During the late 1930's – after seeing their Brownie .22 pistol flourish – they developed a .22 caliber hunting rifle. Recognizing that they were onto something, the American company focused their attention on manufacturing long sporting rifles and shotguns. Fast forward 90 years from their launch, and the 464 Lever Action Rifle was released by Mossberg. Although its production began in 2008, this gun is basically an updated classic of an old Wild West favorite.
Today, we're going to take a closer at the Mossberg 464 lever action and determine if it's really a masterpiece or just a sad, outdated classic re-imagined. I generally have a lot of faith in Mossberg, but I do have some concerns about this guy. Buckle up: The Gunivore review of the Mossberg 464 starts now.

Mossberg 464 Lever-Action Rifle Specs
Model: Mossberg 464 .22LR.
Caliber: .22 Long Rifle.
Overall Length: 35.75".
Barrel Length: 18".
Weight (unloaded): 5.5 lbs.
Twist Rate: 1:16.
Capacity: 13+1.
Finish: Blued.
MSRP: $369.99.
Mossberg 464 Lever-Action Rifle Build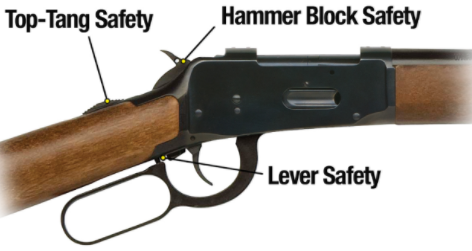 Mossberg's goal in designing the 464 lever action was to reinvent an American classic, which naturally limited this rifle's marketability. At first glance, you can already tell that the 464 is an average firearm at best. I was tipped off by the cheap feel of the blue finished barrels, "slip-resistant" rubber recoil pad, and the interesting hardwood straight grip stock.
Nevertheless, there are some good qualities, like the precision-machined receiver which is drilled & tapped for Weaver bases. This modification allows the 464 to be upgraded, thank heavens! Also, since I don't think any experienced shooter will use this gun, its multiple safety measures add to its appeal for younger, novice shooters.
Mossberg hooked up this cowboy gun with an ambidextrous top-tang safety, a hammer block safety, and even a lever safety. The hammer block prevents the hammer from striking unless the trigger is pulled and the safety is toggled off. The 464's lever safety prevents the trigger from being pulled unless the lever is pressed up against the bottom tang.
The sight system on this Mossberg is a huge hit or miss; there are two options to choose from and they couldn't be more different. The default fold-down buckhorn rear sights are so basic and outdated it's not even funny. However, the optional 3-dot adjustable fiber optic sights are a pleasant addition to the classic rifle, and make getting on target even easier, even in dim environments!
One of the more controversial components of the Mossberg 464 lever action is the clever positioning of the ejection port. Although they purport that this is a huge design improvement, geared to enhance shell clearance, I've heard way too many complaints to be convinced. That being said, just keep in mind that it could cause some issues. You may have to adjust your weapon accordingly.
Is the Mossberg 464 a piece of crap? No. Is it worth giving a try? Maybe. Would I rely on it in the field? Definitely NOT.
Mossberg 464 Lever-Action Rifle Shooting & Performance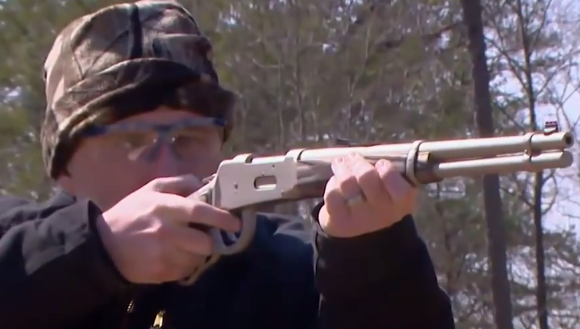 There are two main factors regarding the Mossberg 464's performance: accuracy and reliability. Let's start with its reliability, or lack thereof. I've been a huge fan and supporter of Mossberg's shotguns because they are so freaking good, but this rifle is nothing but a nice try. You'd think that it'd be pretty easy to take a simple machine like the lever action rifle and just fix the kinks, but sadly no.
After hearing countless stories of jams, misfires, and faulty components, I had to give it a try for myself but my experience was no better. The 464's action is anything but smooth and twice wouldn't eject a spent case. I'm no big spender, but I like my guns to feel high quality and the 464 definitely doesn't.
I was puzzled that Mossberg decided to put a scope mount on these rifles considering that it's a top eject firearm. Before trying it out, I could only assume that the ejected casings would shoot out and hit the scope and just be an annoying mess.
In terms of accuracy, the 464 is average for a lever action rifle. The rubber buttpad gives the shooter a strong grasp of the gun which will increase the accuracy of the firearm. Considering the low caliber, there isn't much of a kickback on these, so assuming that there are no malfunctions, the accuracy is dependent on the shooter's ability.
Mossberg 464 Lever-Action Rifle Magazines & Accessories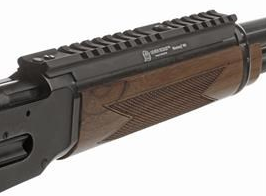 The 464 repeating rifle generally comes with a 13+1 capacity, but keep in mind they are pretty picky when it comes to the ammo. In general, try and stick to basic rounds with this gun, something like Remington .22 Long Rifle ammunition. The one upside of these mags is that they are surprisingly easy to load.
If you're looking to deck out your 464, the first thing to buy is a scope base; you can get a nice set from Kwik-Site for pretty cheap online. There are three optic options which you should consider:
Level 1) Take off the default foldable sights and put on the 3-dot fiber optics.
Level 2) Remove the rear sight and throw on the unique Skinner Lo-Pro Sight.
Level 3) Looking for a scope? Check out the Bushnell Banner 3-9×40 Optic.
Mossberg 464 Lever-Action Rifle SPX Review
I can't say this with certainty, but the 464 SPX model is really what Mossberg had in mind when they planned on revamping the age-old classic rifle. They indicated that the 464 lever action was supposed to be a brand new version of the timeless firearm, but the "modern" 464 fails to meet any modern quality and performance measures. However, the SPX is definitely an upgrade to the standard model.
Model: Mossberg 464 SPX.
Caliber: .30-30 WIN.
Overall Length: 34".
Barrel Length: 16.25".
Weight (unloaded): 7 lbs.
Twist Rate: 1:10.
Capacity: 13+1.
Finish: Matte Blued.
Sights: Fiber Optic 3-Dot.
MSRP: $619.99.
The SPX shares several basic features with the standard 464 rifle but includes several upgrades which make it the clear winner. Like the basic model, the SPX also has the tremendous 3-level safety system and basic build. Both rifles eject from the top of the drilled and tapped receiver and are coated with a semi-durable matte blue finish.
The SPX stands out mainly because it's outfitted with numerous features which make it more tactical friendly. For starters, Mossberg incorporated a fantastic 6-position adjustable stock which can alter the length of pull up to 4 inches. Additionally, they made the SPX a lot more attachment-friendly by adding a Picatinny tri-rail on the forend. Nevertheless, this rifle shares all of the same issues as the regular 464, but all of the additions indicate that it's the better choice.
I'd like to briefly discuss the ups and downs of the two available cartridges for the Mossberg 464. Although I could go on and on about the historically significant and effective .22 Long Rifle and .30-30 Winchester rounds, I'll try to keep it short and sweet.
The first thing to consider when choosing which ammo to use, you need to figure out what type of shooting you will be doing. Considering that these are two very popular hunting rounds, let's start with that. The 22's are great for small game hunting but won't be very useful against larger animals. If you're going after something big, you want to kill it, not piss it off. On the other hand, the .30-30 rounds are decently effective on medium-big game like deer if you use heavier grain rounds like 150-170 gr.
Also, if you're looking for long distance, neither of these cartridges are too spectacular. The .30-30 starts to lose its efficiency at around 150 yards, which can go up to around 200 if you use heavier grain ammo. In contrast, the .22 is most effective at around 100 yards, but can be still be pretty accurate at 125.
Lastly, .22 ammo is so cheap and accessible that you could easily stock up thousands of rounds with no problem. More so, since they're so small and lightweight, you can carry hundreds of rounds on your person without it being a burden. These are all things to consider when picking out your Mossberg 464, but since I tend to target shoot more than I hunt, I'm gonna go with the .22's.
Conclusion
I love Mossberg, and the concept of revamping a classic really appealed to me. Nevertheless, I was disappointed by it in more ways than is acceptable. Being a lever action already marginalized them, but it's their quality which will ensure that they will never be popular. However, there are a few upsides to consider: As a cheap gun that is really easy to use, this could be a good choice as a starter gun for someone new to shooting and rifles.