The Model 1100, by Remington Arms, is a shotgun I am completely head over heels for. Remington has a number of guns I admire – namely the 1187, 770, and 870, but the 1100 might just be my favorite. It's a semi-auto which makes no excuses, delivers results, and manages to stay popular after more than 50 years of production. It is a solid, low-priced, skeet and trap shooting favorite. Recently, to mark the company's bicentennial, a 200th Anniversary Limited Edition version was released. If any of you were thinking of getting me a birthday present, this would be a good time to pay attention. Hint hint.
This shotgun was designed and introduced in the early 1960's, and part of the reason why it received such critical acclaim was due to the fact that it was lighter, more manageable, and more reliable than other semi-autos which were around at the time. This made quite a difference, and during the 60's many new gauges and versions were introduced. Newer models are still being made today. Here is a glance at some of the 1100's tech specs. This review will be pertaining to one of the cheaper options, the 20 gauge 1100 Sporting Series shotgun. I will explain a little bit about the other models later on. I did some research on them, but I didn't get a chance to try any of them out. Yet. Hint hint. Oh yeah – welcome to our Remington Model 1100 Tactical Shotgun Review 🙂

Remington Model 1100 Specs
Caliber – 20 gauge (also comes in 12 gauge, 28 gauge, and .410 bore)
Action – gas-operated semi-automatic
Length – 49 inches
Barrel length – varies by model: 28 inches
Weight – 7 lbs
Stock – American walnut (and it looks beautiful!)
Sights – twin beads
Capacity – 4 +1 rounds
Finish – polished blue on the receiver, and glossy stock
Introduced – 1998
MSRP – $1254
On the surface, this seems pretty standard. But when you actually grab hold of this shotgun, you see just how much engineering and ingenuity had gone into designing and producing this firearm. I love the way it feels, I love the way you can get into position and quickly unload that magazine while shooting clays, and I absolutely love the price. Like I said – gaga.
Remington Model 1100 Build, Barrel, and Parts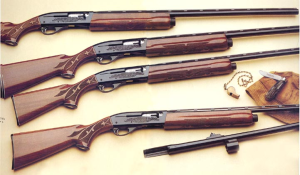 Since this shotgun is gas-operated, it is built differently than other Remington shotguns like the Model 870 or Model 700. There is a bottom piece to the barrel which locks in the gases and blows them back so the action cycles properly.
The barrel itself is a little heavier, because this is a sporting gun, after all, and you want to get some weight in there so you can follow through and follow-up smoothly. The trigger is the trademarked Remington gold-plated trigger, and it moves beautifully. I never encountered a problem with Remington's shotgun triggers. This shotgun is a keeper. If you happen to get an old one in good condition, for a good price, don't let it go. You'll most likely regret it.
Remington Model 1100 Action and Shooting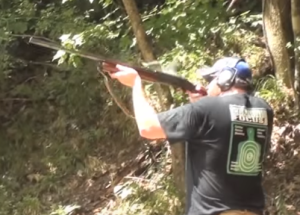 A semi-auto, gas-operated action on a shotgun? That was pretty revolutionary back in the day. During the 1960's, many different shotguns were coming out, but this one managed to stand out anyway. It is an easy gun to load and shoot, it cycles beautifully, and the action provides you with quick follow-ups.
It is the kind of shotgun which you can shoot all day and not get tired. It is just light enough, there isn't too much kick, and it is on target. The 1100 comes with several interchangeable choke tubes: Skeet, Improved Cylinder, Light Modified, and Modified. Some will simply install the skeet choke and be done with it, but others want the keep their option of a wider or narrower spread.
Remington Model 1100 Stock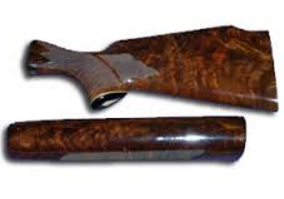 What can be said about this stock? It is great, and it compliments the shotgun completely, as does the fore-end. American walnut has this really classic look about it, and I feel that the gloss finish serves to make it extra distinguishable and high-end. It isn't necessarily the kind of shotgun you would want to take on a camping trip. Its proper place is at the range, but as always, it's your call. The stock also comes equipped with a sporting recoil pad, which adds even more to this shotgun's appeal. Remington – they do it right.
Remington Model 1100 Magazines and Sights
The 1100 Sporting comes with a standard four-round internal magazine. I actually don't have anything to say about the magazine. It isn't anything out of the ordinary. The twin bead sights are also fairly standard, and they serve their purpose well. In a skeet and trap gun, it is essential that the sights help the shooter out without getting in the way, and the twin bead target sights pull that off in a big way. They allow the shooter to focus and get their aim on.
Remington Model 1100 Safety and Assembly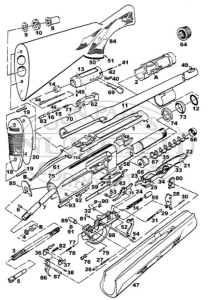 The 1100's safety is the widely-used cross-bolt safety, which is located at the rear of the trigger guard. If you are a righty, it should be no problem. For lefties, it could go either way. Some left-handed shooters may feel it gets in the way of proper firing, but for others it will not matter whatsoever. It depends on you and your intended use. Since this is a sporting gun, not a field gun, you have to worry less about game noticing the movements of your hand. I mean, you may need to start worrying about such things when they invent clay pigeons with artificial intelligence. Until then, you are probably in the clear.
The 1100 Sporting shotgun is very easy to take apart and reassemble. Field stripping is pretty straightforward. Lock the bolt to the rear, unlocking the barrel. Unscrew the magazine tube cap off, remove the fore-end, and then remove the barrel. Move the bolt forward, and the action should come to the front of the gun. The bolt and its carrier then come out, and you have the option of stripping it down even further by removing a couple of pins and taking the trigger group out. That's all there is to it.
Some clean their shotguns after every day's use, but remember that you don't want to overdo it. It depends on how many rounds went through it, and it depends on if you are looking to clean only, or to lube the gun up as well. Gun grease is a great thing, but there is such a thing as overkill. Pay attention, treat your Remington's properly, and they will last you for many years. A Remington 1100 is the kind of shotgun that can be handed down, and many choose to do just that. Sure there are newer models, but there is something exciting and nostalgic (for me, anyway) about the idea of handing down a shotgun to the next generation.
Remington Model 1100: 12 Gauge vs 20 Gauge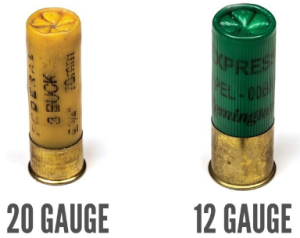 The old "12 or 20" debate is no debate at all. It all comes down to personal preference and intended use. If you're a beginner or are extremely sensitive to recoil, then perhaps the 20 gauge will be a better fit. On the other hand, if you need some weight in your hands, and feel that the 20 gauge is too light and quick – look no further than the 12 gauge. Since this is a sporting gun, it isn't as if you will be marching with it in the woods on a 3-day hunting trip. Well, technically you could, but the point I am trying to make is that you should decide for yourself. Also, ammunition is another consideration. 20 gauge works better with certain kinds of ammo.
For sporting purposes, either gauge is a good way to go. It all depends on you. A lot of skeet and trap shooters out there use 20 gauge guns in situations which are meant for 12 gauge, due to the density of the shot pellets. Hey – when it fits, it fits.
Remington Model 1100 Price
The Model 1100 has a relatively high MSRP, so be sure not to be fooled. It is a great shotgun, of course, but it sells for a lot cheaper then the price suggested by the manufacturer. These guns are still being produced, and there is no problem locating older versions, too. Gun shops, pawn shops, conventions, shows, online bidding sites – you can find a 1100 shotgun in so many places. There have been so many different models since its initial introduction in the early 1960s, you can have your pick of the litter. Some of these models have been discontinued, and those will obviously run you a little more, if they are in mint condition.
Cleaning Dad's Remington 1100. Mom bought it for him as a wedding gift. Me, dad, & gun spent many hrs in the woods. pic.twitter.com/v5PGgjIcqU

— Aaron P. Swain (@aaronpswain) November 25, 2016
Either way, you can pick up a Model 1100 – new or used – for anything from several hundred dollars to over a thousand. It depends on the seller, the condition of the firearm, and the model.
The Model 1100 Competition Synthetic was first introduced in 2011. At this time, it is only available in 12 gauge, and it is one of the longer 1100s out there, with a 50½ inch overall length. The barrel itself is 30 inches long, which is why it is perfect for precise and accurate competition shooting. The receiver has a nickel finish, the sights are standard twin beads, and the stock is synthetic and finished in carbon graphite. With a 4-round capacity magazine, and a $1,305 suggested price tag, it is a highly popular 1100 model.

I can't help but wonder when Remington will get around to releasing different gauges for this gun. I feel it will definitely help them out with sales (not that they need the assistance). Not everyone is into 12 gauge, not even in competitions. I have faith in Remington's market research department, and I have no doubt they will deliver.
Conclusion
The Model 1100 has so many variations, and if your plan is to shoot skeet, trap, hunt, or participate in competitions, it is a great option. There are many gauges available, and all you have to do is choose. Beginners and advanced shooters alike enjoy the look and feel of the 1100, because even though it is a wallet-friendly shotgun, it does not compromise on quality. The new Model 1100 200th Anniversary Limited Edition 12 gauge has a suggested price tag of $1,999. Just saying.
Thanks for checking out our Remington Model 1100 Shotgun review – for more on Remington, including our Model 700 Rifle and and 702 Plinkster reviews, check out our other blogs here at Gunivore!