Table of Contents
Accessories are meant to improve the performance and safety features of a weapon. They aim to provide the shooter with a better experience, whether it is at the range or in combat situations. I feel that personalizing and customizing a weapon can greatly assist in making it your own. Combined with training, there is a good chance that when the time comes, you will be able to follow through, and successfully implement your training. Accessories help facilitate that, by letting you get up close and personal with your weapon. When it comes to Kel-Tec KSG accessories, there are a number of 'must have' items. Here are our top 5, in no particular order:
1. Muzzle Break
The addition of a break to the muzzle of a KSG helps reduce recoil by 10%. For lighter shooters, an aluminum muzzle break can help out a great deal. For law enforcement personnel and high-volume shooters, a steel muzzle break comes highly recommended. Both are very durable and have a nice-looking finish on them.
2. Extended Selector Switch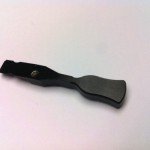 An extended switch allows quicker toggling between shotgun tubes. Each of the KSG's tubes holds up to seven rounds, and a shooter may choose to put different kinds of ammo in each of the tubes. By installing an extended selector switch, the act of switching becomes a lot easier and a lot faster. An extended switch makes it so the shooter does not have to remove his or her hand from the grip to switch between tubes, and this is a major advantage in any situation.
3. Recoil Pad
The 12-gauge Kel-Tec KSG has a big kick, which is significantly greater than your run-of-the-mill semi-automatic rifle (SAR) or handgun recoil. When firing, the stock of the shotgun could potentially cause harm to the shoulder in which it is placed. For this reason, recoil pads were invented. No more pain, no more black and blue spots. These pads are either screwed into or slipped onto the KSG, making it a lot more shoulder-friendly. There are several models of recoil pads out there, made of substances which are easier on the shoulder. Health benefits aside, this accessory can also dramatically reduce recoil. This enables the shooter to A) continue firing for longer periods of time, and B) increase the speed of target acquisition.
4. Pump-Action Grip
The Kel-Tec KSG is a bullpup design pump action shotgun. The charging pump needs to be pulled back firmly and with authority, or else it may cause the weapon to short stroke. A grip on the pump means accessibility, convenience, speed, and extra confidence. It also helps stabilize the shooter's hold on the weapon, and provides an extended measure of accuracy and precision. Grips come in handle form, as well as pistol grip form.
5. Sights
When it leaves Kel-Tec's factory, a newly-minted KSG comes with picatinny rails (top and bottom) but no sights. One of the first accessories which KSG shooters tend to pick up, is a set of rails or another type of optics apparatus – or both! It is always a great idea to have backup sights, in case your electronic optics fail. Even though the KSG is a very versatile shotgun, which can also be used in close quarter battle, it is always a good idea to get some sights. Part of owning a weapon is being responsible and prepared. Installing sights on the KSG is the least a shooter can do, in order to increase skill and proficiency with this remarkable piece of weaponry.
More KSG Accessories
More examples of accessories are lights, additional ammo carriers, cheek rests, extended rails, cases, and slings. Accessorizing your KSG can help you become a better shooter, and these five accessories which we listed are some of the most popular 'go-to' products. There are several companies which produce KSG accessories. Depending on your personal wants and needs, there is a variety of additions out there. These can heighten the shooting experience, and – with training – transform a novice to an expert shooter.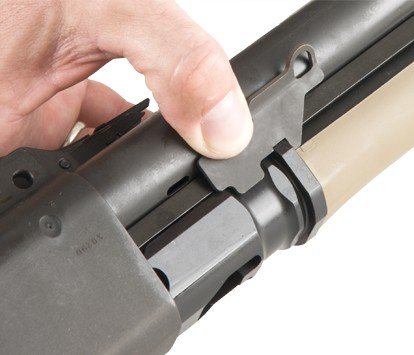 The KSG is one of the best home-defense shotguns in the market today, and many people choose to take advantage of this modern classic by Kel-Tec. This weapon changed the way we look at shotguns, and when it was released (2011) it was able to cause a stir of excitement, even in those individuals who weren't at all into bullpup designs or shotguns.
Whether it is at the range or in combat situations, the KSG seems like it can handle itself. In the hands of a skilled shooter, it is a very powerful instrument indeed. Kel-Tec has produced a second generation of KSGs since its initial release, where they addressed issues which were brought up by shooters. The KSG has inspired many minds, and further improvements, modifications, and accessories are being engineered and manufactured. Always be aware of local firearm laws. Items with a barrel length of less than 16 inches or overall length of less than 26 inches can qualify as a short-barreled rifle (SBR) and may present more complicated legal concerns depending on your state.
Thanks for reading our KSG accessories feature. Check out some of our other accessories features – like our Glock 19 Mods feature here at Gunivore!