Table of Contents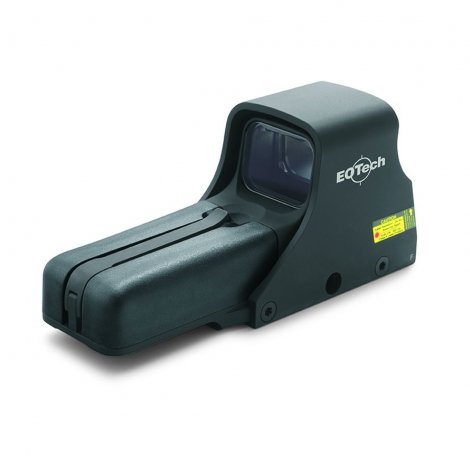 The EOTech holographic weapon sight (HWS) series has proven itself in many situations. It is used by civilians, officers, soldiers, and government agents in many places in the world.
EOTech produces 17 different holographic sights, and the most popular non night-vision-compatible model is the EOTech 512. In this review, we will try to understand what makes this particular model so widely-used.
The HWS 512 is designed for close to mid-range encounters. It is a non-magnifying optic, and it provides rapid target acquisition when you need it most. The sight's red reticle is ringed and dotted. For close-quarter battle (CQB), use the ring. For longer ranges, use the 1 minute of angle (MOA) dot. In both cases, the reticle will not distort or obscure the target. The shooter has complete control over any situation, and is able to find the target and even transition between ranges, without shifting focus or compromising awareness.
Technical Specifications EOTech model 512
Magnification – 1x

Dimensions – Length/Width/Height: 5.6 x 2 x 2.5 inches
Weight – 11.1 oz.
Illumination – laser
Eye relief – unlimited
Battery life –

Lithium: approximately 1,000 continuous hours (setting 12, room temperature)
Alkaline: approximately 600 continuous hours (setting 12, room temperature)

Submersible to 10 feet
Fog-resistant coasting on the lens
Anti-reflection coating on external surfaces of the display window
Automatic battery check indicator on start up
20 daylight settings
Mounts onto 1 inch Weaver or MIL-STD-1913 (picatinny) rail
Price of EOTech 512
First of all, what makes this model a best-seller is the price tag. Pretty straightforward, really. $459 is EOTech's suggested retail price for this unit, but it can be found for under $400 at various websites and shops. It is one of the cheapest holographic sights in the entire EOTech catalogue, surpassed only by the model XPS2-RF ($405), which is designated for non-tactical use.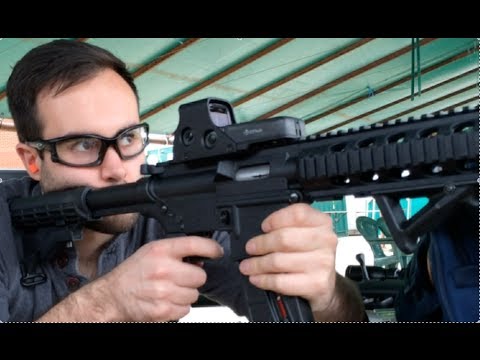 The XPS2-RF is primarily intended for air-rifle platforms. I am not knocking air rifles – to each, his own – but obviously there are differences between these two models The 512 is a genuine combat sight, meant for real rifles and actual battle conditions.
The 512 will work for anyone who is operating the firearm, be it a beginner or an expert. Part of what makes the HWS series so popular is its simplicity. It is easy to mount, easy to configure, and easy to use.
Because of the way this sight is designed, it is virtually parallax free. It needs no compensation, because even though your eyes may move, the holographic reticle stays right on target. This enables the use the oh-so-popular two-eyes-open kind of shooting, which many people seem to enjoy. It makes sense, really. Having both eyes open increases awareness of the situation, and it provides the shooter with the security and control necessary to make the shot count. And that is really what this is all about – making your shots count. It is why we spend time and money on a weapon, it is why we train with it, and it is why we accessorize our weapons with high-tech, high-quality, job-finishing sights like the EOTech 512.
EOTech 512 Characteristics
The 512 works in conjunction with your rifle's iron sights, so in the event of the batteries failing or any other kind of malfunction, you can flip up your iron sights, and use them through the 512's window.
By the way, if you do not have flip up iron sights on your rifle, I urge you to purchase some – if only for back-up purposes. We mentioned awareness as a key attribute, and it is the desire of most shooters to be as aware as they can be. It is part of why we carry, in my opinion. Keeping that in mind, you should always have at least one other method of acquiring your target. Iron back-up sights are the easiest way to go.
The HWS 512 arrives from the company's factory in very good form, and usually requires only minor adjustments – if any – before it is ready to out on the range. Then, once it is mounted on your rifle and zeroed in, this sight will hold on to that zero very well.
The clarity and integrity of the image is part of what makes this sight (and others in the HWS series) so popular. 1/8 inch glass makes up the front window, and a 3/16 inch laminate makes up the rear window. You will get no glare, no distortion, and no reflection. It is a quality piece of work.
All EOTech HWS products are warrantied for a period of 2 years, as of the purchase date (proof of purchase is required). If you find a defect of some sort in the materials and workmanship which went into making your sight, send it back. EOTech will replace or repair the sight, depending on the nature of the complaint.
Speaking of complaints, there is one issue which may cause some people to go for a different model than the 512. What is this complaint about? The AA batteries, of course.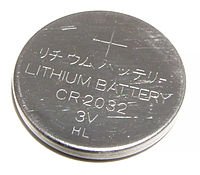 On the one hand, AA batteries are very common and relatively inexpensive. On the other hand, they lengthen the sight, due to their shape. There are other HWS models which utilize a single CR2032 battery, and those models are even more compact, because the battery cap is smaller. Just something to think about, though for many it will make no difference.
EOTech's headquarters are located in Ann Arbor, Michigan. Like other sights in the HWS line – and most, if not all, of EOTech's products – the 512 is made with pride in the United States.
The company has a variety of holographic sight models out there, but it is for these reasons that the 512 continues to be one of their most popular and sought-after items.
So, if you find yourself in need of a close to mid-range sight; if you can dig a red dot reticle, and are not into night vision-compatibility; and if you don't mind the AA battery cap size – the EOTech HWS 512 is definitely something to consider. It is an outstanding sight, which has the potential to serve you, and your weapon, for many years to come.