Table of Contents
The Kel–Tec KSG comes with rails, but no sights. This beautiful shotgun includes top and bottom picatinny rails, used for mounting all kinds of accessories. The top rail will accept many types of optics or sights, and one of the most popular sights is Field Sport's Flip Up iron sights.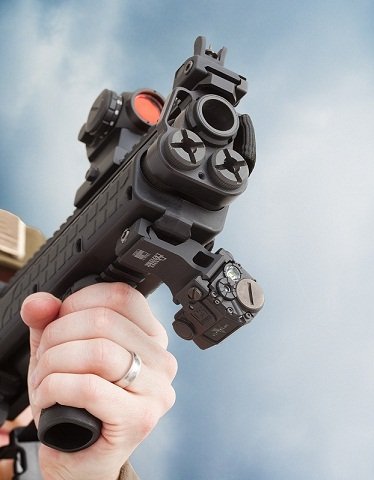 Shotguns like the KSG are meant not only for law-enforcement personnel, but also for civilians. It is a viable home-defense option, and many choose to take advantage of that option. The relatively small size of the KSG allows it to be the perfect home shotgun, since it is very useful in close quarter battle.
Without getting into the whole "why even have a shotgun at home" debate (save that for another time), I can tell you without a doubt that it can come in handy. For me, firearms are one of those things which you don't realize you need, right up until that moment when you suddenly really do. Better to be prepared.
And that is just it. The home defense mindset is not about vigilantism or looking for trouble, but rather about readiness and preparation. The KSG was great news when it came out, because it really made a difference in the way we view shotguns. Ever since the first shotgun was introduced, over 200 years ago, it has been a very popular firearm. KSG cranked it up a notch, so to speak. And, in order to be a good shot, you need to know where you are shooting. Depending on the distance, you may choose to use sights, optics, or neither.
Benefits of Iron Sights
Field Sports' Flip Up iron sights are great for their price ($20~). They are well-constructed, easy to adjust, and solid. They mount using a hex screw, and they definitely serve their purpose as backups. They flip up nicely, and lie down flat when not being used. Note: it may take some time to break them in, smooth them out, and get used to them. Once you do, you will find that these are a great pair of backup sights.
One very important thing is that these sights are made of iron, not polymer or another material. Iron provides the kind of security you can depend on, maybe more so than other materials. Many law enforcement officers can attest to this. Optics could suddenly run low on power, and other materials could potentially be affected by the shotgun's power.
Field Sports' sights are meant to be backup sights. You should continue training with them, regardless of whether you have any other kind of sights or optics on your KSG. Iron sights can be used as primary sights, of course, but they are not optics. In conditions of low light, mist, or any other compromising or incapacitating conditions, it may be difficult to acquire a target. For this reason, they are designated as backups. It is important to understand that modern shotgun optics have not been around for such a long time. For many, many years, iron sights were the standard for any kind of firearm. If you practice and train with them, you can become an iron sight marksman.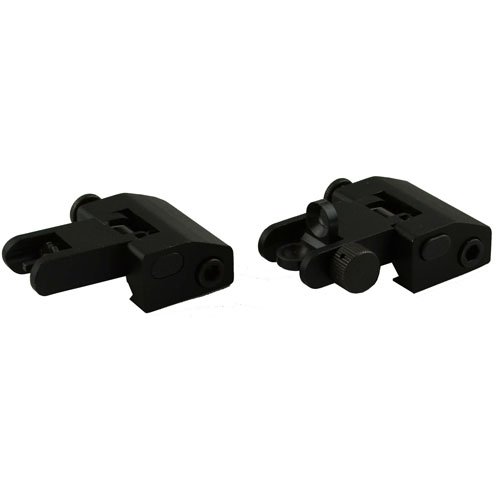 Specs:
6061 Aircraft Aluminum and T6 Heat treated Aluminum body
Level 3 Mil Spec Hard Anodization
Front Sight A2 post elevation adjustment
Rear Sight Dual Aperture Windage Adjustment
Pro's and Con's Flip-up Iron Sight
Weapons technology has grown in leaps and bounds. There are thermal imaging sights and night vision scopes that allow you to see targets in the dark. There are holographic scopes that can give you a more accurate shot. All this technology is wonderful with one downside, battery life. Yes, most if not all these devices use a power source to operate. What happens if your device breaks down and stops working? You need something that can get the job done. That is where iron sights come into play. Before all these fancy sights there were iron sights. The advantage to them is that they work without the need of a power supply. You just flip up the sight and aim with the sight given to you at birth. I'll be the first to admit that this is no simple task. This is a disadvantage to using a iron sight exclusively. Like I mentioned above you need to practice with the sights to get good. They also will not help you if the target is too far away. Although you may be able to get the target in your sight the odds of a accurate hit are dubious compared to a HWS.
All that aside a good iron sight will serve you well for close target scenarios. The obvious plus to having a iron sight is that it is made out of metal. Many other companies offer flip-up sights but too often they are made of a polymer. I much prefer a stronger metal. The iron sight attaches easily to the picatinny rail and after some minor adjustments can give you a clear shot. The obvious advantage to a flip-up sight is that it flips down to get out of your way when using scopes. There is no real replacement for a high quality red dot sight or HWS but when all else fails the flip-up iron sight can save your ass.