One things we can say for a certainty about Aimpoint History and Products is that they are unique. In 1974, a group of Swedish entrepreneurs got together. They had one goal in mind: to come up with better sighting technology for European hunters. The company called Aimpoint was founded by the late Gunnar Sandberg, who died in 2007. His son, Per, is currently the CEO of Aimpoint. Judging by what Aimpoint has been doing since Sandberg's death, it can be said without a doubt that Per definitely takes after his father.
Not Just For Hunters Anymore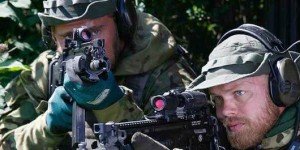 This company may have started with hunters in mind, but in the course of its many years, the company has expanded. It now caters to civilian, police, and military forces around the world.
Aimpoint is one of the largest and most well-known manufacturers of red dot sights in the world. Their products have proven themselves in combat as well as competition, and they have been well received by shooters from all walks of life, for over four decades. Quite a record.
Their first product, the Aimpoint Electronic, is supposedly the first sight to incorporate a light-emitting diode (LED) in its design. This just goes to show how innovative and creative this company and its engineers are. 23 years after its founding, Aimpoint secured its first long-term military contract with the U.S. Armed Forces. The Aimpoint CompM2 model sight was renamed "M68 Close Combat Optic" (CCO), and soldiers were then able to utilize this sight's amazing capabilities.
The company's headquarters are still based in Sweden, and it also has a subsidiary in the U.S., with facilities located in Virginia.
All of Aimpoint's products are non-magnifying, and they are also known as reflector or reflex sights. The company claims their products to be parallax free, but some amount of parallax is usually unavoidable, since we are talking of sights which make use of lenses and mirrors.
Depending on the range and angle, there may be need for parallax correction and compensation, but compared to other products, Aimpoint is certainly ahead of the curve. These sights are based on years of experience and smart engineering, and there is just no beating that.
Part of what makes Aimpoint products so amazing is their ability to function for prolonged periods of time – sometimes years – without the need for battery replacement. By using the proprietary circuit efficiency technology (CET) and advanced circuit efficiency technology (ACET), Aimpoint's sights are able to perform continuously for thousands and thousands of hours. These systems provide the hunter, combat soldier, or government agent with confidence, and make using the weapon a lot easier and more convenient.
Commercial and Professional Products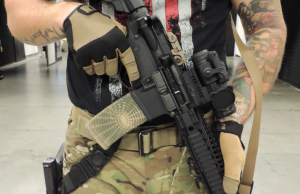 Aimpoint's products are placed in one of two categories: commercial or professional. In other words, one category covers hunting and sport shooting, and the other deals with military and law enforcement use. Other than those two categories, there are also many accessories that can be purchased directly from Aimpoint. These accessories are often designated for use with specific models.
This company's product line is impressive. In the course of time, with the advent of new technology and manufacturing techniques, some of Aimpoint's products have been discontinued. Other products have been replaced by superior, more advanced models.
Here is a short rundown of Aimpoint's products:
Commercial
9000L, meant for standard / magnum action rifles

9000SC, meant for standard / short action rifles

9000SC-NV, meant for standard / short action rifles, and is night vision compatible

CompC3, a lightweight, compact sight with a 30mm tube

H-series (H30L, H30S, H34L, H34S), military grade and rugged, meant for good hunting rifles and shotguns

Micro H-1, small and light, meant for hunting rifles and shotguns

Micro H-2, second generation micro hunting sight, with better light transmission
Professional
Aimpoint CompM3, rugged and versatile, with 5 years on a single battery

CompM4, next generation Comp sight, 8 years on a single battery

CompM4s, lower battery compartment M4

CompML3, meant for daytime use, 5 years on a single battery

FCS12, meant for use with multiple weapon platforms

MPS3, meant for medium and heavy support weapons

Micro T-1, small, lightweight, rugged, and boasting impressive light transmission

Micro T-2, second generation military micro sight, with even better light transmission

Aimpoint PRO, the Patrol Rifle Optic, was initially designed for police departments who wanted a military grade sight at a more affordable price
Let's go a little bit more in-depth, and check out a few of Aimpoint's most popular sights. This is not a complete review of these products, but merely an overview.
Aimpoint Micro T-1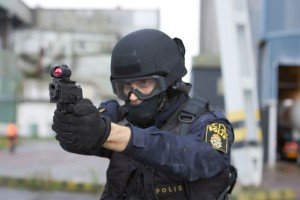 The Aimpoint Micro T-1 is probably one of the greatest non-magnifying combat optics ever to hit the scene. Introduced in 2007, this sight is a part of Aimpoint's Micro series. It weighs almost nothing (3.7 oz., including mount and battery), mounts to any standard picatinny rail, has unlimited eye relief, night vision compatibility and 8 daylight settings, comes with your choice of 2 or 4 minute of angle (MOA) dot, and is good for 5 years or more on a single battery. A magnifier is also a very popular option, but is sold separately.
Dimensions – L 2.4 x W 1.6 x H 1.6 inches

Housing – high-strength aluminum

Lens coating – anti-reflex, all surfaces and multi-layer

Submersible to an 83-foot depth
Aimpoint CompM4 / CompM4s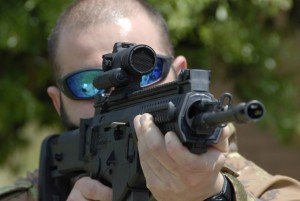 This was introduced as the successor to the CompM2, and was also adopted by the U.S. Armed Forced. The CompM4 has a total of 16 different LED brightness settings – 7 meant for use with night vision devices, and 9 for use in daytime. The CompM4 uses a single AA battery as its power source, and – according to Aimpoint – this sight will run continuously for 8 years on a single battery, while it is set at its 10th brightness setting.
The M4s has the exact same functionality of the M4, but with a lower battery compartment.
Dimensions – L 4.7 x W 2.8 x H 2.3 inches

Weight – 9.4 oz. (including the battery)

Housing – high-strength aluminum

Lens coating – anti-reflex, all surfaces and multi-layer.

Submersible to a 150-foot depth
Aimpoint's H Series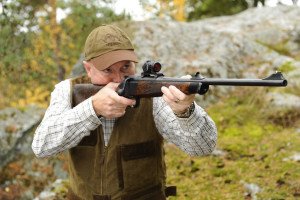 This series of sights is designated for civilian use, and more specifically geared towards the hunting crowd. It includes 4 models: H30S, H30L, H34S, and H34L. These are all red dot reflex sights, which make use of a LED as its source of light. The S and L in the model names refer to 'short' and 'long'.
These sights were launched in 2010, but the origins of this particular line of products go way back. After all, the Aimpoint Company began as a provider of optical solutions for the hunters of Europe. With the release of this amazing line, the company saw the vision of its founders come to fruition. Hunting rifles and shotguns can benefit greatly from these sights, which offer a 2 MOA dot, unlimited eye relief, two-eyes-open shooting, 12 brightness settings, and over 5 years of continuous use on a single 3V lithium CR2032 battery. The H series is not compatible with night vision devices.
Dimensions:
H30S – L 7.7 X W 1.6 X H 1.6 inches

H30L – L 9 X W 1.6 X H 1.6 inches

H34S – L 7.7 X W 1.8 X H 1.8 inches

H34L – L 9 X W 1.8 X H 1.8 inches
Weight:
H30S – 7.9 oz.

H30L – 8.4 oz.

H34S – 8.9 oz.

H34L – 9.3 oz.
Housing – high strength aluminum
Lens coating – anti reflex, all surfaces and multi-layer
Submersible to a 15 foot depth
Sight Maintenance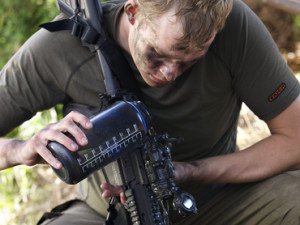 Depending on your eyesight, target size, weapon, and ammo, your Aimpoint sight can be used at any range. The dot is not projected on the actual target, but rather exists within the sight itself, thereby making the distance factor into a non-issue.
Always use a soft lens cloth to clean the sight. Never use your fingers. Blow away dirt, and then fog and clean the lens.
When zeroing your weapon, windage and elevation are adjustable. Don't continue adjusting once you encounter resistance. If you still need to zero, check the rail and the sight's alignment.
The front lens of all Aimpoint products is tilted. This is done in order to achieve the best possible light transmission with the sight's LED.
Aimpoint sights require no specific maintenance of any kind, but if you want to get the most of your product, you should:
– Keep the lens covers on when not in use
– Make sure the battery cap and the two adjustment caps are tightened (hand tighten only, according to the manufacturer)
– Wipe and dry the lens as soon as possible, after exposure to any water, snow, mud, or the like.
Accessories And Branded Gear
What about sight accessories or branded gear? Aimpoint also produce and distribute a wide range of both. Some are only for use with certain models, so be sure to buy exactly what you require. More information can be found on Aimpoint's website.
Accessories
Bikini lens covers

Flip-up lens covers

Outer rubber cover

Micro tool – meant for the micro series

Killflash filter

Batteries of varying kinds – alkaline and lithium

Dual battery kit

Aimpoint 3X Magnifier & 6X Magnifier

Infrared laser for nighttime conditions

Mounts, rings, and spacers of all kinds
Gear
Ball caps

Rifle sling

Knitted hats

Hoodies

Lanyard

Bolt knob
Beware Of Counterfeits And Copies
Whether online or offline, there are many fake Aimpoint products out there, being passed off as originals by various sellers. This is especially prevalent in online auction sites. Make sure to purchase Aimpoint products from one of their authorized dealers, and avoid any issues.
Remember! – Authentic Aimpoint products:
– Will be able to withstand shocks, drops, and firearm recoil.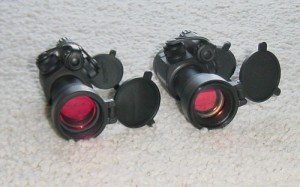 – Will have a serial number and article number engraved on their side or base.
– Will have the company's logo on the sight covers
– Will maintain their zero, without fail
– Will require only a single battery to function
– Will cost you some money. You get what you pay for, so be very wary of low prices. If it seems too good to be true, it probably is.
Warranty And Service
Aimpoint uses high-quality materials, and its manufacturing process is just about flawless. It goes through rigorous tests and quality inspection, to ensure the best possible end product. The result is a grade-A weapon sight, meant to last for many years. The company guarantees that its products will be free from manufacturer defects in materials and / or workmanship, under normal use.
For those who use the sights professionally (e.g. military, law enforcement, competitors), the warranty is for a period of 2 years. Those who make personal use of the sights will have them guaranteed for 10 years. All warranties are from original date of purchase, and are limited to the original owner.
The warranty is valid under normal use, so it will be null and void if the sight has been misused, taken apart, or otherwise tampered with in any way. Aimpoint's local dealers, as well as its customer service reps, are available to you with any questions you may have on repairs, returns, and even possible upgrades.
In Closing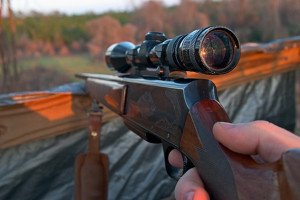 Aimpoint ("The future in sight") is synonymous with accuracy and precision. Obviously, your success with any sight or accessory also depends on your own skills as a shooter. Aimpoint's sights make it easier than ever to improve and hit your mark, whether you are a civilian, government agent, or serviceman.
Looking over Aimpoint's back catalog and list of currently available products, you can really see how the company has advanced over the years. So many different kinds of optics have been – and are still being – engineered, updated, and upgraded. If you are in need of a red dot sight, Aimpoint is definitely a place to start. Depending on your practical needs and personal taste, you will undoubtedly be able to find the right Aimpoint product for you.
Buying a sight can be a difficult task. There are so many companies and models to choose from. It is worth doing some research – or perhaps more than some – in order to purchase the best possible sight, with the most appropriate configuration.
An Aimpoint sight can do a lot for you and your shooting skills. Once the sight is mounted and zeroed, it can be used to immensely improve your firearm chops. These are extremely rugged sights, and they are designed to perform in the best way possible, even under extremely harsh conditions.
Now watch this cool video of hunters hunting wild boar using Aimpoint's amazing scopes