Table of Contents
Grey Ghost Gear, the parent company of Grey Ghost Precision (GGP), was founded in 2010 as a private business specializing in manufacturing tactical nylon, armor, and clothing solutions. Its goal was to provide soldiers and fighters with the best equipment possible, and with gear that is rugged, reliable, and affordable. Its designs were tested in-house, as well as in the field.

This combat-effective mentality, and its values, managed to "spill" over to Grey Ghost Precision, the company's weapons branch, when that offshoot company was established around 2014. Their very first series of rifles – GGP S ('S' is for specter, that's good enough for me) – included a 'Light' model in 5.56mm, and a 'Heavy' model in .308. Co-producer of the Specter rifle series was Mega Arms (a subsidiary of Zev Technologies), and it was created exclusively for GGP.

In 2015, Grey Ghost appeared at SHOT Show alongside a beautiful 300 BLK variant. That model has been discontinued, if I am not mistaken, but GGP have continued to produce pistols, slides, receivers, rifles, and accessories.
Grim 6.5 Creedmoor
With a solid 22-inch barrel, adjustable gas block, extended 18-inch handguard, and Magpul furniture – the GGP MKII Grim is, more than anything, the product of demand. After the Specter series was released, professionals and veterans alike requested a 6.5 Creedmoor platform.

There are many worthy 6.5 Creedmoor rifles out there, but Grey Ghost wanted a rifle that is up to their standards, period. The core of Grey Ghost Precision is a group of combat veterans and military personnel, which is why the systems and receivers they manufacture are so well thought-out. In my opinion, anyway. They manage to deliver a package which is spec'd out and ready to go right out of the box.

Here are some of the other specifications of the Grim:
Weight – 10 lbs.
Length – 44 inches
Hardcoat Anodized
Includes no sights or optics
MSRP: $3,199
Custom Glock Slides
Grey Ghost Precision offers several different types of slides for the Glock-carrying public. They will match the Glock 17 and 19 (Gens 3 and 4), as well as the Glock 43 slimline model. The advantage of having this type of slide is that you end up with a superior piece of weaponry. It has the potential of making your Glock that much more functional and reliable, though it is by no means a bare necessity. Glock's slogan is "Perfection", and there is no doubt that many find Glock's factory slides to be adequate.

The custom slide by GGP is machined from 17-4 Billet Stainless Steel, and is black nitride coated inside and out. Keep in mind – this coating is not everyone's cup of tea. The price is right and the value is high, but some prefer a different coating. If this is something you plan on pursuing – namely, investing a few more hundred dollars in a separate coating – then this may not be the right slide for your Glock.

Slides are available in two patterns:
-V1 – which has windows
-V2 – which has serrations
Grey Ghost had offered complete slides at one point (I believe), but regardless, at this time they only offer stripped slides for their Glock-carrying customers. In other words, there only the slide itself, without any internals.
Complete slides – minus sights – were made available in 2015, and in 2017 the company announced a partnership with Aero Precision.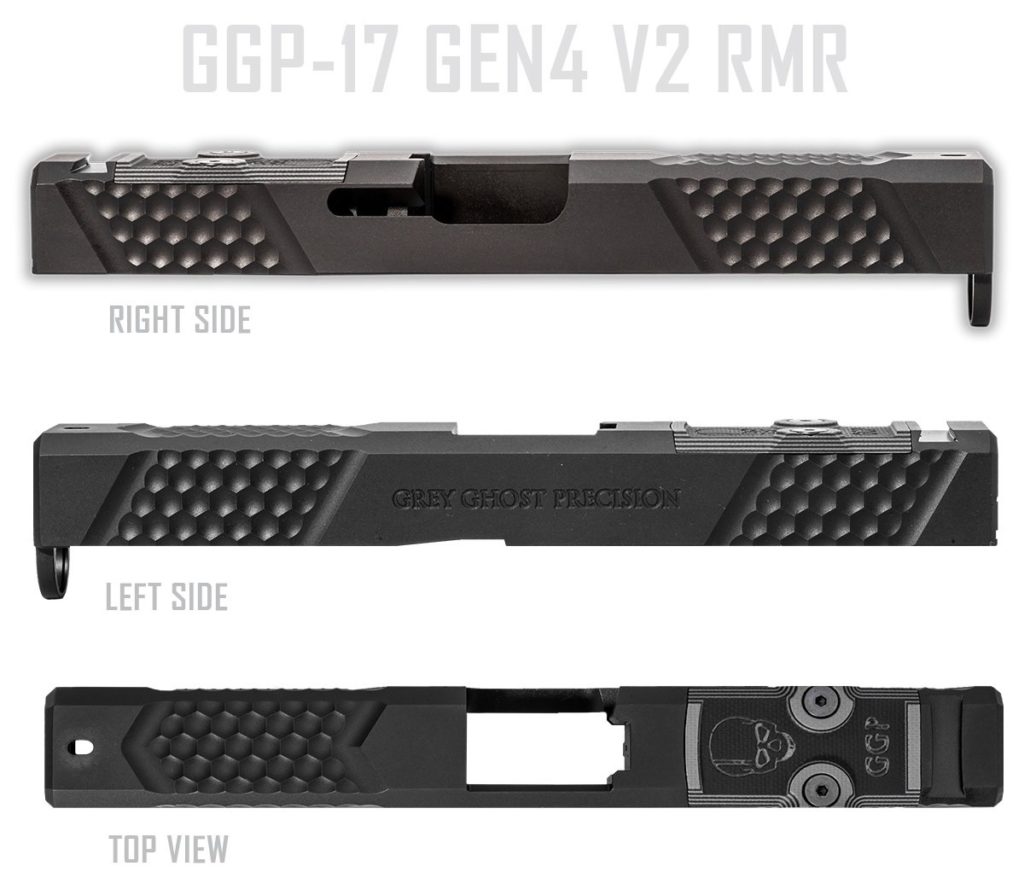 Stripped slides MSRPs –

-Glock 17 Gen 3 and Gen 4
-Glock 19 Gen 3 and Gen 4
-Glock 43
Grey Ghost Glock Slide
The GGP LW Stripped Slides for Glock 17 and 19 were on the market for a while, but according to their website these models are currently sold out. This was a slide which was manufactured in association with Rainier Arms.
Grey Ghost Gear
As previously mentioned, Grey Ghost Gear was established in 2010, aiming to provide the best solutions for "every badass moment in your life", as the company put it. Apparel, armor, backpacks, belts, cases, pouches, slings, and other types of accessories are available from their various lines of products.

Your gear becomes a part of you, in many ways. You train with it, you fight with it, sometimes you sleep and eat with it. Anyone who has been in the army can probably tell you that you can develop a kind of relationship with it. This is precisely why having good, quality gear is essential. You need to know that when you are training – not to mention actively engaging enemy/targets – you and your gear are working "together".
Obviously, it all depends on the individual operator. You could provide a novice with all the gear in the world, but it still won't come close to what a seasoned fighter or shot could do with it. The gear is meant to serve the individual, and that is the proper way of going about it. Forget about being tacticool – this is about those all too real "badass moments". And when the SHTF, it's not about being a badass either, but about getting the job done in the best possible way.

Magpul, Smith Optics, and Karrimor SF are brands which Grey Ghost Gear works (or has worked) with. Currently, they only offer Karrimor SF products, which are used by law enforcement and military alike.

Conclusion
Grey Ghost Precision – and its parent company for that matter – are not trying to reinvent the wheel. Their mission is to take that existing "wheel" and make it better. They achieve this by using grade A materials, taking advantage of their extensive knowledge, and providing the combat soldier, police officer, and/or civilian operator with the best possible tools for success.

Even though it is a relatively young company, it still manages to make a splash and get noticed. Some say that the market of aftermarket-solutions and gear is seriously oversaturated, and perhaps there is some truth to that. But thankfully, with equipment and gear such as this, you can put it to the test, literally, and find out if GGP fits in with your wants and needs.

It's not just about looking cool. It's about trusting yourself and your gear. If something goes wrong, your training will (hopefully) kick in. At that point, you and your gear are working together to neutralize the target, and that – as I see it – is what GGP is all about.