Table of Contents
Volquartsen has been manufacturing premium quality pistol, rifles, and parts since 1974 and their family legacy continues to grow more and more each day. Their mission has been and continues to be to redefine what it means to be handcrafted in the USA. The small Iowa-based gunmakers have dedicated their lives to perfecting firearms, especially semi-auto rifles. In fact, they've made it their mission to finally make it so that semi-automatic rifles are just as accurate as bolt-actions. However, the process has been long and grueling, and the family name is still somewhat unrecognized. This is somewhat surprising considering how impressive their guns are. They claim that "quality is quintessential" and their products definitely back that up. Similarly, they understand that "perfection is a never-ending pursuit", but it's a pursuit nonetheless. So let's get to it and learn more about Volquartsen's collection of rimfire guns and accessories.

Volquartsen Scorpion
The Volquartsen Scorpion is not your ordinary target and competition pistol. Besides for its non-traditional aesthetics, the Scorpion is insanely accurate. Truthfully, these are both gross understatements. I've shot dozens and dozens of different pistols and very few can compare to the precision of the Scorpion. The Scorpion's outstanding shooting abilities stem from its simple yet state-of-the-art construction. For starters, they incorporated an LLV precision stainless steel barreled receiver that is CNC-machined.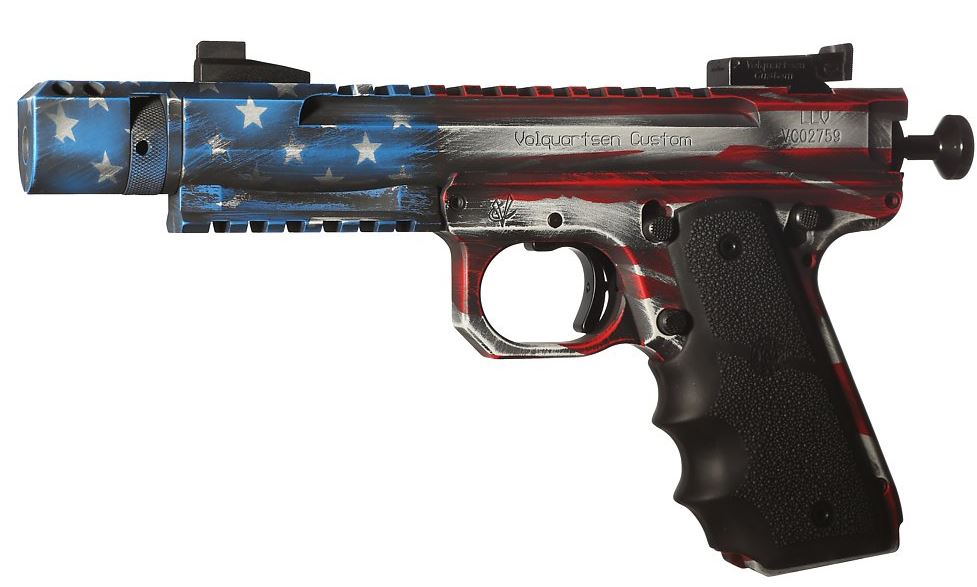 Additionally, they managed to keep the barrel weight down without sacrificing any durability. While the factory-installed sights are surprisingly effective, the integrated Picatinny rail is a nice touch. In addition to the remarkable LLV barrel, the Volquartsen Scorpion also features a truly extraordinary VC target frame. For a component so simple there are a surprising amount of features. Besides for its Type III hard anodized finish and CNC-machined disconnector, it also possesses a fantastic 2.25 lb. crisp trigger pull. As an added bonus, some models ship with factory-installed Hogue grips.
The Volquartsen Scorpion also comes with a competition bolt that ensures flawless operation mag after mag. They included premium edge extractors and firing pins and put it all together with a wear-resistant case-hardened finish. To give shooters even more personalization options, Volquartsen included a second Picatinny rail forward of the trigger guard. Likewise, the Scorpion is offered in two barrel lengths and a whole variety of grip and finish combos.
Volquartsen 10 22
The Volquartsen 10 22 is the result of decades of rifle modification, so you can expect big things from these guys. The Ruger 10/22 was already an impressive firearm, yet Volquartsen managed to upgrade it on so many levels. Starting from the back end, they added Magpul Hunter X-22 Takedown stock, which is far from your run-of-the-mill accessory. The reinforced polymer stock features a comfortable non-slip rubber butt-pad and even has M-LOK accessory slots. One of the most significant updates is the collection of stainless steel barrels with several fluting options. Like many Volquartsen components, the Ruger 10/22 variant features a few key CNC-machined components. One of the most noticeable is the trigger guard and its remarkable 2 lb. clean trigger pull.
Volquartsen 17 WSM
Although most people know Volquartsen for their .22 firearms, the Iowa-based manufacturer is a primary producer of 17 WSM rifles. 17 WSM (Winchester Super Magnum) was created back when Winchester and Savage teamed up at SHOT Show 2013. The somewhat obscure hunting rimfire cartridge is slowly but surely gaining popularity, especially among .22LR hunters.
There are currently four 17 WSM rifles in the collection but it's hard not to love the classic model. The most important thing to know about these long guns is that they are wickedly accurate and have some pretty unique finishes.
Ruger Mark III Accessories
The Ruger Mark III is one of the best rimfire target pistols under $500 and it only gets better with Volquartsen. The Iowa-based gunmaker offers several enhancements, upgrades, and accessories for the .22LR Ruger, including comps and grips. In addition to Hogue and Volthane models, they offer some pretty impressive aluminum and laminated grips to increase ergonomics and aesthetics.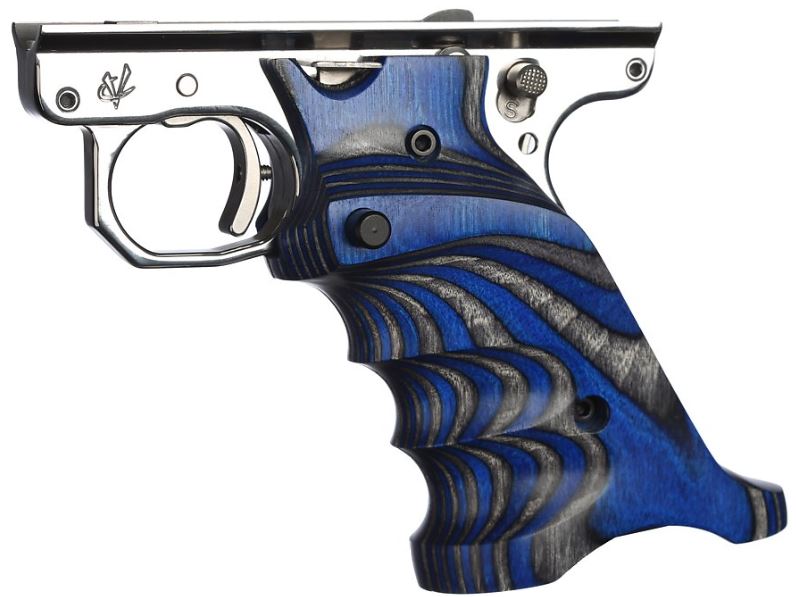 Conclusion
At the end of the day, Volquartsen is a hidden gem that is just waiting to be discovered. These firearms and accessories are all top-notch and are available online on major sites like Amazon. What's really nice is that the company has never sacrificed their integrity, quality, or family values. Although they've been around since the 70's, I expect the next few years to be the golden age of this rising star.
We hope you enjoyed this Gunivore Company Overview & don't forget to follow us on Facebook!