The difference between EOtech XPS2 and 512 is minute. These two sights are similar in a lot of ways. They were engineered years apart, but they still hold a lot of the same advantages for the shooter. Why is that? Because EOTech got it right, right off the bat. The company has been producing holographic weapon sights since the mid-90s, and the XPS series was introduced around 2010.
The 512 – which is still their most popular, widely-used not night-vision-compatible sight – is intended for close- to mid-range shooting. The XPS2 is also intended for such distances, but there are several crucial differences between them.
Let's take a look at a side-by-side technical specifications comparison:
Model 512 HWS

Model XPS2 HWS

Magnification

1x

1x

Dimensions (LxWxH)

5.6 x 2 x 2.5 inches

3.8 x 2.1 x 2.5 inches

Weight (oz.)

11.1

9

Eye relief

Unlimited

Unlimited

Power

2 AA (lithium, alkaline, rechargeable)

1 Cr123

Battery life

Lithium: approximately 1,000 continuous hours

Alkaline: approximately 600 continuous hours

Approximately 600 continuous hours

Brightness settings

20 (daytime)

20 (daytime)

Night vision

Incompatible

Incompatible

Submersible (depth)

10 feet

10 feet

Lens coating

Anti-fog

Anti-reflection

Anti-fog

Anti-reflection

Ideal target range

Close to mid-range

Close to mid-range

Price (MSRP)

$459

$539
No Two Sights are the Same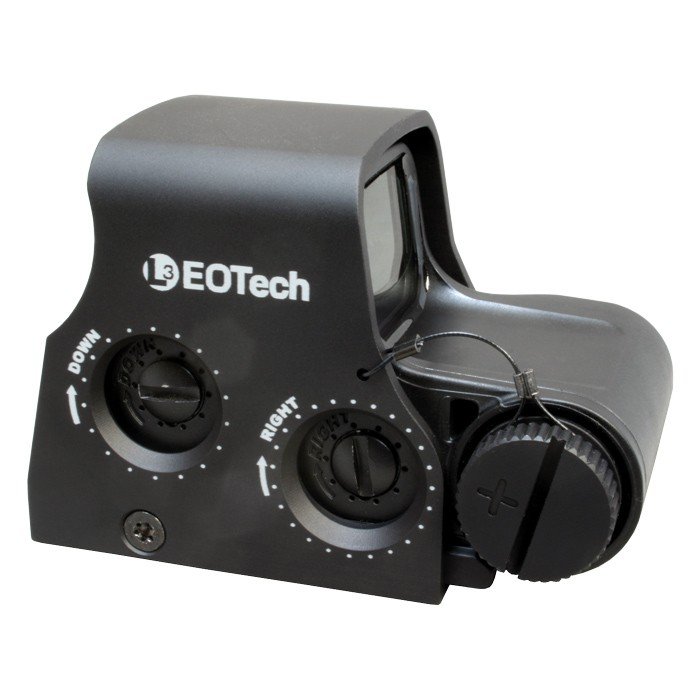 The major differences between these two excellent sights are:
Size –
The XPS2 is significantly shorter, which allows the shooter to mount other accessories with greater ease. Because of its slimmer build, it also weighs less.
Battery life –
With the XPS2, you're looking at a loss of about 400 hours, compared to the 512's lithium battery life. The XPS2 utilizes a single (albeit powerful) battery. This causes the optic to be shorter, but last significantly less time than the 512. Furthermore, AA batteries are a lot more common, and this can be a huge advantage. On the other hand, as one forum-poster eloquently put it: I would not trust my life with anything using AA. I suppose it is a judgement call.
Reticle pattern –
The 512 has only one available model:
512-0 – 65 minute of angle (MOA) ring and 1 MOA dot reticle.
The XPS2 has several reticle patterns to choose from:
XPS2-0 – 65 MOA ring and 1 MOA dot reticle
XPS2-1 – 1 MOA dot reticle
XPS2-3 – 2-dot ballistic reticle
XPS2-FN – FN Herstal's less lethal reticle
XPS2-SAGE – targeting and ranging reticle
Price:
The XPS2 is the more expensive of the two, and it is because of the details mentioned above. If you feel that the differences between them are negligible, then go with the 512. If you know that you will be adding a magnifier or other accessory at some point, then save your rail space and get the XPS2.
LBC Compatibility:
In 2014, EOTech released its laser battery cap (LBC) series, which is a line of 2 battery cap replacements. The first is the LBC, which projects a visible laser beam onto the target. The second is the LBC2, which features a visible laser and an invisible infrared beam (for night vision purposes).
The LBC series is only compatible with HWS models 512/552/518/558. The XPS2 is therefore incompatible with this unit, and if the LBC is something you could see yourself being interested in – get the 512. In fact, there is a 512 + LBC bundle available, for a reduced price.
Mounting and Possible Drawbacks
Both of these sights are easy to mount and easy to use. They are meant for use with a 1-inch weaver rail or MIL-STD-1913 (picatinny) rail. Whether you are a novice or a veteran shooter, these sights can help you make the most of your range time. If it is a question of active duty, both of these sights have seen combat, and have earned the respect of law-enforcement officers, government agents, and military personnel.
One issue (read: complaint) which seems to come up occasionally, is that of recoil. Not everyone agrees on this, but the XPS2's battery compartment has a reputation of handling recoil better than the AA battery compartment of the 512.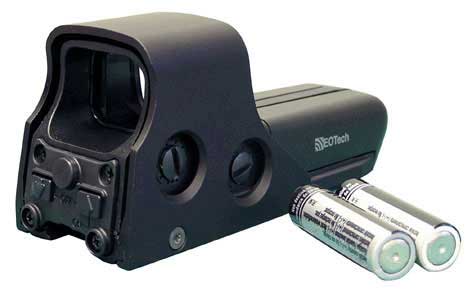 Some users have stated that the springs on the 512's AA battery cap have trouble handling the repeated punishment of recoil, and that the way the batteries are positioned can damage the integrity of the battery compartment. The XPS's battery cap is smaller and more secure, and the battery itself is mounted sideways. This way, it can be trusted to handle the recoil of any firearm on which it is mounted, and not move around inside of its compartment like AA batteries.
Keep in mind that you may not experience this issue at all. The 512 is still incredibly popular for a reason. If it were so inherently flawed, it would have never found the success which it still enjoys. It isn't just about a lower price tag – the thing needs to perform in combat situations and harsh conditions, the least of which is recoil.
There Will Always Be New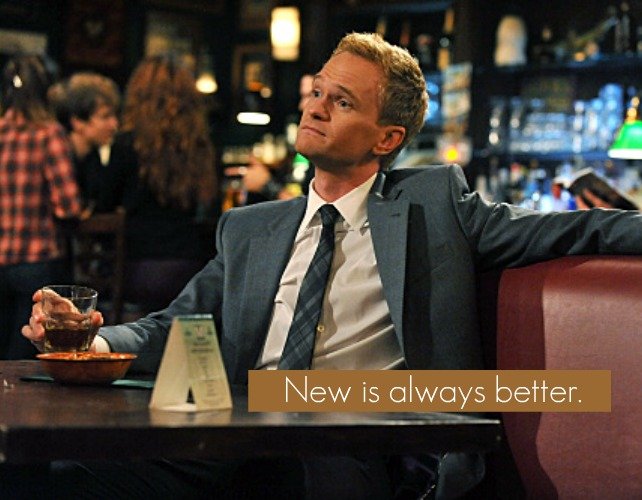 There is one memorable How I Met Your Mother episode, where Barney Stinson unequivocally states that "new is always better". Following that statement, Ted challenges Barney to drink the newest scotch which their bar has to offer (Jumbo Jim's Grape Scotch), in an attempt to prove that he is wrong. Barney accepts the challenge, and, well, I won't spoil the awesome outcome for you, but let's just say that "new is always better" is not always true.
There are many shooters out there who are preferring the older 512 to the newer XPS2 model. There is nothing wrong with choosing a classic over a new model. People do it all the time.
Ultimately, it is all about you and your level of comfort. You are the one who is going to have to shoot this weapon, so any optics you mount on it ought to be ones which you are comfortable training with and operating.
Whether it's the older 512 or the newer XPS2, with EOTech you are getting a quality item. The warranty on both is for 2 years. Both are made in the U.S. and both are reliable and accurate. Both will act as a great addition to any rifle.
Do your research, take your time, and – if you can – try them both out before settling on one of them. That way you can be sure of your decision.
Happy hunting!