Originally engineered and produced for the M16 / M4 platform, the Advanced Combat Optical Gunsights (ACOG) series by Trijicon exploded onto the optical accessories scene in 1987. It was almost immediately included in the U.S. Army Advanced Combat Rifle program.
U.S. Special Forces and ACOG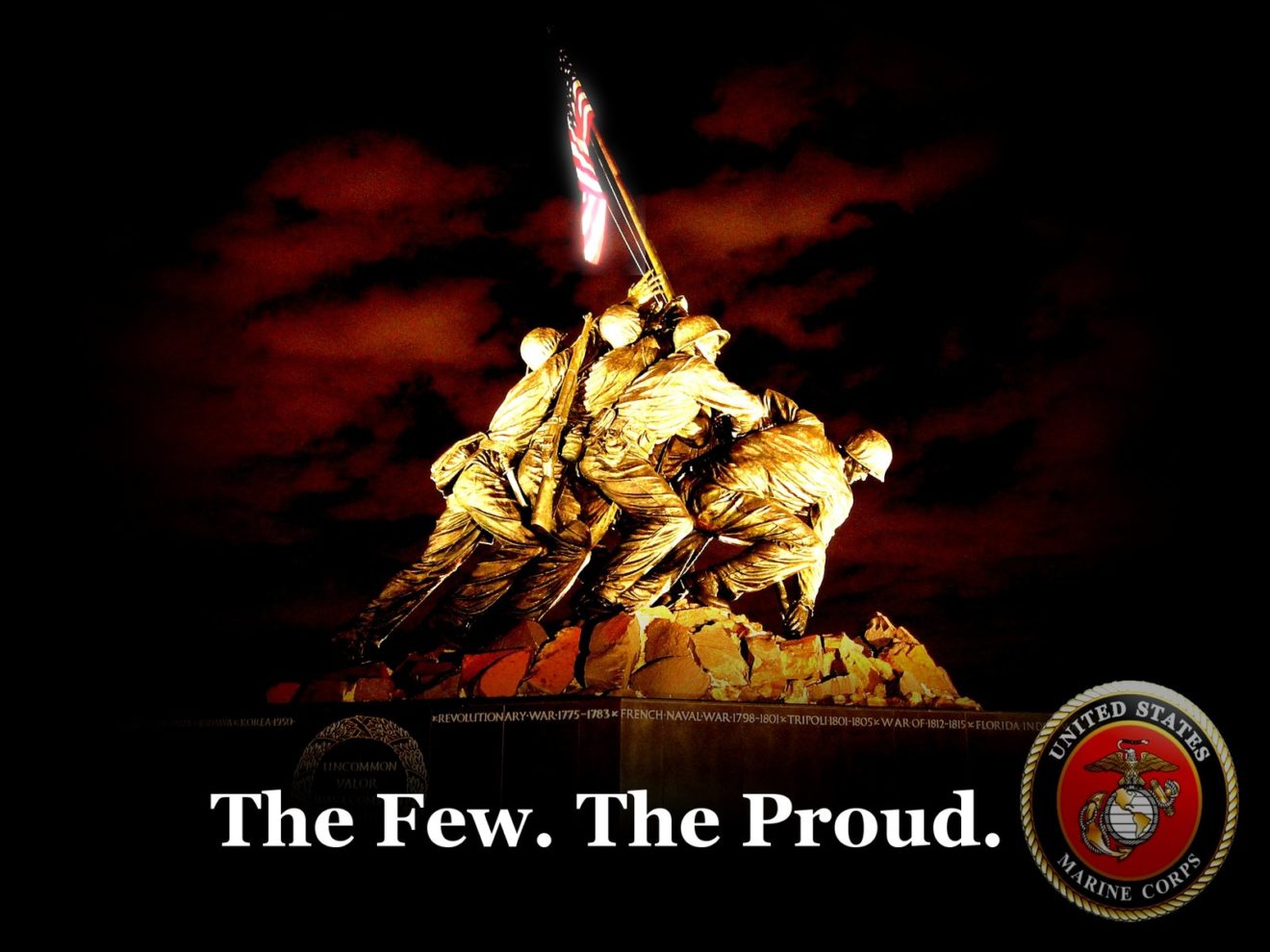 Throughout the 1990's, changes were implemented, improvements were made, and ACOGs soon became the standard issue for U.S. Special Forces and Marines as well. The Trijicon ACOG scope optic was making quite a name for itself, and it hasn't stopped. It is still considered a legendary gunsight, to this day.
By 2009, half a million ACOGs were produced. These sights have proven themselves on the battlefield time after time, and they are still immensely popular with many security forces and militaries around the world.
The ACOG's magnification ability varies, and it ranges from 1.5x to 6x. It is mainly fit for 2.23 or 5.56 caliber rifles, but there is also a .308-compatible model. Some ACOGs have a tritium illumination source, others have a fiber optic, and some have both of them working together. During the daytime, the fiber optic generates a very clear reticle. At nighttime, the tritium illumination kicks in and it really glows. Depending on the intended use of the scope, a shooter will be able to get a better idea of which ACOG to get.
TA01 4×32
There are 12 different ACOG models, and the most popular one is the TA01 4X32 (magnification 4x, and a 32 millimeters objective lens), which is one of the first models Trijicon released.
Some tech specs on the TA01:
Magnification – 4x
Objective lens – 32mm
Length – 5.8 inches
Illumination – tritium
Housing – forged aluminum
Weight – 9.9 oz.
Reticle pattern – crosshairs
Reticle color – black (day), red (night)
Eye relief – 1.5 inches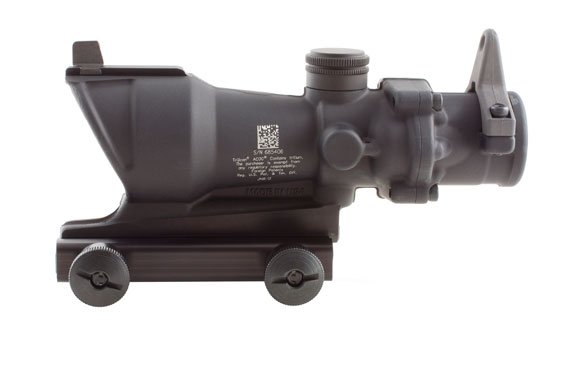 The TA01 has several offshoots:
TA01LAW – designated for the M16, LAPD reticle
TA01NSN-308 – .308 Ballistic Reticle, TA51 Mount, Backup Iron Sights, and Dust Cover
TA01B – .308 Full Line Red Illumination
TA01NSN – designated for the for M4A1 – includes Flat Top Adapter, Backup Iron Sights, and Dust Cover
Let's go more in depth with the rest of the ACOGs. Each model of the 12 ACOGs has offshoots of varying design characteristics. Some of these offshoots only differ in reticle pattern and color, while some incorporate other methods of reticle illumination, different mounting options, platform / caliber compatibilities, and other attributes. What makes all offshoots of a particular model similar, is the power of magnification and objective lens size. Those two things remain constant.
Two other popular models, which share the same power and lens size as the TA01, are the TA31 4X32 BAC and the TA02 4X32 LED. The TA31 offers dual illumination, and has 10 offshoots of its own. The TA02 is unique, because it offers battery-powered illumination. It has 3 offshoots of its own.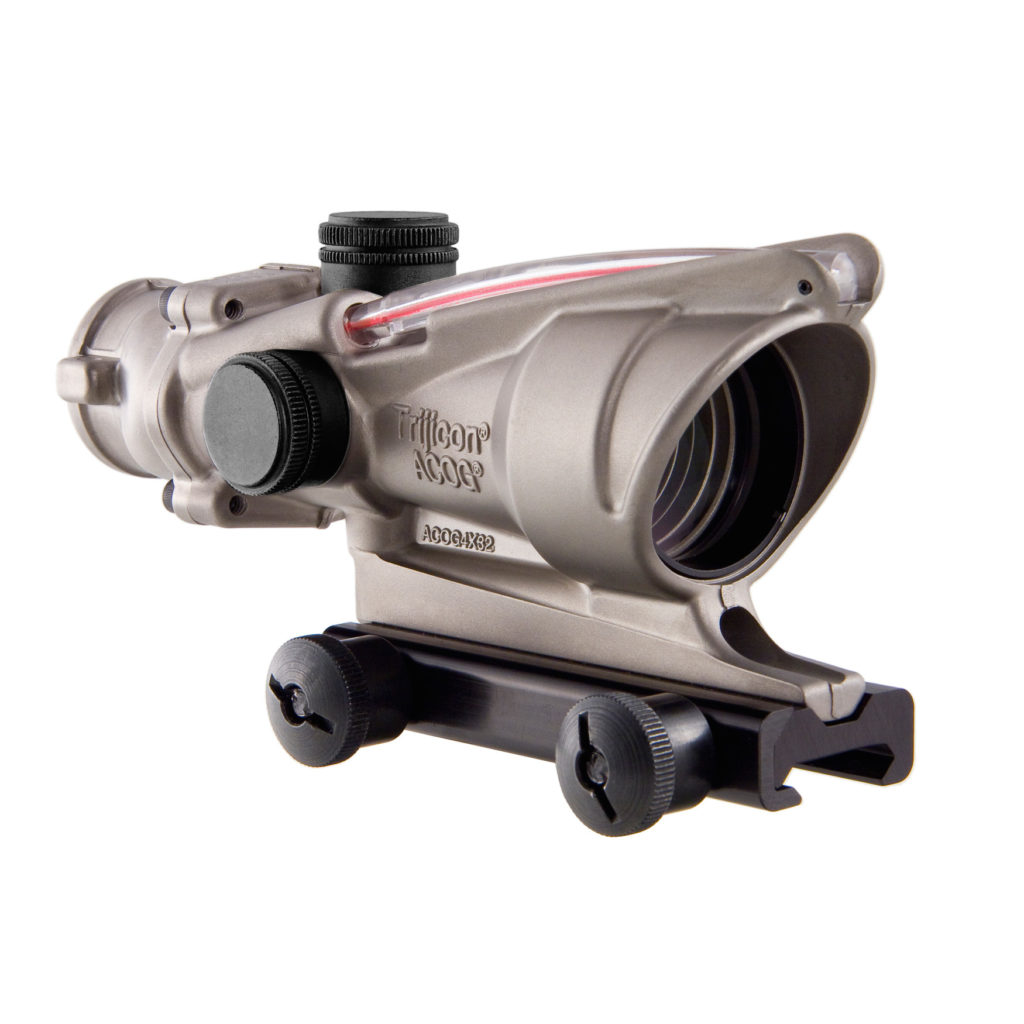 TA31 4X32 BAC
Magnification – 4x
Objective lens – 32mm
Length – 5.8 inches
Illumination – tritium and fiber optics
Housing – forged aluminum
Weight – 9.9 oz.
Reticle pattern – donut
Reticle color – red (day), center red (night)
Eye relief – 1.5 inches
TA02 4X32 LED
Magnification – 4x
Objective lens – 32mm
Length – 6 inches
Illumination – Light Emitting Diode (LED)
Housing – forged aluminum
Weight – 18.1 oz. including alkaline battery and mount
Reticle pattern – crosshairs
Reticle color – red (day), red (night)
Eye relief – 1.5 inches
Battery requirements – single AA (lithium or alkaline)
Battery life – Over 12,000 hours on setting #4 using supplied alkaline battery at 21ºC (70ºF)
Tech specs for the TA11
Another very popular model is the TA11 series. It is a 3.5X35 sight, and it really does look like a piece of work that was made for combat. One great advantage this model has is a wider range of eye relief. In the older models, you had to get up close and personal with the sight (about an inch and a half from the eye piece), but the TA11 is a different story.
Objective lens – 35mm
Length – 8 inches
Illumination – fiber-optic and tritium
Housing – forged aluminum
Weight – 14 oz.
Reticle pattern – donut
Reticle color – red (day), red (night)
Eye relief – 2.4 inches
The TA11 has 12 different offshoots. They are all illuminated by dual sources, and they vary by reticle and calibration.
Advantages of Trijicon Scopes
ACOGs really are made of high quality materials. These scopes are ones which have seen a lot of combat, and have withstood many challenges. The glass is amazing, and once you mount this beast onto a firearm, you can tell that it means business.
Another clear advantage of the ACOG system is that most of the series' models require no batteries. One of the most consistent issues which comes up when dealing with scopes is the question of dependability and reliability. Unlike laser sights, fiber optic and tritium sights require no external power. Trijicon does have a battery-powered ACOG (TA02, 1 AA battery), but the high praise and well-deserved compliments were given first and foremost to innovative models like the TA11H and the TA01.
Trijicon tests all of its optical accessories, and it puts them through a little bit of hell before deciding they are worthy of being produced for the masses or military. After the scope is given the green light by the company, it is the military's turn. Once again, the scopes are put through tests and trials, with extreme conditions and situations (like only the military can provide).
These scopes are waterproof, drop proof, dust proof, and are considered to be a great addition to any combat rifle. Any firearm which is lucky enough to have an ACOG mounted on it, will serve its carrier well. There is a reason why these babies were (and are) used by armed forces and organizations around the globe.
One thing which must be mentioned is price. The ACOG series is expensive. If it wasn't, I personally would have a hard time believing in it. The reason that Trijicon ACOGs cost so much (~$1100 – $3700), is because they manage to deliver an experience like no other scope. These are worth every single penny, and they are built to last. There is a limited lifetime warranty on the materials and workmanship, and various limited warranties on the illumination systems.
ACOG manages to let the shooter view a crystal clear reticle at night, without requiring any specific night vision optics. Some models even arrive with an added miniature reflex sight, which is a nice option to have. The ACOG series is made in the USA, and it is one of the telltale signs of a true Trijicon ACOG. Some companies are producing imitation ACOGs, but none of them are doing it quite as well as Trijicon.
Side note: some earlier Trijicon 4X32 models have the inscription JN8:12 branded on them. This is a reference to a Bible verse (John 8:12), and it became something of a controversial issue when the media got hold of the information. Trijicon first released their military scopes with this inscription. Eventually, the military scratched off the inscription, and told Trijicon to leave the "bible code" out of any new shipments.
Review of Trijicon ACOG
The ACOG comes with a hard case, a scope dust cover, and an owner's manual. The original models came with bikini type lens covers, but the newer ones come with a scope cover (also known as a scope coat).
If you have the chance to pick one of these up – do it. They are not cheap, nor should they be. Because these things are the real deal. The USMC has one on every single standard issue rifle (as far as I know), and if it is good enough for the Marines, it is probably good enough for pretty much everyone else.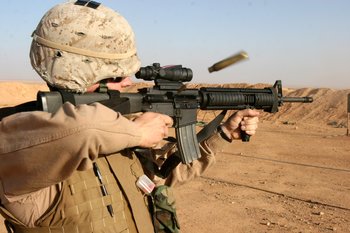 One other thing that should be mentioned is close quarter combat (CQC) situations. The magnification on the ACOG is usually 3-4x, which – for most people – means that it is great for long distances, but may not be as good for close range encounters. This is not necessarily true. One of the techniques which Glyn Bindon, founder of Trijicon, innovated is the Bindon Aiming Concept (BAC), which provides the shooter with a way to keep both eyes open while zeroing in on target.
Essentially, this means that the shooter's field of view remains unobstructed and uncompromised. You can still have a depth of field, while looking into the eye piece. If you have a CQC situation, the reticle will get you on target whether it is day or night, or whether the target is fixed or in motion. Once you are on target, the eye which is closer to the eye piece will re-focus, allowing the shooter to take a precise shot.
The ACOG series (and Trijicon itself) is constantly improving and innovating. In 2015, the company introduced the GEN2 ACOG, which have finger adjusters and new forged housing. Some GEN2 models have a varying base height, which can better accommodate a wider variety of platforms.
If you have the money – buy it. Don't think twice. The ACOG is an exceptional product, and not everyone can afford it. If you can afford it, and have the need for it (of course), then get it. It is well worth the money, and is sure to last.
With the wide array of advanced optical accessories out on the market today, don't forget about the importance and necessity of back up iron sights for rifles