Although the modern rifle is getting more and more advanced every day, shooters will always love "upgrading" their AR-15 with accessories. Between Picatinny, M-Lok, KeyMod, Warsaw Pact, dovetail, and Weaver rails, there's a nearly endless supply of aftermarket options to consider for your firearm. While some of these attachments are purely aesthetic, most modern shooters tend to opt for a wide-variety of optic, lasers, lights, and grips to give their rifle a tactical advantage.
Besides for the obvious benefits of having these accessories, there is also a personalization aspect to consider. In point of fact, my Smith & Wesson M&P Sport II looks nothing like my brother's simply because we have completely different purposes and therefore a totally different accessory setup. That being said, since I've already covered suppressors and magazines in other articles, I want to focus primarily on the best optics, grips, stocks, lasers, flashlights, and slings. Lastly, I will be factoring in price, so I'm sure there will be a few surprises on this list.

AR-15 Optics
There are many reasons why shooters choose to attach an optic to their rifle, especially hunters and competition shooters. In general, these accessories are used to magnify your target and achieve a higher level of precision.
Aimpoint is the standard by which all other red dots are measured, and for good reason. While the Aimpoint Micro may cost a pretty penny, it's one of the best accessories money can buy. Besides for its outstanding life expectancy, the Swedish optic is also renowned for its remarkable versatility. I know guys who use the Micro for hunting, sport, and even home-defense, nevertheless, it's probably best used in close quarters engagements.
The Nikon variable P-223 scope is ridiculously impressive. For starters, Nikon is one of the best optics manufacturers in the world, so you know it's gonna be something special. To make things even sweeter, the P-223 is also shockingly inexpensive.
I always look for versatility in a scope and I can safely say I wasn't disappointed with this Nikon. The Japanese-designed optic features a fixed 3X with a 32mm objective lens and the popular Nikon BDC reticle to provide insanely accurate shots. Furthermore, the durable and lightweight sigh has a great, consistent eye relief even with some of the heaviest recoils.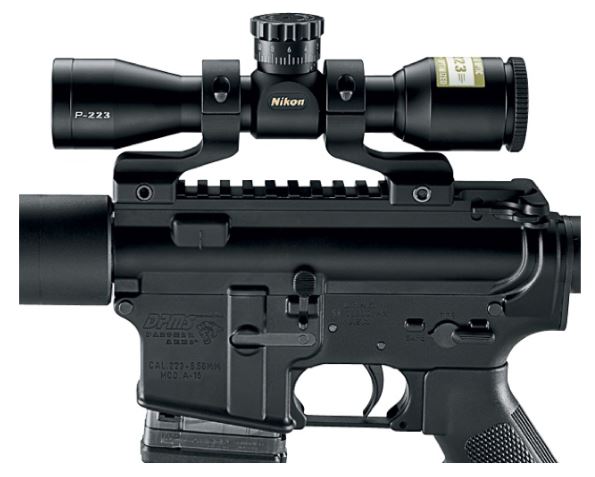 AR-15 Grips
Believe it or not, rifle grips have become one of the most controversial rifle accessories do to what the Leftist Media alleges "Aid shooters when 'spray firing' from the hip". In truth, a proper grip is a great way to customize your firearm, boost ergonomics, and effectively improve control.
I couldn't help but include a Magpul and I've always loved their MIAD (Mission Adaptable) pistol grips. These $35 drop-in Magpul grips come with an impressive 2 front straps, 3 back straps, a removable inner core (which holds a nifty little bottle of lube), plus all the necessary mounting hardware. If this incredible versatility wasn't enough, Magpul offers their MIAD grips in a variety of tactical finishes, all of which are remarkably ergonomic.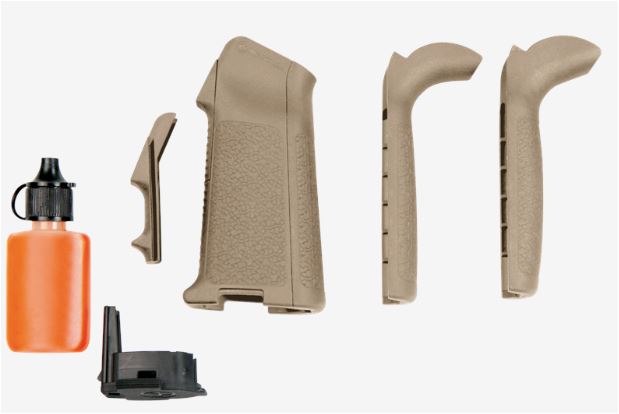 Vertical Grip: BCM Gunfighter Vertical Grip
Not all vertical grips are created equally, and Bravo Company USA clearly understood that when they crafted their popular BCM Gunfighter Vertical grip. BCM is a company dedicated to manufacturing only the best rifles and tactical accessories, and this is just one of many examples.
This grip offers the shooter a more natural grip angle without forfeiting any control. In fact, I was pleasantly surprised how much control the BCM Gunfighter grip provided, thanks to its flat sides, aggressive texturing, and innovative angling.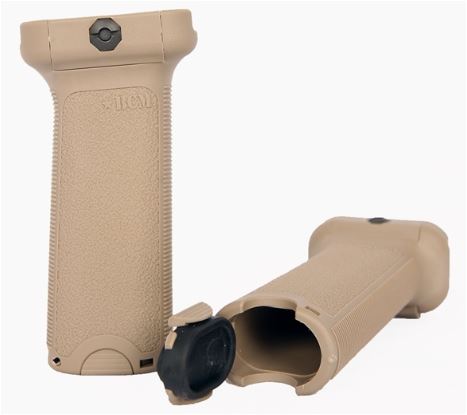 AR-15 Tactical Stocks
Although there are several types of rifle stocks, including fixed and adjustable, they all work to provide the shooter with a consistent and stable shooting experience. Because many stocks can be swapped out easily, some shooters own more than one to best match their particular purposes.
Once again, I have to go with Magpul and their classic Mil-Spec MOE stock. These super-affordable tactical accessories are simple, durable, lightweight, and extremely effective. The MOE stocks are ergonomic (obviously), easily-adjustable, and just an overall pleasure to own. I was really happy to see that they tucked the adjustment latch out of the way but still left it easy to maneuver.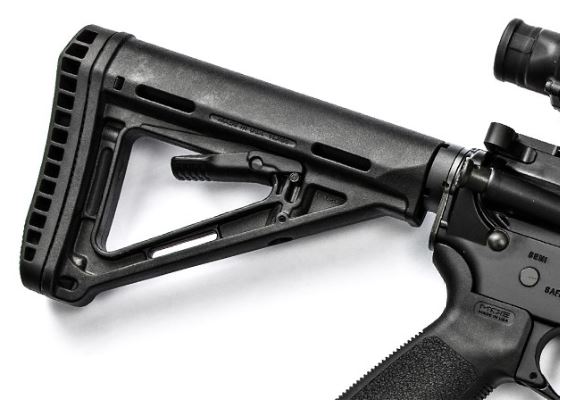 That being said, I highly recommend upgrading to their STR Mil-Spec Stock (Storage Type Restricted). For less than $40 more, you get one of the most ergonomic tactical rifle stocks on the market that is also extraordinarily durable. To sweeten the deal, this Magpul stock has a convenient and secure storage compartment that is perfect for storing batteries, ear plugs, spare parts, tools, or what have you.

When it comes to laser sights there are a few companies who do it the best, like Truglo, Crimson Trace, and Sightmark. That being said, I think many of you will agree that you can get much better than the Streamlight TLR-2 Flashlight/Laser combo sight. This highly-rated accessory may be expensive, but the countless reviews and experiences all say that it's totally worth it. The Streamlight laser/light sight has a 50,000-hour lifetime, two laser color options, powerful light, and extremely rugged exterior.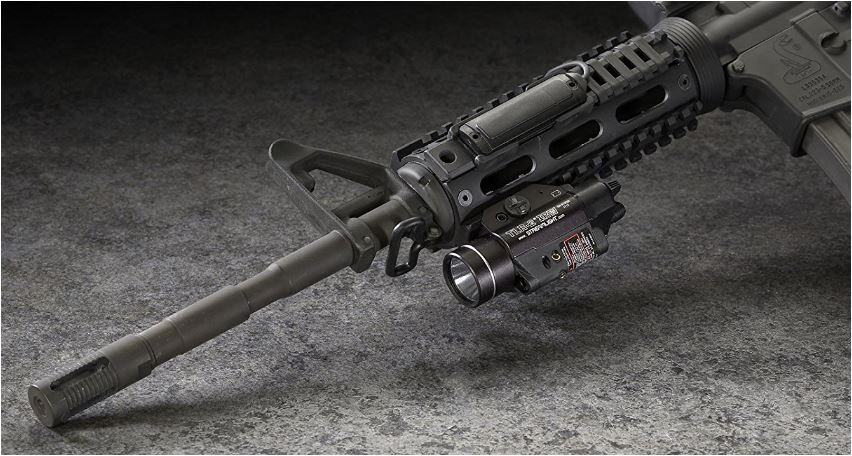 AR-15 Slings
You can't really appreciate the importance of a good rifle sling until you don't have one when you need it. Besides for making it easier to carry your AR, tactical slings are also great for hunting and sport shooting and can even help boost your aim.
Although Magpul has a solid selection of slings, I really like the Viking Tactics VTAC Wide Padded Sling. In addition to convenient textured rubber pull tabs and resilient components, these top-rated slings are known to be incredibly comfortable and easy to use.

These accessories were updated to especially handle heavier rifles and can handle just about anything you throw at it. More importantly, Viking Tactics provides shooters with fast and easy adjustments and is even recommended by the National Tactical Officers Association.
We hoped you enjoyed this week's edition of Fast Five
You may also like our piece on How to debate gun control