The 1911 handgun was designed by John Browning, during – wait for it – the year 1911. At that time (and in the time leading up to it), Browning was designing a sidearm for the US Armed Forces according to their specifications, chambered in .45 ACP. The pistol was accepted by the military, and it was designated M1911 in the early 1920s. In 1924, Browning redesigned the pistol and the M1911A1 was born. Nowadays, one of the finest manufacturers of 1911 pistols is the Les Baer Custom (LBC) company, and this is our Les Baer review.
The M1911 pistol has been in service of the US Army ever since its inception, taking part in many wars and conflicts around the globe, as well as times of peace. That is a testament to the ingenuity of John Browning, more than anything.
The man was a full-blooded weapons engineer, an inventor through and through, who went after projects with a passion and did not quit till they were completed to his satisfaction. He was Colt's main man, and rightly so.
There are many pistols in production all over the world. It takes a lot to stand out sometimes, especially in a field or niche which is so old and well-established.
Nevertheless, Les Baer's pistols are some of the most well-known and innovative 1911s on the market today, and you don't get to be a household name without putting in some major work and constantly raising the bar.
Les Baer
Among those who manufacture 1911s, there are a few companies considered to be on the more "high-end" side of the spectrum. Most shooters will include several outfits in this subjective list. Names like Ed Brown, Wilson Combat, Les Baer, Dan Wesson, and Nighthawk are sure to come up, Cabot as well perhaps. Even those who have never fired guns manufactured by these companies will at least be aware of some of them.
Gunmaker Les Baer (Sr.) founded his company in 1991, in Illinois. Years later, in 2007, LBC moved its headquarters to Iowa, where it remains today. The move was carried out due to the ever-constricting gun laws which were being passed in IL and crippling the business. Les Baer is still effectively the president of the company.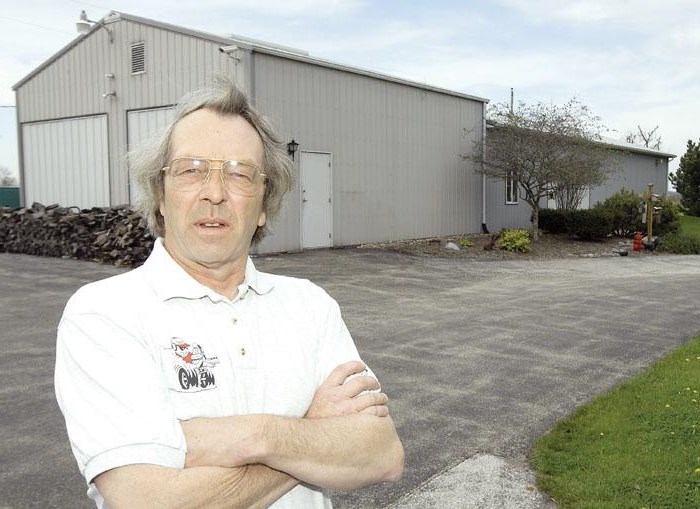 LBC manufactures AR-style rifles, bolt-action rifles, 1911 pistols, and others. Some of their items have been discontinued over the years, so prices vary greatly between different models.
Aside from complete pistols and rifles, LBC also provides shooters with parts and components: frames, slides, barrels, triggers, sights, grips, pins, ejectors, springs, plugs, tubes, finishings, and magazines. Also, the company has different articles of clothing, patches, and other merch, including a limited-edition miniature replica of Les' real-life 1970 Ford Mustang Boss 429 (a fine companion to their Boss model pistol).
Let's take a look at some of the 1911 models which LBC offers.
Les Baer 1911
First of all, there is no right or wrong here, there's just what fits your hand and price range. Each shooter may have a different opinion regarding these types of guns, certainly when it comes to ones which are meant to function better than the mainstream run-of-the-mill 1911s out there.
No matter how many reviews are out there, nothing can outdo or override personal, in-your-face, hands-on experience. A full-sized 1911 just isn't the same as a Glock 19 – they are different and many ways and offer very different pros and cons.
Les Baer's line is state-of-the-art. All of the pistols in this category come with an accuracy guarantee of 3" at 50 yards, and that guarantee can even be increased and enhanced (to 1.5" at the same distance) for an extra charge. Honestly, I am of the opinion that if you don't need to invest in that extra accuracy immediately, it is not a necessary purchase. Train well enough, and you can ultimately get there on your own.
Whether for duty, defense, or competition, the company's line of 1911s includes models that will surely pique any shooter's interest. LBC's guns are notoriously tight, and will usually only loosen up after several hundred rounds have been through them. The company itself recommends you do NOT disassemble your gun until the break-in has been performed.
Here are a few of the models which are currently being offered.
Premier II – Considered to be the company's "flagship pistol", the Premier II is a match-grade weapon, available in several calibers, different finishes, 5" or 6" frame, with or without night sights.
MSRP: $2,245 – 3,028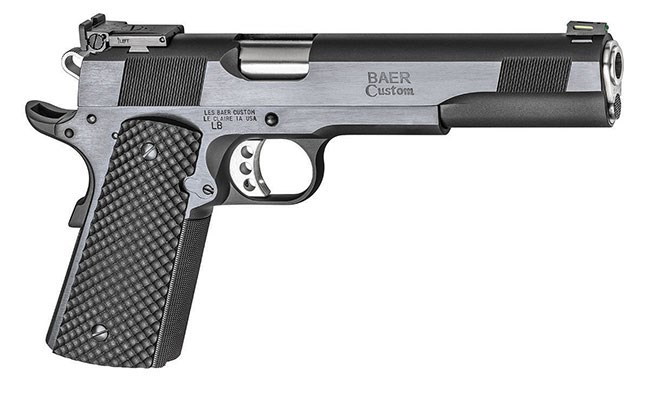 Kenai Special (new for 2019) – An Alaskan tribute which comes in a 10mm caliber, a hard chrome finish, 5" fitted slide, and all the standard Les Baer 1911 features. Sequentially numbered as they are sold.
MSRP: $3,630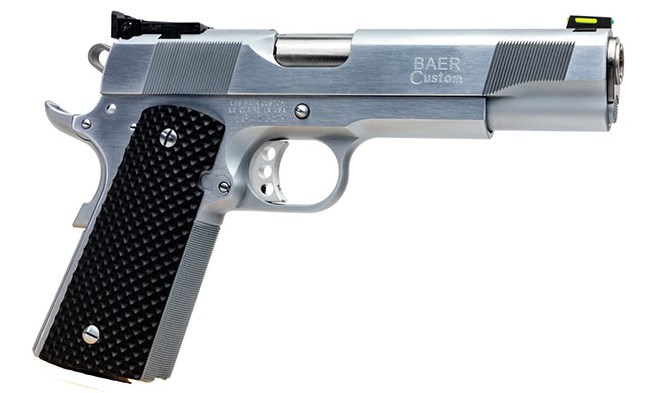 Gunsite (new for 2019) – An homage to author, lecturer, US Marine, combat veteran, and small firearms instructor Jeff Cooper, who died in 2006. This is a .45 ACP caliber weapon, with a Gunsite Raven logo on its slide and its attractive wooden grips.
MSRP: $2,255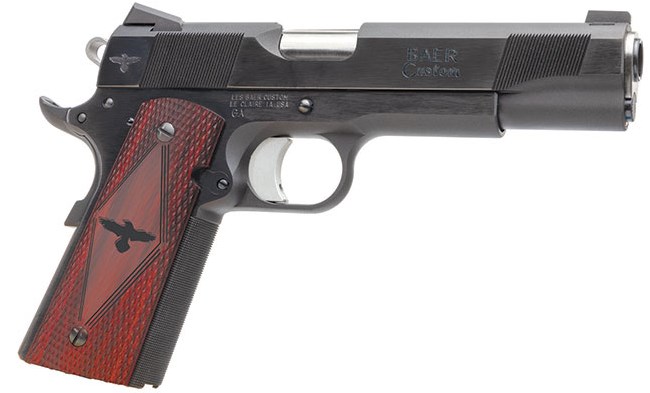 Monolith – A steel monolith frame is at the center of this model. Available in .45 ACP, .38 Super, 9mm, and .40 S&W, it is a solid build with an extra-long dust cover. Also available are the Monolith Heavyweight (same features in a heavier-duty frame), the Monolith Commanche (smaller package, tritium night sights), and the Monolith Commanche Heavyweight.
MSRP: $2,419 – 3,032
Concept Series – Les Baer's Concept models range from I to VIII, each with its own different take on the original full-sized model. The term "Custom Craftsmanship" can technically be applied to many (if not all) of Les Baer's pistols, but this is a series which the company decided to single out as such.
MSRP: $2,080 – 2,415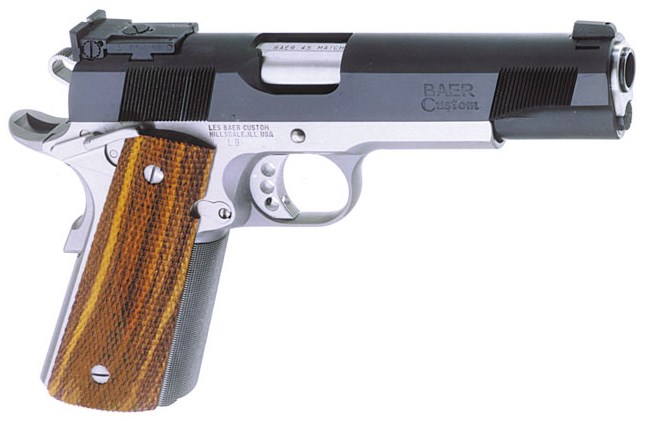 Limited Editions – throughout the years, Les Baer has come out with all kinds of limited edition models. The most recent one is the Presentation Grade 1911, which comes out at a maximum of 40 per year. It is a Premier II pistol, specially blued, masterfully engraved by hand, with gold-inlaid "LBC" engraving on the slide, and a fine presentation box.
Presentation Grade – MSRP: $7,354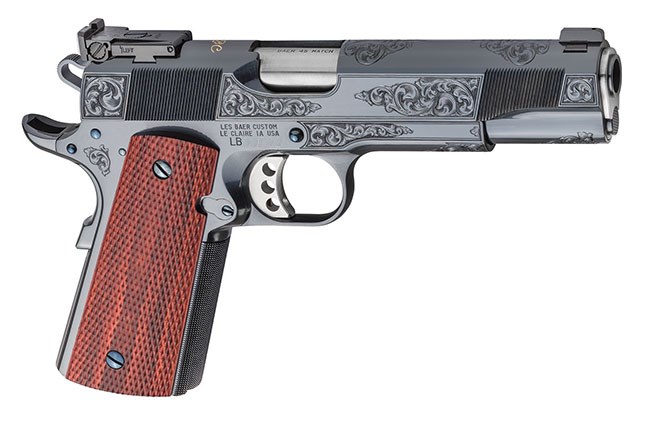 Les Baer Custom Carry
This model deserves its own section, since it is one of the more popular designs in the company's arsenal, available in .45 ACP, 9mm, and .38 Super.
Technical specifications from LBC's website:
Baer National Match frame, slide, and barrel (5") with stainless bushing
Baer deluxe fixed combat sight
Baer dovetail front sight, improved ramp style night sights
Double serrated slide
Baer speed trigger with crisp 4 lb pull
Baer deluxe hammer and sear
Baer tactical style extended ambi safety
Beveled mag well
Polished feed ramp and throated barrel
Tuned extractor
Baer extended ejector
Baer checkered slide stop
Lowered and flared ejection port
High checkered front strap @30 lpi
Tuned for total reliability
All corners rounded for tactical carry
Baer Premium Checkered grips
(2) 8-round premium magazine
Flat serrated mainspring housing
MSRP $2,255.00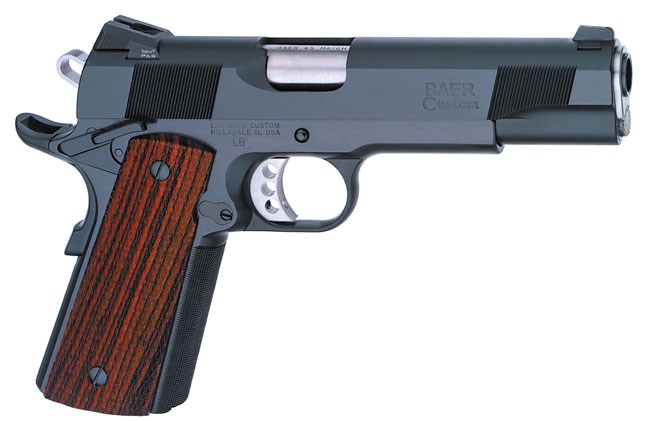 With 1911s especially, seeing as how it's a solid steel build, your money can go a long way if you invest it wisely. The Custom Carry by Les Baer comes highly recommended, even though cheaper models exist even within LBC's catalog itself. Les Baer's standards are high, and this is definitely a model worth considering.
It handles well, has zero malfunctions even after 3K rounds have been through it, and is accurate to a great degree. The 3" guarantee holds up overall, but obviously, it also depends on the shooter. You're bound to get some fliers, but the groups are real. No gun can magically turn you into a better shooter, but some work with you better, you know? Good tension, good action, and a real feeling of extension.
Great guns cost money. There is no getting around that, I'm afraid. You don't have to immediately go for an LBC pistol as your first 1911, though. Some shooters recommend getting a cheaper gun to begin with if you are new to 1911s, so you can see if the platform bodes well for you and fits your needs. These guns usually possess less firepower.
And if you are still scared by the prices of some of these guns, just remember: somewhere out there is a commemorative golden President Trump 1911 pistol made by Cabot Guns, with a trigger and front sight made from a 4-billion-year-old meteorite, that's going for about $50,000 or more. Cabot also offers a 1911 named "The Sixth Commandment", which carries beautiful work done by the master engraver Otto Carter, and which is priced at approximately $100,000.
Conclusion
When you're in the market for a 1911, you may end up not going with one of Les Baer's creations. Perhaps you'll wind up with a Dan Wesson, or a less costly SIG Spartan, or maybe you'll find that Colt's originals are more up your alley.
Whatever you choose, remember that LBC is a viable high-end option which guarantees a superb and accurate shooting experience, whether in the field or on the shooting line. Keep it in your mind, because some of these models are seriously worth their price.
There are some disadvantages to the 1911 system: I feel the main ones are higher cost, relative limited firepower, and a lack of uniformity in manufacturing standards (though this last one can be seen as an advantage, too).
These drawbacks don't miraculously skip over the LBC company. But you need to weigh the good against the bad, and rank your priorities appropriately.
Les Baer have certainly carved out a niche for themselves in the 1911 firearms market. Whether you own an LBC pistol or not, you have to at least appreciate the tenacity and dedication of such a company. The guys in the Les Baer shop are hard-working, and it shows.
Every pistol they make at that facility is a one-time creation, in some way, and I mean that in the affirmative. That's why it takes months for your pistol to arrive, and many shooters have found their dream 1911 in a Les Baer.
As Les himself said: "We build 'em one at a time, and we do this like it's 1930. Everything is hand fit, hand done – draw filing, sanding, the whole bit. We don't do mass production. Never did, never will. So we got our small niche in the market, and that's all we want."