Table of Contents
Boy, some companies get bashed around. It's not always warranted or fully justified. I also don't doubt that some customers are genuinely disappointed with quality or service at one time or another, and it turns them off completely to the company at large. Happens all the time.

Nevertheless, I feel Yankee Hill Machine (YHM) is one of those companies who elicits negative responses from some folks, from the get go. Is it the name? Are you not a Yankees fan? What's the deal? This company is well-known for its selection of AR-15 accessories and components, and it has been in business for decades.

AR-15 components are their specialty, though they also manufacture complete rifles and AR pistols.
Yankee Hill Machine
In 1951, Wallace Judd & James Graham opened a machine shop in Leeds, MA. Later on, in the 60s, they were chosen by the government to design and produce cleaning rods for the military's M16 rifles. The duo moved to nearby Florence and set up shop as Yankee Hill Machine.

In the 70s, the business was incorporated into a full-fledged company. Close to 50 years have gone by, and the Grahams are heading the outfit, with James Graham's grandchildren at the helm.

It's a classic, good ol' American tale of success, if you ask me, and it's part of why I love this country. *Cue the cheesy inspirational music*
Of course, there is always the possibility that some back-alley transaction or shady bargain was struck to secure that initial government contract… but we don't have to go down that road.

The company's main focus is, and always was, the AR-15 platform. YHM's designers and engineers have worked hard to improve the system which Stoner designed, accentuate its strengths, hone its abilities, and provide the shooter with a superior type of rifle and a finer shooting experience.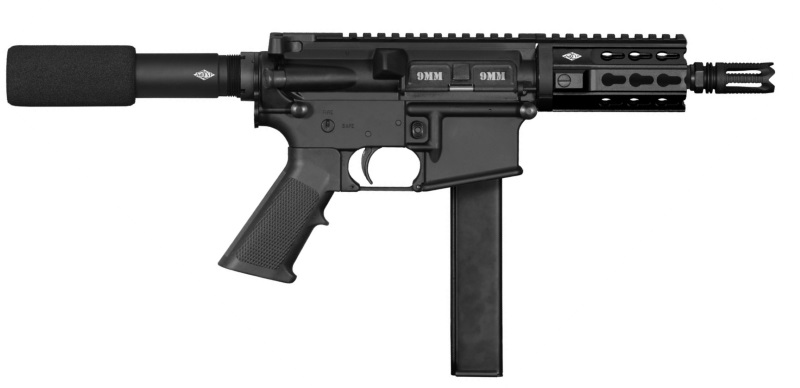 YHM also sells suppressors, and these have been popular ever since they began manufacturing them in the mid 2000s. To their credit, these silencers tend to be appreciated even by those who don't particularly care for the rest of their stuff.

The company entered the firearm-manufacturing arena in 2008, when they came out with their first complete AR-style rifle, the YNH-15. They innovated further with the improvement of their upper and lower receivers, and more recently they have introduced their Modular Aluminum Rifle Chassis (MARC).


YHM Suppressor
Suppressors are legal in most states. The addition of a suppressor to a pistol or rifle is usually done for several reasons:

Guard one's hearing
Reduce recoil
Attain greater accuracy
Better mask the shooter's location
Silencers are perceived by some to be a dangerous addition, but this is primarily due to the ongoings of Prohibition-era criminals, and the way that suppressors were used back then. The American justice system, its law enforcement agencies, and its federal regulations have a good memory, indeed, but this doesn't mean that suppressors are innately evil, and they are certainly not unimportant. In a close-quarter type of situation, for example, a silencer can be of great use.

YHM's suppressors first came out in 2005. Ironically, Massachusetts is one of the states where suppressors are still illegal. YHM is making sincere efforts to change the laws in MA, but introducing new legislation can be a slow and arduous process. In the meantime, the company is providing shooters with affordable suppressors for their pistols and rifles, complete with a quick detachment system. Here are some of their most popular silencers.

Turbo 5.56
Designed for your everyday 5.56mm rifle, the full-auto rated Turbo is 6.5 inches long and weighs 13.5 oz. It is constructed from 17-4 stainless steel – known for its ruggedness and durability – and heat-treated inconel 718 (a superalloy). Comes with a flash hider. MSRP $489.
Incidentally, a new type of inconel (introduced by Elon Musk's company) recently made headlines, since it is being developed for rocket engines used in the aerospace industry. Those things are tough!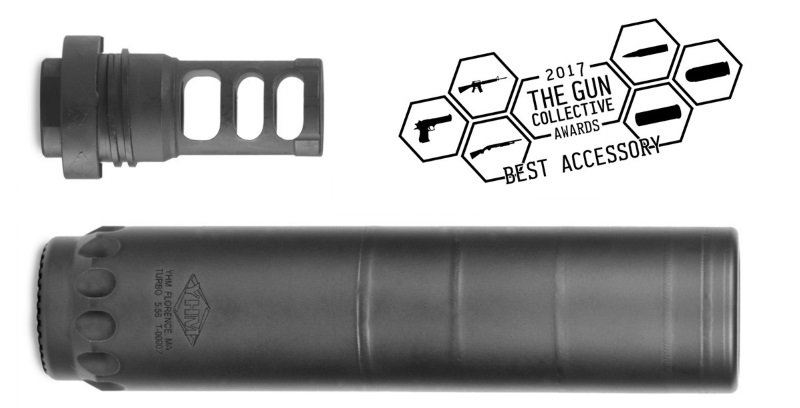 Resonator
Built for 7.62mm (.30 cal) systems, this silencer features an overall length of 7.8 inches and it weighs 16 oz. Constructed from the same materials as the Turbo, it is also full-auto rated and affordable. MSRP $630.
Sidewinder
Available for 9mm, .40 caliber, and .45 caliber pistols, the Sidewinder was first introduced in 2015. The inside and out is made of T6 aluminum (7075 inside, 6061 outside – if I am not mistaken), as well as heat-treated 17-4 stainless. Like the others, it is also full-auto rated. At 7.8 inches (9mm model) or 8.7 inches (.40 and .45), and weighing in at approx 10 oz, it is an affordable, reliable, user-serviceable can. MSRP $699.
Not every shooter feels he or she require a suppressor on their firearm. Likewise, not everyone sees it as a justified expense. But I can tell you from experience that should you require to fire a round – particularly indoors – this thing can save your ears and aid in preventing long-term damage. While it is true that sound-suppression is not a necessity for using the firearm, it is a most welcomed safety measure.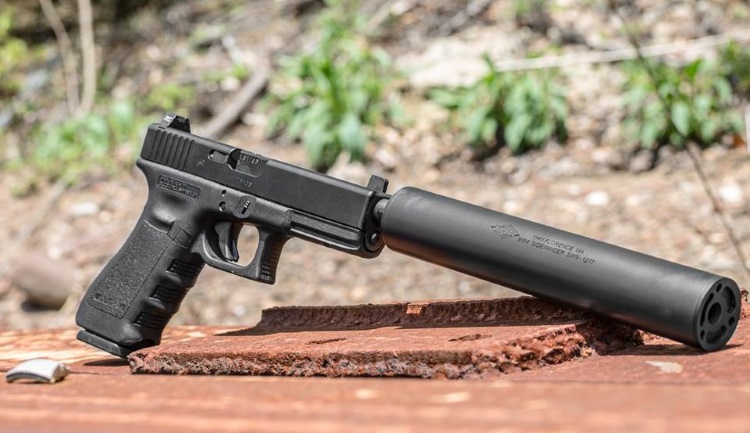 By the way, some avid shooters have found that it actually tightens their groups, contrary to what others believe. But this is as subjective as it comes, and it changes from one set of circumstances to another. Furthermore, the additional length and weight ma deter some people, but these are usually mitigated through proper usage and practice.
Yankee Hill Machine MARC
YHM's Modular Aluminum Rifle Chassis (MARC) first made an appearance in SHOT Show 2019, and it is the company's first foray into the bolt-action firearms market. According to Co-owner Kevin Graham, YHM sought to get into the mix, seeing as how the AR-15 market is slowing down somewhat, and more shooters are getting into competition shooting.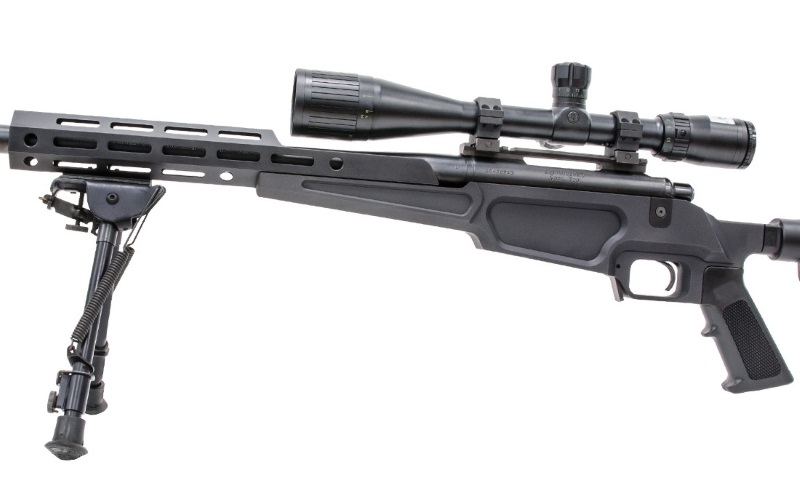 Constructed of 6061-T6 aluminum, The chassis is patterned for the Remington and Savage types of rifles, in their short and long actions. The basic MARC has a MSRP of $499, and some models are already available for purchase (others will be made available in the near future).

True to its name, it is modular. This chassis features interchangeable components, which allows for a high degree of customization, and makes it that much more functional for a wide range of bolt-action shooters. Bolt-action rifles are already known far and wide for their accuracy, and with the help of the right kind of chassis, this can seriously up your game.

Conclusion
They say that if something is too good to be true, it probably is. Yankee Hill Machine manages to provide quality stuff without going insane on the price. If their products were being sold at ridiculously low prices, I'd be suspicious. But no. They offer barrels, rifles, receivers, pistols, accessories, suppressors, and now chassis.

There is a good reason why shooting is called a sport. Several reasons, actually. Sports, in essence, are about the ever-present exchange of power, the constant conversion of energy, and the validation (in some cases – the triumph) of life over death. Feel free to disagree with my assessment, by the way.

When you are holding machines of raw mechanical power and deadly potential; when you are squeezing that trigger once you zero in on your target; there is a nanosecond, a tiny point in space and time, where man and machine meet, just before the cartridge is affected and subsequently launched. This is why I enjoy shooting so much, and this is why so many people are getting into competitions.

All of this high and mighty talk has been to illustrate a point: it's fun to shoot. Seriously. Whether suppressed or not, whether you're shooting with a direct impingement action or bolt action, and whether you are competing or training to defend yourself and your home – YHM has a lot to offer.