Table of Contents
This post is going to be on body armor, and more specifically about the protection which AR500 Armor can (and cannot) provide.

There is a pretty well-known bit of combat footage, recorded by an Iraqi insurgent back in June of 2005, and it demonstrates the unequivocal importance of wearing body armor.
In the video, PFC Stephen Tschiderer, a combat medic stationed in Baghdad, is seen getting shot squarely in the chest by a sniper. The soldier goes down, and the insurgents give praise. One second later Tschiderer pops back up, takes cover behind his humvee, and radios for aid. His body armor saved his life that day.
Company Background

Body armor has been around for thousands of years. Over time, more sophisticated ways and means of achieving protection have been introduced. Body armor was designed for the sole purpose of protecting one's body/head/extremities from different injuries. Some methods were better than others, but overall these pieces of armor have contributed to higher survival rates for those in the field.
It's not just about combat soldiers, either. Gangsters and other criminals were famous for wearing the more modern types of armor when these began to make an appearance around the turn of the 20th century.

From silk and chainmail to hardened steel and Kevlar, being well-protected in a hostile environment is paramount. Nowadays, the more modern method of using body armor involves knowing your enemy, because what is fit for one type of encounter is not necessarily fit for the other.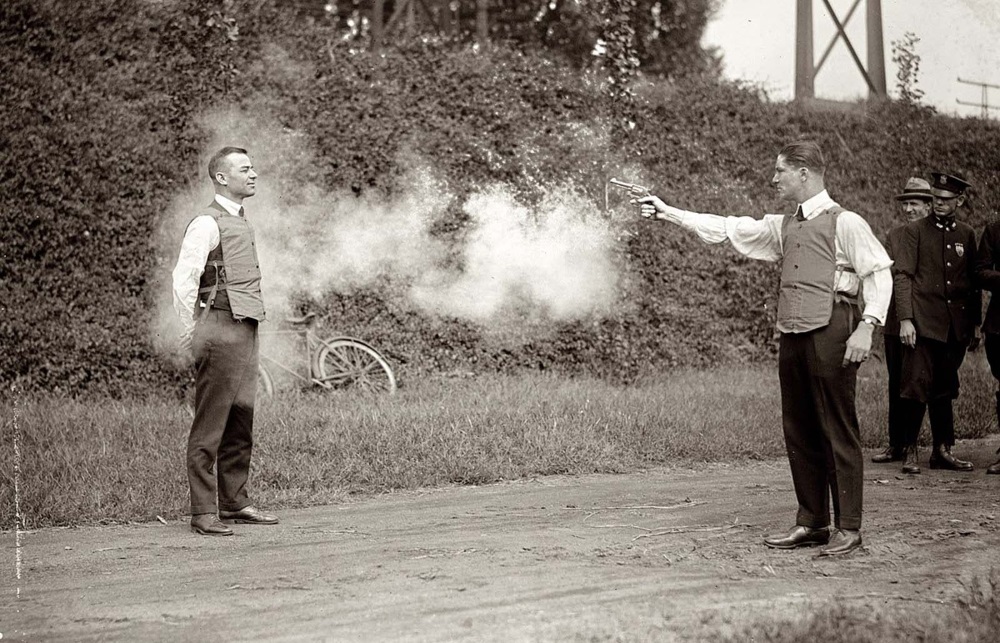 You don't bring a knife to a gun fight, they say, and likewise, you don't bring a stab-resistant body armor to a place where you'll likely be taking fire.

Armored Republic – the company which stands behind the AR500 Armor brand – was founded by Tyler and Holleen O'Neill in 2012. The husband and wife duo went into business with a vision of providing civilians, law enforcement, government agents, and military personnel with effective and high-quality armor solutions.
The company has its headquarters in Phoenix, AZ, and it manufactures almost everything in-house.
AR500 Armor

At its core, AR500 Armor makes use of a specially-designed and specially-made ballistic-grade steel. The company states that its steel armor is significantly harder than traditional steel and performs better than other brands of steel armor which are currently on the market.

Next comes the protective coating which the company applies to the steel base – the Line-X Paxcon (PX-2100). This is a coating which helps the armor sustain the impact of different types of projectiles when they strike it, AND to fragment the bullet in such a way that poses no threat to the wearer.
After all, the point is to help the user survive an attack and also retain the capacity to fight back and quickly dispatch of his or her would-be dispatchers.

AR500 armor is divided into levels. Here is a quick rundown, according to the company's data:

Soft Body Armor

Level II – for handgun rounds up to .357 Magnum
Level IIIA – for handgun rounds up to .44 Magnum

Hard Body Armor

Level III – all common handgun rounds + rated up to .308 and 7.62mm
Level IIIA – all common handgun rounds, including 9mm, .45 ACP, .44 Magnum
Level III+ – all common handgun rounds + rated up to multi-hit 7.62mm, and 5.56mm
Level III+ Lightweight – all common handgun rounds + rated up to multi-hit 7.62mm, and 5.56mm
Level IV – a threat rating of up to a single hit of .30-06 M2AP, plus all lesser threats
All of AR500's armor is tested in-house and also independently. Many shooters have posted positive reviews of the equipment, but bear in mind that these are not the only options. Other companies also manufacture body armor, using their own techniques and methods.
AR500 Armor can save you from many types of encounters, providing that you use the right type of armor and that you do so properly. Body armor will not protect against all conceivable threats, and the company can only guarantee your safety when you use their armor as instructed.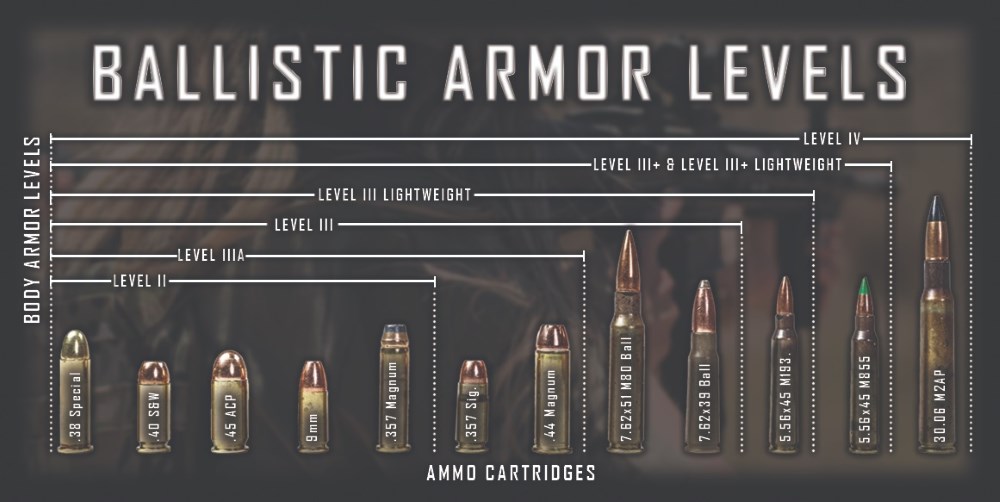 AR500 Steel

Ordinary (aka mild) steel is cheap and readily available, but it is too soft for certain applications, such as body armor or steel targets. Because of that, new types of hardened steel were innovated. The hardness of materials and their ability to resist penetration is measured on the Brinell scale. In the term 'AR500', the AR stands for Abrasion Resistant, and 500 stands for the hardness rating on the Brinell scale.

There are also AR300, AR400, and AR600 steels – and others. These are used for different applications and industries, depending on the hardness of the material at hand.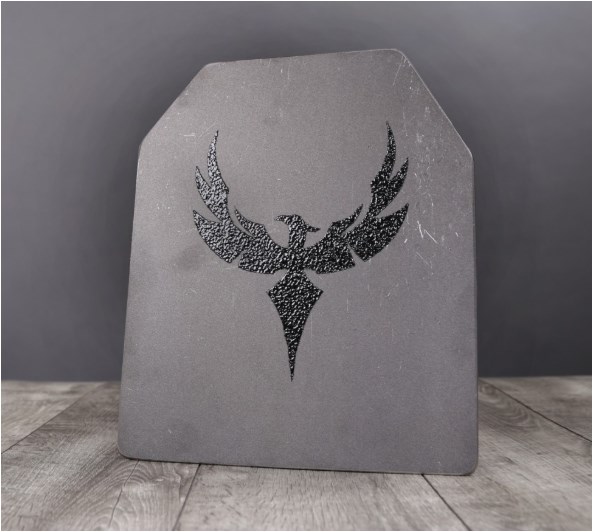 The chief users of AR500 steel don't actually come from the body armor or target industries, but rather from the mining and farming industries. The AR500's resistance to impact, abrasion, and penetration have made it an exceedingly popular go-to material in the construction of devices and apparatuses related to those two fields.

AR steel has been around for over 60 years, and as modern technology becomes more advanced, steel manufacturers are discovering newer and better ways of creating AR steel, hardening it, coating it, and cutting it. This means that this steel is in constant motion, so to speak, and that greater steel-related innovations are just around the corner.

AR500 steel has become a widely-acknowledged standard (at least within the US), and this is where AR500 Armor gets its name.
AR500 Plates

Raw steel can be cut into many different forms: plates, billets, beams, sheets, bars, slabs, rolls, and more.

AR500 Armor manufactures steel plates of all sorts. These are used in the creation of the brand's different types of body armor. The plates, their configuration, and their coating – these are the determining factors in the level of protection which is attributed to the armor. The plates can be flat, single curve, or multi curve, and the shape of their cut affects their recommended use, their durability, and their performance.
AR500 Plate Carrier

Okay, so let's say you've got yourself a nice Level IV plate of AR500 armor – how are you going to physically put it on? It is essentially just a treated piece of hardened coated steel weighing in at 8.3 lbs, so it's not exactly something you can just stick under your shirt willy nilly.
You need something to wear which will position your armor in the right location on your body, and provide the best fit for the mission or situation at hand. This is precisely what the AR500 plate carrier series is: modular armor-housing solutions.

In the company's recent 2019 catalog, some new carriers appeared alongside the older and more familiar ones. The idea is simple: these carriers are designed to set the plates in the right places, while keeping you lightweight, mobile, and protected.
By the way, the plate carriers are made in Vietnam to Armored Republic's strict standards, but the plates themselves are manufactured in the US, at the company's facilities in Arizona.

AR500's carriers are each designed a little differently, to correspond with the wants and needs of different types of users or scenarios. Some of the plate carriers in their lineup are:

Concealment
Emergency Personal Carrier (EPC)
Guardian
Micro
Tetsudo Gen 2
Veritas
AR Freeman (new for 2019)
AR Invictus (new for 2019)
Tetsudo Lite (new for 2019)
Veritas Lite (new for 2019)
There are others available, and some which have been discontinued. They all come in different configurations and sizes, and are compatible with the various plates and pads.
This is certainly no "one size fits all" situation. Far from it. What fits one set of plates and gear may not fit the other set – which is why you should take the time and do your research. That way you will find the best and most appropriate combination for you. There is also the option of all sorts of upgrades, chest rigs, pouches, and accessories.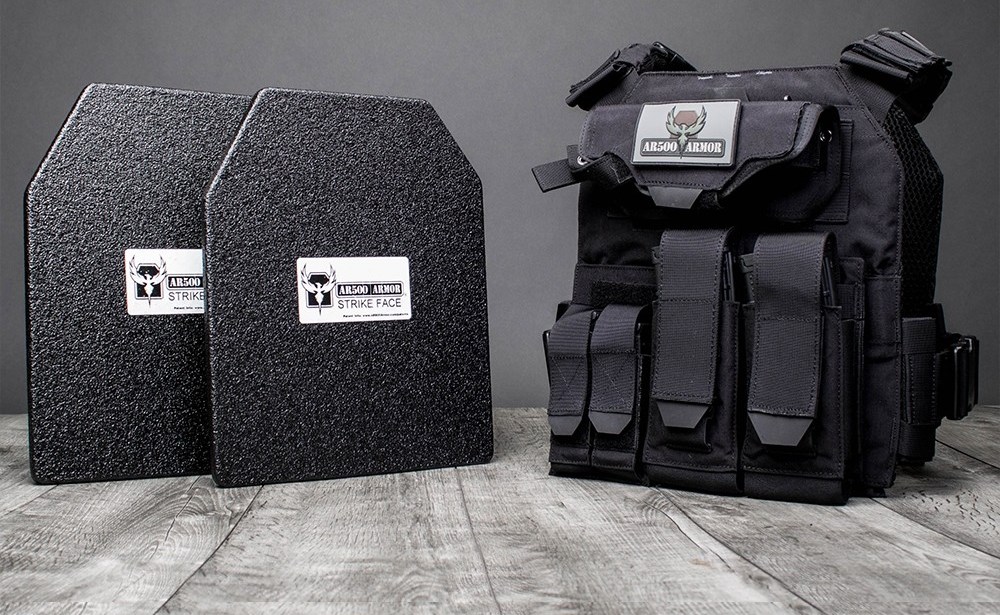 The more gear you carry, the bulkier and heavier you become. This is why AR500's plate carriers are designed to provide the civilian, officer, soldier, or agent with the best protection possible, while still enabling them to get moving quickly and, if needed, engage the enemy with force and agility.
Their carriers are lightweight, double-stitched, reinforced, and they come with different combinations of webbing, velcro, mesh, 500D Cordura (a high-strength durable nylon), and more.

These carriers are all fully adjustable and easily customized, because gear is an inseparable part of combat readiness, and it should be personalized to the highest degree.

Plate carrier MSRP: starts at $49 (for the EPC) and up to $249 (for the Valkyrie)
AR500 Targets

AR500 Armor also manufactures steel targets and stands. Most shooters probably use paper targets, but steel is a great (and fun) alternative. It is usually not a real necessity, but in some cases it is clearly the better option.

The company offers silhouettes, gongs, zones, and packages of all kinds, including a build-your-own target option. Targets are made of AR500 steel, starting at the MSRP of $9 for the 2" gong.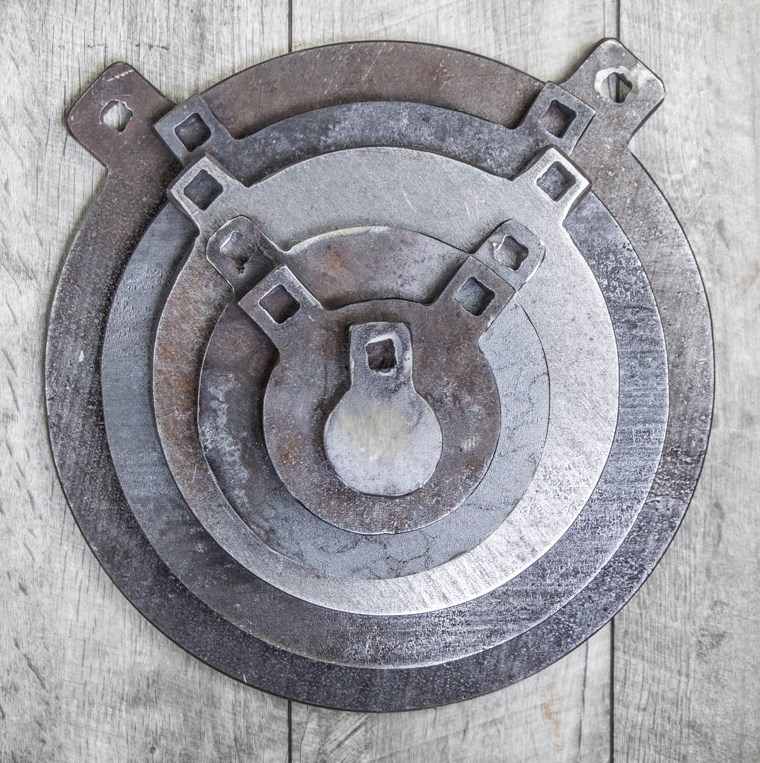 Steel gives you easier and immediate hit-or-miss confirmation, with a satisfying "PING!" to boot. They last much, much longer than paper could ever hope to last, and they also allow you to keep firing without having to go down-range to change targets. Plus, weather conditions do not affect them, and if you do want to make them look good as new, a quick spray-over with any cheap can of spray paint will provide adequate and satisfying results.

As mentioned, AR500 steel is a combination of hardness and strength. These are both needed if you are planning on firing at steel targets regularly. If you choose a softer or more mild kind of steel, the target will deform quickly and potentially affect the results of your shots, as well as the amount and direction of ricochets. This poses potential safety and training hazards, so if you are going to use steel – do it right, and use proper steel targets with a rating of 500 or higher on the Brinell scale.
Conclusion

Shortly after PFC Stephen Tschiderer was shot, both the sniper and the cameraman were apprehended by US forces. The two insurgents had sustained various wounds and injuries (the result of a 90-minute pursuit), and were tended to by none other than the medic on the scene – Tschiderer himself. I don't think the tragic irony was lost on anyone who was there.

I'll tell you what we really need, though. We need to get ourselves some of that Elven mithril, that appears In Tolkien's Lord of the Rings. It is described as being a precious silver-like metal which is extremely lightweight, and which can be fashioned into hard and durable armor. But the chances of finding some mithril outside of Middle-earth are not too good, and I don't know of any Dwarves who are currently in the trade.

So if you want a high-quality, American-made product which may save your bacon when the chips are down – the good people over at Armored Republic and AR500 Armor have got you covered, front, back, and sides.