Table of Contents
Taurus unveiled the newest pistol to join their ranks during the recent SHOT Show in Vegas – the TX22. A mid-to-full size, .22LR, striker-fired, rimfire pistol. This is an interesting combination, and it is no wonder that it caught the eye (and ear) of professionals and lay people alike.
After some years where Taurus had been the butt of some jokes and digs, they have come out with something which manages to get people engaged and talking.
Taurus has been around since the late 1930s. They hail from Brazil, and in recent years they've been upping their quality significantly and making better-quality firearms than before (or so it appears).
They started off with revolvers back in the 1940s, but pistols are their main thing nowadays. The company has produced various semi-automatic designs over the years, and in 1980 they even purchased Beretta's old factory in Sao Paulo, which is why there are some similarities between their respective firearms.
In 1982, Taurus decided to open manufacturing facilities in Miami, FL, in order to better serve the needs of the U.S. market. Making the firearms locally meant that they became more accessible, less expensive, and that those who are more interested in buying products made in the USA could now own a Taurus built in the Sunshine State.
Specs

Model: Taurus TX22
Caliber: .22LR
Capacity: 16+1
Action : Blowback
Trigger: Pittman Trigger System
Overall Length: 7.06 inches
Barrel length: 4.10 inches
Weight: 17.3 oz
Sights – White dot, fixed front, adjustable rear
MSRP $349

Taurus TX22 Design
When developing and constructing this weapon, the company's goal (they said) was to take some of the advancements made in the field of centerfire pistols and "transfer" them over to a rimfire platform. Another large piece of this puzzle was ergonomics. Taurus has done everything in its power to make this full-size gun accessible to different types of hands and shooters.
Magazine capacity was another serious consideration which they wanted to tackle, since the TX22 has many competitors, and the company wanted to stand out. Having 16+1 rounds is not too typical when it comes to .22LR pistols.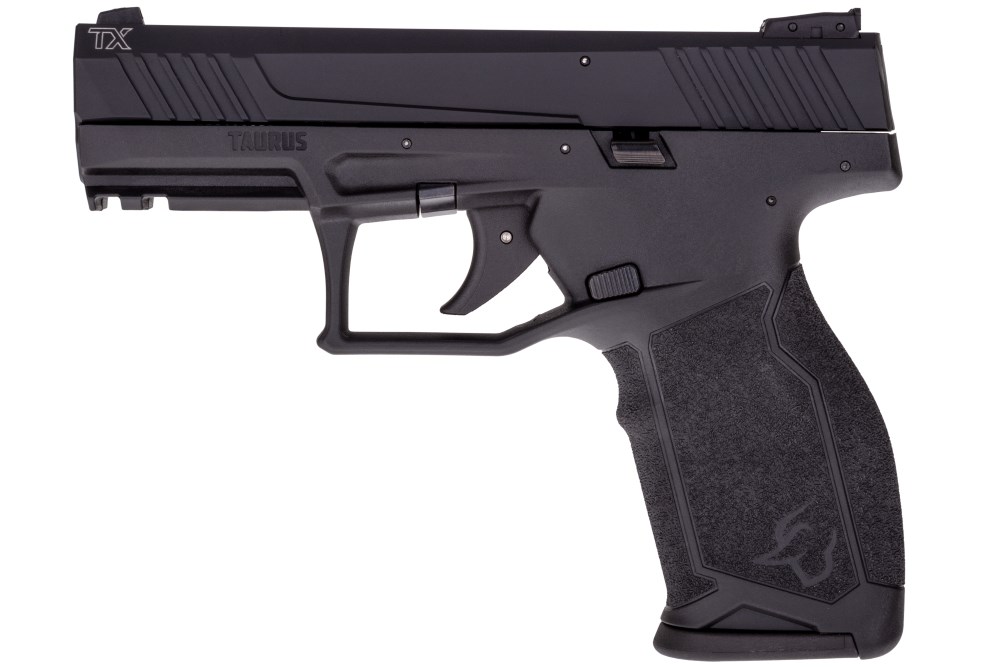 The physical presence of a rim on the .22LR cartridge makes it so a magazine would be difficult to load with more than, say, 10 or 11 rounds. The company designed a magazine which helped the gun attain a higher-than-average capacity because more firepower is always better than less.
As for the build of the weapon itself, Taurus had certain numbers and metrics that they wanted to hit. Using their knowledge, experience, and wisdom, the company's engineers were able to produce a firearm that hits all of the "sweet spots" they set out to hit. The TX22's development lasted a few years because of this process, but the result is a quality firearm which delivers.
The steel barrel is threaded and ready for suppression. The slide is built of 7075 aluminum, with a black hard-coat anodized finish. The frame is polymer with a black matte finish and a short Picatinny rail for optics. There is an ambidextrous magazine release, large trigger guard, a highly-ergonomic contoured, and checkered grip, plus it includes a pair of 16-round polymer magazines.
I am not exceedingly picky when it comes to triggers, but I do know which ones I dislike. The ~5 lbs trigger pull on the TX22 is one after my own heart, with a clean snap and a short set. It won't be everyone's cup of tea, perhaps, but it is always a nice surprise to find a well-made trigger on a $350 gun, right out of the box.
Takedown and maintenance was also in the minds of the Taurus engineerings, and they made sure that stripping the pistol can be done easily and quickly. The slide, frame, barrel, and spring disassemble neatly and effortlessly.
Also, Taurus thought of wear and tear on the slide, and in order to stop the slide from being worn out too quickly, they constructed it in a way where the slide engages with the steel part of the frame. A nice touch, for sure.
The TX22 has a couple of safety mechanisms – a trigger safety and firing pin block – plus the option of a manual safety lever on some models. Incidentally, I read that those with smaller hands may experience some difficulty reaching that manual safety, due to the contour of the grip. But this is just me repeating what I read elsewhere.
The best way to find out if this is the case is to actually wrap your hands cozily around that polymer frame and see for yourself. Experience is the best teacher, as always.
Taurus TX22 Performance
Now we come to the meat and taters of this review, so to speak. Like I said, in recent years Taurus have been more successful than ever in producing firearms which pique the public's interest. I feel the TX22 has the potential to become many a shooters' favorite plinking and smaller game handgun, and I am not alone.
When you fire this thing, you know it's a 22LR. I mean, it's not as if Taurus is making it out to be anything else, but I feel this is exceptionally true to the TX22. Either that, or it has been too long since I fired a 22LR. Could be!
Like other 22LR lightweight pistols, there was barely any recoil to speak of, no serious muzzle elevation, and follow-ups were a breeze to get off. The tagline for this weapon is "Competition Ready, Even if You're Not". I can believe that, even though I have never competed with it.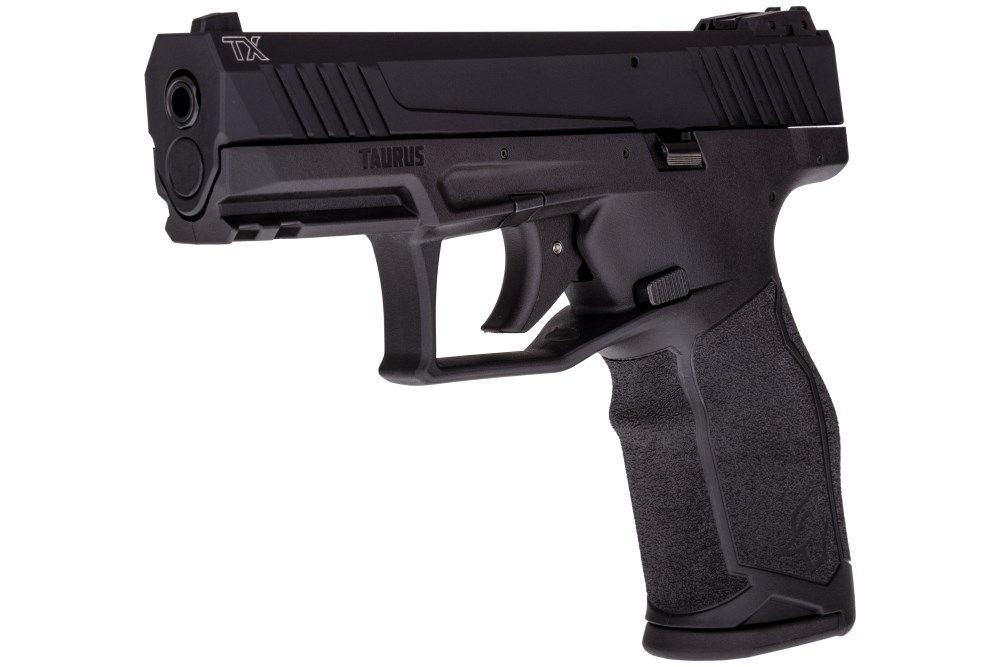 I feel that if I were standing on that shooter's line and heard that buzzer go off, I would be able to acquire my target and fire very quickly (hopefully also hitting the target in the process!). It definitely seems like the kind of gun you want to own just to have to take to the range.
The one thing I would worry about actually has nothing to do with the gun itself, but with the polymer magazines. Even though they are well thought-out and properly constructed, there is no telling how long a polymer mag will last. You could handle it with gloves, and something might still happen which will damage its integrity.
Maybe this is because of previous bad experiences, but I tend to think of polymer mags as single-serve only magazines. I'd love it if these magazines will prove to be as great as the gun they come with, but time will tell.
Don't let the affordable price tag fool you – this is not some cheaply-made junkyard plinker. At least it doesn't act like one, even though the lighter weight may make you falter for a split-second and wonder if this is an actual firearm. It performs adequately and consistently, with no hangups or issues.
Obviously, your mileage may vary when handling this pistol, and as well all know, it could take time for potential issues to present themselves after the gun is released. In general, I've had good experiences with Taurus' pistols and revolvers, despite their lower price tag and iffy reputation.
Overall, I am pleasantly surprised. There has been plenty of Taurus-bashing going on, and that's fine by me. To each his own, and I am not here to judge for anyone except for myself. But I will say that even those who may have been 'burned' by Taurus in the past could find the TX22 to be something they can stand behind and agree with.
Unless you are a full-fledged hardcore no-polymer-allowed type of shooter, you will be able to witness the value of this gun.
Accessories
I mentioned the small accessory rail for optics and such, and that's pretty standard. It is important to note that not everyone enjoys polymer sights. The 3-dot configuration is the very definition of standard, nothing more nothing less.
Adding tritium or fiber-optic night sights is always a good idea, regardless of this particular gun. I feel it is an investment worth making, which can serve you in the long run.
Different holsters meant for full-sized pistols will fit the Taurus TX22, but make sure before you purchase! And speaking of holsters – it is highly probable that if you add a suppressor to the barrel, you'll be limiting your choice of available holsters.
There are holsters for the hip, ankle, shoulder, and also inside and outside of the waistband, available online and offline.
The TX22 is spanking new, and other than the magazine loader which comes with the weapon, no designated or otherwise exclusive accessories have been released as far as I can tell. This is bound to change in time, but for now, this is where things stand. I am certain that companies will be releasing steel magazines for the TX22 any day now.
Conclusion
It would appear that Taurus has hit the nail on the head with this one, and has released a gun very much worthy of the attention it is receiving.
Remember, it's new; problems may still present themselves down the line. However, at a glance (and a quick weapon's test), the TX22 certainly lives up to expectations, even if it doesn't precisely match the hype that has surrounded it since SHOT Show 2019.
To me, all that means is that the company's marketing department is doing its job. I have no problem with that.
There is this idea (or stigma?) that 22LR cartridges are seldom used as a self-defense round, and that they are not recommended for this purpose.
The fact is that many choose to carry a 22LR pistol as their every day carry, whether open or concealed. Are there better options out there, with more stopping power and often higher-capacity magazines? Yes, there are. But the TX22 offers great value, increased firepower, and the opportunity to train a lot more thanks to the relatively lower cost of 22LR cartridges.
It comes down to performance and reliability, and nothing else. Simply put, the question is the same as with all guns: will this piece of bullet-firing hardware be able to do its job properly when I need it to?
Whether you are using it for plinking, critter control, competition, or self-defense – you need a pistol which follows through on its promise. I for one feel the TX22 is up for the challenge.