Table of Contents
Hera Arms is yet another German arms manufacturer taking the world by storm. The lower Franconian gun maker was determined to assert their dominance by relying on CNC machining and CAD technology. This ensured their product quality, reliability, and overall consistency. They began to engineer components for Glocks and 1911s and eventually got their hand in the AR15 business. However, Hera considers themselves dynamic and is always looking to hear from customers for new ideas and recommendations. For instance, the German team constantly works with gunsmiths and dealers to implement new and exciting product ideas. It's time to learn more about this up-and-coming gunmaker here at Gunivore.

Hera Arms CQR
Hera Arms' best-selling item is their CQR (Close Quarters Rifle) buttstock and it's a sweet addition to any Mil-Spec AR15. The lightweight reinforced polymer accessory is the epitome of ergonomics and enhanced tactical abilities. Although you only need a Mil-Spec carbine buffer tube to hook up the CQR stock, it's so much better when you combine it with the CQR front grip. Similarly, you have the option to add spaces (15mm, 30mm, or 45mm) to personalize your rifle to your shooting comfort. Hera also markets a featureless CQR buttstock for those who live in fascist states like California.
Hera Arms Front Grip
Hera Arms has a pretty solid collection of foregrips but it's hard not to love the CQR front grip. Like the buttstock, the Picatinny CQR foregrip is made from reinforced polymers and is actually pretty affordable. These tactical accessories are excellent for those looking to keep their rifle compact and ergonomic while still adding some performance enhancers. While they have a unique experience, the CQR does kind of remind me of the FAB Defense angled foregrip. The unusual shape of the CQR foregrip is specifically useful for shooting in unfamiliar and uncomfortable positions. This makes it a good choice for home defense when you never know what positions you may have to take to defend yourself and your family.
Hera Arms Triarii
The Triarii pistol to carbine conversion kit is freakin' sweet, although it'll cost you. As a widely-acclaimed accessory, the Triarii will transform your pistol into a flawless carbine in under 5 seconds. This has made the German product a beloved accessory for home defense and law enforcement. In addition to adding incredible versatility, the Hera Triarii offers impeccable operation and is simply a blast to shoot. The Triarii is available for a small collection of the market's most popular pistols including several Glocks. Besides for Glock, Hera also manufactures the Triarii for the CZ 75 SP01, HK P30, Walther P99 (& PPQ), and the Smith and Wesson M&P9.
Hera Arms Linear Compensator
Compensators are becoming more and more popular every year and Hera Arms has joined in on the fun. The German gun maker's linear compensator is surprisingly small and lightweight, especially considering its diminutive size. In fact, highly-rated SBR accessory boasts a remarkable 12 expansion chambers and can handle cartridges as big as 5.56mm NATO and 7.62mm NATO. Compensators can be your best friend in the field or on the hunt. I've used dozens of compensators and there's just something special about these guys.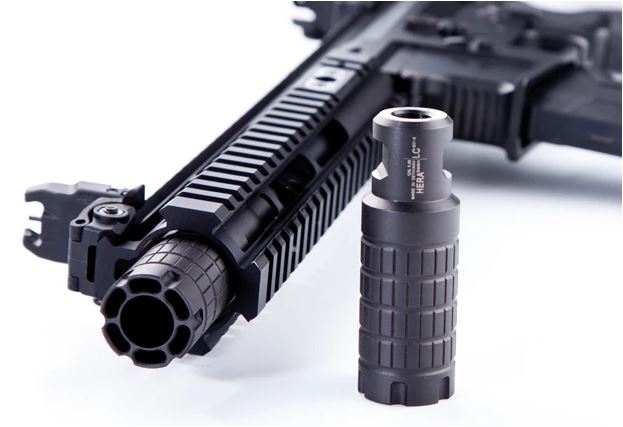 Conclusion
At the end of the day, Hera Arms is a hidden gem. The German gun makers offer several excellent tactical accessories which are moderately priced and pretty accessible. Because most of these components and attachments are innovative and quite distinctive, they can be a great way to boost your gun's performance and appearance.
Stay tuned for more exciting firearms news and reviews here at Gunivore!