Top 5 Spyderco Knive
Spyderco was founded in Golden, Colorado, in 1978. At first, the company mostly produced and sold sharpeners, but over the next few years, Spyderco shifted from sharpeners to knife-making. Finally, in 1981, it released its first knife, the C01 Worker. Spyderco has been making extraordinary knives (and sharpeners!) ever since.
Here is our list of the top 5 Spyderco knives. There are some models which have been produced and discontinued, but later made a comeback with Spyderco's Sprint Run series. We won't be including those in this list (sorry, Dodo fans), only models which are currently still in regular production.
Paramilitary 2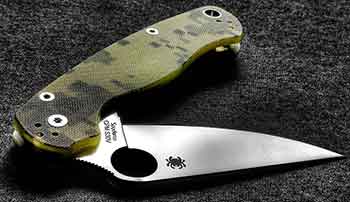 Kicking off this list is, without a doubt, one of the most popular folding knives ever made. The Paramilitary 2 model brings the Military model's exceptional performance and reliability to a more compact format. The paramilitary 2 has a CPM S30V blade, which is available with a satin finish or a non-reflective black diamond-like-carbon (DLC) coating and includes Spyderco's trademarked Round Hole for quick, one-handed opening. A compression lock keeps the blade securely open when in use, and allows one-handed closing without placing fingers in the blade's path. The Paramilitary 2's handle is built of stainless steel liners, as well as G-10 scales, textured in black or digital camouflage. A four-position clip provides ease of access for left- or right-hand users, whether tip-up or tip-down. Regardless of your carry preference, the Paramilitary 2 is there for you.
Endura 4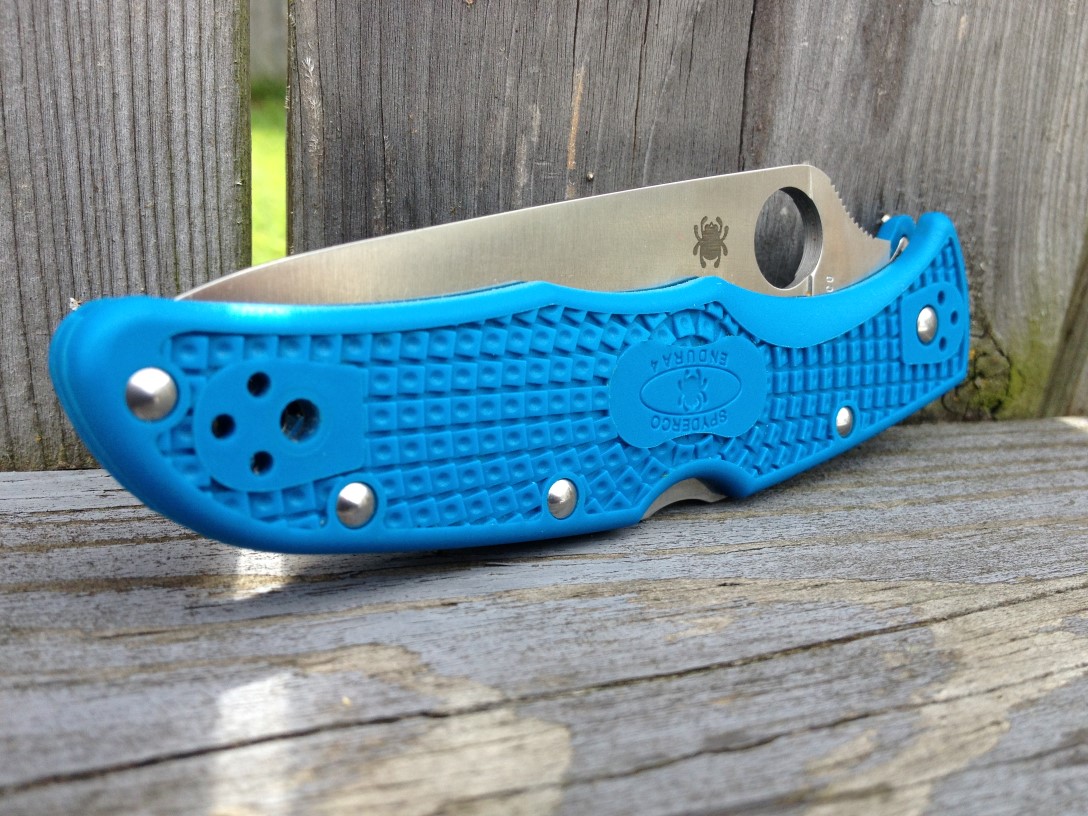 This fourth incarnation of Endura knives just keeps on trucking. The original Spyderco Endura was released 25 years ago, and it is considered to be one of the first lightweight clip-carry folder knives. Today, the Endura series remains one of Spyderco's most popular models, and it continues to set the standard for other knives of its kind. The original Endura spawned many variations, which will no doubt meet every user's needs.
Endura 4 Lightweights are especially popular, and they are recognizable by their skeletonized stainless steel liners and injection-molded fiberglass-reinforced-nylon (FRN) handles. They come in a wide range of colors and choices of blade grinds, edge grind, and blade steels.
Specialized versions of the Endura 4 Lightweight include one with an Emerson Opening Feature, as well as a blunted, red-handled Endura 4 trainer for practicing self-defense skills. The Endura 4 is also available with a stainless steel handle, which opens up the door to custom engraving, and provides a strength like nothing else.
Fourth-generation Enduras feature a four-position clip, a back lock mechanism, completely ambidextrous carry and operation, and a David Boye Dent secondary safety in the lock release.
Dragonfly 2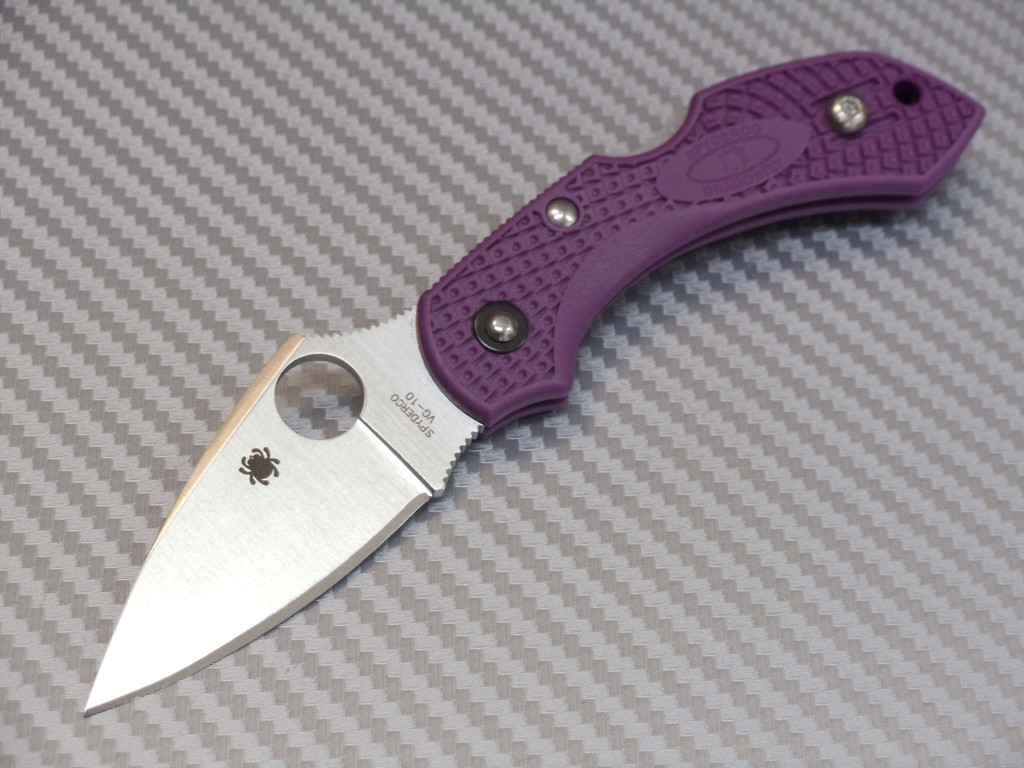 The Dragonfly has it all. The idea behind it was basically to take the features of a full-sized folding knife, and then apply them to a pocket-friendly cutting tool.
Dragonfly 2 knives have a pocket clip, a round hole, and a strong back lock mechanism. These provide convenience in carry, ease of operation, and serious functionality. The refined ergonomics of the handle and textured index-finger hole provide a comfortable, tight grip with all types of hands. The flat-ground blade cuts like it is a knife twice its size.
The Dragonfly is highly customizable. It is available with several different handle choices (stainless steel, foliage green G-10 with stainless liners, textured FRN, and even a colorized "tattoo" version). High grade VG-10 stainless steel is the standard steel for most versions, but there is also an option for a FRN handle with ultra-high-carbon ZDP-189 steel.
Fun fact: ZDP-189 is not actually a steel, but it is accepted as one of the "exotic steels". Further examples of exotic steels: H-1, Talonite, and Titanium.
Tenacious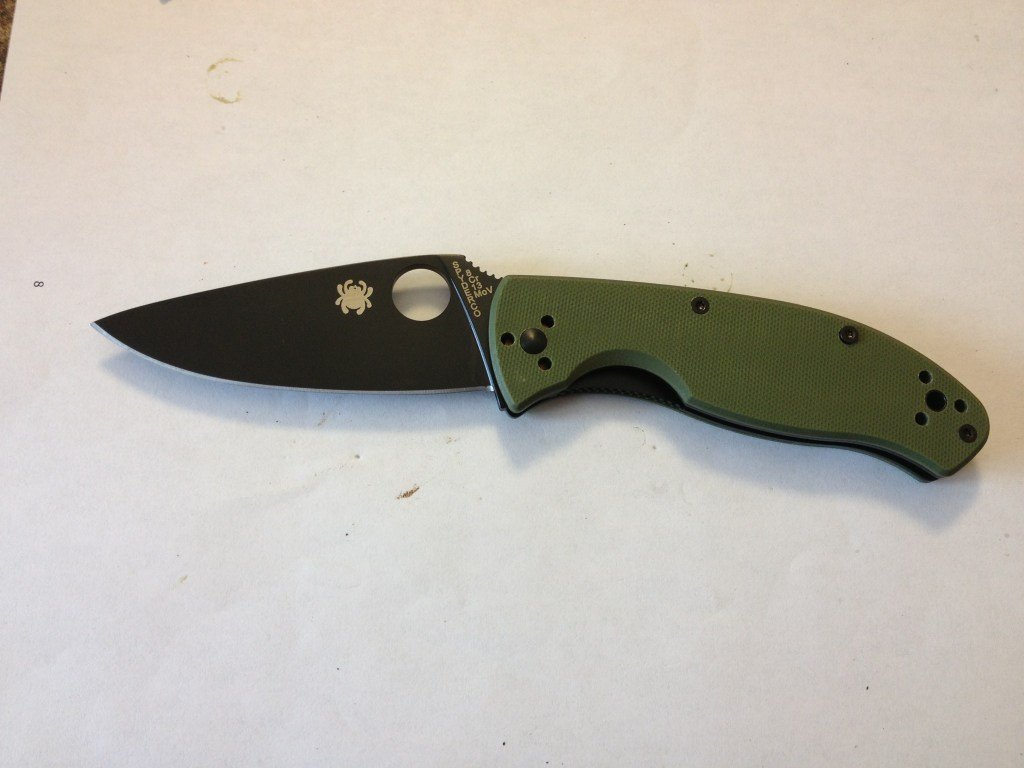 Spyderco's Tenacious knife is part of the company's Value series. The Value knives are regarded as some of the best bargains in the knife market today. They have the state-of-the-art Spyderco folder look and feel about them, and are built with economical materials. What this yields is a series of functional, reliable, and affordable knives, ideal for price-conscious users. Tenacious features stainless steel liners, textured G-10 scales, walker liner lock, and a four position pocket clip, as well as lined lanyard holes. Tenacious has a broad, leaf-shaped blade, and of course it features Spyderco's trademarked round hole for fast, easy, one-handed deployment.
Delica 4
The Delica 4 series is a lot like the Endura 4, which can give you some idea of why it is so popular. People are always raving about it, and rightly so. This amazing knife has those same unique Endura qualities, but is more compact, easier to carry version of it. Like its bigger brother, it is also available with a choice of handle materials, blade grinds, and edge options.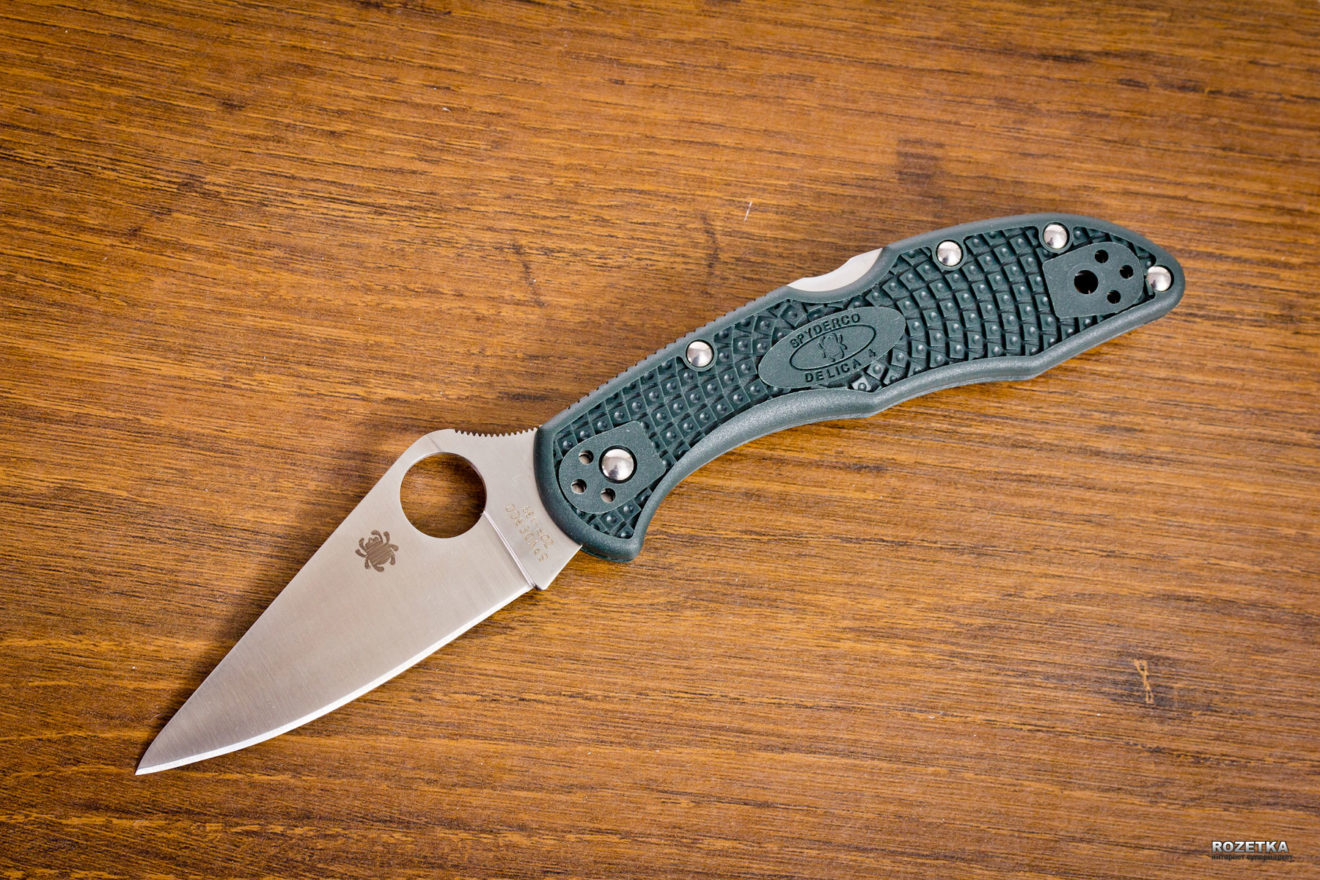 Like the Endura, the Delica 4 also has several Lightweight options, which offer a choice of flat and saber-ground blades, straight edge, fully serrated, and combination blades, as well as multiple handle colors. It also includes a model with the Emerson Opening Feature, as well as a red-handed training model.
All Lightweights feature skeletonized stainless steel liners and textured handles, molded from fiber glass reinforced nylon. These things are tough, and they are built to last. These knives get the job done, every time.
For those in the market for a knife with a traditional feel about it, the Delica 4 is also available with a satin finished stainless steel handle, a hollow-ground blade, and a choice of edge configurations. Like its Lightweight brothers and sisters, the stainless Delica 4 features a strong back lock mechanism, as well as a four-position hourglass pocket clip, for left- or right-handed carry and operation.
Honorable Mentions
Creating a "Top 5" list of our favorite Spyderco knives is a arduous task. In the process many of our favorite knives didn't make the cut. These are the honorable mentions:
Advocate – The Spyderco Advocate was designed by Gayle Bradley. The blade is made out of CPM M4 steel. The handle is machined solid titanium with a "orange peel" finish. The texturing is really cool and allows for a strong grip. It comes with Spyderco's classic hole and belt clip. This slim knife has a 3.49 inch blade with a 3.23 cutting edge with a full-flat grind. This flipper is lightweight and sharp.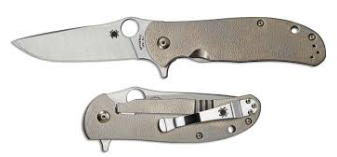 Ambitious G10 – Next we have the Ambitious G10. This is Spydercos smallest offering and is in the family of Spydercos affordable folders. This family includes the Tenacious, Persistence and Resilience. The Ambitious includes the Walker Linerlocks and G10 handle. The drop point blade is 2.25 inches and made out of 8Cr13Mov steel. It is a full-flat grind and weighs a light 3oz. This is a wonderful knife at an affordable price.
Spyderco Ambitious. #BladesReloaded 🇺🇸 pic.twitter.com/A2YNp6PL3R

— Blades Reloaded (@BladesReloaded) October 14, 2015
Bradley Folder 2 – This is the more improved version of the original Bradley Folder design. Spyderco worked hard to make this knife more ergonomic. They lengthened the handle and made the knife lighter and slimmer. The 3.66 inch blade is a hollow grind made out of CPM M4 steel. This is an incredible knife you should get your hands on!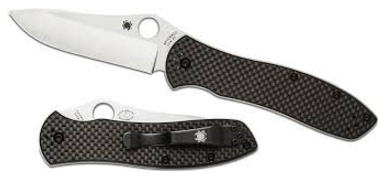 Spyderco doesn't only sell knives, sharpeners, and accessories – it also sells you a promise. And that promise is that of never having to buy another pocket knife. Keep it sharp, don't abuse it, get it regularly maintained (Spyderco's lifetime warranty is awesome!), and feel the strength, convenience, and confidence of owning one of the best knives in the world.