Spyderco is known worldwide for its quality blades, unique designs, and creativity. The company is presently celebrating its 40th anniversary, and it is one of the best-known knife manufacturers in the world. The company even holds several stock numbers with NATO, the United States Navy, and the United States Marine Corps. It manufactures knives for a multitude of purposes – everyday carry, training, defense, military, rescue, and household.
Part of what has kept Spyderco going for 40 years is the fact that it is constantly seeking innovation, and that it is committed to excellence. Over the years, the company has collaborated with many designers, makers, self-defense instructors, and others, in order to create new blade materials and advanced ergonomic designs. Thanks to its ongoing commitment to produce the best possible results, Spyderco has made some significant breakthroughs in the field of knife-making. The company even holds a number of patents.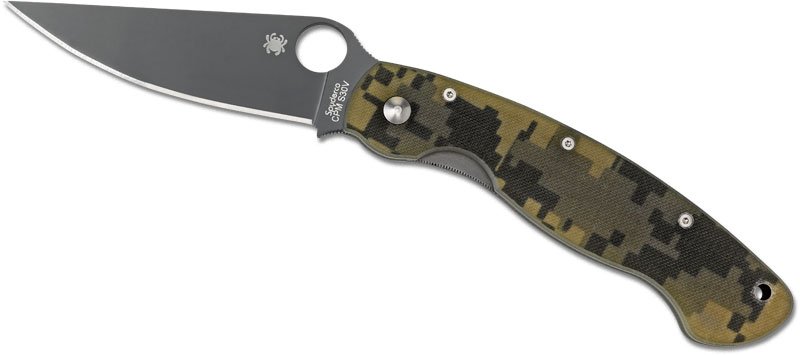 What is important to understand is that Spyderco's knives are not meant only for collectors or weapons enthusiasts. As with a number of other weapons – including the glock 19 gen 4, originally commissioned by the Austrian military but now a popular gun amongst civilians as well – knives serve a number of purposes. People from all walks of life: civilians, police officers, EMTs, military personnel, firefighters – anyone who has ever held an original Spyderco knife can tell that they are holding a quality item. (Note: some of the knives in Spyderco's catalog are restricted and are only available to military / law enforcement personnel.)
History of Spyderco
The name Spyderco comes from a device called the Portable Hand, which was produced in 1976 and was essentially an arm with clips, joints, and different angles protruding from it, resembling a spider. The Portable Hand was meant to help individuals such as jewelers, hobbyists, or DIYers work with small parts. People had shown some interest in the product, so founder Sal Glesser and his wife, Gail, used a converted delivery truck to travel the country. Sal and Gail attended various state fairs and trade shows, selling the Portable Hand. The couple became more successful over time, and they went from using an old delivery truck to using a proper trailer to travel around.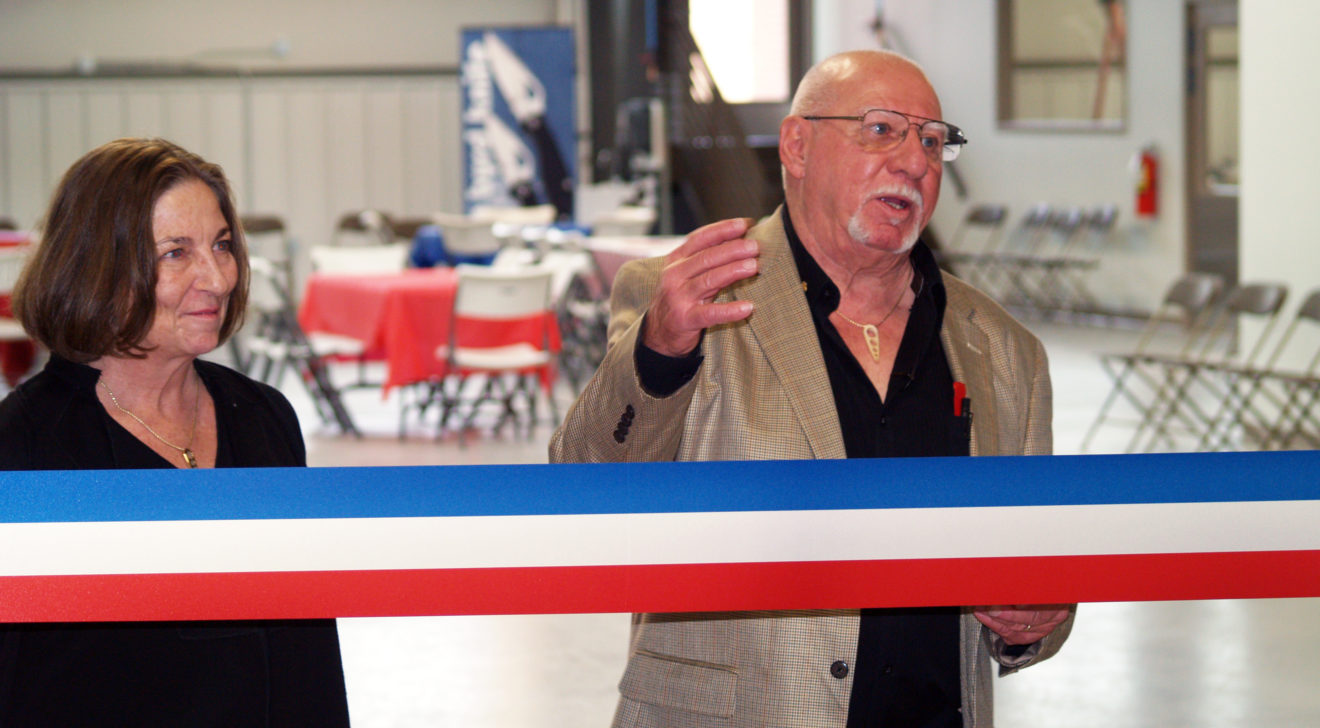 In 1978, the couple settled down in Golden, CO. That was the year that Spyderco was officially established, and it was also the year that Spyderco began producing knife sharpeners. Glesser established the company's headquarters in Golden, Colorado as well, and its HQ remains there to this day.
As the company says on its website: "we used to make things sharp, now we make sharp things." Spyderco sold knife sharpeners for several years, and was gaining more prominence. Their sharpeners were of very high quality, and it did not escape people's notice. Spyderco's pivotal year, however, was 1981. That was the year when Glesser and his crew produced their first knife – the C01 Worker.
Even though it was a first attempt, it was a damn good one at that. It already had some of the design features which are now well-known Spyderco trademarks: A unique shape, a pocket clip, serrations, and a round hole in the blade, which makes for fast, one-handed, ambidextrous opening possibilities.
Spyderco Products
Most of Spyderco's knives are folding knives, but it also manufacturers fixed blade knives for all kinds of purposes. There have been times when a certain knife was developed based on growing demand by specific groups. The Spyderco Autonomy serrated knife, for instance, was made at the request of the United States Coast Guard rescue swimmers. Made with nitrogen-based H-1 steel, and boasting G-10 scales, this American-made knife features a spring-loaded automatic opening mechanism, a secondary safety, and a large release button which can be operated in harsh seafaring conditions. Water, air, salt, cold, sun, seaweed – nothing can touch this knife. It is the winner of the 2012 Blade Show "Most Innovative American Design" award, and rightly so.
The Autonomy is but a single example of approximately 100 different knives which Spyderco produce. The knives differ from one another by steel elements, blade shape, blade grind, edge grind, locking mechanism, joints, and handle materials.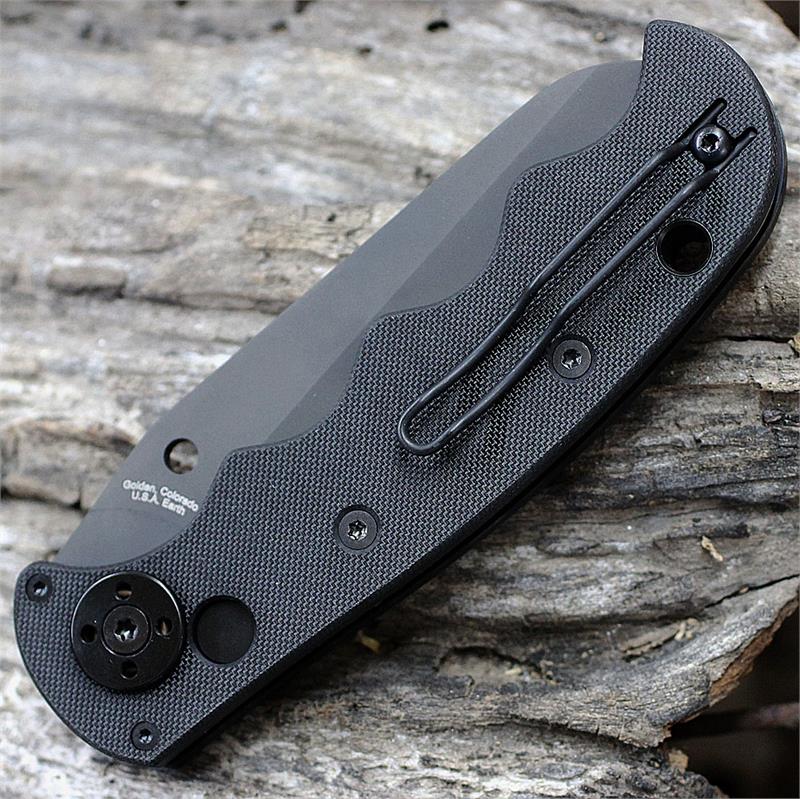 The most common blades are straight edge, partially serrated, or fully serrated (aka Spyder Rdge). The most common handle materials are fiberglass reinforced nylon (FRN) and G-10, but there are also limited editions which feature handles made of natural elements such as wood, pearl, coral, leather, and abalone.
Over the years, production of many models of knives has been outsourced to foreign countries like Japan, Taiwan, Italy, and China. Production is conducted under the strict supervision of Spyderco, to ensure that the knives being manufactured are up to the company's standards. Spyderco has a commitment to constant quality improvement, and this remains true regardless of the country in which the knives are made.
Sal Glesser, Spyderco's founder, was inducted into the Blade Magazine Cutlery Hall of Fame at the 2000 Blade Show in Atlanta, Georgia. True to his claim to fame, Glesser continues to appear at various shows and conventions around the United States, and to proudly stand behind his company's products.
Every so often, Spyderco releases a specific knife design in a limited, one-time-only fashion. These are known as Sprint Runs, and they are very popular. Sprint Runs are limited to 1,500 pieces or less. In 2014, the company revisited its original Worker C01 knife from 1981, and re-released it with the serial number C01GPGR. With VG10 plain blade and green G-10 handles, and weighing in at 2 oz., it is great tool for every day carry and use.
Spyderco uses 14 different steel elements, and over time it has innovated the use of 20 different blade materials. Spyderco has one subdivision, which goes by the name of Byrd. Byrd knives are manufactured in China, and this allows them to be more affordable, without compromising too much on quality. Byrd knives are held in high regard, and are made of quality materials (8Cr13MoV & CTS BD1 stainless steels). In order to tell the brands apart, Byrd knives have a different shape. Instead of the trademark round opening, Byrd knives sport a comet shape opening.
There is a lifetime warranty on Spyderco products, but it does not cover damage caused by abuse, improper handling, alterations, and improper sharpening. Spyderco will repair and sharpen its knives, and the warranty is void if repairs are attempted by anyone other than Spyderco. It is always recommended to contact the company using its customer service and authorized dealers.
Series and Models
Signature – Police, Endura, Delica 4, Civilian, Matriarch 2, Harpy, Cricket, Native 5, Military, Paramilitary 2, Manix 2, Stretch, Stretch 2, Dragonfly, Dragonfly 2, Ladybug 3, Manbug.
Rescue – Assist, Rescue 3,
Salt Series – Pacific Salt, Salt 1, Tasman Salt, Ladybug 3 Salt, Dragonfly 2 Salt, Assist Salt, Snap It, Atlantic Salt, Saver Salt, Tusk, Aqua Salt, Ark, Jumpmaster, Enuff Salt, Whale Rescue Blade, Autonomy.
Value – Chicago, Cat, Resilience, Persistence, Ambitious, Tenacious.
Flippers – Brend / Pirela Mamba, Southard Folder, Rubicon, Positron, Domino, Dice, Mantra, Mantra 2,
Specialty – Nirvana, Myrtle, Tighe Stick, Bradley Folder 2, Vallotton Sub-Hilt, Squarehead, Techno, Lil' Lionspy, Roc, Battlestation, Introvert, Wolfspyder, K2, Slysz Bowie, Tatanka, Burch Chubby, Szabohawk, Szabo Folder, P'Kal, P'Kal Trainer, Karahawk, Yojimbo 2, Janisong.
Ethnic – Hungarian Folder, Schemmp Bowie, Pattada, Nilakka.
Gentlemen's – Lil' Lum, Vrango, Sage 1, Sage 2, Sage 3, Chaparral, Kiwi 4, Centofante 3, Firefly, Caly 3.5, Mike Draper Folder, Foundry.
Sprint Runs 2016: Ladybug 3 HAP40, Manbug HAP40, Dragonfly 2 HAP40, Stretch HAP40, Manix 2 Peel-Ply Carbon Fiber with CPM 154/S90V Composite Blade, Military Peel-Ply Carbon Fiber with 52100 Blade, Rock Salt.
NonLocking:
SLIPIT – Urban Lightweight, PITS Folder, UK Penknife, Squeak Lightweight.
Slipjoint – Clipittool (scissors / serrated blade / bottle opener & screwdriver), Dog Tag Folder, Roadie Lightweight, Bug, Honeybee, Grasshopper.
Clipjoint – Pingo, Spy-DK, Friction Folder,
Fixed Blade – Sprig, South Fork, Bushcraft, Proficient, Bradley Bowie, Serrata, Moran, Enuff, Temperance 2, Puukko, Street Beat, Street Bowie, Pygmy Warrior, Reverse, Ronin 2,
Kitchen – Cook's Knife, 4-Inch Utility Knife, 6-Inch Utility Knife, Mini Paring Knife, Santoku.
Sharpeners:
Tri-Angle Sharpmaker, Tri-Angle Ultra Fine, Tri-Angle Stone Fine, Tri-Angle Stone Medium, Tri-Angle Stones Cubic Boron Nitride, Bench Stone Fine, Bench Stone Medium, Bench Stone Ultra Fine, Pocket Stone Medium, Pocket Stone Fine, Doublestuff, Pocketstone Medium, Golden Stone, Slip Stone, Ceramic Files.
Accessories:
Display Cases, Knife Stands, Mirror Decals, Cases, Pouches, Spyderpac Large/Small, Lanyards, BaliYo Writing Tool
Byrd:
Cara Cara 2, Meadowlark 2, Robin 2, Crow 2, Raven 2, Finch 2, Hawkbill, Crossbill, Tern, Flight.
For 40 years, Spyderco has been at the forefront of knife-making. It has worked with units and individuals, and has developed a multitude of products which meet specific needs. There are also companies and individuals (silversmiths, jewelers, and the like) who build custom Spyderco knives. Handle materials, blade engravings, and other modifications can be made to these outstanding knives. These alterations are used to turn an otherwise run-of-the-mill Spyderco knife into a genuine non-recurring work of art. Of course, you should make sure to stay within the limits of Spyderco's lifetime warranty.
Spyderco Byrd Knives Explained
Spyderco knives are known for their convenient design and high-quality build. In the case of Spyderco this quality translates to prices that not everyone can afford. Spyderco saw this and began their Byrd line of knives. These "budget" knives are manufactured in China under the supervision of Spyderco. This allows them to be a lot more affordable than the American built version.
Don't think for a second that low price means low quality. These knives are made with the same strict quality control of all Spyderco's core offerings and in 2015 won "Best Buy of the Year" by Blade magazine a leading publication on all things knives. These knives make for a great intro into the world of knives. They all include the famous hole on the blade for quick single handed opening. The hole is a tear-drop shape as opposed to the classic circle of the Spydercos. They all come with a belt clip as well. All in all Spydercos Byrd line are a good option for those interested in buying a quality blade on a budget.
My Favorite Knife: Spyderco Kopa Review
Although all of Spydercos knives are amazing and I want to own them all one stands out of the rest, the Kopa. This is my favorite Spyderco knife. The Kopa is the perfect mix of class and function. Spyderco began the Kopa line in 2005 and have released new series of these knives every 3-4 months What makes these knives special is that there are only 600 knives manufactured per series. With each series Spyderco introduces a new and exotic material to the handle. These knives are highly sought after and collectible. Currently you can purchase a Kopa with materials ranging from turquoise to giraffe bone and everything in-between.
This is Spydercos version of a "gentlemen" folding knife. They are a classy pieces and not necessarily knives you'd want to bring on a camping trip. This is not to say they aren't useful. The leaf-shaped VG-10 blade is sharp. In fact this is one of the sharpest blades I have ever used. I currently own the apple coral version(currently discontinued). It has a comfortable handle and the material is sturdy as hell. The back-locks are strong and I never worry that this knife will open in my pocket. This is one of the most beautiful knives I have ever had the pleasure of owning. Each series sells out fairly quickly so you have a better chance of getting your hands on one through trades. That's how I got mine. If you are looking for a knife with sex appeal the Kopa is the knife for you.
Carrying a Knife
Carrying knives used to be standard. The pocketknife used to be a tool which everyone had on their belt or in their pocket. Over time, basic necessities and modern conveniences have become more accessible, and nowadays there aren't many people who consider the pocketknife to be an essential tool. However, for those of us who do carry? We know that having a knife provides an easy solution to a lot of anticipated and less-anticipated jobs. We know that carrying a knife is not about being cool or showing off. It is about being prepared. It's not about the knife, it's about having the right state of mind. Spyderco understands this state of mind, and its knives are a continuing, ongoing testament to that view.
Carrying a knife is a lot about readiness. Whether you are interested in an everyday carry (EDC) knife, or a sharp utility knife to add to your toolbox, Spyderco has got you covered. As one Youtuber said: he doesn't recommend buying a Spyderco knife, because once you buy a Spyderco, you won't be able to stop. You'll become addicted. That is how good these knives are.
Knives need to be sharp. It is their purpose. They need to be able to do their job. If a knife doesn't cut, it is a piece of junk – period. Anyone who has ever been in a situation where a good knife was needed, can attest to this fact. Some knives are knives, some knives are junk.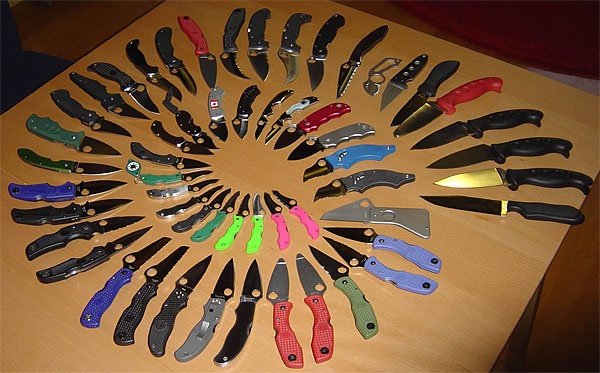 When you buy a Spyderco product, you join a family – Spyderco's collaborators, dealers, distributers, and fellow customers. Knife-carriers all over the world are united in their opinion of Spyderco: it is a superb knife-making company, which promises high-end quality and also lives up to it. From its miniature models to the large fixed-blade models, it delivers in a big way. It isn't just the lifetime warranty or the unique blade materials involved in its creation. It is the promise of being ready. Of being prepared. And that is part of the EDC philosophy. You never know when you are going to need it.
Spyderco knows its customers. It listens to them, develops new products with them, and values them a great deal. Although some may say that they have experienced bad customer service, this is not something I have encountered personally. Customer service quality aside, Spyderco is a company which continues to innovate, create, and delight. Spyderco's knives also make wonderful gifts, and they are as beautiful as they are handy.
The Spyderco crew (which includes 138 employees) is dedicated to its customers, and it continues to be run by the Glesser family. From that very small and humble beginning, riding around in a converted bread delivery truck in the late 70's, the Glessers have made a name for themselves and their products.
Whatever the need is, whatever the task, Spyderco has got you covered. All you have to do is take your pick of nearly 100 different knives. It is an amazing collection, which keeps on growing. Even the classic models which have been long-since discontinued, make an appearance in the form of Sprint Run models with modified blades and improved scales.
Following Spyderco's success, many manufacturers have sought to copy its design. Many counterfeit Spyderco's can be found, and they are becoming more convincing by the years. Make sure you purchase a Spyderco from an authorized dealer, or from the company itself. Spyderco has a factory outlet store in Golden, Colorado.
Thanks for reading our Spyderco feature – check out our Glock 17, 19, Accessories, and SIG P228 reviews here at Gunivore.com
It's not too late to MAKE it a most excellent Monday! #spyderco #mostexcellentmonday pic.twitter.com/FOFlwJIPvl

— Spyderco, Inc. (@SpydercoKnives) March 27, 2017