Kahr Firearms is one of the newest American firearm manufacturers but they've already made quite a name for themselves. As a producer of concealable carry weapons (CCWs), they've chosen the fastest growing market to target, so it should be no surprise to see how quickly they're growing. Over 15 million Americans and counting have concealed handgun permits, and many of them have chosen to rely on Kahrs. Kahr's pistols can be broken down into either the Premium or Value Series, both of which are loaded with some remarkable handguns. In today's Gunivore review, we're gonna be taking a look at the Kahr CW9 (Value Series) and see what makes it so special. Although we've already covered CW9's brother – the CM9 – in a previous article, it'll definitely come up in this piece too.
But before we begin, I highly recommend checking out our rundown on the entire Kahr Firearms Company just to get a glimpse of the past, present and future of this feel-good American success story.
Kahr CW9 SPECS
Kahr CW9

Model: CW9

Caliber: 9mm Luger

Capacity: 7+1

Overall Length: 5.9"

Barrel Length: 3.565"

Height: 4.5"

Weight: 15.8 oz. (unloaded)

Finish: Black polymer frame, matte stainless steel slide

MSRP: $449.00
Kahr CW9 BUILD
As part of the Value Series, many of the CW9's specs are standard, so why don't we get to those first. At first glance, the CW9 has a very slim build; however, it's still bigger than the average Value Series Pistol. For instance, this semi-auto is longer (both overall and by barrel) and heavier than the CM9, albeit by tiny margins. In fact, I'd be willing to say that the CW9 is just a bigger version of the CM9. At less than 6" in length and 1" in width, the Kahr CW9 is built to be concealed!
Like with other Kahr handguns, don't let its diminutive size lead you to thinking that it's junky. The American gun maker outfitted their pistols, even in their Value Series, with tons of durable components. Starting from the bottom, they gave these single stack 9mms stainless steel mags and slides and even added an all-metal magazine catch that could probably last a lifetime. Moving upwards, most Kahr firearms were given solid, crisp pulling 7 lb. tungsten-finished triggers. Lastly, the CW9 also features steel inserts in its polymer frame for added muscle and stability.
I'm a huge believer in that sometimes less is more, and the Value Series attests to this truth. Kahr designed the slides on the CW9s with a metal-injection-molded slide stop lever and removed several machining operations to keep it simple and effective. Although not as impressive as the polygonal rifling on their Premium Series Pistols, the CW9 was engineered with insanely accurate conventional rifling. Lastly, to keep shooting simple, Kahr incorporated a pinned down front sight paired with a drift adjustable white bar-dot combat rear sight.
As somebody with big hands, I'm always concerned that I'll hate the way small CCWs will feel in my hands. Although I found the CM9 to be manageable, it doesn't compare to the CW9. The added size of the latter firearm makes a huge difference in handling and overall ergonomics.
I recently found out that Kahr released a variant CW9 crafted with black carbon fiber, and it's a thing of beauty. This version costs about $50 more, but comes with a longer barrel and increased durability.
Awesome deal🎉9mm Kahr Arms CW9 is only $299.99 & that deal comes w/ spare mag & holster.$100.00 off retail [email protected] @passport_sd pic.twitter.com/DkSKzsMiE8

— PassPort San Diego (@passport_sd) June 24, 2017
Kahr CW9 PERFORMANCE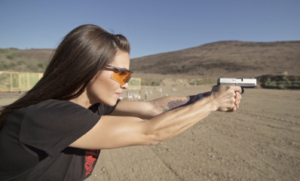 Like most other Kahr pistols, the CW9 shines proudly due to its simple point and shoot ability and extraordinary accuracy. I should warn you that the double action only trigger which pulls at a heavy 7 lbs. could be a make-or-break for some folks. I didn't find any problems with it; in fact, I was a big fan of its predictable break.
One of the distinguishing features about Kahr's pistols is that they're constructed with several distinctive patents which provide for an exceptional shooting experience. The CW9 features Kahr's noteworthy cocking cam-trigger system which both unlocks the firing pin block (passive safety) and completes its cocking and release of the firing pin. This novel patented operation provides a "safe-cam action" and an astoundingly smooth double-action only trigger stroke. This attribute makes Kahrs great for carrying since they are safer and faster than your average CCW.
In terms of its handling, the CW9 is pretty ergonomic, more so than CM version. Kahr gave these handguns comfortable grips which definitely boosts control. Their texturized and stippled polymer grips are great in all conditions and felt great in my hands.
Additionally, to further ensure a more simple shooting experience, Kahr engineered an offset barrel which raises the shooter's hand closer to the centerline of the bore. Even more than that, the Value Series pistols also have reduced recoil and muzzle flip, which is no small feat.
Kahr CW9 MAGS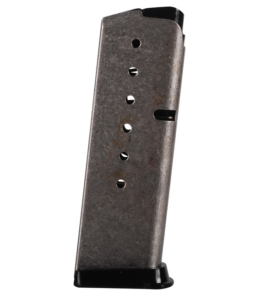 The single-stack designed Kahr CW9 ships with one, 1.9 oz. seven-round mag made from first-class corrosive resistant 400 Series stainless steel. These American-made mags are plasma welded and tumbled to remove burrs and excess material. To keep them durable and efficient, Kahr built them with Wolff Gunsprings and even gave them a flush baseplate.
Kahr CW9 HOLSTERS
As compact CCWs, it's crucial to invest in a good holster for your Kahr CW9. It's important to note that this Value Series pistol is slightly bigger than most other Kahrs, so keep that in mind when choosing a holster. It's harder to find a better holster manufacturer than DeSantis, and their Speed-Lite leather belt holster is a thing of beauty, but it'll cost you a pretty penny. If you're more into inside the waist band holsters, then check out their Slim-Tuk for a minimal ambidextrous option.
Lastly, I'd be remiss if I didn't at least mention AlienGear Holsters. This up and coming company produces tons of different style holsters for nearly every handgun on the market. For the Kahr CW9, I like the $50 Cloak Mod OWB (outside the waistband) holster.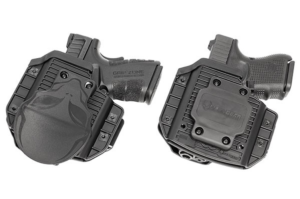 Kahr CW9 PROBLEMS
Like many other Kahr Firearms, the CW9 needs to be broken in; usually around 200 rounds should do the trick. I've heard a few complaints of slide lock pins getting stuck and general stiffness. Overall, the CW9 is a great CCW that I'd easily recommend to anybody, with the exception of weak-handed shooters. Not because the 9mm is hard to control, but the general operation and maintenance can be wearisome.
VS. GLOCK 43, 19, CM9
Choosing a Kahr over a more well-established firearm is no easy task, so let's see how it matches up against comparable weapons.
Compared to the Glock 43, the CW9 is around $100 cheaper, shorter, and has a better grip. Oddly enough, the Glock may have a longer overall length, but its barrel is noticeably shorter than the CW9's. These compact semi-autos handle relatively similarly; they both can be cocked easily, have very manageable recoil, and great accuracy. Although they both have double-action only triggers, the Kahr's offers an easier pull. As much as I like the Kahr, if you're a fan of Glocks, then I'd stick with what you're comfortable with.
CONCLUSION
Even within the Value Series the CW9 has some serious competition, namely the CM9 and PM9. Because their differences are so minute, the best way to compare these great CCWs is by doing a side by side comparison with our comprehensive reviews of each of these firearms. On one hand, the PM9 seems like the standout 9mm Kahr being as it's a member of the impressive Premium Series. On the other hand, the CM9 and CW9 are also quite different, although they are both Value Series pistols. Even though they share most of the same characteristics, the CM9 is basically a shrunken version of the CW, which can be major determining factor for some shooters.