Since Obama first took office, the number of CCW permits has soared over 200%, with now nearly 15 million Americans carrying concealable handguns. People around the world are buying weapons faster than ever, and the firearms manufacturers have been trying to keep up with this increasing demand.  They've also stepped up their quality and have been delivering better products every year. Consequently, once-small companies, like Kahr Arms, have grown extraordinarily and enhanced their merchandise.
Kahr has some of the best concealable firearms on the market; however, many of them are so comparable, it can be hard to tell them apart. As a result, this thorough Gunivore review is essential! In today's breakdown, we're gonna be scrutinizing the Kahr firearms chambered in .380. But before we begin, I highly recommend checking out our rundown on the entire Kahr Firearms Company just to get a glimpse of the past, present and future of this feel-good American success story.
Kahr Arms CW380
Model: CW380
Caliber: .380 ACP
Capacity: 6+1
Overall Length: 4.96"
Barrel Length: 2.58"
Weight: 10.2 oz. (unloaded)
Sights: Drift adjustable white bar-dot combat rear sight, pinned in polymer front sight
Finish: Black polymer frame
MSRP: $419.00
Kahr Arms P380
Model: P380
Caliber: .380 ACP
Capacity: 6+1
Overall Length: 4.9"
Barrel Length: 2.53"
Weight: 9.97 oz. (unloaded)
Sights: Drift adjustable, white bar-dot combat sights
Finish: Black polymer frame
MSRP: $667.00
Kahr Arms 380 Build
Before we begin, it's critical that we explain the major differences between the P380 and the CW380. While the latter is part of Kahr's Value Series, the P380 is a member of their more impressive Premium Series. Although comparable in many aspects, these guns differ most in terms of their physical build.
Starting with the most basic distinctions, the premium P380 is just slightly smaller than the CW variant. The P380's premium Lothar Walther match grade barrel measures in at an astounding 2.53" compared to the 2.58" standard barrel on the Value Series .380. Additionally, the CW380 is also a tad longer, 0.06" in fact. Lastly, the more expensive P380 weighs 0.23 oz. lighter. Although these minute differences may seem negligible, they can be a huge game-changer.
The single-stack CCWs in Kahr's Value Series are pretty remarkable even as their lower-grade firearms. These semi-autos are the perfect balance of size, strength, and price. Considerably smaller than comparable weapons, the Value Series' handguns are simple but effective, both in construction and operation. The CW380 is surprisingly ergonomic especially considering its size and firepower. Outfitted with standard rifling, the CW's durable barrel is housed in a compact matte 416R stainless steel slide, just like the P380. The only difference is that the Premium Series guns have more accurate match grade polygonal rifling. Similarly, while both the CW and P380s have drift adjustable white bar-dot combat sights, the former's are pinned down whereas the P380's are replaceable.
I was surprised at how durable Kahr's CW Series' Value Series pistols are. The American-company incorporated patented 4140 steel inserts into the fronts and backs of the black polymer frames for added strength and longevity. Additionally, they gave the CW380s heavy-duty stainless steel mags and slides. All of these great features and more are also included in the P380. One of the biggest downfalls to the Value Series is their sharper edges which results in a more stubborn pull. However, Kahr improved the P380 by giving smoothed edges top to bottom.
Moving on to the upgraded P380 – Kahr's premium .380 pistol is loaded with sweet features which make it one of the top CCWs in the industry. Besides for its sleeker build, the P380 is also supplied with a low bore axis which makes a huge impact on its handling and thus its accuracy. Both the premium and value versions of these .380s are crafted with smooth tungsten-finished triggers, but we'll get to those soon. Lastly, one of my favorite features of the P380 is its incredibly easy field stripping that doesn't require the trigger to be pulled. I try to keep my guns clean and well-oiled, so it's a big relief for me to see this in a weapon.

Kahr Arms 380 Shooting
Oddly enough, there is very little difference between how these two great CCWs perform. Shooting is simple and quick thanks to their straightforward and easy-to-use sight system, lightweight design, and Crisp 7-lb trigger. Although this may seem like a long pull, these double-action-only Kahr triggers still have a nice predictable break.
The biggest contributor to their accuracy is their well-machined barrels, although the P380 has a slight edge due to its polygonal rifling. Either way, both the CW and P 380s are remarkably accurate for their size. In fact, I've never been so impressed by a small pocket pistol! On Kahr's website, they posted a video showcasing several of their guns, and it's something to see. One of these clips features them testing their accuracy at 100 yards. These 380s are surprisingly accurate at this great distance, not that you'll ever probably need it to be.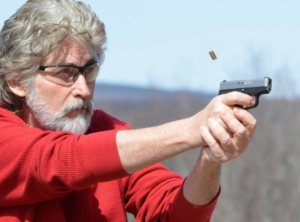 Kahr knew that in order to make their pistols marketable, they had to boost their control and overall handling, and they've done a pretty good job so far. Kahr gave these .380s textured polymer grips which effectively boosts control and comfort. In addition, to further guarantee a pleasant shooting experience, Kahr engineered an offset barrel which raises the shooter's hand closer to the centerline of the bore. Ultimately, this keeps shooting simple and easy, not to mention that they also managed to reduce felt recoil and muzzle flip.
That being said, I do have one serious warning to give: in my experience, the P380 and CW380 can handle almost all ammo as long as it isn't steel casing. Furthermore, it's essential to break-in your Kahr (around 200 rounds) before relying on it for protection.
All Kahr Firearms are put together with several distinguishing patents which offer a unique shooting experience. The 380s feature Kahr's noteworthy cocking cam-trigger system which both unlocks the firing pin block (passive safety) and completes its cocking and release of the firing pin. Their innovative patented operation provides a "safe-cam action", making Kahrs great for carrying since they are safer and faster than your average CCW.
Kahr Arms 380 Mags
The single-stacked Value Series Kahrs ship with one durable six-round mag made from high-grade corrosive resistant 400 Series stainless steel. These American-made mags are plasma welded and treated to remove excess residue and nicks. On the other hand, the Premium Series P380 comes with three of these fantastic magazines. To keep these mags comfortable and effective, Kahr incorporated Wolff Gunsprings and gave them a flush baseplate.
One of the features which leaned me toward the P380 is that the slide stays open after firing the last shot. This nice upgrade provides for faster reloads and avoids the "click and no bang" at the end of the mag.
Kahr Arms CW 380 Tungsten gussied up pocket pistol. https://t.co/ebJFrGjhYO pic.twitter.com/gnqM92IM2G

— Rangehot.com (@Rangehotdotcom) July 28, 2017
Kahr Arms 380 Holsters
As some of the most impressive compact pistols out there, the P380 and CW380 are great carry options. That being said, it's vital to invest in a good holster that is durable, comfortable, and offers an easy pull. There are tons of options to choose from, including material, size, and where on your body to carry. Since these guns are so small, I always use a pocket holster; it's a must to keep the trigger protected until you intend to shoot, and pocket holster guarantees that better than most other types of holsters.
If you're looking for super concealability, consider the Active Pro Gear Pocket Holster (very affordable) or their comfortable ankle holster. Another great choice is the ambidextrous Desantis Superfly Pocket Holster; Desantis is great and reputable brand and it won't cost you an arm and a leg.
If pocket holsters aren't for you, consider an inside the waistband holster from AlienGear. I've become a huge fan of theirs in the past year, and they a have a massive selection to choose from. You can't go wrong with their best-selling Cloak Tuck 3.0 IWB holster; this solid choice also has a matching extra mag carrier which is a smart buy.
Kahr Arms 380 Accessories
As a compact CCW, I don't recommend investing in any accessories for your .380, not that there are many to choose from. Your aftermarket options are pretty insubstantial for Kahrs, but that's not to worry about. However, there are a few things to consider; for starters, I've seen some shooters opt for a nice leather magazine pouch which can be bought from Kahr directly. Additionally, the P380 is available with three-dot night sights or Crimson Trace Sights, plus a $733 California legal version that has a loaded round indicator at the top of the slide.
Kahr Arms 380 Problems
The first thing you need to know about many of Kahr guns is that they need to be broken in. In general, your first couple of boxes of ammo won't be so promising, but after around 200 rounds, you should start to see peak performance. Once you've reached the point, give the gun a thorough cleaning and lube.
Although I've never personally had any malfunctions with either the P380 or CW380, I've heard a few complaints about occasional stovepiping and slide returns. Overall, Kahr's CCWs are better when compared to competitive brands. In fact, let's take a look at similar firearms and see how they match up.
Kahr Arms 380 vs. Ruger LCP/SIG P238
Although Ruger may be a more established gun maker, deciding between their LCP and the Kahr .380s is no simple task. For starters, the latter weapons are way more accurate, but the Ruger takes the cake when it comes to reliability and overall quality. While both have affordable prices, at least in the case of the CW version, the Kahrs are slightly smaller and therefore conceal better than the LCP. At the end of the day, I think the P380 is a superior CCW, but if their price is too high, the LCP is a fantastic second choice.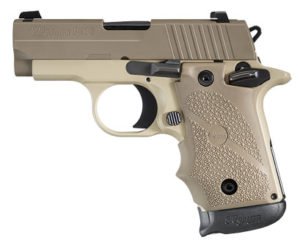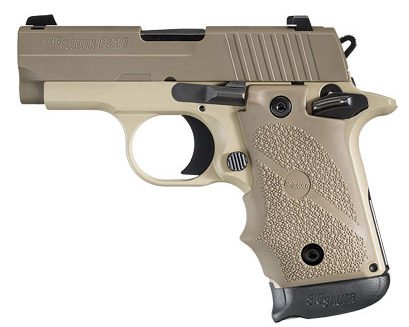 Another common firearm compared to the Kahr .380s is the Sig Sauer P238. One of the first things I noticed about the P238 is their awful plastic grips, but thankfully, they are easily replaced. Like the CW380 and P380, the P238 shoots smoothly and has a great compact build, although the Kahrs are a bit smaller. I personally like the way the Kahr feels in my hand more than the Sig Sauer; I also generally tend to stay away from Sig Sauers. If you're stuck between these two CCWs, then I'd recommend the P380 for most shooters over the P238. Nevertheless, check out our comprehensive review of Sig Sauer to get a bigger picture of their firearms.
Conclusion
All things considered, Kahr's CCWs chambered in .380 are not only fun to shoot, but are also an overall pleasure to own. As super-compact pistols, they are highly ergonomic, pretty affordable, and insanely accurate.
Thanks for joining us here at Gunivore – You may also like our picks for the Best EDC Tactical Knives.