Table of Contents
Although still considered a newcomer to the weapons market, Kahr Firearms' impressive collection of compact, subcompact, and mid-size semi-automatic pistols has already given them quite a reputation. The number of concealed handgun permits has soared over 200% in the last decade, with now over 15 million Americans carrying. As a result, there's been a boom in CCWs in the market, with classic and newcomer companies alike competing to produce the best. Once-small companies, like Kahr, have taken this opportunity and have grown tremendously.
At first glance, Kahr's lineup of compact firearms may all look the same, but upon closer examination, they boast some pretty impressive diversity. Most of their guns can be split into either the Premium or Value Series, and in today's Gunivore review, we're gonna be taking a look at their MK9 in the former.
But before we begin, I highly recommend checking out our rundown on the entire Kahr Firearms Company just to get a glimpse of the past, present and future of this feel-good American success story. Additionally, if you're a fan of the timeless 9mm cartridge then check out Kahr's CW9, PM9, and CM9 for more options.
Kahr MK9 SPECS
Model: MK9

Kahr MK9

Caliber: 9mm Luger

Capacity: 6+1 (7+1 magazine with grip extension)

Action: Locked-breech

Overall Length: 5.3"

Barrel Length: 3"

Slide Width: .90"

Height: 4.0"

Weight: 22.1 oz. unloaded

Sights: Drift adjustable, white bar-dot combat sights

Finish: Matte stainless steel

MSRP: $888.00
MK Series Overview
Kahr's MK Class is one of the more recent additions to their already remarkable Premium Series. What makes the MK class unique is its steel frame (and consequential added durability) and their textured hard nylon grips. Kahr unveiled the MK Series in 1999, and it didn't take them long to expand it. In 2003, they added the Elite variant which we'll discuss more below.
Pearce Grip Extension – Kahr K9/K40/MK9/E9 (2 pack). #2Ahttps://t.co/EUdOeopedh pic.twitter.com/Rbnu2WfKR2

— Discount Tactical (@discounttactica) March 18, 2017
Kahr MK9 Build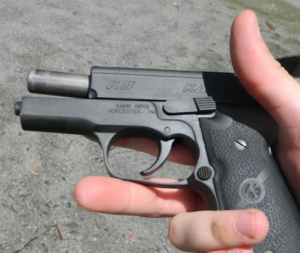 As a proud member of the Premium Series, the MK9 is loaded with incredible features which combine to make it one of the finest CCWs on the market. Starting from the bottom, Kahr outfitted these semi-autos with heavy-duty and corrosion resistant 400 Series stainless steel magazines with flush baseplates. However, if you opt for their 7-round mag, its extended grip can be a serious game-changer for handling.
Moving upwards we meet the MK's wraparound, textured hard nylon grips and Double-Action Only trigger. While these offer remarkable resilience, I actually prefer the tactical rubber grips on the other Premium handguns. Next, we arrive at the MK's tough slide machined from 416 solid stainless steel, which is both gorgeous and effective. For starters, the deep embedded serrations on the rear of the slide make it easy to charge the firearm. Furthermore, this sleek slide houses the Kahr match grade polygonal rifled barrel, which is one of the noteworthy upgrades from the Value Series. If you thought the Value Series pistols were accurate, wait until you try out these guys!
On Kahr Arms' website, they posted a video showing off several of their Premium Series guns in action, and it's something to see. One of these clips features them testing their accuracy on metal targets 100 yards away. The MK9 is astonishingly accurate even at this great distance, not that you'll ever probably need it to be. Nevertheless, it's comforting to know that it can do some pretty amazing things.
 One of the many ways the MK stands out is by achieving the perfect balance of size and power. Weighing in at around 22 oz., the MK features a petite 3" barrel in its 0.90" wide slide! Likewise, its 4.0" height and 5.3" length make it easy to conceal without giving up on ergonomics.
Kahr MK9 Performance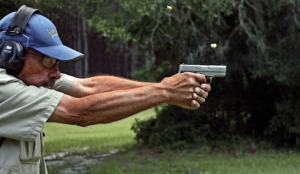 Kahr's pistols may be more famous for their size and build, but their shooting ability should not be underestimated. The MK9's impeccable accuracy begins with their match grade polygonal rifled barrel with 1-10 right-hand twist. To enhance their accuracy even further, Kahr added drift-adjustable, white bar-dot combat sights. Although pretty standard, this sight system is definitely better than what's on your average CCW.
The "Browning-type" MK also features a surprisingly low bore axis relative to the shooter's hand which significantly lowers the recoil. In terms of how the Kahr feels in your hand, the MK9 is pretty ergonomic, considering how small it is. The American gun maker gave these semi-autos decently comfortable, hard nylon grips which are sure to improve control and accuracy. They've also managed to reduce muzzle flip and keep recoil as manageable as possible.
One of the most notable features on Kahr's pistols is their many game-changing patents incorporated into all of their products. The MK9 includes their notable cocking cam-trigger system which both unlocks the firing pin block (passive safety) and completes its cocking and release of the firing pin. This Kahr-defining patented operation provides a "safe-cam action" and an astoundingly smooth double-action only trigger stroke. This attribute makes Kahrs great for carrying since they are faster and safer than your average CCW.
Kahr MK9 Mags
As part of the Premium Series, Kahr sends two 6-round mags with flush floorplates and one 7-round mag with an extended grip with every MK. These American-made beveled mags are plasma welded and treated to ensure their strength and endurance. Since the single-stacked CCW already comes with 3 magazines, it's probably not necessary to pick up extras, but Kahr's catalog does have nice options just in case.
Kahr MK9 Holsters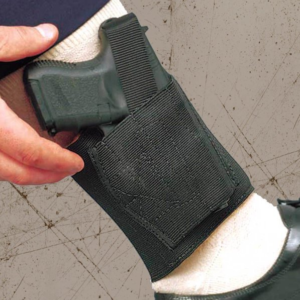 Kahr's CCWs are geared to be super compact and concealable so naturally there'll be endless options out there. When picking a holster, there are several options to consider, including where on your body you want to carry, your price range, and what type of material you're looking for.
I've become a big fan of AlienGear Holsters over the past year and they have a pretty nice selection of stylish and affordable options to choose from. I'd opt for their Cloak Slide OWB Holster or their best-selling Cloak Tuck 3.0 IWB Holster.
Due to its small size, many shooters prefer pocket holsters for their MK9, and DeSantis' Super Fly and Pocket-Tuk are great choices. It's harder to find a more established holster manufacturer than DeSantis, so you can be sure to trust their quality. I'd also recommend their Speed-Lite leather belt holster and their high-ride OWB/IWB thermoformed polymer Raptor Holster.  They are things of beauty, but they ain't cheap. DeSantis also makes several great ankle holsters, like the Die Hard Ankle Rig and Apache Ankle Rig.
Kahr MK9 Elite
Kahr Arms decided to improve their already impressive MK Series in 2003 by adding a few nice touches. The upgraded Elite MKs are offered in 9mm and .40 S&W. Their most notable upgrades are their enhanced durability and operation. Kahr gave these CCWs polished stainless steel finishes in addition to beveling the magazine well and polishing the feed ramp. The result is a slim and sexy firearm that reloads easier than ever with even more reliable feeding.
Kahr MK9 vs. Glock 43
Choosing a Kahr over a more well-established firearm is no easy task, so let's see how it matches up against comparable weapons.
Compared to the Glock 43, the MK9 is around $300 more expensive, shorter, and heavier. In fact, the first thing I noticed when I compared these guns side by side was that the G43 is a whole inch longer than the Kahr. After tinkering with their components, I also realized the trigger pull was much easier on the Glock, but I still hate their triggers.
These compact semi-autos handle relatively similarly; they both can be cocked easily, have very manageable recoil, and great accuracy. Although they both have double-action only triggers, the Kahr's offers an easier pull. As much as I like the Kahr, if you're a fan of Glocks, then I'd stick with what you're comfortable with.
Conclusion
After reviewing several of Kahr's handguns, I'm starting to think that the MK9 might just be their flagship CCW. The emerging firearm developer struck gold with this Premium pistol by crafting it with some of the finest materials and state-of-the-art technology. My only advice is to make sure to break-in your MK9 with around 200 rounds before relying on it for protection. Also I'd maybe opt for the tritium night sights. All things considered, I was really impressed with the MK, but the price tag does scare me away a bit.