No one starts any project hoping to have setbacks, but they almost inevitably happen one way or another. The question is how badly these setbacks impede you from accomplishing your task, and how you recover from them. These difficulties can range from minor and easily handled to so incredibly difficult that the project must be abandoned completely ,or at least scratched and reassessed. The latter was the case when Remington set out to revive the early 20th century pistol- the R51. The production and test phases seemed hugely successful, and a new pocket-gun was hitting the market with much garnered expectations and excitement. This anticipation only added to the confusion and disappointment when the product tanked. Actually, "tanked" might be an understatement – there were reliability and safety problems on such a widespread level that a recall was made. Following a number of delays, and after two years, the R51 returned. The Gen2 (as the post recall version was called), at first glance, lived up to the original expectations of its predecessor even with all the controversy surrounding it. While setbacks were a dime a dozen, Remington got the job done in the end, and their finished product is a fun one – we'll cover it all here in our Remington R51 Pistol Review.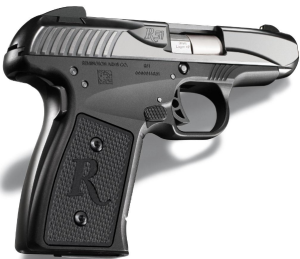 Remington R51 Specifications
Caliber: 9x19mm
Weight: 22 oz.
Height: 4.6 in.
Length: 6.6 in.
Barrel Length: 3.4 in.
Mag size: 7 (+1)
Supplied Mags: 2
Thumb Safety: no
Grip Safety: yes
Remington R51 Build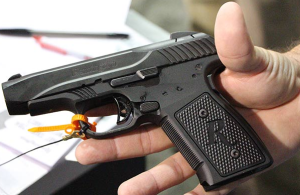 Built in the likeness of the original Remington Model 51, the R51 is a small, lightweight metal pistol for easy carry. Since it is meant for concealed carry, it has a closed hammer. This means no snag on a quick draw and no accidental cocking in your pocket. While people have been calling it a pocket gun, I wouldn't recommend it as one – it's a little bit bigger than most guns in the pocket class. Don't fret over the size, however, as the R51 packs enough of a punch for me to be comfortable carrying it daily, albeit with a holster. The R51 grip is relatively short and this can be a problem for some, but this depends on your hand size and will always be a user-dependant issue in smaller guns.
The slide on the Gen2 is smoother than on the Gen1, but there are still smoother slides out there in pistols. The grip safety mandates that you have your hand firmly on the gun in order for it to go off. Taking the gun apart is an overall pain – definitely one of the more significant downsides to owning this gun. You need to hold the slide back from the front of the barrel when doing a strip down, and it will put up a fight so grip tightly – cleaning this baby is no breeze.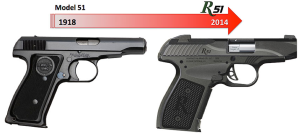 Remington R51 Shooting
The Gen2 shoots very accurately, with a more than manageable recoil effect. You can put it through the ringer with higher grain ammo and will see virtually no flaws or jams. The gun isn't perfect, however, and you run into one issue when you start using lower grain ammo. Using 115 grain will almost certainly cause nose dives and all sorts of funky jams that good, reliable, expensive ammo would never normally cause. Most people don't carry the lower grain ammo, and as such this is not a widespread problem, but one that may cause difficulties for some. Since it is in fact cheaper ammunition, some people tend to use it at the range and get their practice in on it. Even though it performs fine with higher grains, the fact that it can't handle the lower level stuff is a big minus for the gun. Now, full disclosure, this is something of a deal-breaker for me – when I invest in a gun, I look for greatness. This flaw may not upset some, but I don't care to spend my time and money on a product that can't handle the ammo I'd like it to. Another problem is that there is no automatic trigger reset on the R51. If you've held down the trigger after firing, the second pull won't work and it'll take a couple of pulls until it does. Major yikes with this flaw.
Remington R51 Magazines and Sights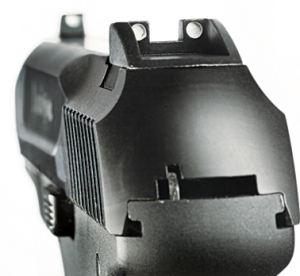 When you purchase the R51, it comes with two magazines. Each magazine can hold seven rounds, plus one in the chamber. It won't snag on your clothes, but due to the way the sights are raised, you can cock the weapon off your boot or belt if your off hand can't be used. This is a feature that shows that Remington understands the purpose of the gun, and that if you need it you're likely in a bit of a pinch. Being able to handle the weapon smoothly with one hand is an underrated plus. The sights are of three-white dot configuration and are a part of the reason a recall was made. We'll discuss the exact nature of the issue in the recall section. Trijicon does make a nice night sight for this piece if you don't mind spending a bit of money, as it costs about 135.00 dollars for the excellent replacement set.
Remington R51 Safety and Assembly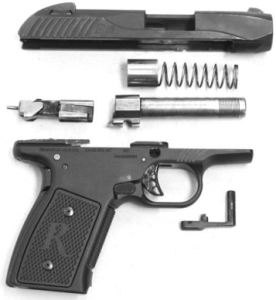 As is usually the case when it comes to gun recalls, safety is what made the R51 recall happen. After its release there were reports of the gun exploding, and one lawsuit about accidental firing made headline news. These issues have been corrected in the newer model(s), but they were certainly scary. In terms of assembly, taking apart the gun apart isn't work for a newbie. There's a slide catch that makes taking apart the slide difficult for even an experienced gun owner. It is awfully difficult to hold and less than pleasant. This is most definitely not a gun for quick and easy disassembly and cleaning.
Remington R51 Recall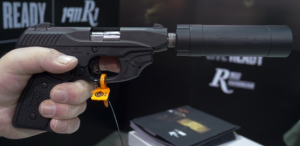 This recall is not just the biggest story surrounding this gun, but one of the bigger stories to come out of modern gun production. I can't think of another time in recent memory when there was a full recall, let alone a re-launch afterwards. There were issues from every way you look at the gun, from the trigger, to the pins inside, to the slide locking. These issues and others all contributed to the decision to announce an emergency recall. To their credit, Remington did their best to handle the recall smoothly and keep customers satisfied. They offered three options for owners of the original model as replacements/compensation; owners could either get their money back, upgrade to a more expensive handgun, or wait for the new post-recall model. Most owners did choose to wait for the new model and received them first, even before the gun press or anyone else.
The issue that caused such confusion between the ratings for this gun pre- and post-production was that the trial guns that had been given out got proper quality control upon manufacturing. Whereas the post production ones that hit the market had virtually none. The differences were noticeable to new owners right as they opened the box – to the extent that owners didn't want to fire the gun when they saw that the slide got caught so badly on the way back and flew forwards. Owners were similarly apprehensive when they noticed that the rear sight could be slid off the gun with no tools or know-how. These are issues that are plain to the naked eye – not your more common internal, inner-workings/mechanism problems. The R51 actually suffered from more difficult to see problems as well, though. For example, there was no effective trigger reset on the gun, which could cause massive confusion as well as precious time lost waiting for the gun to reset. In terms of the gun internals, out of place and miss-sized pins plagued the gun which in and of itself rendered the gun unusable.
There were re-launch dates, delays, more re-launch dates, and more delays before the replacement gun finally made it into consumer hands. The delays actually sparked rumors of the gun being totally scrapped before it finally re-launched after approximately two years (!). In addition to the replacement, original owners were given some goodies to compensate them for their difficulties.
Got my Remington R51 after my 1st one was recalled. Took it right out to the range, worked perfectly. @RemingtonArms pic.twitter.com/qY6AuQQ7Gp

— R6TAC 🇺🇸 (@R6Tac) September 17, 2016
Conclusion
Okay then! There's a lot more to digest here than you would expect with a normal handgun. The stories, the reports, the actual shooting – there is a whole lot going on here, which makes it incredibly tough to give the final product a grade. I think it should be obvious that the original doesn't need a mark because it failed. Incomplete or 'F' doesn't even cover it. The second go-around for the R51, however, has been an interesting one. Assuming you have the right type of ammo, the thing shoots fine. The only problem is that your ammo working well is not exactly a sure thing. Using incompatible ammunition renders the gun virtually unusable, so this isn't a problem that should be understated by any means. With that being said, there are qualities that I like in the gun, as was described earlier. With all of that being said, I don't feel that the positives are necessarily major enough to outweigh some of the still-existing flaws that I felt, with two years of work, should have been rectified.
My Overall Grade: B-
Hats off to Remington for doing a good job with the customer service after they screwed the pooch. Still, the gun is good – not great. If you want to carry one, you'd better put it through a serious stress test with the type of ammo you carry because I don't truly trust it. The lack of trust had me temped to lower the grade even more. The truth is, if you have the right ammo (anything higher that 115 grain), you should be fine. It's a good size for an everyday piece that you can feel safe with. Not too small, and a nice sleek design, but a little too much drama!
Love guns? Love Gunivore? Check out some of our other features, like our FN Fal, Ruger LC9, Kel-Tec PF-9, and Benelli M2 reviews!