Table of Contents
As a huge fan of concealable carry weapons, I'm always looking for new and improved additions to the market. One of my favorite aspects to keep an eye on is the budget firearms. Since I generally consider any handgun under $400 to be an affordable gun, this category is one of the most competitive in the entire industry. Some of the most notable of these best bang for your buck pistols include the Kel-Tec PF-9, Hi-Point C9, Taurus Slim, and the SCCY CPX-2.
In this Gunivore rundown, we're going to be taking a closer look at the SCCY CPX-2 9mm to see if it's a worthy CCW. I must admit that I am quite skeptical going in, especially considering its low cost of around $300. Although this doesn't place the SCCY CPX (pronounced "sky") in the lowest tier of budget guns, I've seen too many disappointing handguns in that price range to not be wary. So let's get down to it and put the SCCY CPX-2 under the microscope!
SCCY CPX-2 Specs

Model: SCCY CPX-2

Caliber: 9mm

Capacity: 10+1

Barrel Length: 3.1"

Overall Length: 5.7"

Weight: 15 oz.

Sights: Adjustable, 3-Dot Steel

Finish: Zytel Polymer, Black Nitride, Satin Stainless Steel

MSRP: $314

SCCY CPX Build
When I finally got my hands on the SCCY CPX-2 I was actually pleasantly surprised by its overall appearance and components. Although I hadn't fired it yet at this point, I could tell that it wasn't going to be your run-of-the-mill budget gun. For starters, just look at it; it's actually a pretty good looking gun!
The next thing I wanted to check out was how strong they built their popular semi-auto. While some companies will forgo durability to maintain a cost-effective design, there's no indication that SCCY sold out. I mean with aircraft-grade, heat-treated aluminum-alloy receivers and modern, Zytel polymers, these 9mm's are surprisingly resilient.
The other surprise was how ergonomic these pistols were. Even after seeing that SCCY didn't sacrifice any durability, I still wouldn't have been surprised if the CPX-2 didn't feel good in the hands. Nevertheless, I was once again pleasantly surprised. While not on par with favorites like the Springfield XDM or S&W M&P Shield, their integrated Re-Coil backstrap cushion was actually really good, not to mention the finger-grooved polymer grip.
That being said, the SCCY isn't the most intuitive pistol out there, but that can be attributed to its low cost and intended use as an ultra-concealable firearm. Although most of these centerfire CPX's don't have manual safeties, they still did a decent job with the placement of the controls, like the extended steel/polymer slide release.
Internally, the SCCY CPX-2 pistol was built way better than I expected. For instance, the developing company outfitted these nifty little guys with an encapsulated steel recoil spring assembly system. Similarly, these semi-auto 9mm's were given internal hammers with inertial firing pins which add a much-need safety-boost.
SCCY CPX-2 Magazines
Although I was pretty impressed with the SCCY as a whole so far, I gotta give them kudos for what they did with the magazines. The up-and-coming gunmaker ships each CPX with two, 10-round double stack mags, but it doesn't stop there. As a matter of fact, these steel mags come with ½" finger extensions pre-installed for added control and ergonomics. Nonetheless, they also throw in two extra flat magazine bases for those more focused on concealability.
CPX-2 Performance & Operation
As I mentioned earlier, the SCCY CPX-2 definitely stands out among its competitors thanks to its surprisingly high ergonomics. The firm grip that this powerful CCW offers is just a real pleasure. That being said, there are some performance features that I gotta warn you about. Since the SCCY relies on a DAO operation and hammer firing system, some folks are bound not to like the feel of each shot. Nevertheless, many would argue that it's worth the added safety feature of the internal hammer and firing pin that prevent accidental discharges.
Furthermore, they incorporated a pretty tough trigger into the CPX-2, which some folks love and some hate. In fact, the nearly-9 lb. trigger pull feels a lot more like a traditional double-action revolver such as the Charter Bulldog. Although it took some getting used to, I felt pretty confident with the 9mm after the 200 rounds I shot. However, the SCCY did take about 100 rounds or so to break-in, which was expected. Interestingly, even with their somewhat advanced barrels, with their 16:1 right-hand twists, the CPX-2 was only moderately accurate. While you're not gonna win any shooting competitions with these guys, they are plenty accurate for your self-defense needs.
Aftermarket Options
Because the SCCY CPX-2 handgun was designed with concealability in mind, the budding arms developer excluded accessory rails. On the other hand, this doesn't mean that you're out of luck with aftermarket options.
New CPX-3 & Comparable Firearms
You'd think to be in one of the most competitive fields in the firearm industry that the CPX-2 would be easily compared to other guns. Nevertheless, between the combination of steel and polymer components, around $300 price tag, unique design, and great ergonomics, it's tough to compare it to anything. That being said, SCCY just recently came out with the CPX-3 and it's pretty freakin' cool. The new version is currently offered in only two finishes but most people are more concerned with the switch to the.380 Auto cartridge. Furthermore, for only a few dollars more, the CPX-3 also includes the Roebuck Quad-Lock accuracy-boosting technology and shortened barrel for increased concealability.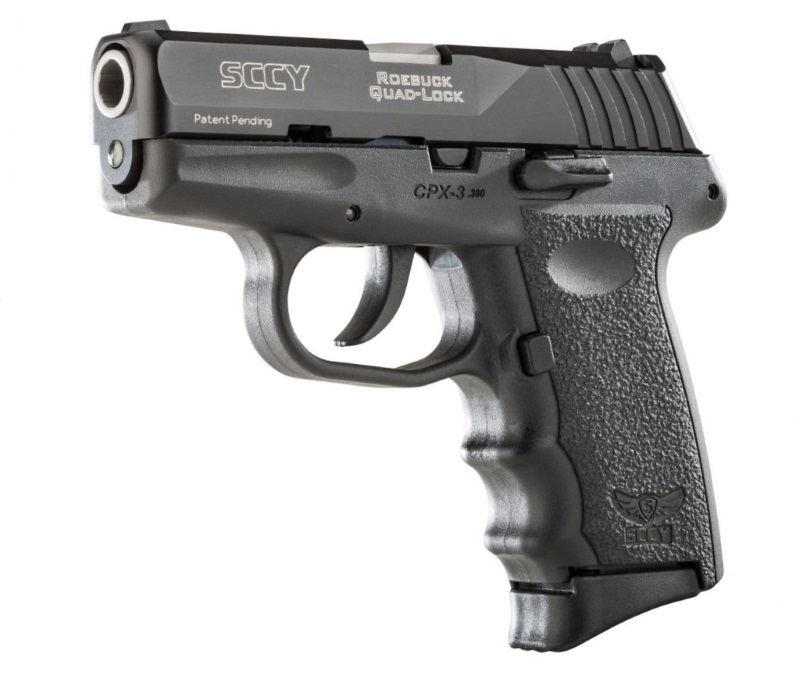 Conclusion
All things considered, I don't understand why the SCCY CPX-2 semi-automatic pistol is not more popular. I can easily recommend this CCW for anybody looking for a backup firearm or an affordable EDC gun. With this level of engineering and ingenuity, I wish that SCCY would produce a rifle or at least expand their repertoire.
For other affordable weapons manufacturers, check out Hi-Point, Kahr, Taurus, & Armscor.