Remington Model 700 Rifle
The Model 700 has been manufactured since the early 1960s. In its many years of existence, it has become a staple of American life, and a symbol of excellence. There are many variants of the Model 700, and I'll expand on those later on. It is essentially a bolt-action rifle, which comes in different barrel lengths, cartridge calibers, stocks, and feeding mechanisms. It also has varying sight configurations, ranges, and velocities, mainly depending on the kind of ammo used.
The variant which I managed to get my hands on, for testing purposes, is a Model 700 Synthetic Special Purpose (SPS) Varmint, chambered for .223 Remington. By the way, even though .223 and 5.56X45mm NATO share many similarities – the Remington .223 is actually the civilian version of the 5.56 – Remington wholly recommends against firing 5.56 caliber rounds from this .223 chambered rifle. It is a damn shame I don't own one of these babies. I'd love to get that tactical chassis configuration (MSRP: $2,900) with a nice scope. Ah, well. All in good time, right? In any event, there is a lot to talk about. First, let's go over the SPS Varmint specs, etc. Oh, and welcome to our Remington Model 700 Rifle Review!
Remington Model 700 Specs and Build
Caliber – .223 Remington.
Action – Bolt-Action.
Length – 46.5 inches.
Barrel length – 26 inches.
Weight – 8.5 lbs.
Stock – Synthetic with Overmold.
Sights – None, Drilled and Tapped for Optics.
Capacity – Five Rounds.
Finish – Matte, Black and Blue.
Introduced – 2007.
MSRP – $761.

So, the SPS line of Model 700's is a unique one. It aims to deliver that durable, reliable Model 700 action in a chassis designed for maximum precision and long range shooting of small, non-game animals. Obviously, any gun with sufficient power would provide results, but varmint guns are unique in their designs, which is why Remington invested the time and money in putting the SPS Varmint together.
Remington Model 700 Action and Shooting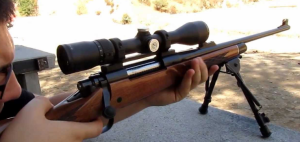 So, as stated, the bolt-action operation is the very same as on the legendary Model 700. It is the action which provides the most allure. The guts of this rifle are built on a tradition of decades, so there is no doubt that it functions in the best possible way. Shooting the SPS Varmint proved to be highly enjoyable. There is almost no recoil, the butt of the rifle sits very nicely, and it allows for very accurate shooting, even without the use of a bipod or bench. Obviously, this will change from one person to another, but the idea behind a varmint rifle is that it has a built-in disposition for accuracy and long-range marksmanship. With smaller animals, you don't need to use really heavy bullets, so the recoil is managed in a great way.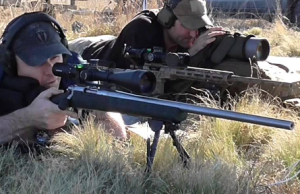 I only shot a few Model 700's in my life, but as far as I can remember, they have all had a very nice trigger, a smooth action, and they provided a great shooting experience overall. The SPS Varmint is equipped with a newer, thinner, smoother, weight-adjustable X-Mark Pro trigger, and the difference will probably be noticeable by those who have more experience with Model 700's. All I could tell is that I liked the way it operated. The barrel on the SPS Varmint is a heavy carbon steel. Some complain about the barrel not free-floating, but I find that while it may be a drawback, it still retains a high measure of accuracy. Also, I don't know the specifics, but I suspect there is a good reason why Remington did not want to free-float the SPS Varmint barrel. I might be wrong.
As for end results: I was shooting at 100 yards, using a relatively cheap (but pretty clear) scope. By the end of the session, I was getting dime-size groups using MatchKing 52 grain and 55 grain. This rifle was designed for long-range precision, and that is what it delivers. I was shooting at the range, and not at the field, but the .22 caliber round is known for its ability to take down varmints easily. It is a light, speedy, accurate bullet which gets the job done every time. All that you need to do is keep that rifle steady. Which brings us to…
Remington Model 700 Stocks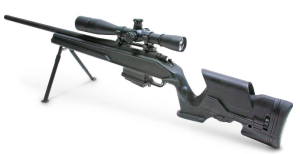 The Model 700 has so many variants, and they all have different stock options. The SPS Varmint has an injected molded plastic stock. The stock is one of the disappointments, as far as I am concerned. If this were my rifle, it would probably be the first modification of the original factory parts. Plus, changing the stock could allow you to free-float the barrel, if such a thing interests you. There are opinions for and against that. At any rate, the stock is nothing special.
With a brand new rifle, right out the box, wait. Do not change anything until you break in the barrel a little bit. While some people maintain that "breaking in" a rifle is nonsense, I don't feel that way. I shoot a few boxes of higher end ammunition before I decide to change anything. I learned this the hard way, when I was younger. The ammo, in the beginning especially, can make a big difference. Before deciding on any changes or modifications, run some high quality ammo through your rifle, whichever one it may be, and only then will be able to see the rifle's true performance.
Remington Model 700 Magazines and Sights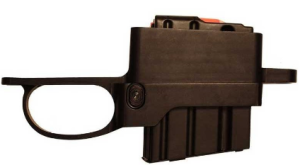 The SPS Varmint comes with an internal magazine, able to hold 4 + 1 rounds. Other Varmint calibers are able to hold 3+1 rounds. The Model 700 Police DM chambered in .308 has a detachable 10-round magazine, but it is unique among the Model 700 line of firearms. All of the other models have an internal magazine with a capacity of 3, 4, 5, or 6 rounds.
The SPS Varmint doesn't come with sights, but its receiver is drilled and tapped for optics. In the past, there were Model 700 variants – ADL and BDL – which came with iron sights.
Remington Model 700 Safety and Assembly
The Varmint's safety is the classic S/F safety mechanism which is similar to other 700's. Varmint guns are meant to be used at the ranch and at the field. They are meant to be used for hunting and removing pests. There is always the possibility of a switch accidentally being moved to the F position by a tree branch or what not, but I suppose that is true to any safety mechanism ever invented. Remember – one of the cardinal rules of owning a firearm is understanding that it is the shooter, not the gun, which is the ultimate safety. A rifle's safety is merely a backup. The relatively simple S/F mechanism is more than enough in the case of the Model 700. Gun safety is not a recommendation, but an obligation. As soon as you pick up a firearm, you must adhere to the rules of safe shooting. No exceptions.

Remington Model 700 Variants
Here is a brief overview of the more popular Model 700's which are available:
SPS Tactical – Comes with a 20-inch or 16.5-inch barrel, an X-Mark Pro trigger, and SuperCell recoil pad. The stock is Hogue overmolded with a black finish. Five calibers to choose from, including 300 AAC Blk.
ADL – Currently available only in the 200th anniversary Commemorative Edition, this ADL comes with a 24-inch carbon steel barrel, walnut stock with checkering, X-Mark Pro trigger, and of course the commemorative medallion in the grip.
BDL – As Remington says, this has been a hunter's favorite for over 40 years. The BDL features a carbon steel barrel (22 or 24 inches) with a polished blue finish, and a light American walnut stock.
VTR – Varmint Tactical Rifle. Designed for long range encounters, but also mobility. X-Mark Pro trigger, 22-inch barrel with an optimized 1:9 twist (unlike the .223 Varmint's 1:12), and SuperCell recoil pad, with a flat dark earth finish.
SPS Tactical AAC-SD – this thing's heavy 20-inch barrel is threaded, in order to accept different addition right from the box. Chambered in .308 Winchester, it has a 4-round capacity and a 1:10 twist for added stability. The stock is Hogue overmolded with a Ghillie Green finish.
5-R – The rifling known as 5-R is a step up from the conventional rifling. Standard rifling is good, but 5-R helps to reduce projectile deformation, and provides higher degrees of accuracy, comparatively. Model 700 has several 5-R variants: Stainless Threaded Barrel, Mil-Spec, and Gen 2. All of these are an upgrade from the regular models, and are also priced accordingly with a MSRP of over $1,400.
700P (Police) – The law-enforcement model, equipped with a 26-inch barrel, a 3- or 4-round magazine capacity, and a twist of 9, 10, or 12 inches, depending on the caliber. Comes in .223 Rem, .308 Win, and .300 Win. Mag calibers. The textured H-S Precision stock is reinforced with Kevlar and fiberglass, and its bedding is made of aircraft-grade aluminum.
Military – Designated M24 (Army) and M40 (Marines), the Model 700 Military version is a sniper weapon system, chambered in 7.62X51mm NATO. In 2010, the M2010 Enhanced Sniper Rifle replaced the M24 upon which it was based, and the chamber was changed to house .300 Winchester Magnum cartridges.
Thinking about that Remington 700
.308 for Christmas. So I can train to shoot a mile #1S1K #goals pic.twitter.com/TI4f9waAEt

— Chaun (@ghostPHACEdilla) November 19, 2016
Remington Model 700 Prices
The cost of a Model 700 varies greatly. Currently, the lowest price (MSRP) belongs to the ADL 200th Anniversary Commemorative Edition, with a starting price of $695. The highest price belongs to the Tactical Chassis model, with a starting cost of $2,900. Quite a difference, eh? In between these two models are many other variants with different price tags. You could argue – and many do – over Remington's overpricing of their rifles. Although, it is important to remember that MSRP are not street prices, and that you will be able to find much lower prices in gun shops, gun shows, and in department stores which sell firearms.
I can't really provide an opinion. I think some are indeed overpriced, but there are so many Model 700 rifle types available, that it is difficult to give a solid yes or no answer. Generally speaking, Remington have earned the right to charge these prices. Whether people will pay them or not is a different story altogether.
Remington Model 700 Recall
This is a touchy subject for some, and it is the reason you may see "post recall" written on second-hand Model 700 advertisements. After many complaints of Model 700's going off without pulling the trigger, Remington changed the trigger mechanism on its Model 700's in the year 2007. Some years later, the company announced that it will be replacing triggers of units constructed before 2007, and many Model 700 owners took advantage of that option. There were reports of deaths and injuries caused by faulty Model 700 triggers, and CNBC even broadcast its famous Remington Under Fire investigative report in 2010.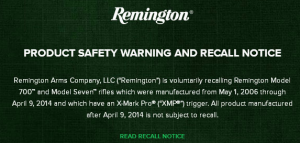 To this day, the company insists that the following was not a recall, but in the winter of 2014, Remington agreed to replace the triggers of nearly 8 million units of its Model 700. The company said this was done "to avoid the uncertainties and expense of protracted litigation". They weren't claiming responsibility or not, merely stating that they will replace the triggers of those who qualify. Even though Remington did exchange the triggers of many a-Model 700, there are still some rifles out there which may potentially carry the allegedly-faulty trigger. There is no doubt that Remington took a major hit that year, having cited user's errors and malfunctions as the probable cause of the misfiring up until then.
Remington Model 700 Accessories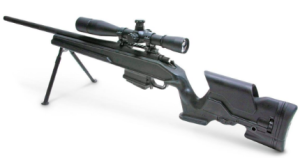 Customizing your Model 700 greatly depends on your chosen variant and its intended use. It would be impossible to list a few accessories which would fit them all. Nevertheless, there are a few key accessories which are popular.
Slings – The hunter's bread and butter. Even if you have a very lightweight Model 700, it could get plenty heavy when you carry it around all day. Adding a sling helps to alleviate some weight, get into position quicker, and stabilize your stance.
Optics, Sights – Not true for all, but many carriers of the Model 700 choose to either get a red dot or scope mounted on their rifles. Some also get backup iron sights. The reasons for wanting sights or optics are pretty clear, so I'll just say that if you are getting one of the above, get a quality one. The best one you can afford. It really matters, especially when it comes to long range shooting. A good telescopic sight could (read: should) potentially cost as much as the rifle itself, so don't let the price tags freak you out.
Stocks – Like I said, this is one of the things I would change. Again, this varies from one Model 700 to the next, but overall the stocks could use a change. Surprise! This accessory is also heavily dependent on your intended use of your rifle, and it is only you who can make that choice.
Other than those three things, it is really anything you want to add or change. Those three would be the first to modify or acquire, for me. Remember – an accessory is meant to improve a shooter's convenience and accuracy. That should be your mission when accessory shopping. Other kinds of accessories may seem badass and cool, but think about whether you will actually be using them.
Conclusion
The Model 700 is legendary, as is its bolt-action. Over its many years of existence it has remained a trusted and reliable rifle, whether used for hunting, sporting, law-enforcement, or self-defense. Approximately 20 countries use the Model 700 in its civilian, police, and military configurations, including Canada, Australia, Philippines, Israel, Japan and the U.S. The Model 700 SPS Varmint is only one of many, but I had a lot of fun shooting it, and I am sure you will, too. I really hope to get my hands on another Model 700 soon. More Remington reviews coming up!
Want to learn about other excellent rifles? Check out our Ruger SR-22 and Mini-14 features, as well as our FN FAL and Kel-Tec Sub 2000 reviews – right here at Gunivore!