Named after the year it was made (1987), the 11-87 was brought to life because Remington wanted a bigger, more powerful alternative to the Model 1100. They certainly succeeded, producing this semi-automatic, auto-loading, all weather firearm that has become a staple in the long-gun world. This long gun works fast and smooth, making it ideal for both new shooters and experienced, long time hunters who appreciate quality over all else. There have been several variations of the 11-87 released over the years, from some different camos to a police edition. If you need a shotgun for home defense, skeet shooting, or a hunting trip, look no further than the Model 11-87 – one of the finest firearms around, period! Here in our Remington Model 11-87 tactical shotgun review, we will cover the history and performance of this gun, and more. Read on!

Remington Model 1187 Specs
The 11-87 has a couple of different models and each of those has slightly different specs. There's both 12 and 20 gauge options. The barrels on the 12 are 28 inches as opposed to the 20 gauge where they are 26 inches. You can also decide if you would like 2 ¾ in. or 3 in. barrel width. The specs for 11-87 generally break down as follows, overall:
Gauge / Bore: 12 Gauge, 20 Gauge.
Weight: 8.25 lb (3.7 kg) with 28 inch (710 mm) barrel.
Barrel Length: 14 inches (360 mm) to 30 inches (760 mm).
Barrel Type: Vent Rib Rem Choke Mod.
Sights: Dual Bead.
Receiver Finish: Varies Depending on Variant.
Length of Pull: 14 inches.
Drop (Comb): 1 1/2 inches.
Drop (Heel): 2 1/2 inches.
Length: 34 inches (860 mm) to 50 inches (1,300 mm).
Magazine Capacity: 4+1.
Action: Semi-Automatic.
Remington Model 1187 Build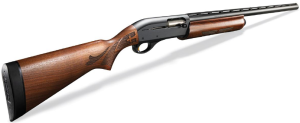 There are certain commonalities between all of the models and variations of the 11-87 that come standard and give the shotgun its character. For example, the extended rubber stock that helps reduce recoil and the packerized finish. They are made with a steel receiver, making them incredibly strong and durable. There is still a lot that isn't consistent on all of the different variations and most of these are noticeable on sight. The tactical and police versions all have a matte, polymer stock and an all-black finish. We will go more in depth about the police version in its own section. 11-87 shotguns are also exclusively gas-operated autoloaders, an essential element of this very successful design. Dual bead sights, a vent rib, a one-piece two-pin trigger group, semi-automatic firing, and a cross-bolt safety round out the essentials, adding up to a build that is known most primarily for its reliability and performance.
Remington Model 1187 Shooting and Performance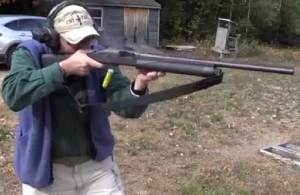 Performance trumps all, and it's the excellent performance of the Remington 11-87 that has made it such a popular and successful shotgun. The gun is incredibly easy to shoot, and thanks to the butt pad there is reduced recoil as compared to previous Remington shotguns and models. The ideal range for the 11-87 for home defense is no more than 15 meters, in my amateur opinion. The 11-87 a great job with clay, trap or skeet shooting and if you are looking for one to learn on, try the youth version. It's known to be accurate and rare to jam, making the 11-87 your friend in a situation where neither of those are fun. From a defensive standpoint, using #1 buckshot and a 20 gauge would do a great job, and as such is my preferred formula with the 11-87.
Another element of the 11-87 that makes it so easy to employ and fire for most people is the fact that it is so easily mounted. Regardless of size, men and women of all kinds will have no trouble handling the 11-87, regardless of variant. Thanks to the short length of pull of the gun, motioning to a shooting stance from a prone stance is a quick and easy process – this also makes re-loading and readying the gun a breeze. Finally, what makes the 11-87 such an easy-to-fire and accessible gun for novices and experts alike is the fact that it is so low-maintenance and easy to care for. Personally, I've owned my 11-87 Sportsman Field for a couple of years now and I've only given it a thorough cleaning once. Despite this, the gun performs as admirably for me today as it did when I first unboxed it. Additionally, the 11-87 is about as easy a shotgun to disassemble as you're going to find. The helpfulness of this cannot be understated, especially when dealing with homes that require regular disassembly of firearms for the sake of safety.
Remington Model 1187 Magazines and Sights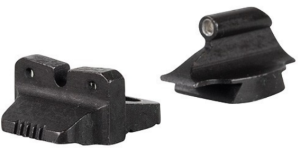 We're dealing with pretty straightforward stuff with the magazines of the Model 11-87 and its numerous variants. Depending on your exact model and accessories utilized, you could be dealing with a magazine capacity of anywhere from 5-10 rounds – the Remington 11-87 police model is going to accept more rounds than the standard issue 11-87, for example. This falls pretty much in line with your standard shotguns, including many of the shotguns we've covered here at Gunivore such as the Benelli M2, M4, Nova, Super Nova, Super Black Eagle I and II, and Super Vinci. The Kel-Tec KSG is actually capable of accepting up to 15-rounds, but that's a special shotgun whose standards are not generally taken into account.
I'm a big fan of the dual bead sights employed by the 11-87, but the bottom line when it comes to sights is that there are no universal crowd pleasers. Now, given that this is a shotgun we're dealing with, the significance of the stock sights is obviously diminished – this is not a 'make or break' area of importance by any means. However, with that being said, the sights of the 11-87 do in fact matter, and are something to take into account when purchasing. I would recommend looking into alternate sights if you're seriously considering the 11-87, as plenty of third party-made sights are in fact available. If the dual beads don't get it done for you, you can likely find sights that do.
Remington Model 1187 Safety and Assembly
Gun safety, and in particular shotgun safety, are subjects which we take very seriously here at Gunivore. We're proud to endorse the Remington 11-87 for its attention to safety – a factor that should not be weighed lightly by prospective buyers. The cross-bolt safety can't be reversed from a right-hand setup to a left-hand setup, but we find that it works admirably and comfortably under either circumstance, regardless. The action release button is located on the underside of the gun which makes for much safer operation, and shooters are less likely to accidentally engage the button when handling the gun – these are the kinds of attention to detail in build and design that make the 11-87 such a safe shotgun. Again, after many months of use and hundreds of rounds fired, I've had no issues in terms of safety when firing or using the 11-87, and this is almost always the experience that 11-87 users will find. You don't build up a sterling reputation in the gun world without some substance to back you up – substance that Remington has got in spades.
12 Gauge Super Magnum vs 20 Gauge
One of the more popular variants of Remington 11-87 Tactical Shotgun's available is the Super Magnum, a 12-gauge shotgun. Now, 12-gauge shotguns are the straw that stirs the drink of the shotgun community, and for good reason. The most popular shotgun gauge, the 12-gauge is optimized for most areas of use, thanks to its large bore, ease of use, and accessibility. It takes serious impact to knock the top dog from his perch, and no new shotgun gauge development or entrant has been capable of putting a dent in the 12-gauge. Now, that's not to say that the 20-gauge is not without its place. Although it takes 20 balls of the diameter of a 20-gauge shotgun to equal 1 lb. (versus 12 balls in a 12-gauge), the gauge is ideal for a number of different kinds of hunting (in instances in which preserving meat is vital). Additionally, newer shooters and those who might find themselves struggling with the weight and recoil of the 12-gauge are likely to favor the 20-gauge. As always, do your research, and choose whichever works best for you.
Great job! #RemTurkey RT @jbrooks9999: @RemingtonArms second turkey. Taken with my 1187 super mag at 50 yards pic.twitter.com/qWbe0xbc

— Remington Arms (@RemingtonArms) April 25, 2012
Remington 1187 Police Use

The Remington 11-87 made for law enforcement doesn't mess around – the variant takes the original 11-87 formula and throws in some nifty tweaks, giving us a shotgun that is ready to make sure citizens play by the rules. Now, you may be asking yourself what practical application this information has for a typical consumer. The answer is, who knows?? Regardless of your interest, the 11-87 police edition is a great shotgun, featuring synthetic stocks and fore-ends, a parkerized metal finish, improved rifle sights, and 14 inch and 18 inch interchangeable barrels. The number one effect felt is that of the ordnance-grade steel build: this thing will take a beating and keep on keeping on, time and time again. The rest of the bells and whistles are nice – remember the sight subjectivity we mentioned earlier? – but what this really comes down to is officers having the pleasure of using such a sturdy, well-built shotgun.
Remington Model 1187 vs. 1100

Make no mistake, the Remington 11-87 and 1100 are fairly similar, and in fact the 11-87 draws much of its design inspiration from its predecessor. However, there are a number of practical differences between the two shotguns which break down as follows:
The Model 1100 can shoot only 2 3/4 inch or 3 inch shells, depending on the barrel installed.
The Model 11-87 featuring magnum barrels is capable of shooting 2 3/4 inch and 3 inch shells interchangeably.
The Model 11-87 shotgun has a longer barrel extension than the 1100.
The gas cylinders of the two shotguns are welded in different places.
The Model 11-87 features two gas orifice holes, while only 1-2 active 1100 models feature two gas orifice holes.
Remington Model 1187 Accessories and Camo

Ah, accessories. I always say that you own a gun as soon as you buy it, but the gun truly becomes yours as soon as you purchase and equip your first accessory, or make your first modification. Thankfully we live in a world that is filled with a number of accessories for any moderately popular gun, with the Remington Model 11-87 proving no exception. Firstly, a word on camo: A number of Model 11-87 variants do come in different colors, textures, skins, and camos, but this is a feature that can be easily altered to your hearts content. Do not make purchasing decisions based on camos! Now, back to accessories: here are some of the very best and most useful accessories for the Model 11-87, as chosen by the Gunivore staff. (Remember: buy accessories that are suited to you and your needs – not someone else, and not because you think they look cool!).
Conclusion
I could talk (or write) for hours about the benefits and virtues of owning a Remington Model 11-87 Tactical Shotgun. Truth be told though, the 11-87 does a much better job of selling itself than I ever could. I highly encourage interested buyers to head down to their local range to give the 11-87 a test drive for themselves. I'm confident that after some quality time alone with this beauty of a shotgun, your decision will be an easy one – you can't go wrong owning this gun.
Want to read more about Remington? Check out our R51 Pistol and Model 700 Rifle reviews – right here at Gunivore.