Shotguns are among the most distinguishable firearms around, and none may be as recognizable as the Franchi SPAS-12. Whether you know it from the Terminator or Jurassic Park movies or from pretty much any shooting game in the past thirty years, the SPAS-12 is one of the most well-known shotguns in the world. Originally, Franchi distributed the Spas-12 for military and law enforcement, but they eventually went on to offer it to civilian as a sporting weapon. Primarily designed for combat, it excelled as an anti-riot gun due to its rapid-fire, accessorizing ability, and capacity to fire non-lethal ammo.
Although the Spas-12 is still used around the world by military and police, it didn't last long as a civilian weapon. Although quite intimidating, the Franchi shotgun proved to be too awkward to be a practical hunting or competition shotgun. Furthermore, the United States eventually banned the Spas-12 as a result of its "militaristic" design. This blow to Franchi's sales in addition to its limited market prompted them to end production of the Spas-12 in 2000, ending its two-decade reign. However, its influence and notoriety carried on, especially after Franchi went on to craft the Spas-15, which we'll get to later. In today's Gunivore review, we're going to be breaking down the historic Spas-12 and see how it became one of the most renowned shotguns in the world.
While you're here, don't forget to read up on the reemerging brand behind the Spas-12: The Franchi Firearms Company!
Spas-12 Specifications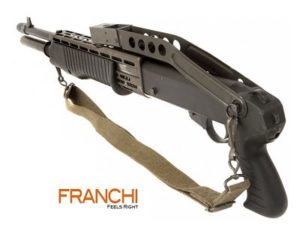 Model: Franchi SPAS-12
Caliber: 12 Ga
Capacity: 8
Type: Semi-Automatic / Pump Action
Barrel Length: 21.5"
Overall Length: 40.98"
Weight (Unloaded): 9.7 lbs. (4.40 kg)
Sights: Iron Sights
Cost: Approximately $1,500
Spas-12 Build & Construction
Although the Franchi Special Purpose Automatic Shotgun (SPAS-12) was offered in several configurations, its basic design is immediately noticeable. The first thing most people spot on these shotguns is their folded metal stock. However, Franchi also manufactured the Spas-12 with detachable wooden and synthetic stocks. That being said, you could easily argue that the forend handguard that envelops most of the tube magazine, was its most distinguishing feature.
As a combat weapon primarily, the Spas-12 was commonly fired from the hip. As a result, sights were optional and somewhat uncommon. However, users who preferred a standard sight system had the option of a rear aperture iron and front blade sights.
In one of their more unusual attempts at improving the Spas, Franchi offered a metal butt hook attached to the rear of the stock. They had hoped that this would boost its one-handed shooting ability, but it proved to be impractical considering the Spas' heavy build and powerful recoil.
Unlike most shotguns on the market, the Spas-12 featured two safeties. The first option was a push button safety which Franchi ultimately had to recall. The malfunctioning of these lever safeties took a big hit to Franchi's sales and reputation which took a while to recover from. The second safety on the Spas-12 was a quick employment safety which disconnected the trigger while in safe mode.
Spas-12 Performance & Operation
One of the most special functions of the Spas-12 was its ability to seamlessly switch between pump action and semi-automatic. Consequently, the Franchi could fire up to four rounds a second! Just think about that for a moment … it should now make sense why the Spas-12 was so successful as an anti-riot and breaching shotgun. Although the Spas could fire many different rounds, it was really only reliable for low-pressure ammo in 2 ¾" shells. All things considered, the Spas-12 was an incredibly powerful, reliable, and intimidating firearm.
Magazines for the Spas-12
As a combat firearm, Franchi wanted to offer several magazine extension tubes for a variety of tactical situations. Consequently, they manufactured 5, 6, 7, and 8 shell tubes for the Spas-12. Franchi also incorporated the not so common magazine cut-off feature on their shotguns as an added safety measure. The benefit to the mag cut-off is that it allows the shooter to unload the chamber and change loads without having to cycle a shell from the mag. This can be useful when hunting different animals or in riot situations when switching between lethal and non-lethal rounds.
Spas-12 Accessories & Other Aftermarket Options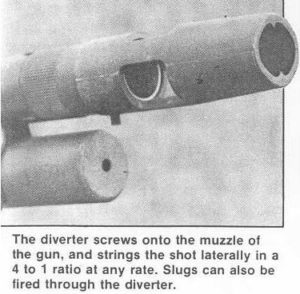 Even though the Franchi Spas-12 was already pretty decked out, the Italian shotgun was designed to accept tons of aftermarket options. Besides for the externally threaded barrel, they also produced a bunch of different chokes intended for specific purposes. One of the most popular accessories for the Spas-12 was the importer-supplied diverter which spread the Spas-12's shot pattern horizontally. Lastly, after looking through old weapon magazines, I found tons of pictures of the Spas-12 with a Weaver-style scope mount and outfitted with simple reflex sights. I don't particularly understand why somebody would attach an optic but to each their own.
Spas-15 Overview
Even before Franchi discontinued their revolutionary Spas-12, they had already begun to develop the Spas-15. And while this new and improved shotgun shares many features with its predecessor (dual firing modes, folding stock, pistol grip), there are a few key upgrades. Arguably, the biggest update on the Spas-15 is the detachable box magazine. This massive mod enables the shooter to reload in seconds compared to the slow reloading with a tubular mag. Lastly, Franchi integrated a few durability-boosting materials into the components to ensure that the Spas-15 will be a long-lasting and resilient tactical firearm. While most Americans are unfamiliar with the Spas-15 due to its import restriction, there are almost 200 models that got into the country before the ban.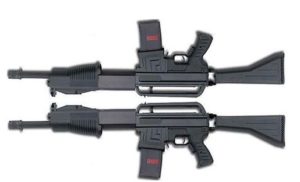 Model: Franchi SPAS-15
Caliber: 12 Ga
Capacity: 6
Type: Semi-Automatic / Pump Action
Barrel Length: 18"
Overall Length: 39" (Stock Extended)
Weight (Unloaded): 8.5 lbs. (3.90 kg)
If you're in the market for a Spas and can't get a hold of one, you might want to consider adding a Benelli M3 or M4 to your collection. These similar shotguns also feature switchable actions, removable stocks, and pistol grips. However, the Benellis offer more manageable recoil and can fire more powerful combat loads. In addition to offering several barrel lengths, the Benelli line also includes a wide variety of sight options.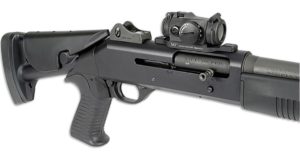 Model: Benelli M4
Caliber: 12 Ga
Capacity: 5+1
Type: Semi-Automatic / Pump Action
Finish: Federal Standard Field Drab CeraKote, Matte Black
Barrel Length: 18.5"
Overall Length: 40"
Sights: Ghost Ring
Weight (Unloaded): 7.8 lbs.
MSRP: $1,799
Conclusion
Besides for its impressive performance and specs, the Spas-12 makes a great collector's item. The Franchi shotgun is incredibly fun to shoot and will catch plenty of eyes at the range. If you're lucky enough to get your hands on one, cherish it because it's one of a kind!
If you're a shotgun-lover, you're not gonna want to miss out on our pieces on the Best Home Defense Shotguns, Shotgun Chokes Overview, & the Best Affordable Shotguns!