Shotguns have been popular as hunting weapons and stagecoach defenders for over 100 years. They will also work just fine as an ordinary home-defense firearm, but some of these models are clearly meant for the outdoors. The Mossberg 835 Ulti-Mag series of shotguns has been around since 1988, with new and improved models still being introduced, over 30 years later.

Benelli, Remington, Mossberg, and others – they make quality shotguns. I personally have had an affinity for them. Naturally, not every shotgun is one to write home about, but some out there do deserve more focus. You can call this a 835 Ulti-Mag appreciation post.

But before we get into the 835 series, let's see what else Connecticut-based Mossberg has been up to lately.

New Year, New Mossberg

2019 marks Mossberg's centennial. An entire century has gone by since O.F. Mossberg & Sons first set up shop in March of 1919. Over the last 100 years, Mossberg has done a fine job of solidifying its place in the top echelon of American gunmakers and making a name for itself all over the globe.
People know you can trust a Mossy.


The company has a lot planned for the final year of the 2010s, and they unveiled some new models, as well as new variants of existing models at the recent SHOT Show.
At the official Mossberg website, nearly 70 models are marked "New For 2019" in their New Products section. Some of these models have not arrived at retailers yet, but according to the company's press releases, they are slated to make an appearance soon enough.
The piece that caught many peoples' attention at SHOT Show was the MC1sc – a subcompact 9mm pistol. This weapon harks back to the first weapon Mossberg ever designed: the highly concealable, .22 caliber, 4-shot pocket-pistol they named 'Brownie'.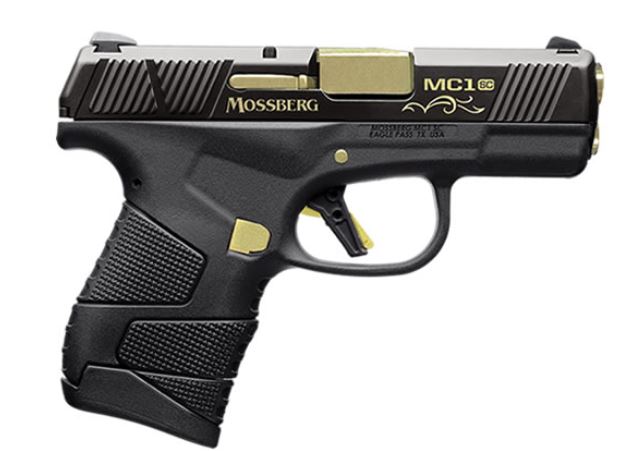 The company is currently offering 5 models of the MC1sc: standard, cross-bolt safety, TRUGLO, Viridian laser, and a commemorative centennial model (limited to 1,000 units). MSRP $412 – 686.

New versions of the ever-popular 500 model are also being made available for 2019: the ATI Tactical, Field/Deer Combo, Retrograde, and Turkey. MSRP hovers around $500. The Mossberg 500 still remains one of their most popular items, 60 years after it was introduced.

The 590 model is also getting some new models added to its list, with the Thunder Ranch, Nightstick, several Shockwave variants, and a Retrograde model of the 590A1. MSRP of the former models is between $500-600, but the 590A1 is priced at $902.


There are also new FLEX models, new International 702 and 802 models, new Patriot models, and new MVP models. The amount of models and variants which Mossberg introduces each year is something to behold.
They care a great deal about keeping up with what it is that people are in the market for, and they tailor their new releases accordingly. It seems to be working out for them because they have the market's seal of approval.
Not every company could pull that off.

And since this is a 835-centered post, I will mention the two new arrivals for this model: the Tactical Turkey (MSRP $652), and the Combo Field/Deer (MSRP $493).
Mossberg 835

The Mossberg 835 Ulti-Mag was originally designed as a waterfowl shotgun, but it remains an all-purpose, 12-gauge, pump-action shotgun, which is pretty much up for whatever task you assign to it.
This shotgun is capable of accepting 2¾, 3, and 3½-inch shells, and it delivers. The 835's build is very reminiscent of the 500 model, and the controls are also quite similar.

The stock and frame are made from synthetic materials, the receiver is high-grade aluminum, the bolt is steel. The mechanism is a manual pump action, so you are in full control of what's going on.
Gas guns have their place, but the ability to manually cycle the weapon has its advantages.


It is important to note that the 835's barrel is over-bored, which has several benefits and one clear drawback.
On the one hand, it means you will probably be able to feel less recoil. It also means that the 835 can handle 3½-inch shells with virtually no issues or failures.
If you are shooting heavy-duty magnum loads, this thing can take it. It's what it was built for.
On the other hand, you are not able to shoot slugs with the barrel, so you will have to invest in an additional barrel (if that's your thing).
Shooting 12 gauge slugs from an over-bored shotgun can cause damage to the integrity of the shot AND of the shooter, and it is not recommended to fire slugs from the 835 without the appropriate barrel change.
Some specs:

Model: 835 All-Purpose Field, 12 gauge
Chamber: 3.5 inches
Length: 46.75 inches
Barrel length: 26 inches
Weight: 7.5 lbs
Capacity: 5+1 (lower capacity with 3½ shells)
MSRP: $603

Mossberg 835 Ulti Mag

The ability to chamber more shells is something which many hunters (and home defenders) desire. The higher capacity of a shotgun does not guarantee its quality, of course, but it is still a very important variable for some.
It can play a serious role in whether or not the shotgun will be purchased.

Magazine tube extensions of different kinds are available for the 835 Ulti-mag, and they can increase your round count to 10. That is a significant increase, by any standard, and it essentially means halving your reloads.
Reducing time reloading can be crucial in some cases, though not always necessary. If you are only going to be shooting turkeys with this thing, then perhaps an extension is not something you should worry yourself with. Turkeys will usually allow a shooter to reload.

But if you have other game on your mind – or if you plan to use the 835 for home defense – then getting an extension on your 835 is a fine idea. Choate makes 7-, 8-, 9-, and 10-shot extension tubes for the 835, but keep a few things in mind: anything you add to this shotgun is also going to add weight and – more importantly – pressure.
Anything past a +1 extension increases the risk of issues popping up. Also, you will not be able to use the longer extensions with the shorter barrels. It's an 'either/or' situation.

Another thing to consider is this: if you want to increase your potential round count without investing in an extension, you can buy a saddle or side-saddle and load them up. It is probably the closest thing to an actual extension, since it makes the shells readily available (albeit not inside the tube). This will make the shells handy, but not place extra pressure on the magazine tube.

Adding pressure to the original tube via magazine extension means you need to use a bracket or clamp. By doing this, you are basically adding another part which has the potential to cause problems. The less parts you have on a firearm, the less chance there is of something failing on you.
Mossberg 835 Price

The MSRP of the different 835 variants is currently between $444-652. These are available everywhere, from online retailers to your local gun shop. In some cases, the cheaper variants can be found for under $400. Now that is a steal!

Some shotguns will set you back over $1,000, and others can come close to $2,000 or more. I am not saying that these guns are not worth the price, but I am saying that not everyone requires such a weapon.
If you are a competitive shooter, it makes more sense.
If you are a weekend hunter, you don't necessarily need one of those, and a $500-600 shotgun should be able to serve you very well.

The 835 and its variants are all perfectly legal, though you will have to adhere to federal regulations and local hunting laws. These may change with the seasons (or Presidential elections!), so be sure to consult the proper documents and authorities.
You don't want a game warden or park ranger slapping you with a fine, confiscating your shotgun, or confiscating your game. Never happened to me, thankfully, but I have a feeling that it's a great way to ruin a weekend.

Conclusion

For over 30 years, the Mossberg 835 has been serving the hunting and shooting public. It is a quality shotgun at a decent price, chambered with a large bore which increases its versatility, and it has the Mossberg 10-year warranty to back it up. Put this all together, and you get a fine choice.

There is this ongoing debate titled Remington VS Mossberg. I have never really seen the point of such debates… I mean, if these shotguns are so similar – and they can be – then leave it at that. Obviously, preference will depend on many factors beyond those which are written in the spec sheet and documentation.

The Mossberg 835 Ulti-Mag pump shotgun is still one of the finest turkey guns out there. The chokes provided with the shotgun (varies by model) will give you everything you need for a great hunting session. And if you require something else – e.g. slug barrel – there are plenty of aftermarket products to choose from. Mossberg's store has everything from slings and bandoliers to shell carriers, sights, and tools.