Table of Contents
Just because Stoeger gets left out of the conversation doesn't mean they don't deserve to be in it. Even before their big break, Stoeger was a successful firearms enterprise, but they skyrocketed once they were acquired by the Beretta Holding Group. Although the Accokeek, Maryland company is recognized more for their over/unders and side by sides, their newer semiautomatic shotguns are pretty impressive. Their most popular model is the 3500 and it's one of the best bang for your buck shotguns on the market. The 3.5" magnum, tube-fed scattergun is great for both hunting and 3-gun shooting.
I've been shooting shotguns for as long as I can remember and I've seen just about everything. I've handled the best of the best and the bottom of the barrel, from a $25,000 Perazzi to the notorious Cobray Terminator, but I'm always in search for the newest affordable shotguns. This pursuit has led me to many great products such as the Mossberg 590A1, Weatherby PA-08 Waterfowler, and most recently, the Stoeger M3500.
Stay tuned for today's Gunivore breakdown of Stoeger Industries' semi-automatic 3000 to see if it's right for you! But first, I recommend checking out our assessment of the entire Stoeger Industries Company to get a better picture of the past, present and future of this up and coming shotgun manufacturer.
Stoeger M3500 Specs
Model: M3500

Caliber: 12 Gauge

Capacity: 5+1

Barrel Length: 26"

Overall Length: 48"

Length of Pull: 14-3/8"

Finish: Realtree APG

Weight: 7.65 lbs.

Sights: Red-Bar Front

MSRP: $779
Stoeger M3500 Build
The ingenious engineering behind Stoeger crafted the M3500 to be incredibly versatile and dependable. Keep in mind that since Stoeger is owned by Benelli/Beretta, it's gonna feature many higher-end components and technology common in those premium shotguns.
While most of their build is pretty standard, including their polymer buttstock, solid rubber recoil pad, fair grip, and crossbolt safety, there are a few pleasant surprises.
Stoeger's popular hunting companion differs from many other shotguns because it features its recoil spring on the mag tube as opposed to in the buttstock, making it simpler and cheaper. Similarly, its simple build and Inertia Driven bolt system make the 3500 ultra-reliable. Besides for cutting out excess weight, this Italian innovation keeps the gun clean, easy to strip, and fail-proof.
I was really surprised to find the impressive choke system shipped with the Stoeger. Besides for its tapped barrel, which offers quick choke swapping, they provide each 3500 with four chokes – – improved cylinder, modified, full, and extra full turkey choke, plus a choke wrench.
For dependable performance, no other 3-1/2-inch semi-auto in its price range compares to the Stoeger M3500.https://t.co/Fhvn3iLMAW pic.twitter.com/gjxOSnVXXD

— Stoeger (@Stoeger_USA) August 14, 2017
Stoeger M3500 Shooting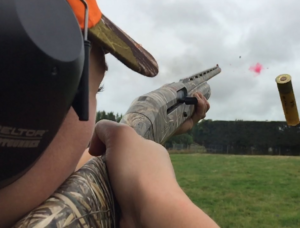 Without even addressing the M3500's accuracy, it's already clear how dependable these shotguns truly are. Whereas many duck guns designed to cycle heavy loads tend to have trouble with lighter rounds, the M3500 flawlessly cycles just about anything. As a matter of fact, arguably the best feature on the semi-auto is how seamlessly it feeds and cycles. No matter which ammo or cartridges you choose, loading shells into the 3500's tube is fast and easy.
You can check versatility off the list.
Note that it's important to get about 100 rounds through this Stoeger to break it in before using it in the field for hunting. Since it's primarily used as a waterfowl gun, Stoeger built the M3500 to handle a decent amount of abuse, especially by water. Nevertheless, these budget guns are also highly effective at upland game and wild turkey hunting.
Lastly, with the addition of a ventilated rib and red/green fiber-optic front sight, the Stoeger works great in all light conditions.
Stoeger M3500 Accessories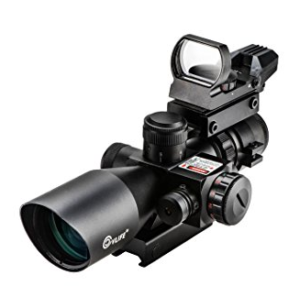 With all the money saved by choosing the M3500, many Stoeger shooters opt for decking out their shotgun with all kinds of accessories and attachments. In addition to SteadyGrip stocks, improved recoil pads, and slings, I've seen folks upgrade their grips with grip tape on the forend, especially for waterfowl hunting.
The 3500's receiver is drilled and tapped for a weaver rail for easy optic attachment, which is good news for turkey hunters. In general, you can't go wrong with a Bushnell and their Trophy Shotgun Scope with Circle-X Reticle 1.75-4 x 32mm is a fantastic choice. On the other hand, to keep things affordable, check out the CVLIFE Hunting Rifle Scope 2.5-10x40e on Amazon for a great deal.
Stoeger M3500 VS M3000, Benelli M2, & Browning A400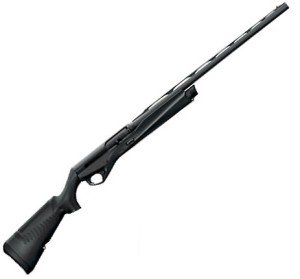 A lot of people who look at the M3500 also check out the M3000, but how do you choose which is the right one for you? On the surface, the 3000 has plenty more options for barrel length, finish, and type. However, the biggest difference is their chamber size – as their names suggest, the 3000 has a 3" and the 3500 sports a 3.5". As a result, the 3500 is a little bit more adept at field use.
Fans of the M3500 will insist that it can easily compete with shotguns twice its price, but I wanted to find out if that was really true. So I decided to test the Stoeger against the Benelli M2, a $1,500 field shotgun. In addition to its lighter build, better grips, and 20 gauge options, the Benelli also features the Crio System and ComforTech buttpad which provide better shot patterns and 48% less recoil, respectively. At the end of the day, the Stoeger put up a really good fight but fell just short of the Benelli –the Benelli is just too sweet.
Conclusion
All in all, Stoeger's M3500 semi-auto shotgun is really a great gun, not just as a price point firearm, but objectively speaking. If you're in the market for a new waterfowl or upland affordable shotgun, you must check out the Stoeger.