Table of Contents
I've been shooting and reviewing some of the most iconic American weapons for a while now and I inevitably developed an affinity for many of these illustrious companies. Although greats like Smith & Wesson, Ruger, and Remington have solidified their place in my heart, it's actually Barrett Firearms Manufacturing that has impressed me the most.
In 35 short years, this American firearms producer has transformed the industry with their unparalleled powerful weapons. In fact, Inc. Magazine named Barrett Firearms Manufacturing as one of the fastest-growing privately-owned companies in America. Much of their success is thanks to their dedicated and ingenious creator, Ronnie G. Barrett. Ronnie's commitment to weapons engineering has been universally recognized, but especially in Tennessee, where his company is headquartered. He was even presented the Pioneer Award by NRA Publications which acknowledges the praiseworthy accomplishments of an individual responsible for the advancement or invention of shooting equipment. Furthermore, this award recognizes the impact which the recipient has made to the way Americans shoot and hunt.
Barrett's world-renowned firearms are used by nearly all types of shooters, including civilian sport shooters, military, and law enforcement. As a matter of fact, their legendary guns are supplied to an astounding 73 militaries around the world! Additionally, Barretts have played important roles in conflicts and wars ever since the late 1980's when the U.S. Military purchased a significant amount of Model 82A1s for use in the Gulf War. At around the same time, the IRA turned to the M82 for use in their sniper campaigns against the British Armed Forces. This rifle was so instrumental to their efforts that it completely turned the tides in their fight against the Brits. These guns have influenced countless battles even in the most unlikely of places. In point of fact, I remember a few of my friends from Serbia expressing their disdain for Barretts; apparently the Bosnian Army kicked a ton of Serb ass in the Bosnian War by using these guns.
In this Gunivore comprehensive review, we're going to be putting Barrett Firearms Manufacturing under the microscope and explore their outstanding history and lineup of products.   
Barrett Firearms HISTORY
Barrett Firearms has achieved in 35 years what some companies haven't even come close to in over 100!
Although Barrett's sales didn't really kick off until the late-80's, Ronnie began developing the first shoulder-fired .50 caliber rifle as early as 1982. It was then in 1989 when the new company got their first big break when the Swedish Government ordered one hundred of these high-powered rifles. But it wasn't until the American Armed Forces deployed troops in operations Desert Storm and Desert Shield that Barrett became an international sensation.
From that moment onward, they began to introduce new firearms every few years, including the Model 95 and Model 99. As their founder, CEO, and lead developer, Ronnie Barrett was recognized and awarded with several prestigious honors for changing the weapons industry, especially in the United States. No other small arm in history had ever been as universally acclaimed as Barretts'. Behind the ingenious design was an ingenious designer; Barrett's commitment to excellence in the industry was made clear to all when he was awarded both Exporter of the Year (Nashville Business Journal) and Entrepreneur of the Year (Ernst & Young). Eventually, the weapons pioneer was unanimously elected to the NRA Board of Directors.
Shortly after celebrating their 30th year of innovation, Ronnie named his son Chris as president of the company. Chris, like his father, had a keen eye for invention and had been the lead designer already for several years. During his tenure in this position he was responsible for designing Barrett's Model 99 and Model 98B, two of their most successful and popular guns around the world.
That's right folks, all of these incredible accolades occurred in just over a 30 year span. I hope now you can see why I'm so enamored by Barrett Firearms! Now that we've glanced into the past, let's take a look into the present and get a closer look at their current lineup of weapons.      
Barrett Firearms PRODUCTS OVERVIEW
Barrett Firearms is known for producing some of the most accurate and powerful weapons on the market, so it's no surprise to see how widespread they've become. Their decently diversified guns are used across the globe by competitive shooters and law enforcement agents alike.
We could not find the perfect hunting rifle, so we built one.https://t.co/80MomKDci0 pic.twitter.com/wpnRdxgxeW

— Barrett (@BarrettRifles) June 1, 2017
Barrett Firearms SNIPERS
It's safe to say that Barrett's sniper rifles changed the world. When discussing these incredible machines we gotta start with the one that started it all: the M82 – or the M107, as it's classified by the U.S. Military. There's so much to talk about the M82, I have no idea where to begin. This is where it all began; this is the gun that put Barrett on the map and even impacted several wars and conflicts around the world. Currently employed by over 40 militaries across the globe, the M82A1 is effective as both an anti-personnel and anti-material rifle. While not quite outdated, Barrett has since released several variants and upgraded versions of their flagship sniper, including the M107A1, XM500, and M107CQ.
Model: 82A1

Caliber: .50 BMG or .416 Barrett

Capacity: 10

Operation: Semi-automatic, recoil operated

Overall Length: 57"

Barrel Length: 29"

Weight: 32.72 lbs. (unloaded)

Sights: Fixed front, adjustable rear

MSRP: ~$12,050
Another great sniper made by Barrett is their newer M95, based on the M90 with added features and improved specs. This bolt-action is significantly shorter and lighter than the M82, but features the same insane power of the .50 BMG cartridge. While also a military favorite, it's important to note that this sniper has a capacity of only 5 rounds. One of the 95's notable features is its high efficiency 3-port muzzle brake – you really gotta see this guy in action!
Model: 95

Caliber: .50 BMG

Capacity: 5

Operation: Bolt Action Repeater

Overall Length: 45"

Barrel Length: 29"

Weight: 23.5 lbs.

Sights: None

MSRP: ~$7,300
Next on this list is one of Barrett's most interesting sniper rifles, the Model 98B, originally designed by Chris Barrett. This unique rifle is special mostly because it fires the unusual military-designed .338 Lapua rounds. I highly recommend checking out this beast especially if you're looking to hunt big game from long distances. The M98B not only offers faster and more accurate follow-up shots, but also delivers sub MOA long-range precision. The Model 98B eventually achieved the recognition it deserved when, in 2010, it was named the Golden Bullseye winner for Rifle of the Year by the NRA.
Model: 98B Tactical

Caliber: .338 Lapua Magnum

Capacity: 10

Operation: Bolt Action Repeater

Overall Length: 49.75"

Barrel Length: 24"

Weight: 13.5 lbs.

MSRP: $4,495
Barrett Firearms SEMI-AUTO RIFLES
Although Barrett's catalog features only one semi-automatic rifle based on the AR platform, it's so sweet that there's really no need for any more options. The Barrett REC7 (reliability-enhanced carbine) is everything you could want in an assault rifle and more- packed into a compact build. To increase their semi-auto's performance, operations, durability, and style, Barrett incorporated cutting-edge technology and innovative engineering techniques. From its 6-position adjustable stock all the way to its threaded barrel, the REC7 is loaded with ridiculous features!
Model: REC7

Caliber: 5.56 NATO or 6.8mm Remington SPC

Capacity: 30

Operation: Gas Piston System; Semi-automatic or Selective Fire

Overall Length: 28.875"

Barrel Length: 11.5"

Weight: 6.1 lbs.

MSRP: $2,520
Barrett Firearms BOLT-ACTION RIFLES
Not quite a sniper, the Barrett Fieldcraft is a fantastic bolt-action hunting rifle built with the perfect balance of ergonomics, lightweight components, and high-powered shooting. Barrett kept this gun lightweight and easy to use to make it the perfect companion for those long hunting trips.  Besides for its precise operation and durable components, this Barrett is also seriously sleek and sexy. However, arguably its most impressive feature is their five short-action chamberings (.22-250 Rem., .243 Win., 6.5 mm Creedmoor, 7 mm-08 Rem. and .308 Win.) and four long-action (.25-06 Rem., .270 Win., .30-06 Sprg. and 6.5×55 mm Swede).
Model: Fieldcraft

Caliber: Varied

Capacity: 4

Operation: Bolt Action Repeater

Overall Length: 44.3"

Weight: 5-6 lbs.

Sights: None

Finish: Stainless Steel

MSRP: $1,799
Barrett Firearms MACHINE GUNS
Although the military issued M240 heavy machine gun has been around for decades, Barrett got in the action just a few years ago. The legendary 240 has been one of the most reliable weapons in military history which made it easier to overlook some of its design flaws. That all changed when Barrett shed some of its unnecessary weight (over 5 lbs.) and improved its already impressive durability and dependability. This machine gun is a freakin' beast; however, it's only available to military and law enforcement for now. Barrett used to manufacture an additional machine gun, the M468, but that's been out of commission for a few years already.
Model: M240LW

Caliber: 7.62 x 51mm NATO

Rate of Fire: 650 round/minute

Operation: Full-Automatic

Overall Length: 43"

Barrel Length: 18.9"

Height: 13"

Weight: 20.15 lbs.

Sights: Folding leaf sight with aperture and notch, front blade
Barrett Firearms OPTICS
Besides for incredible firearms, Barrett is also a manufacturer of the remarkable Barrett Optical Ranging System (BORS). This heavy-duty ballistics computer mounts directly to the riflescope and acts like a spotter, but better. The BORS enables snipers to quickly calculate the factors affecting their shot, such as air-pressure, temperature, and angles, and adjust accordingly. Fortunately for us, this advanced marksman tool is also available for civilian use in addition to the military.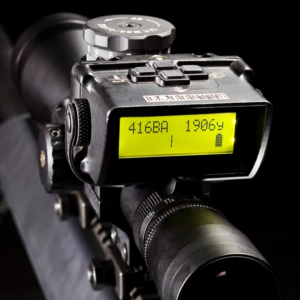 Weight: 13 oz.

Length: 2.49"

Width: 3.25"

Height: 2.49"

Battery: CR-123

Life: 30 hour minimum (with 1,500 mAh battery)

Operating Temp: 32° F thru 158° F

Operating Altitude: -1,000 to 20,000 ft.

MSRP: $1,399
Barrett Firearms AMMUNITION
Besides for designing some of the finest weapons on the market, Barrett Firearms Manufacturing also crafts several high-powered cartridges. Their most famous ammo is their upgraded version of John Browning's .50 BMG. This monster round is an American classic, which Barrett further developed in the 1980's to be an even more impressive anti-material sniper cartridge.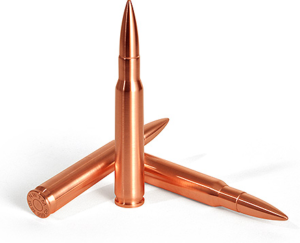 However, the .50 BMG was faced with serious opposition from American and European governments which led to the creation of the .510 DTC Europ. In response to this legal action, Barrett formed the .416 Barrett by shaving off a few millimeters from the BMG. This cartridge, designed by Chris Barrett, is just about as powerful as the .50 BMG but avoids most of the legal actions against high-powered ammo. Since these two rounds are so similar, it's pretty simple to convert a .50 BMG rifle to fire .416 Barrett; all you have to do is a quick barrel swap and you're ready to go.
Another one of Barrett's ammunition innovations was when they took the 6.8mm Remington SPC and gave it a much needed transformation. Barrett became the first major manufacturer to offer an AR-15 platform chambered with this cartridge when they released their M468 and REC7.  
Conclusion
Overall, it's hard not to be taken back by Barrett Firearms Manufacturing. They are arguably the most innovative weapons producer in the world, and in a short amount of time they've already solidified themselves as an American classic. They are committed to providing militaries and civilians with top-notch rifles and ammunition of the highest quality.