Table of Contents
The Shpagin machine pistol, commonly known as the PPSH 41, is one of the most iconic European rifles from World War II that was a staple in the Soviet Armed Forces for several decades. While the legendary submachine gun is still used among mercenaries and non-governmental militant groups around the world, its last hurrah was in the 1970's when it was used extensively by the Viet Cong. Unlike the AK-47, the Shpagin was not completely equipped to handle the harsh conditions of 20th-century warfare. Nevertheless, I think it's important that we acknowledge this gun, mostly because of its tremendous historical significance.
Specs
• Model: PPSH-41
• Caliber: 7.62x25mm Tokarev
• Capacity: 71-Rounds (Drum Mag) or 35-Rounds (Curved Box Mag)
• Barrel Length: 10.6"
• Overall Length: 33.2"
• Rate of Fire: 900+ Round/Minute
• Action: Blowback-operated (Selective-Fire)
• Weight: 8 lbs. (Unloaded)
• Finish: Matte Black
• Effective Firing Range: Up to 150 Meters (Approximately 500 Feet)
• Sights: Iron
PPSH 41
At first glance, the PPSH looks a lot like the classic Tommy Gun, with the main difference being the Soviet variant doesn't have the wooden pistol grip. Otherwise, both submachine guns stand out with their distinct combination of steel and wood components and utilization of a drum magazine. Keep in mind that manufacturing weapons was a big deal in the USSR, especially with minimal capital and serious demand. As a result, the engineering team behind the historical firearm went with, what was to them, a revolutionary production process. Since it required a tremendous amount of simple steel parts, the Soviets began using metal stamping, which saved them tons. This innovative mass production style is what ultimately enabled them to handle the intensified wartime demand. In fact, the Soviets produced approximately 1 million units per year during WWII and nearly 6 million when all was said and done. In addition to supplying their own troops, the Soviets even dispersed thousands of units behind enemy lines to outfit Soviet partisan resistance fighters.

Impressively, the Soviets were constantly modifying the PPSH's design to accommodate their soldiers. For instance, they were eventually supplied with 1mm steel drum mags since the initial 0.5mm steel drums were notoriously unreliable. However, the Soviets first switched from the drum mags to curved box mags, since they were more reliable and easier to carry. Similarly, once the engineers realized their gun was too hard to control they decided to change up the design instead of adopting a smaller caliber. Accordingly, they crafted an extended barrel shroud that essentially functioned as a muzzle brake and actually worked wonders for improving shot grouping and overall accuracy.
The Soviets clearly intended the PPSH to be the AK-47 of close quarters combat, which is evident in its exceptional low-maintenance and durability. Surprisingly, they incorporated a chrome-lined bore, which is probably how they've been able to function for so long. Nevertheless, nearly everyone complained about the awkwardness of carrying and firing the submachine gun, especially when loaded with those cumbersome drum mags.
PPSH 43
While the 41 gets all the attention, we can't ignore the remarkable PPS 43. The Red Army put in a request to make the 41 more compact and the PPS 43 was the fantastic outcome. Nonetheless, you'd have troubling figuring that out since these two submachine guns look so different from each other. Yet, it's these major changes that made the PPS 43 such an extraordinary firearm. For starters, the Soviets made the PPS 43 extremely simple and reliable, so much so that there were several multi-functioning components.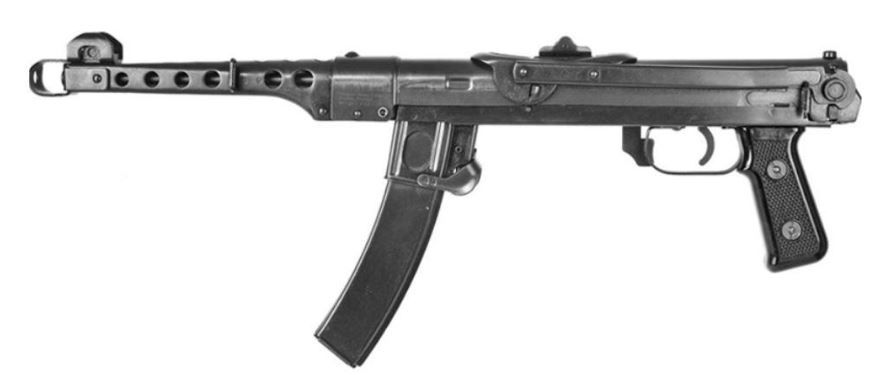 • Model: PPS-43
• Caliber: 7.62x25mm Tokarev
• Capacity: 71-Rounds (Drum Mag) or 35-Rounds (Curved Box Mag)
• Barrel Length: 10.6"
• Overall Length: 24" Stock Folded / 32" Stock Extended
• Rate of Fire: 600+ Round/Minute (Cyclic)
• Action: Blowback-operated
• Weight: 6.7 lbs. (Unloaded)
• Finish: Matte Black
• Effective Firing Range: Approximately 120 Meters (400 Feet)
• Sights: Fixed Blade Front / Flip Rear Iron
Conclusion
At the end of the day, few firearms can boast as much historical significance as the PPSH 41, especially foreign ones. Likewise, while it may not be anything spectacular today, we can't ignore the importance and innovation that it offered when it was first manufactured. I may be a stickler, but I still rather have a Tommy over one of these Soviet guns any day.
We hope you enjoyed the Gunivore feature on the classic PPSH
Don't forget to follow us on Facebook for more in-depth firearms reviews and news!