Table of Contents
Flashbang is a small family business run out of Oklahoma that is quickly building quite a reputation in the firearms community. Because more and more Americans are choosing to carry a concealed firearm, including a major surge in female gun owners, holster manufacturers are popping up left and right to meet the increasing demand. Nevertheless, few of these companies focus on niche groups quite like Flashbang, who aims to provide women with practical and comfortable holsters. Lisa Looper, the founder of Flashbang Holsters, experienced first-hand just how difficult it was to find a holster designed with women in mind. As a result, she hand-picked a group to manufacture holsters for women, by women. Join us as we take a closer look at this rising company and their top selling products.
Flashbang Bra Holster
Flashbang Holster's most popular item has got to be their famous bra holsters, which are custom fit for over a dozen brands and close to 100 different firearms. In addition to offering their holsters customized to fit your CCW and draw hand, these holsters also come in a wide variety of strap and kydex colors. These highly rated bra holsters were designed to be perfect for women of all shapes and sizes who want to safely conceal their weapon without sacrificing their looks, comfort, or flexibility.

Flashbang Bra Holster Demo Video

Flashbang Bra Holster Glock 43
The Glock 43 is one of the most popular choices for concealed carry, especially among women. Besides for its powerful yet manageable 9mm cartridge and aggressive texturing, the G43 is incredibly lightweight and ergonomic. I was thrilled to see Flashbang's options for the Glock 43, especially since it's my mom's choice of CCW. Since there are only a few things in the world which my mother loves more than purple, it was a no-brainer for me to buy her the Royal Purple Set, which she now proudly carries every day.
Flashbang Capone IWB Holster
Unlike their famous bra holster, the Capone IWB Holster was designed with both men and women in mind. These popular holsters offer users a pretty nice set of options, including thread, suede, and kydex color, draw hand, gun fit, and even leather type. While many companies are choosing between leather and plastic, the Capone Holster is a beautiful blend of fine leather and durable thermoplastics. In addition to enabling users to adjust tension, cant, and depth, these holsters are surprisingly flexible and provide light and comfortable carrying all day long.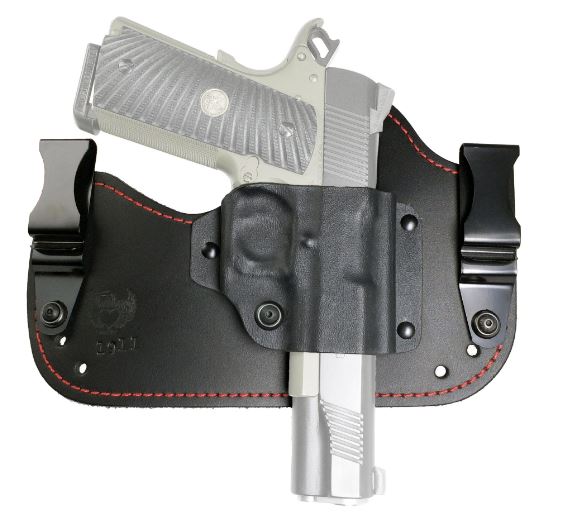 Conclusion
Flashbang Holsters may not be the best on the market, but they are definitely worth your consideration, especially if you're one of the many women concealed firearm carriers. More and more women are choosing to carry, so it's nice to finally see companies address this fact and provide them with the necessary tools for safe and effective carrying. Besides for these options, the Oklahoma-based manufacturer offers a few other solid accessories and holsters for you to consider, most of which have garnered incredible reviews.
Thanks for joining us at Gunivore!
You may also be interested in our piece on The Top Handguns Popular With Women