Bullpup firearms have come a long way since their debut over 50 years ago. These non-traditional designs are mostly utilized in foreign rifles, though they can be found in all sorts of firearms around the world. In fact, there are now shotguns, sniper rifles, and pistols. While many people prefer a more classic style, several high-profile militaries have adopted these rifles, such as Russia, Israel, Belgium, Australia, France, and the United Kingdom.
The primary motivation behind the bullpup design was to give users a tactical advantage thanks to significantly decreased overall length. In practice, these firearms provide shooters with a full-length rifle barrel compacted into an SMG build. Likewise, bullpups are designed to be held closer to their body, ultimately saving stamina and giving shooters faster response times. Let's move on and take a closer look at some of the best bullpups available on the market. Keep in mind that we are taking price, versatility, availability, and overall performance into consideration.
PS90
FN Herstal is one of the finest European firearm manufacturers and the PS90 is a great example of their engineering prowess. FN understood that SMGs offer tremendous tactical advantages and quickly decided to lead the way. The niche firearm is completely ambidextrous and chambers the equally innovative 5.7x28mm cartridge. Overall, the PS90 is remarkably ergonomic, particularly in light of its low weight build, reduced recoil, and intuitive control system.

Caliber: 5.7x28mm
Capacity: 10 or 30 Rounds
Barrel Length: 16"
Overall Length: 26.23"
Weight: 6.3 lbs.
Finish: Matte Black
MSRP: $1,449
IWI Tavor
The Israeli Tavor (also called the X95) is one of the finest pistol caliber carbines money can buy. In addition to becoming on the fastest selling rifles in America, the Tavor is one of the most reliable and user-friendly bullpups in the world. I've spent considerable time in Israel interviewing Israeli soldiers who use the Tavor and they all seem to love it. It's considerably smaller, lighter, more accurate, and more customizable than the M16s and M4s they used to carry. On the whole, these rifles offer unmatched tactical benefits perfect for home defense, so get yours now.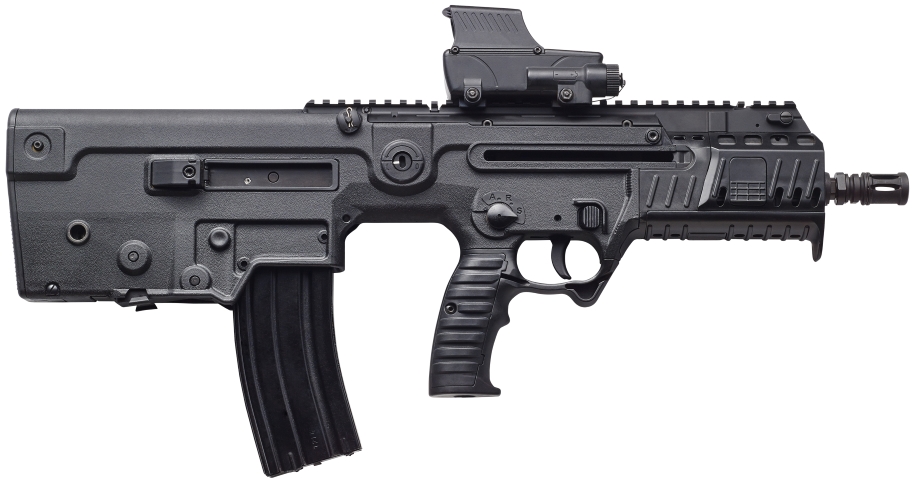 Caliber: 5.56x45mm NATO
Capacity: 30-Round Detachable Box Magazine
Barrel Length: 16.5"
Overall Length: 26.2"
Weight: 7.4 lbs.
Finish: Matte Black
MSRP: Approximately $2,000
Kel Tec KSG
The Kel-Tec KSG is arguably one of the most innovative firearms on the market. The American gunmaker crafted their premier bullpup shotgun with ergonomics in mind, though it's no slacker when it comes to performance. As one of the most impressive tactical shotguns in the industry, fans of the KSG love the high capacity, compact size, and intuitive control system.

Caliber: 12 Gauge
Capacity: 6+6 (3" Shells)
Barrel Length: 18.5"
Overall Length: 26.1"
Weight: 5 lbs.
Finish: Matte Black
MSRP: Approximately $990
Steyr AUG
Most people tend to think of Glock when it comes to Austrian firearms, but Steyr is no small fish. Steyr has been manufacturing premium guns since 1864 when it released the breech-loading military rifles, but their bullpups have since become their flagship weapons. The Steyr AUG has garnered a lot of attention thanks to its ability to accept tons of accessories, quickly change barrels, and provide excellent control. Overall, the ambidextrous-friendly Steyr AUG is probably the most recognizable bullpup in the world, though it could use a modern update.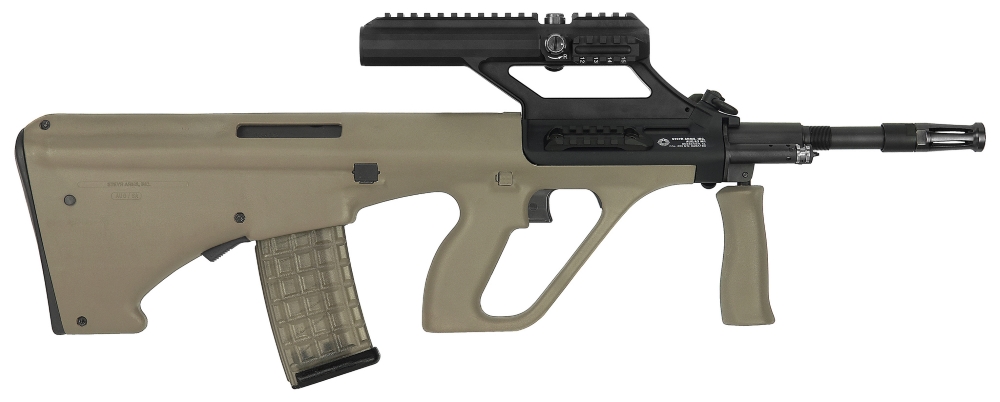 Caliber: 5.56x45mm NATO
Capacity: 30-Round Detachable Box Magazine
Barrel Length: 16.4"
Overall Length: 28.15"
Weight: 7.7 lbs.
Finish: Green NATO
MSRP: $2,140
FN F2000
FN never ceases to impress. They eventually decided to up the ante from their PS90 and launched the F2000 bullpup rifle. The innovative nifty rifle utilizes a gas-operated rotating bolt and forward cartridge casing ejection to provide users with its renowned accuracy and user-friendliness. The fully-ambidextrous rifle is common in video games and movies, though it's become quite popular in the real world too, especially among law enforcement and special forces.

Caliber: 5.56x45mm NATO
Capacity: 30-Round Detachable Box Magazine
Barrel Length: 17.4"
Overall Length: 29.9"
Weight: 7.8 lbs.
Finish: Matte Black
MSRP: Approximately $2,779
Conclusion
Bullpups hit the market with a bang and have since developed faster than expected. These innovative firearms can now be found in the hands of law enforcement, militaries, and civilians all around the world and for good reason. Bullpups offer tremendous user-friendly performance that is both remarkably accurate and ergonomic. While there are plenty of excellent options to choose from, we believe this is just a sampling of what's out there. That being said, thanks for joining us here at Gunivore and let us know your favorite bullpup in the comments!
You may also like our Top 5 Gun Guy Action Movies!