There is a long-standing debate – that some engage in, anyway – surrounding the AR15 and the AK-47. Or rather, the ongoing debate is with regards to their respective traditional calibers – 5.56x45mm and 7.62x39mm. No judgement or ruling on my end. I have my preferences, but I know that fans will be fans and haters gonna hate. To each his own.
There is a third cartridge which has more recently been introduced to the fray, and that is the .300 ACC (Advanced Armament Corporation) Blackout 7.62x35mm, also known as 300 BLK or 300 AAC Blackout, which was first developed in 2009. This is an overview of this relatively new and interesting cartridge.
300 ACC Blackout
The 5.56mm is a fast-moving and accurate round. The Soviet 7.62 is heavier and more durable. Many armed forces around the world worked (and continue to work) on creating a cartridge which could truly be called 'combat optimal'. A cartridge which embodies the best of both of those worlds, and which could also be used with a suppressor.
The 300 BLK was initially developed for use with the M4 (the newer and lighter version of the M16). The idea was to utilize the existing AR15 system and magazines, but provide them with a cartridge which packs a punch similar to that of the Soviet 7.62x39mm, and which also shares more of the 7.62's ballistic characteristics.

With close-quarter combat and intense urban warfare becoming more of the norm, the U.S. Army was looking for a round which could potentially replace the 5.56mm cartridge. it was Remington Defense which answered that call, along with the AAC. That was their goal, anyway, when they set out to develop a new cartridge in 2009. Using the 300 Whisper as a basis for their design, they produced the .300 AAC Blackout, and in 2011 they standardized it.
When companies and individuals were experimenting with cartridges closer to the 7.62x39mm, they found that the AR15 platform was not up to the task. There was trouble with pressure, with feeding, and with the resulting strain and wear on the rifle's inner organs. While there are AR15s which can fire a Soviet 7.62 cartridge, those were not the kinds of rifles which the U.S. military wanted to deal with. Those ARs don't perform as well, by and large, and the Army was after something with better functionality.
Nowadays, the cartridge is becoming steadily popular. Hunters, Second Amendment enthusiasts, and military groups/forces are all becoming more interested in the 30 BLK. Like any cartridge, it has benefits and drawbacks. Nobody is saying this is that optimal round that AAC were hoping to create. On the other hand, there is no denying that it has had a substantial impact on the world of rifle cartridges ever since it was introduced less than a decade ago.
To be clear – I have no doubt in my mind that some of this success has to do with Remington/Freedom Group's well-oiled marketing machine. Nevertheless, there is merit to it, maybe a lot of merit. I mean, if the cartridge didn't deliver on its promise, at least to some percentage of the shooting population, it would have been collecting dust on shelves and would eventually be taken off the market. That's business.
As for the future of this cartridge: so far, the 300 Blackout has seen limited action in the U.S. Armed Forces, but there is talk of conversions being done to the older M4 units, and it was made known that in 2017 SOCOM was looking to get more involved with the 300 Blackout.

300 Blackout Ammo
Over 100 companies make cartridges and/or loading components for the 300 Blackout. Here are some of the brands which have been receiving praise from 300 AAC Blackout shooters. Your mileage may definitely vary, depending on your activity: it could be hunting, plinking/training, home defense, what have you.
Hornady – Available in a variety of grains and also with subsonic capabilities, Hornady has its own Hornady BLACK series dedicated to 300 BLK, and it also sells 300 Blackout cartridges within its American Gunner and Custom series.
Remington – Obviously, one of the more popular brands is also the brand that helped the cartridge emerge in the first place. Big Green offers match grade, copper jacketed, and several grain loads to choose from, in supersonic or subsonic.

Winchester –Like the previous two brands mentioned, Winchester has also produced different variants of the 300 Blackout cartridge. Subsonic, supersonic, deer season-oriented, training/plinking-oriented, and more.
When you come down to it, this is a highly versatile cartridge. This is part of why it is gaining so much attention. In some situations, you could claim there are better kinds of ammo, sure. And you won't be wrong, either. But overall, the 300 BLK is good for many practical applications.
300 Blackout Hunting
This question comes up often when the 300 BLK is mentioned: yeah, but can you hunt with it? My immediate response to that – and similar questions – is yes. Yes, you can. But just because you can, doesn't always mean you should. I often think of Chris Rock, who said you could drive your car with your feet if you wanted to, but that doesn't make it a good idea!
The most important thing to remember about hunting – in my opinion anyway – is that no matter the range, no matter the weapon, no matter the cartridge, no matter the clothing… it is the operator who is in charge. If you know where to place your shot, the animal will go down, period. You can go into debates over ethical harvesting, etc., but the point remains. "One shot – one kill" is not a saying reserved for snipers, assassins, and Call of Duty players.
While it is not a simple "good or bad" "yes or no" question and answer, there are indeed rounds which will give you more of an edge in the field. Shooting supersonic rounds can provide you with a longer viable range and greater punch. The 300 BLK's ability to work with 223-based hunting rifles is another thing which adds to the cartridge's versatility and desirability.
Some states have unique restrictions, so you'll need to do your research as always, but overall, you can say that the supersonic 300 BLK cartridges (or at least some of them) were manufactured with hunting also in mind – like Winchester's Deer Season series. At some point, I read an article which said that the 300 BLK is quickly becoming the next go-to deer cartridge. Could be. Time will tell. It is certainly continuously drawing attention from civilian and military folk alike.

300 Blackout Ballistics
A 5.56-like bullet with the ballistic capabilities of a 7.62-like bullet, shot out of a short and/or suppressed barrel – this, or something close to this, was probably the idea that was guiding the designers of this round, ballistically-speaking. With the 300 Blackout, you are able to use it to great effect in suppressed or CQ situations. You can fire this round out of a much shorter barrel, without compromising its ballistic integrity or its resulting takedown power. That said, it is important to approach any ballistic comparison on a case-by-case basis, because (for instance) the differences between the subsonic and supersonic cartridges are many.
This next tidbit was offered to me by someone on a gun forum a while back, and it really stuck with me: life is not a ballistics test. Ballistics tests are ballistics tests. That's that. I am paraphrasing, but that was the gist of it. And he touched on a major point there.
No block of gel or similar apparatus will effectively emulate what goes on when that round hits flesh, bone, and organs. This changes all the time, and is based on many variables, so you can never measure it – or it results – in the same way. It's like that philosopher who said you can never step into the same river twice.

Ballistics tests and evaluations do have their place, of course. They count for a lot. But when you are surprised by some game while you are hunting, or if you find yourself in a situation where you need to defend yourself or your loved ones – all of that ballistics stuff usually goes right out the window, with most of us, anyway..
I am not looking to put the charts down, because as they say – the numbers do not lie. I am simply saying that more than anything, it comes down to training and shot placement, whatever the scenario. I am not exactly a physics major, and I haven't done the tests, but it might be of use to some to attach the ballistics chart (words and table taken from Wikipedia):
The 300 AAC Blackout was designed to achieve energies similar to the 7.62×39mm Soviet in an AR-15 while using standard AR magazines at their full capacity.
Maximum estimated combat effective range = 460 meters (503 yd) 125 grain supersonic. Maximum effective range tested = 800 meters.
| | | | |
| --- | --- | --- | --- |
| BARREL | CARTRIDGE | VELOCITY | ENERGY |
| 9 in (230 mm) barrel | 300 AAC Blackout, 110 gr VMAX | 2,350 ft/s (720 m/s) | 1,350 ft⋅lbf (1,830 J) |
| 9 in (230 mm) barrel | 300 AAC Blackout, 110 gr TTSX | 2,300 ft/s (700 m/s) | 1,310 ft⋅lbf (1,780 J) |
| 9 in (230 mm) barrel | 300 AAC Blackout, 125 gr OTM | 2,030 ft/s (620 m/s) | 1,143 ft⋅lbf (1,550 J) |
| 9 in (230 mm) barrel | 300 AAC Blackout, 115 gr UMC | 2,120 ft/s (650 m/s) | 1,136 ft⋅lbf (1,540 J) |
| 24 in (610 mm) barrel | 300 AAC Blackout, 78 gr Lehigh Defense CQ | 2,960 ft/s (900 m/s) | 1,517 ft⋅lbf (2,057 J) |
| 24 in (610 mm) barrel | 300 AAC Blackout, 90 gr Barnes OTFB | 2,710 ft/s (830 m/s) | 1,468 ft⋅lbf (1,990 J) |
| 20 in (510 mm) barrel | 300 AAC Blackout, 78 gr Lehigh Defense CQ | 2,880 ft/s (880 m/s) | 1,436 ft⋅lbf (1,947 J) |
| 20 in (510 mm) barrel | 300 AAC Blackout, 90 gr Barnes OTFB | 2,630 ft/s (800 m/s) | 1,382 ft⋅lbf (1,874 J) |
| 16 in (410 mm) barrel | 300 AAC Blackout, 125 gr OTM | 2,215 ft/s (675 m/s) | 1,360 ft⋅lbf (1,840 J) |
| 16 in (410 mm) barrel | 300 AAC Blackout, 115 gr UMC | 2,295 ft/s (700 m/s) | 1,344 ft⋅lbf (1,822 J) |
300 Blackout vs 223
The cases used for the 300 BLK can be potentially created by taking standard 223 cases, and manipulating them to fit the 300 BLK system. The only thing you need to change in order to convert your 5.56 M16 rifle to a 300 BLK M16 rifle is the barrel, and possibly the muzzle break. Otherwise, they are quite similar.
Standard 223 magazines can be used for 300 BLK cartridges, and this was something which the makers of the 300 BLK were going for. This remains a great selling point for the 300 BLK. The 300 Blackout also offers better control of recoil than the 223, when considering the weight of the cartridge.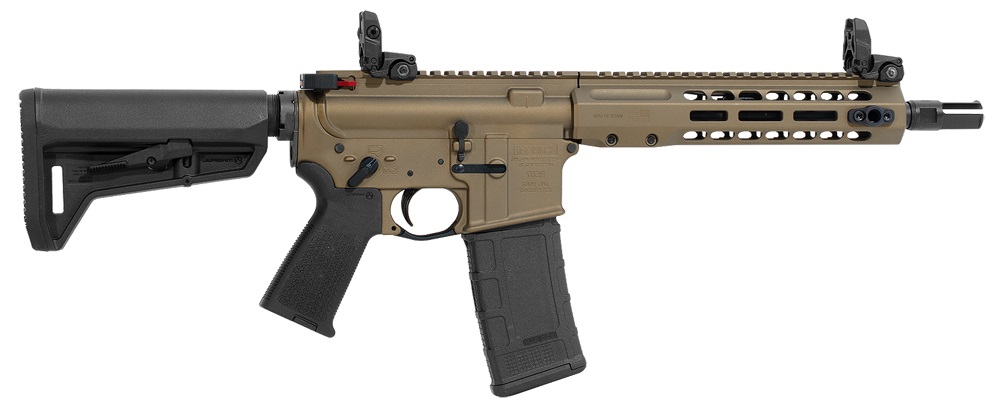 300 Blackout vs 308
The 308 Winchester round was the forerunner of the 7.62x51m NATO cartridge, and it is also a powerful cartridge. The main reason why people seek the 308 Win is probably due to its punch. However, the 308 Win will only operate with an AR-10 system, which comes with increased weight and is less common than the more standard and popular AR-15 system. For home defense, the 300 BLK will usually be better (great at short distances/short barrels), but the 308 has a longer effective range.
For hunting, either cartridge will do, and both can be used – and are used – for medium-sized game. The options for 300 BLK hunting rifles seem to be more limited than those of the 308, probably since the 308 Win has been around for much longer, and therefore has a larger selection. As for cost of ammo, the 308 is usually cheaper and more widely available than the 300 BLK, but that is a highly dynamic situation, as we know.
Ultimately, the selection between 300 BLK and 308 Win will depend on the intended use. You need to evaluate your wants and needs, and see which chambering better fits your personal situation. Both are good at what they do.

300 Blackout vs 5.56
This is the place where price is the first thing to be taken into consideration. The price of 300 BLK ammo can be higher than 5.56mm, and usually by a considerable margin. If price is not an issue, and you enjoy shooting the 300 BLK cartridge, then nothing should stop you from purchasing or building a 300 Blackout chambered rifle and using its appropriate ammo.
Speaking of the ammo: is it possible to mix things up and put the wrong cartridges in your rifle? Yes, and the results could be disastrous. Just look it up. Not pretty. But, this is where individual responsibility comes into the picture.
There are some who claim that the 300 BLK cartridge is borderline unsafe, simply due to potential of operator errors. But honestly, that potential is always there. I am sorry, but if you aren't responsible enough to separate your ammo and (perhaps mark and) load your magazines properly, maybe you shouldn't be firing such a weapon in the first place?
300 Blackout AR
Some manufacturers have developed rifles around the 300 Blackout cartridge (or its older wildcat brother, the 300 Whisper), and more firearms companies are joining their ranks with each passing year. Here are just a few of the top brands for an AR-style 300 Blackout-chambered rifle.
Bushmaster XM-15 ORC 300 Blackout

16" barrel
Overall length 36.25"
Weight 7.28 lbs
MSRP $929


Springfield Armory Saint .300 BLK

9" barrel
Overall length 27.75"
Weight 5.9 lbs
MSRP $989



Smith & Wesson M&P15 300 Whisper

16" barrel
Overall length 35"
Weight 6.6 lbs
MSRP $1119


SIG Sauer MCX VIRTUS Patrol

16" barrel
Overall length 35.5"
Weight 7.9 lbs
MSRP $ 2233
Obviously, those are just a few. A drop in the proverbial bucket. But they represent three solid choices, ranging from more affordable to, well, not as affordable. Some say that if you are going to go with a rifle-sized barrel, just skip the middleman and go for the 7.62x51mm NATO. Why go through all that trouble? Again, I feel this comes back to the 300 BLK's ability to be suppressed and be fired as subsonic ammo. If this is not a concern of yours, it may not be what you are looking for. I am thinking long-term, here.

300 Blackout Pistol

For those of who do not wish to convert a rifle to an SBR, there are always options in the pistol department. An AR pistol, as opposed to an AR rifle or SBR, does not have a stock, and possess a barrel shorter than 16". This puts it in another classification – that of a pistol – and this effectively exempts the operator from declaring anything SBR-related to the ATF.
Do your research anyway, before purchasing or building any firearm which may resemble an SBR in one way or another. You don't want to land yourself in a long-term Federal vacation for not correctly measuring the overall length of your firearm.

Here are a few of the top AR-pistol brands which are offered in 300 Blackout.

Spike's 300 BLACKOUT

8.3" barrel
Overall length 24.5"
Weight 5.2 lbs
MSRP $1040

SIG Sauer Rattler

5.5" barrel
Overall length 19.3
Weight 5.1 lbs
MSRP $2719
Daniel Defense DDM4V7P

10.3" barrel
Overall length 28.5"
Weight 5.44 lbs
MSRP $1679


Barrett REC7 DI

10.25" barrel
Overall length 30.5"
Weight 5.5 lbs
MSRP $1699

300 Blackout Upper
In many cases, you don't want to invest in a brand new rifle. Maybe you don't have the time or the money. Maybe you like your lower setup as it is. Maybe you just want to have the option of a secondary setup. If you are thinking of building your own or converting an existing rifle, here are several uppers in 300 BLK for your consideration: one rifle-length and several pistol (SBR) length.
Brownell's .300BLK AR-15 Complete Upper
Tactical Solutions TSAR-300 Upper
Daniel Defense DDM4 300 S
Radical Firearms 300 AAC Blackout Upper

10.5" barrel
MSRP$ 249.95

The reason this one is significantly cheaper is that it is not a complete drop-in item. It lacks a bolt carrier group, a charging handle, and sights.

300 Blackout Barrel
As previously mentioned, all you need to change in your current AR system – if you want to convert your 5.56 AR rifle to 300 BLK – is a barrel. The upper receivers I just mentioned all have their place, sure. They are probably for those who are more interested in building from the ground up.
So, barrels. One of the main attributes of the 300 BLK is its ability to be shot from a 9" barrel without compromising its ballistics. It peaks right out of a 9" barrel, as opposed to 5.56mm. So, with that in mind, you need to find a barrel which will be able to not only possess the correct chambering (obviously), but also be one which you can legally fit onto your build or rifle. Remember those guys from the ATF and the NFA? Yeah, I'll bring them up again, because it is of the utmost importance.
Feds aside, here are a few barrels to consider, if you are in the market for a 300 BLK barrel, as opposed to an upper receiver or a complete firearm. Laws and regulations aside, here are a few barrels to consider if you are in the market for a 300 BLK barrel, as opposed to an upper receiver or a complete firearm.

Daniel Defense 10.3" 300 BLK

1.25 lbs
Chrome Moly Vanadium
MSRP $289
Rainier Arms 10.5" Ultramatch Mod 2

1 lbs
Stainless steel
Includes gas block tin extension
MSRP $344.95
Aero Precision 10" .300 Blackout

1.3 lbs
Chrome Moly Vanadium
MSRP $189.99
Incidentally, there is a debate over the desired length. Many shooters agree that 9" to 10.5" is probably the best barrel length for a 300 BLK cartridge. Some are happy with a 7.5" barrel. The jury is not in yet. In fact, guess what? YOU are the judge, jury, and executioner. It's all a question of trial and error. Get to the range and see how you do.
Conclusion
The 300 BLK is a wildcat turned standard. That is an impressive thing all on its own. Regardless of the companies and manufacturers, it speaks to the power of the cartridge as a standalone piece of modern engineering. As I said, different people and companies are working on producing the most combat effective round. Is there such a thing? Will we discover one before cartridges are replaced with lasers, and knives are replaced with lightsabers? Who's to say. In the meantime, the 300 BLK is continuing to climb up the hierarchy of contemporary cartridges.

AAC and Remington can be proud of their creation. As can the designers and creators of the 300 Whisper, really. The AR15 platform and the newer M4 have been in the service of military groups and civilians for many years now. There are those who say that the platform is on its deathbed, and that there are no new innovations in sight. Maybe, but the 300 BLK is showing the world that there is still a lot which the AR15 and M4 platforms have to offer the hunters, fighters, and home-defenders of the world.