Varmint hunting is a special type of shooting that can be done either out of necessity or pure recreation. Because it's such a commonly practiced custom and is often used for protecting land, animals, crops, and more, it's no wonder that rifle makers have created some truly remarkable firearms for varmint hunting. There's plenty of debate regarding the best varmint rifle and even the best varmint caliber but, at the end of the day, it does come down to the details. You simply don't want the same tools for shooting wild boar at close range as you do for taking down groundhogs at long range.
That being the case, we've compiled some of the best varmint rifles on the market that are considered relatively budget-friendly and versatile. Obviously, specific tasks require specific tools but let this guide be a starting point for finding what best suits your needs. For instance, I'm actually a big fan of both the CZ 457 Varmint and the CZ 455 Varmint but I kept them off this list for various reasons. Now, let's take a look at some rifles.
Varmint Definition
Simply put, varmint hunting means to hunt vermin. However, the definition of varmint can be tricky since it can include a wide variety of invasive species, rodents, and predatory animals. Furthermore, a varmint in one place may not be considered vermin in another. Generally speaking, varmint are 'pests' which are hunted for sport or pest control in order to collect a reward, prevent disease, and protect crops, land, and farm animals.
Additionally, since it's considered a necessity for so many citizens, it's actually barely regulated by law and doesn't follow seasons as with traditional hunting. Nevertheless, the definition of varmint can vary by region so be sure to check your local hunting laws. In general, it's safe to say that ground burrowing rodents like prairie dogs, groundhogs, and moles are varmint in most places in the United States. 
Savage 110 Apex Hunter & 110 Varmint
It's hard to beat the "oldest continuously manufactured bolt-action rifle in North America". Savage Arms is not necessarily the most popular rifle manufacturer out there but they certainly have rifles that can compete with some of the best in the business.
The Savage 110 has changed a lot over time but the modern 110 Apex Hunter and 110 Varmint are excellent rifles with decent price tags and impressive features. Unlike other similarly priced rifles, I really believe Savage gives shooters more bang for their buck with features like their AccuStock and AccuTrigger. 
These lightweight rifles offer great triggers and can be adjusted for a truly custom fit. The Apex Hunter comes factory-shipped with a 3-9x40mm Vortex® Crossfire II which is pretty impressive given its $639 MSRP. The Savage varmint rifles also come in a long list of calibers allowing customers to get exactly what they want without having to sacrifice. Not to mention that these rifles also come with carbon steel barrels, detachable box mags, and smooth bolt action functioning. 

Model: Savage 110 Varmint
Caliber: 223 Rem
Capacity: 4-Round Mag
Barrel Length: 26" 
Overall Length: 46"
Weight: 10 lbs.
Finish: Matte Black
Sights: N/A
MSRP: $759
Model: Savage 110 Apex Hunter XP
Caliber: 6.5 Creedmoor
Capacity: 4-Round Mag
Barrel Length: 24" 
Overall Length: 44.25"
Weight: 7.9 lbs.
Finish: Matte Black
Sights: 3-9x40mm Vortex Crossfire II Scope
MSRP: $639
Mossberg MVP
Mossberg is no newcomer to high-quality long guns and their MVP series is a great example of what they're capable of. As one of the most versatile and practical rifles on the market, the Mossberg Varmint Predator (MVP) is a bolt-action rifle with amazing customizability options. While this collection has several variants, the Predator model seems to be the best for varmint hunting. 

You'll immediately notice the beautiful laminated stocks and ergonomic design but you'll stick around for the threaded barrel, optional included scope, adjustable trigger, and ability to feed from AR-15 (5.56mm NATO) and AR-10/M14/M1A (7.62mm NATO) magazines. The MVP is superbly accurate and decently durable plus carries a pretty decent reputation with it. The current edition is chambered in 6.5 Creedmoor, 7.62 NATO, 5.56mm, and now .224 Valkyrie so it may not be ideal for all varmint hunting but should still cover most of your pest control. 
Model: Mossberg MVP Predator
Caliber: 5.56mm NATO (.223 Rem)
Capacity: 10+1
Barrel Length: 18.5" 
Overall Length: 37.5"
Weight: 7 lbs.
Finish: Matte Blued
Sights: Weaver Style Bases
MSRP: $700
Tikka T3X Varmint
The Tikka T3X is probably the best rifle you haven't heard of. Their entire collection of rifles is truly outstanding and is specially designed with hunters in mind. I have no affiliation with Tikka but their remarkable quality is simply undeniable. The T3X Varmint offers a free-floating barrel, durable synthetic stock, ergonomic design, modular stock, and a great single-stage trigger. 

Model: Tikka T3X Varmint
Caliber: 22-250 Rem
Capacity: 5+1
Barrel Length: 23.7" 
Overall Length: 43.9"
Weight: 8.5 lbs.
Finish: Matte Black
Sights: N/A
MSRP: Approximately $700
Remington 700 SPS Varmint
The Remington 700 Varmint rifles have become the industry standard for all varmint rifles and it's not so clear why. While Remington has decades of successful rifle making, they have certainly had their fair share of problems and failures. Nevertheless, the Remington Model 700 varmint rifles have been around for over 50 years and have significantly improved since their unveiling.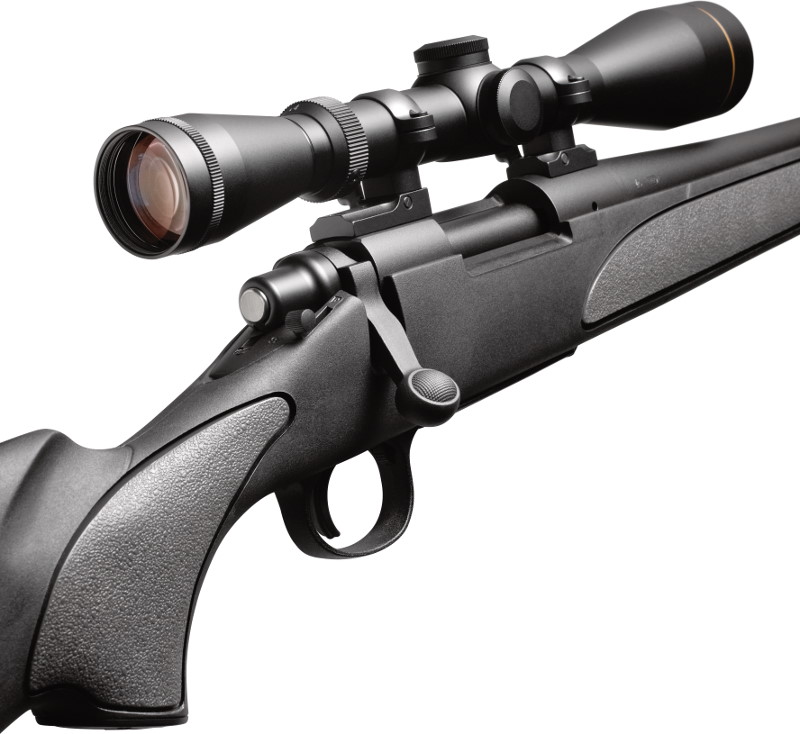 The attractive modern design is ergonomic, minimalistic, and carefully crafted with beneficial add-ons like the X-Mark Pro Externally Adjustable Trigger. My experience with the .223 SPS was that the recoil was noticeably reduced, the finish was highly durable, and the construction was rather intuitive. However, it's still not the most user-friendly rifle on this list primarily due to its disassembly, weird bolt, and lack of adjustability.    
Model: Remington 700 SPS Threaded Barrel
Caliber: 308 Win
Capacity: 4-Round Mag
Barrel Length: 20" 
Overall Length: 39"
Weight: 7 lbs.
Finish: Matte Blue
Sights: N/A
MSRP: $776
Ruger American Rimfire Compact
The Ruger American Rifle is the top-selling bolt-action in America and it's easy to see why. Ruger has situated themselves among the most popular gun manufacturers in the world thanks to their innovative, affordable, and reliable firearms. The Ruger American Rimfire Compact is one of the most affordable varmint rifles that could easily compete with rifles with way higher MSRPs.

Besides for its cost, the Ruger American is also beloved, especially for varmint hunting, because of its lightweight, compact, durable, and simple design. While it's not really meant for long-distance shooting, the American Rimfire Compact is perfect for what it was designed for, quick and simple pest control. Plus, the Ruger rifle is really fun to shoot and has a great trigger set-up. However, be warned, this is probably this least reliable firearm on this list but you get what you pay for. I'm not saying that this gun is a bad gun, not at all, it just doesn't offer flawless operation.  
Model: Ruger American Rimfire Compact
Caliber: 243 Win
Capacity: 4-Round Mag
Barrel Length: 18" 
Overall Length: 36.75"
Weight: 6 lbs.
Finish: Matte Black
Sights: N/A
MSRP: $489
Let us know your picks for the best varmint hunting rifles in the comments!